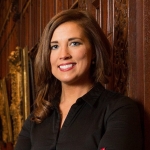 Melissa D Newman
Assoc Professor - Educator
Dr. Newman has a BBA in Marketing from the University of Kentucky, MBA from Morehead State University, and an MA in Higher Education and a PhD in Educational Leadership from the University of Louisville. She has nearly 15 years of experience in management within both the higher education and nonprofit sectors and was recently named as a member of the Cincinnati Business Courier"s Forty Under 40 class. Dr. Newman also received the Venue Magazine Civic Leadership Award in recognition of her commitment to nonprofit work. Her professional experience includes nearly a decade at the University of Kentucky Alumni Association and five years as Executive Director of the Juvenile Diabetes Research Foundation.
MA: University of Louisville Louisville, Kentucky, 2009
Ph D: University of Louisville Louisville, Kentucky, 2009 (Educational Leadership & Organizational Development)
MBA: Morehead State University Morehead, Kentucky, 2003
BBA: University of Kentucky Lexington, Kentucky, 2002 (Marketing)
Research and Practice Interests
Dr. Newman"s research interests are related to higher education fundraising and organizational behavior topics related to the nonprofit sector. Her work has been published in Research in Higher Education and the International Journal of Higher Education as well as publications geared toward fundraising practitioners.
Other Publications
Newman, Melissa (11-2011. ) Predictors of alumni association membership. .52 (2 ) , Research in Higher Education
Newman, Melissa (2011. ) Does membership matter? Examining the relationship between alumni association membership and alumni giving .10 (4 ) , Palgrave Macmillan
Committed to Assisting Students (Assisted a former student with the development of her own nonprofit organization and serve as board member and Treasurer. ) Officer, Treasurer Type:Community Service Level:Public 01-01-2016
Delta Tau Delta Academic Advisor (Lead the efforts to ensure academic success of the members of Delta Tau Delta fraternity. ) Faculty Advisor Type:University Level:University 07-01-2016
College Diabetes Network (Lead the efforts to create the first-ever UC chapter of College Diabetes Network (CDN) ) Faculty Advisor Type:University Level:University 01-01-2016
RPT Committee (Assist in the RPT decisions for Department of Management faculty. ) Attendee, Meeting Type:Departmental Service Level:Department 01-01-2016 -03-01-2016
LCB Honors Committee (Serve as a member of the honors committee to make programmatic decisions regarding the LCB honors programs. ) Attendee, Meeting Type:University/College Service Level:University 06-01-2016
Undergraduate Programs Team (Serve on the committee that determines undergraduate program decisions within the LCB. ) Attendee, Meeting Type:University/College Service Level:University 06-01-2016
BUS FOUNDATIONS
BUS FOUNDATIONS
BUS FOUNDATIONS
BUS FOUNDATIONS
BUS FOUNDATIONS
BUS FOUNDATIONS
BUS FOUNDATIONS
BUS FOUNDATIONS
ESS OF BUSINESS I
ESS OF BUSINESS I
ESS OF BUSINESS I
ESS OF BUSINESS I
ESS OF BUSINESS I
ESS OF BUSINESS I
ORGANIZATIONS
ORGANIZATIONS
PACE LEADER
ORGANIZATIONS
BUS FOUNDATIONS
BUS FOUNDATIONS
BUS FOUNDATIONS
BUS FOUNDATIONS
BUS FOUNDATIONS
BUS FOUNDATIONS
BUS FOUNDATIONS
BUS FOUNDATIONS
BUS FOUNDATIONS
ESS OF BUSINESS II
ESS OF BUSINESS II
ESS OF BUSINESS II
ORGANIZATIONS
PACE LEADER
BUS FOUNDATIONS
BUS FOUNDATIONS
BUS FOUNDATIONS
BUSFOUNDATIONS
BUSFOUNDATIONS
BUSFOUNDATIONS
BUSFOUNDATIONS
BUSFOUNDATIONS
BUSFOUNDATIONS
BUSFOUNDATIONS
BUSFOUNDATIONS
BUSFOUNDATIONS
BUSFOUNDATIONS
BUSFOUNDATIONS
ESS OF BUSINESS I
ESSOFBUSINESSI
ESSOFBUSINESSI
ESSOFBUSINESSI
ORGANIZATIONS
PACELEADER
ORGANIZATIONS
BUS FOUNDATIONS
BUS FOUNDATIONS
BUS FOUNDATIONS
ORGANIZATIONS
PACE LEADER
BUS FOUNDATIONS
BUS FOUNDATIONS
BUS FOUNDATIONS
ORGANIZATIONS
ORGANIZATIONS
PACE LEADER
MANAGEMENT
Business Foundations
Business Foundations
Business Foundations
Teaching Assistant
Business Foundations
Business Foundations
Business Foundations
Teaching Assistant
Business Foundations
Teaching Assistant
BUS FOUNDATIONS
TEACHING ASSISTANT
BUS FOUNDATIONS
MANAGEMENT
TEACHING ASSISTANT
Business Foundations
Teaching Assistant
Business Foundations
Management
Teaching Assistant
Business Foundations
Management
Teaching Assistant
Business Foundations
Research in Business Administration
Business Foundations
Teaching Assistant