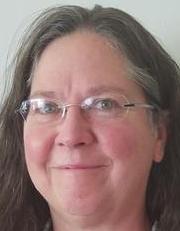 Margaret Virginia Williams
Asst Professor
University of Cincinnati Clermont College
Batavia, Ohio
Margaret Williams completed her Bachelor's at the University of Alabama, her Master's of Liberal Arts & Sciences at the University of North Carolina - Asheville, her Master's in composition & rhetoric at Western Carolina Univesity, and her PhD in Rhetoric at Texas Woman's University. She's also a former newspaper reporter and managing editor. Her research focuses on writing studies — especially rhetorical ecologies, digital rhetorics, feminist rhetorics, and multimodality. Her dissertation focused on the intersection of feminism and digital/multimodal rhetorics in a U.S. presidential election: "Absence and Rhetorical (Non) Circulation: 'Nasty Woman' Kamala Harris in 2020."
PhD: Texas Woman's University Denton, Texas, 2022 (Rhetoric)
Master's of English: Western Carolina University Cullowhee, NC, 2018 (composition and rhetoric)
Master's of Liberal Arts and Sciences: University of North Carolina - Asheville Asheville, NC, 2016
Bachelor's of English: University of Alabama Tuscaloosa, AL, 1983 (English literature/language)
Research and Practice Interests
writing studies, rhetorical ecologies, multimodality, digital rhetorics, feminist rhetorics
Peer Reviewed Publications
Jackie Herman-Elliott, Margaret V. Williams (2023. ) Scaffolding toward Self-Efficacy: Preparing Underrepresented Writers to Pitch as Freelance Authors.Prompt (A Journal of Academic Writing Assignments), , 7 (1 ) , More Information
Other Publications
Margaret Williams (2020. ) Vir Bonus, Hortensia: A Good Woman Speaking Well in Ancient Rome .CCTE Studies, 85 ,51-64 Joe Christensen, Inc.
Electronic Journal
Margaret Williams (2021. ) Review of Black Women in Politics: Demanding Citizenship, Challenging Power, and Seeking Justice .Peithos, 23 (3 ) ,
Margaret Williams (2018. ) Chalk to Me: The Search for Useful Knowledge in a Rhetorical Ecology .Postscript, 2018 ,
Invited Presentations
Margaret Williams and Desirée Thorpe (2023. ) (In Press. ) Open Worlds, Open Compositions: Designing First-Year Writing as Exploration/Play" .Computers & Writing, California. Conference. . Level:National
Margaret Williams (2023. ) (In Press. ) "When a 'Nasty Woman' Gives You the Side Eye: Rhetorical (Non)Circulation and Kamala Harris in 2020" .Rhetorical Society of America, Boston, MA. Conference. . Level:International
Margaret Williams (2022. ) (In Press. ) "'Nasty Woman' or 'This Monster'? Kamala Harris and the Rhetorics of Representation" .Conference of College Teachers of English, Texas. Conference. . Level:Regional
Margaret Williams (2023. ) (In Press. ) "Co-Creating Community in Corequisite Writing Groups: A Post-COVID Reflection on Teaching at a Minority-Serving Institution" .Conference of College Teachers of English, Wichita Falls, TX. Conference. . Level:Regional
Margaret Williams (2018. ) (In Press. ) "Words of Consequence: Donald Trump's Use of 'Fake News' as Real Propaganda" .Carolina Rhetoric Conference, Charleston, SC. Conference. . Level:Regional
Academic - University of Cincinnati Clermont College
Batavia  Ohio,