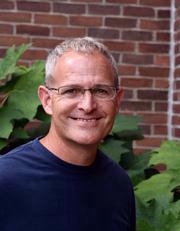 Evan R. Griffin , M.A.
Professor Educator
Educator Professor
McMicken Hall
140
A&S Communication - 0184
Evan R. Griffin, Educator Professor in the Department of Communication, has taught at the University of Cincinnati since 1990. He directs the Introduction to Interpersonal Communication courses as well as teaching courses in Nonverbal Communication and Introduction to Communication Theory. Evan also assists in the leadership of the Navigators, the campus chapter of an international Christian missional community. In addition, Evan is the faculty advisor for Mission: Urban Development (M:UD), a student group that seeks to provide affordable housing and community for underresourced families in Walnut Hills.
M.A.: Bowling Green State University Bowling Green, OH, 1986 (Communication)
B.A., Magna Cum Laude: Bowling Green State University Bowling Green, OH, 1985 (Communication)
Positions and Work Experience
09-2007 -07-2015 BUA Professor, Course Director, Communication Advisor, Interpersonal Communication Department of Communication, University of Cincinnati, Cincinnati, OH
09-1996 -08-2001 BUA Assistant Professor, Course Director, Basic Interpersonal Course, Communication Advisor, Department of Communication, University of Cincinnati, Cincinnati OH
09-2001 -08-2007 BUA Associate Professor, Course Director, Basic Interpersonal Course, Communication Advisor, Department of Communication, University of Cincinnati, Cincinnati OH
09-1990 -08-1996 Adjunct Instructor, Department of Communication, University of Cincinnati, Cincinnati OH
01-1990 -12-1990 Adjunct Instructor, Language Arts Department, University College, University of Cincinnati, Cincinnati OH
08-1985 -08-1986 Graduate Teaching/Research Assistant, Department of Communication, Bowling Green State University , Bowling Green, OH
10-1986 -08-1989 Christian Education Consultant, Cook Communications, Elgin (Chicago), IL
03-2006 -09-2006 Freelance Writer/Editor, Group Publishing, Loveland, CO
10-2000 -To Present Freelance Writer/Editor, Navpress, Colorado Springs, CO
05-1988 -12-1995 Freelance Writer/Editor, Cook Communications, Elgin (Chicago), IL
09-1989 -08-1991 Intern Campus Staff Representative, The Navigators, University of Cincinnati, Cincinnati, OH
09-1991 -08-1996 Campus Director, Oversee University of Cincinnati chapter of international, interdenominational nonprofit organization., The Navigators, University of Cincinnati, Cincinnati, OH
09-1996 -08-2013 Area Director, Oversee several local university campus chapters (U.C., X.U., and N.K.U.) of international, interdenominational nonprofit organization, The Navigators, Cincinnati, OH
08-2012 -12-2014 Communication Consultant, Provided consulting, training sessions and individualized coaching at Procter and Gamble Global HQ for 15-member Global CMK (Consumer Market Knowledge) team for Tide/Ariel worldwide product line. 6 members in Cincinnati, OH; 8 members in Geneva, Switzerland; 1 member in London, England., Procter and Gamble, Cincinnati OH; London, UK; Geneva CH via video conference
08-2015 -To Present Educator Professor, Teaches courses in Interpersonal Communication, Nonverbal Communication and Intro. to Communication Theory. Serves the Dept. of Communication as Course Director of COMM 1076, advisor, committee member and mentor., Department of Communication, University of Cincinnati, Cincinnati OH
Colloquium
Evan Griffin, Anthony Munoz, et. al. (12-2014). Impact: The Educational Landscape . Salt and Light Symposium, Mariemont OH. Conference. Level:Local
Lecture
Evan Griffin (09-2010. ) The Basics of Mentoring .Cincinnati, OH. UC. Level:University
Evan Griffin (03-2011. ) A Briefing on The Fundamentals of Mentoring .Cincinnati, OH. UC. Level:University
Evan Griffin (10-2010. ) Experiencing, Being and Sharing the Good News .Higher Ground Conference Center, Brookville, IN. Conference. Level:Regional
Evan Griffin (01-2011. ) Mentoring for M:UD .University of Cincinnati. UC. Level:University
Evan Griffin (05-2011. ) Understanding the Bad News/Experiencing the Good News .Timberwolf Conference Center. Conference. Level:Regional
Evan Griffin (05-2011. ) How Does Character Formation Take Place? .Timberwolf Conference Center. Conference. Level:Regional
Evan Griffin (05-2011. ) Understanding Why We Do What We Do .Timberwolf Conference Center. Conference. Level:Regional
Evan Griffin (04-2011. ) Why Do You Approach Life the Way You Do? .Finneytown, OH. Other Institution. Level:Local
Evan Griffin (08-2012. ) A Briefing on the Fundamentals of Mentoring .Cincinnati, OH. UC. Level:University
Evan Griffin (04-2012. ) A Briefing on Character Formation .Cincinnati OH. UC. Level:University
Evan Griffin (08-2013. ) Mentoring 1001 .Cincinnati OH. UC. Level:University
Evan R. Griffin (11-03-2015. ) Mentoring for Mission .Crossroads Church. Other Institution. Level:Local
Evan R. Griffin (08-06-2018. ) Embodying and Communicating the Good News .Carolina Point Young Life Camp, Brevard NC. Conference. Level:Regional
09-2008 -06-2009 Darwin T. Turner Scholars Champion Teacher Identified by a Darwin Scholar as the U.C. Teacher who most inspired and advocated for him/her. University of Cincinnati Status:Recipient Level:University Type:Recognition
09-2007 -08-2008 Student Group of the Year I mentored the student who founded the University of Cincinnati student organization, Serve Beyond Cincinnati, which facilitates service project trips around the world during academic breaks. University of Cincinnati Status:Recipient Level:University Type:Recognition
09-2005 -06-2006 Academy of Fellows for Teaching and Learning University of Cincinnati Status:Nomination Level:University Type:Recognition
09-2001 -06-2002 George B. Barbour Award for Outstanding Faculty/Student Relations University of Cincinnati Status:Nomination Level:University Type:Recognition
09-2001 -06-2002 McMicken Dean's Award for Distinguished Adjunct Performance University of Cincinnati Status:Nomination Level:College Type:Recognition
09-2000 -06-2001 University of Cincinnati Panhellenic Outstanding Professor University of Cincinnati Status:Recipient Level:University Type:Non-Monetary
09-1993 -06-1994 University of Cincinnati Panhellenic Outstanding Professor University of Cincinnati Status:Recipient Level:University Type:Recognition
08-2018 -05-2019 Darwin T. Turner Scholars Award The award is presented by the Office of Ethnic Programs and Services and is meant to honor the positive contribution that staff and faculty have had on a student's success at the University of Cincinnati. U.C. Office of Ethnic Programs and Services Status:Recipient Level:University Type:Non-Monetary
The University of Cincinnati Navigators Director Type:Service to Student Groups Level:University 09-1990 -08-2013
Mission: Urban Development Faculty Sponsor Type:Service to Student Groups Level:University 09-2009 -To Present
Department of Communication (BUA RPT Committee ) Committee Member Type:Departmental Service Level:Department 09-2010 -02-2011
Department of Communication (Semester Conversion Core Courses Team ) Committee Member Type:Departmental Service Level:Department 01-2011 -08-2012
Department of Communication (Basic Interpersonal Communication Course ) Director Type:Departmental Service Level:Department 09-1996 -08-2012
Department of Communication (Basic Interpersonal Course ) Director Type:Departmental Service Level:Department 09-2012 -To Present
University of Cincinnati Mentor Type:University/College Service Level:University 01-1990 -To Present
Department of Communication (Student Development Committee ) Committee Member Type:Departmental Service Level:Department 09-2011 -To Present
Department of Communication (BUA RPT Committee ) Committee Member Type:Departmental Service Level:Department 09-2012 -05-2013
The University of Cincinnati Navigators Faculty Coordinator Type:Service to Student Groups Level:University 09-2013 -To Present
Department of Communication (BUA RPT Committee ) Committee Member Type:Departmental Service Level:Department 08-2013 -05-2014
Department of Communication (BUA RPT Committee ) Committee Member Type:Departmental Service Level:Department 08-2014 -05-2015
(Educator RPT Committee ) Committee Member Type:Departmental Service Level:Department 02-2016 -03-2016
College Young Life Faculty Sponsor Type:Service to Student Groups Level:University 08-2014 -To Present
Department of Communication (Communication Scholarship Committee ) Committee Member Type:Departmental Service Level:Department 08-2014 -05-2018
College of Arts & Sciences (Communication Scholarship Committee ) Committee Chair Type:University/College Service Level:College 08-2108 -To Present
interpersonal, communication, nonverbal, communication theory, outreach, good news, community,
15-COMM-176 INTRO INTERPER COMM Level:Undergraduate
15-COMM-176 INTRO INTERPER COMM Level:Undergraduate
15-COMM-176 INTRO INTERPER COMM Level:Undergraduate
15-COMM-348 NON VERBAL COMM Level:Undergraduate
15-COMM-348 NON VERBAL COMM Level:Undergraduate
15-COMM-348 NON VERBAL COMM Level:Undergraduate
15-COMM-176 INTRO INTERPER COMM Level:Undergraduate
15-COMM-348 NON VERBAL COMM Level:Undergraduate
15-COMM-176 INTRO INTERPER COMM Level:Undergraduate
15-COMM-348 NON VERBAL COMM Level:Undergraduate
15-COMM-176 INTRO INTERPER COMM Level:Undergraduate
15-COMM-348 NON VERBAL COMM Level:Undergraduate
-COMM-1076 INTRO INTERPER COMM Level:Undergraduate
-COMM-3048 NONVERBAL COMM Level:Undergraduate
-COMM-1076 INTRO INTERPER COMM Level:Undergraduate
-COMM-3048 NONVERBAL COMM Level:Undergraduate
-COMM-3048 NONVERBAL COMM Level:Undergraduate
-COMM-1076 INTRO INTERPER COMM Level:Undergraduate
-COMM-3048 NONVERBAL COMM Level:Undergraduate
-COMM-1076 INTRO INTERPER COMM Level:Undergraduate
-COMM-3048 NONVERBAL COMM Level:Undergraduate
-COMM-1076 INTRO INTERPER COMM Level:Undergraduate
-COMM-1076 INTRO INTERPER COMM Level:Undergraduate
-COMM-3048 NONVERBAL COMM Level:Undergraduate
-COMM-1076 INTRO INTERPER COMM Level:Undergraduate
-COMM-3048 NONVERBAL COMM Level:Undergraduate
-COMM-1076 INTRO INTERPER COMM Level:Undergraduate
-COMM-3092 PROJECT IN COMM Level:Undergraduate
-COMM-3092 PROJECT IN COMM Level:Undergraduate
-COMM-1076 INTRO INTERPER COMM Level:Undergraduate
-COMM-1076 INTRO INTERPER COMM Level:Undergraduate
-COMM-3048 NONVERBAL COMM Level:Undergraduate
-COMM-1076 INTRO INTERPER COMM Level:Undergraduate
-COMM-3048 NONVERBAL COMM Level:Undergraduate
-COMM-3007 INTRO COMM THEORY Level:Undergraduate