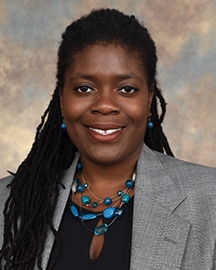 Francoise Alisha Knox Kazimierczuk
Assistant Professor
Health Sciences Building
3225 Eden Avenue
Cincinnati, Ohio 45267

PhD: Miami University
MS: Ball State University
MS: Illinois State University
BA: Concordia University
Research and Practice Interests
Community-partnered research to improve community health in underserved populations.
UC Health Urban Health Pathways Pipeline Project Role:Co-PI $19,000
UC Office of Equity & Inclusion The Health Professions Pipeline Diversification Project Role:PI $7,030.82
Grant: #R25CA261610 Investigators:Butsch-Kovacic, Melinda; Kazimierczuk, Francoise; Kues, John; Nolan, Rachael 08-01-2021 -07-31-2026 National Cancer Institute The Cancer Research Scholars Program (CRSP): Exploring Research Across the Cancer Continuum and into Underserved Communities Role:Collaborator 268444.00 Awarded Level:Federal
Peer Reviewed Publications
Kim, S., Wills, K, Canfield, J., Kazimierczuk, F., Harley, D., Hyppolite, M., & Desrosiers, P. (2018. ) Assessment of college students with the revised conflict tactics scale (CTS2): Sociodemographic characteristics and relationship .Journal of Human Behavior in the Social Environment, ,
Kazimierczuk, F., Geller, K., Sellers, S. Baszile, D, and Smith, M. (2017. ) Race, Class, Gender, and the Obesity Epidemic .Journal of Pan African Studies, , 10 (1 ) ,76
Kazimierczuk, F., Geller, K., Sellers, S., Smith, M., and Baszile, D. (2017. ) African American Women Weight Trends Through the Prism of Race, Health Education & Behavior.
Book Chapter
Smith, M. and Kazimierczuk, F (2017 ) Smith, M. and Kazimierczuk, F Special Events in the Era of Social Enterprise .Routledge/Taylor & Francis Group
Academic - Health Sciences Building
3225 Eden Avenue
Cincinnati  Ohio, 45267