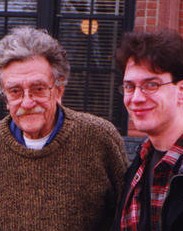 Donald V Peteroy
Asst Director
Captain of the GA Squad
Don earned a BA in Theater Production form Fredonia State University in New York in 1998. He spent about nine years as a social worker. Aside from being a graduate student, Don plays in three local rock bands. He has published in numerous literary magazines, and has recently finished his first novel, "My Helicopter Heart."
Fiction
"A Penny In A Pill Bottle" forthcoming in Dislocate.
"The Healing Frequency" forthcoming in The Newport Review
"This is How I Will Hold You" forthcoming in The Westchester Review.
"From One Object to Another" in Sunken Lines, 2010.
"It's Safer To Have Your Daughter Climb Rocks" in Danse Macabre, April 2010. 
"There Are No Fragments" in Ellipsis, Spring 2010.
"In Accordance to the needs of a Canadian literary magazine" in the Worcester Review, Winter 2011.
"Confessions of a Misunderstood Sidekick" The Farallon Review, Fall 2010. 
"Too Much Anthropology" forthcoming in the Cream City Review. In April 2011.
"One Day, God Will Kill Everyone" Oyez Review, volume 37.
"When Hawks Make Love" The Susquehanna Review, Fall 2009.
"Goddess Corpse" The Maynard, Fall 2009.
"Misconceptions About the Nature of Blood" CRIT Journal. Summer 2009.
"Go Up" The Cynic, Fall 2009.
"The Misuse of Old British Words" Two Hawks Quarterly. Spring 2009.
"Counter Space" Milk Money Literary Magazine winter 08-9
"Philosocook" Rejected Quarterly 2006
"Dead or Unlisted" The Seeker. Spring 2003.
"Sleep Log" The Timber Creek Review. Spring 2002. 
"The Priest Is Drinking Again: A One Act Play" published by the Berkeley Weekly Review Gazette 2006

Also a finalist for the Glimmer Train Short Fiction award, and the Gulf Coast Donald Barthelme Award, both in the Fall of 2009. Nominated for the 2011 Pushcart Prize.