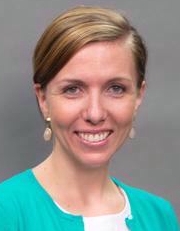 Amanda K Bachus , MS
Assoc Dir Academic
Associate Director, Academic Affairs CECH Program Accelerator
410 Teacher's College
Cincinnati, Ohio 45221
Phone 513-556-2437
Fax 513-556-3020
Email amanda.bachus@uc.edu
Welcome to CECH! My name is Amanda Bachus. I have been at UC for almost 15 years. I began my career  in the Center for First Year Experience and Learning Communities where I worked on creating programming specifically targeted to helping first year students make the transition from high school to college. I also have extensive experience in undergraduate academic advising, serving a CECH advisor for over 12 years.  Since December, 2022 I have been working as the Associate Director for CECH's Program Accelerator, assisting faculy in program development and modification. 
I have undergraduate degrees in French and International Studies from Miami University and a Master's degree in Health Promotion & Education from UC. I enjoy being active with my friends, family and rescue dog. My professional interests include student leadership development, first year student development and financial literacy for college students.
 
Bachelor of Arts: Miami University Oxford, Ohio, 2007 (French and International Studies)
Master of Science: University of Cincinnati Cincinnati, Ohio, 2014 (Health Promotion and Education )
Positions and Work Experience
12-01-2022 - Associate Director, Academic Affairs, CECH Program Accelerator,
12-01-2010 -11-30-2022 Associate Director, Academic Advising, CECH,
07-01-2008 -11-30-2010 Program Manager, Center for First Year Experience & Learning Communities ,
Invited Presentations
Bachus, Amanda and Macke, Betsy (03-06-2014. ) Cultivating and Retaining Student Leaders through Advising .NACADA Region 5 Conference, Madison, WI. Level:Regional
Bachus, Amanda and Lewis, Jennifer (09-15-2014. ) You, Me and Generation Z - Connecting with the new generation through teaching and advising .University of Cincinnati Advising Conference, Cincinnati, Ohio. Level:University
2012 -2014: Secretary University of Cincinnati Academic Advising Association (UCAADA) University of Cincinnati,
2014 -2016: Convener University of Cincinnati Academic Advising Association (UCAADA).
2016 -2019: Member at Large & Webmaster University of Cincinnatii Academic Advising Association (UCAADA).
2012 -To Present: Member National Academic Advising Association (NACADA)
First Year Experience in CECH Level:Undergraduate
Academic - 410 Teacher's College
Cincinnati  Ohio, 45221
Phone: 513-556-2437
Fax: 513-556-3020
amanda.bachus@uc.edu