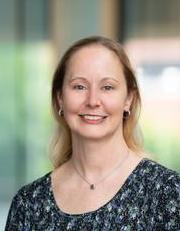 Kristan Metz , M.S.
Assoc Dir Academic Student Advising
Associate Director Student Affairs
Health Sciences Building
Room 309H
3225 Eden Ave.
Cincinnati, Ohio 45219
Phone 513-558-8540
Fax 513-558-8545
Email kristan.metz@uc.edu
Kristan Metz is an experienced advisor for undergraduate on-campus and distance learning students in the College of Allied Health Sciences. She is passionate about learning and helping others achieve their personal and academic goals.  
B.S.: Xavier University 1998 (Natural Science)
M.S.: University of Cincinnati 2000 (Criminal Justice)
B.S.: University of Cincinnati 2010 (Spanish)
M.S.: University of Cincinnati 2019 (Accounting)
Academic - Health Sciences Building
Room 309H
Cincinnati  Ohio, 45219
Phone: 513-558-8540
Fax: 513-558-8545
kristan.metz@uc.edu