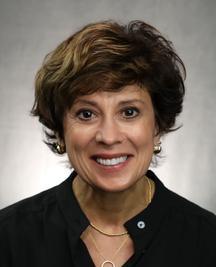 Roseann Hassey
Assoc Professor - Educator
Roseann earned her PhD-Marketing from the University of Cincinnati, her MBA from Harvard Business School, and her BA in Economics from Duke University.
Ph D: University of Cincinnati, Lindner College of Business Cincinnati, OH, 2016 (Marketing)
MBA: Harvard University Cambridge, MA, 1987
BA: Duke University Durham, NC, 1983 (Economics)
Research and Practice Interests
All aspects of branding including Consumer-Brand relationships, Brand Personality, and Brand Forgiveness. Consumer Decision Making
Book Chapter
Kardes, Frank R; Pogachar, Ruth; Hassey, Roseann V; Wu, Ruomeng Brand Attitude Structure London, England, Routledge
Clarkson, Joshua; Otto, Ashley; Hassey, Roseann; Hirt, Edward R; (2016 ) Perceived mental fatigue and self-control San Diego, CA, USA, Self-Regulation and Ego Control/Elsevier
Invited Presentations
Hassey, Roseann; Clarkson, Joshua; Moreria, Sergio; Leone, Christopher (2014. ) Revisiting social identity in self-persuasion: The effect of conflicting attitudinal norms on mere thought .Society of Southeastern Social Psychologists, Conference. .
05-01-2018 Dean"s List of Teaching Excellence, Spring 2018 Recognition of top performing faculty Level:College Type:Teaching
02-01-2018 Nominated for the Award for Faculty Excellence (Lindner College) Faculty members in each college who represent excellence in all its forms. Level:College Type:Service, University
12-01-2017 Dean"s List of Teaching Excellence, Fall 2017 Dean"s List of Teaching Excellence Level:College Type:Teaching
05-2017 Dean"s List of Teaching Excellence: Spring 2017 Recognition for Outstanding Teaching Performance Level:College Type:Teaching
12-2016 Dean"s List of Teaching Excellence: Fall 2016 Recognition for Outstanding Teaching Performance Level:College Type:Teaching
Marketing Faculty Recruitment (As a Marketing department faculty member, shared responsibility for attending recruiting meals (lunch, dinner), presentations, and showcasing the city. ) Helped in Recruitment of New Faculty Type:Departmental Service Level:Department 09-2016 -10-2016
Black MBA (Serve as faculty advisory for Black MBA-UC Association ) Faculty Advisor Type:University/College Service Level:University 04-2017
National Women MBA- Lindner Chapter (In the process of bringing the WMBA (WomenMBA) organization to campus in effort to create and strengthen female MBA community and create leadership opportunities for this affinity group. ) Faculty Advisor Type:University/College Service Level:University 04-2017
MBA Student Leadership Council (Serve as faculty advisory for MBA Leadership Council, an active organization of MBA student leaders that is elected by their peers and serves as a student organizing and leadership body, as well as a liaison to the administration ) Faculty Advisor Type:University/College Service Level:University 09-2016
MBA Advisory Council (Co-lead (With Alumnus) an MBA Advisory Council that meets 4 times annually (2 remoted and 2 on campus). ) Administrative Leader Type:University/College Service Level:University 08-2016
Kroger Mini-MBA Program (Member of leadership team focused on developing mini-mba program designed to best align with Kroger stated objectives and key Lindner faculty strengths. ) Committee Chair Type:University/College Service Level:University 05-15-2018 -10-30-2018
FT-MBA Cohort Orientation Basecamp (Lead development and implementation of FT-MBA Orientation Basecamp, a week-long program designed to prepare incoming FT-MBA students academically and with the soft-skills necessary to excel in the program and, ultimately, in their post-MBA careers. ) Committee Chair Type:University/College Service Level:University 05-01-2018 -08-24-2018
MBA Curriculum Redesign Committee (With Associate Dean of Graduate Programs, convened and led facilitation of faculty/staff committee tasked with goal of identifying key programmatic update of MBA program ) Committee Member Type:University/College Service Level:University 03-01-2018 -05-15-2018
Redesign of MBA Career Development (BA7077 and BA7078): would go under Educational Innovations, if section for it (Chaired committee including outside business professional, Lindner MBA career coach and myself and designed to best prepare students to communicate efficiently and effectively in recruiting and job settings. ) Committee Chair Type:University/College Service Level:University 04-15-2017 -05-04-2018
MBA Scholarship Awards (Convened committee to re-vamp MBA Admissions Scholarship Awards with the dual goals of attracting a diverse and talented student body and enhancing their experiences while completing the program. ) Committee Chair Type:University/College Service Level:University 11-01-2017 -04-01-2018
Lindner CofB Strategic Communications Director Search Communications (Served on committee tasked with filling Strategic Communications Director for Lindner CofB ) Committee Member Type:University/College Service Level:University 09-15-2017 -01-15-2018
FT-MBA Cohort Model and Basecamp Orientation (Lead effort to return to FT-MBA cohort model and to develop/launch week-long Basecamp Orientation for group, ) Committee Chair Type:University/College Service Level:University 04-01-2017 -08-18-2017
FT-MBA Cohort Admissions (MBA Admissions ) In Role as MBA Program Director Type:University/College Service Level:University 08-2016 -07-2017
FT-MBA Capstone Redesign and Implementation (Member of 4-person team responsible for continued to redesign of FT-MBA Capstone Course (BA7012) ) Committee Member Type:University/College Service Level:University 08-15-2016 -04-15-2017
Lindner Women in Business Empowerment Day (Served on professional panel with 2 other women, and discussed navigating our careers ) Presenter on Panel: Mindfully Following Your Heart in Career Choices and Changes Type:University/College Service Level:University -03-25-2017
MARKETING FOR MGRS
MARKETING FOR MGRS
STDY ABRD CHINA
STDY ABRD CHINA
BRANDING
MARKETING FOR MGRS
PROFESSIONAL DEVELOPMENT
CAREERMANAGEMENT
MARKETINGFORMGRS
MARKETINGFORMGRS
BRANDING
MARKETING FOR MGRS
MARKETING FOR MGRS
PROFESSIONAL DEVELOPMENT
PROFESSIONAL DEVELOPMENT
MARKETING FOR MGRS
MARKETING FOR MGRS
Marketing for Managers
Marketing for Managers
Branding
Branding
Faculty Development Activities
11-01-2017 -11-11-2017 Harvard Business School Case Method Training Applied for and received Lindner funding to attend training designed to strengthen instructor"s ability to effectively teach using the case method of instruction., Harvard Business School Cambridge, MA, USA Type:Workshop
10-05-2017 -10-06-2017 MBA Roundtable Curriculum Innovation Symposium An invitation-only symposium on best practices in designing a market-driven approach to MBA curriculum design., MBA Roundtable Philadelphia, PA, USA Type:Conference Attendance
01-17-2017 -01-19-2017 GMAC Leadership Conference Attended new directors workshop as well as 1 1/2 days/ evenings attending workshops and networking events., Graduate Management Admission Council San Francisco, CA, USA Type:Conference Attendance
06-22-2016 -06-24-2016 GMAC Professional Conference Attended new members orientation and 1 1/2 day of presentation and networking events, Graduate Management Admission Council Washington, DC, USA Type:Conference Attendance

Assignments

Description
Program Director- FT and PT-On Campus programs. Responsible for strategic direction and goals/objective/strategies for program, leadership and mentoring of students and student groups, and building bridges to business community.

Dates:
2016-07-01,

Accepted Contributions

Frank Kardes, Ruth Pogachar, Roseann Hassey, Ruomeng Wu,  (Accepted). Brand Attitude Structure. Routledge.
 ,
605 Carl H. Lindner Hall
Phone: 513-556-1023
Fax: 513-556-0979
hasseyrv@ucmail.uc.edu