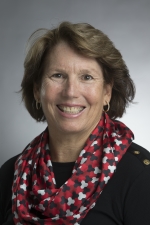 Molly A Rogers
Assistant Professor - Adjunct
Professor Rogers is a CPA and holds a Masters in Finance which was started at the University of Michigan, and finished at the University of Cincinnati. She graduated from UC with an undergraduate degree in Accounting and spent the next 10 years with Ernst and Young in Audit and Advisory Services. While attending UC she played varsity Tennis. She left Ernst and Young to pursue teaching finance and accounting at the Xavier University MHA Program. After 10 years she left Xavier for St. Elizabeth Healthcare to serve in the Finance Division. While at St. Elizabeth she was the Director of Reimbursement and was involved in many of the accounting functions including cost accounting, budgeting and operations analysis. She also has served for many years as a Board member of Dental Care Plus, Inc., a Dental Insurance company headquartered in Sharonville. After almost 17 years at St. Elizabeth Healthcare, she returned to teach Accounting at UC. Professor Rogers' strong business background as well as interest in operations has lead her to teach Cost Accounting and Managerial Decision Making in the MBA program.
Download vita.
Teaching Interest
Managerial Accounting, Cost Accounting, NonProfit, Financial Accounting, MBA Decision Making

Research Interest
Applying Accounting and Managerial Concepts to improve health care economics.

History
Institution: The Christ Hospital
Title: Consultant
Institution: Carmel Manor Nursing Home Board
Title: Chair of Audit committe and finance
Institution: Board of Directors Dental Care Plus, Inc.
Title: Finance and Audit Committee
Institution: Emerson Consulting
Title: Consultant
Institution: St. Elizabeth Healthcare
Title: Senior Director
End Date: 2013-07-31
Institution: Xavier University Masters of Health Administration
Title: Assistant Professor of Finance
End Date: 1998-05-12
Institution: University of Cincinnati
Title: Adjunct Professor
End Date: 1987-12-31
Institution: Ernst and Whinney
Title: staff, senior, manager auditor and consultant
End Date: 1987-08-31
Awards | Honors
Organization: College of Business
Name: Deans List of Teaching Excellence - Spring 2017
Year Received: 2017
Organization: College of Business
Name: Awarded Harold Grilliot Award
Year Received: 2017
Organization: College of Business
Name: Nomintated For the Michael Dean Award for Ouststanding Graduate teaching
Year Received: 2017
Organization: College of Business
Name: Deans List of Teaching Excellence - Fall 2016
Year Received: 2017
Organization: College of Business
Name: Deans List of Teaching Excellence - Summer 2016
Year Received: 2016
Organization: College of Business
Name: Deans List of Teaching Excellence - Spring 2016
Year Received:2016
Organization: College of Business
Name: Nominated for the Harold Grilliot Award for Outstanding Faculty Adivsor
Year Received: 2016
Organization: College of Business
Name: Nominated for the Michael Dean Award for Graduate Teaching
Year Received: 2016
Organization: College of Business
Name: Deans List of Teaching Excellence - Fall 2015
Year Received: 2016
Organization: BETA ALPHA PSI national
Name: BAP Awarded National Outstanding Chapter
Year Received: 2015
Organization: Carl H. Lindner College of Business
Name: Deans List of Teaching Excellence Summer 2015
Year Received: 2015
Organization: Carl H. Lindner College of Business
Name: Deans List of Teaching Excellence Spring 2015
Year
Ph D, University of Michigan Ann Arbor, MI, To Present (Accounting)
MBA, UC cincinnati, 1990 (finance)
BA, UC cincinnati, 1979 (accounting)
Positions and Work Experience
05-11-2014 - Consultant, Prepare financial analysis on a per request basis for the CFO and Controller. , The Christ Hospital ,
05-01-2014 - c, Trained with consultants on Lean processes. Provided Subject Matter Expertise in Healthcare. , Simpler Consulting,
07-1999 - Chair of Audit committe and finance, Carmel Manor Nursing Home Board,
09-1988 - Finance and Audit Committee, active member of SEC company , Board of Directors Dental Care Plus, Inc. ,
01-01-1985 - Consultant, Presentations on Healthcare Reimbursement and Financials. Prepare analysis on new products in Healthcare. , Emerson Consulting,
10-1998 -07-2013 Senior Director, Reimbursement and Revenue Cycle department, St. Elizabeth Healthcare,
08-28-1987 -05-12-1998 Assistant Professor of Finance, Taught Cost Accounting, reimbursement, Healthcare case studies in Finance, Corporate Finance, supervised 10 students a year on required internships, Xavier University Masters of Health Administration,
09-1987 -12-1987 Adjunct Professor, taught auditing for Evening undergrad program, University of Cincinnati,
08-1979 -08-1987 staff, senior, manager auditor and consultant, preformed audit and consulting services for major clients around country, Ernst and Whinney,
Research and Practice Interests
Applying Accounting and Managerial Concepts to improve health care economics.
Invited Presentations
Rogers, Molly Reimbursement fundementals .Internal Organization, St. Elizabeth Healthcare, Northern KY. Workshop. . Level:State
05-01-2017 Deans List of Teaching Excellence - Spring 2017 Oustanding contribution in the class room Level:College Type:Teaching
03-31-2017 Awarded Harold Grilliot Award The Harold Grilliot Award rewards faculty for outstanding contributions to a student led organization that supports and influences for the good other students. Beta Alpha Psi is a national honorary society for Accounting, Finance and IS students and leads community service events as well as professional events to aid in career development Level:University Type:Service, University
02-15-2017 Nomintated For the Michael Dean Award for Ouststanding Graduate teaching Declined due to winning in the past 5 years Level:College Type:Teaching
01-01-2017 Deans List of Teaching Excellence - Fall 2016 Level:University Type:Teaching
08-15-2016 Deans List of Teaching Excellence - Summer 2016 Level:University Type:Teaching
05-01-2016 Deans List of Teaching Excellence - Spring 2016 Level:University Type:Teaching
02-15-2016 Nominated for the Harold Grilliot Award for Outstanding Faculty Adivsor Nominated for service for Beta Alpha Psi faculty advisor Level:College Type:Leadership
02-15-2016 Nominated for the Michael Dean Award for Graduate Teaching Declined consideration due to winning the prior year Level:College Type:Leadership
01-01-2016 Deans List of Teaching Excellence - Fall 2015 Level:University Type:Teaching
08-2015 BAP Awarded National Outstanding Chapter The UC chapter was awarded the most improved Chapter on a national basis (over 250 chapters) and received a Plaque and monetary reward. Level:National Type:Leadership
08-15-2015 Deans List of Teaching Excellence Summer 2015 Level:College Type:Teaching
05-15-2015 Deans List of Teaching Excellence Spring 2015 Level:College Type:Teaching
03-2015 Awarded Michael L. Dean Excellence in Classroom Education and Learning Graduate Teaching Award Awarded Honor by panel of Graduate Faculty and students for going beyond duties in interacting with students and developing real world business scenarios for the class room Level:University Type:Service, Professional
02-2015 Nominated for the Harold Grilliot Award for Outstanding Faculty Advisord Learning Graduate Teaching Award Nominated for going beyond duties in interacting with students as a faculty adviser to both the Beta Alpha Psi (BAP) and Lindner Women in Business (LWIB) faculty adviser Level:University Type:Service, Professional
02-2015 Nominated for the Michael L. Dean Excellence in Classroom Education and Learning Graduate Teaching Award Nominated for going beyond duties in interacting with students and developing real world business scenarios for the class room Level:University Type:Service, Professional
12-15-2014 Deans List of Teaching Excellence Fall 2014 Level:College Type:Teaching
08-15-2014 Deans List of Teaching Excellence Summer 2014 Level:College Type:Teaching
05-01-2014 Deans List of Teaching Excellence Spring 2014 Level:College Type:Teaching
02-2014 Nominated for the Michael L. Dean Excellence in Classroom Education and Learning Graduate Teaching Award Nominated for going beyond duties in interacting with students and developing real world business scenarios for the class room Level:University Type:Service, Professional
01-03-2014 Deans List of Teaching Excellence Fall 2013 Outstanding Teaching Performance as judged by course evaluations of 7 or above out of 8 for the Instructor Excellence measure Level:College Type:Teaching
09-18-2013 Deans List of Teaching Excellence Summer 2013 Outstanding Teaching performance as judged by course evaluations of 7 or above on Instructor Excellence out of a possible 8 Level:College Type:Teaching
09-13-2013 Deans List of Teaching Excellence Spring 2013 Outstanding Teaching Performance Level:College Type:Teaching
murray, danny; scott, leonard; lui, luxin; yamukov, lyubomir; combs, ashley; Supervised Teaching Activity Status:Completed 12-2013
Moore, Meagan Supervised Teaching Activity Status:Completed 12-2013
hoffman, alex Master"s Thesis Committee Member 12-05-2013
wilker, angela Supervised Teaching Activity Status:Completed 04-2013
Kahn, Philip Supervised Teaching Activity Status:Completed 04-2013
Indoor Tennis club (review financials manage budgets report to management ) Officer, Treasurer Type:Community Service Level:Public 01-2015
Carmel Manor Nursing Home Committee Member Type:Community Service Level:Public 09-2000
Carmel Manor Nursing Home Committee Chair Type:Community Service Level:Public 04-2000
Indian Hill Swim and Tennis Club (President of the Organization for two years ) Board Member Type:Community Service Level:Public 1997 -2002
MBA Advisory Committee (Represent the accounting Department in the MBA program ) Committee Member Type:Departmental Service Level:Department 09-01-2014
Beta Alpha Psi (Help organize students, advise and attend events including regional and national conferences. ) Faculty Advisor Type:Departmental Service Level:Department Bad Format: 20140100
PWC Case Competition (Coach a student team ) Type:Departmental Service Level:Department 09-2015 -10-2015
Commencement Type:Departmental Service Level:Department -04-2015
Women In Business (Advise and attend meetings and events. ) Faculty Advisor Type:Departmental Service Level:Department Bad Format: 20130100 -Bad Format: 20150100
PWC Competition (Mentor Five students in competition on a Case Study ) Faculty Mentor Type:Departmental Service Level:Department 09-2014 -10-2014
Commencement Type:Departmental Service Level:Department -04-2014
PWC Competition (Mentor Five students in competition on a Case Study ) Faculty Mentor Type:Departmental Service Level:Department 09-2013 -10-2013
PWC Competition (Mentor a team in a case competition sponsored by accounting firm ) Faculty Mentor Type:Departmental Service Level:Department 09-2012 -10-2012
MBA Advisory Committe Committee Member Type:University/College Service Level:University 09-2014
Beta Alpha Psi (Faculty adviser to Accounting Honory. ) Faculty Advisor Type:University/College Service Level:University 05-2014
Delta Sigma Pi (Induction to the Fraternity voted on my students ) Faculty Mentor Type:University/College Service Level:University 01-2013 -2015
Lindner Women In Business (Advise and attend meetings and events. ) Faculty Advisor Type:University/College Service Level:University 01-2013 -2015
Commencement Type:University/College Service Level:University -04-2015
Commencement Type:University/College Service Level:University -04-2014
Carmel Manor Nursing Home (Audit Committee Chair and Finance member ) Board of Directors of a Company Type:Prof. Org. Level:Service to Professional Associations 01-1992
Dental Care Plus (Chaired Audit Committee, Finance Committee, Guide company to increase shareholders wealth ) Board of Directors of a Company Type:Prof. Org. Level:Service to Professional Associations 01-1988
Indian Hill Recreation Commission (Treasurer ) Board of Trustees Type:Prof. Org. Level:Service to Professional Associations 01-1988 -09-2001
01-2015: Recruitment meet Monthly to discuss openings at the firm and how students plassed there are doing. Have several students working there currently Grant Thornton, cincinnati, ohio
2014: Recruitment meet Monthly to discuss openings at the firm and how students plassed there are doing. Have several students working there currently Grant Thornton, cincinnati, ohio
01-2014: Recruitment meet Monthly to discuss openings at the firm and how students plassed there are doing. Have several students working there currently Grant Thornton, cincinnati, ohio
01-2014: Recruitment currently recruiting for a budget position St Elizabeth Healthcare, cincinnati, ky
09-2013: Recruitment Serve with Jim on a Board and he contacts me for co ops AMIG, amelia, ohio
01-2013: Recruitment Email, phone calls and meetings regarding students for potential internships, coops and full time positions. Alison was on my audit at St. E"s so we have a strong and long relationship Ernst and Whinney, cincinnati, ohio
01-2013: Recruitment meet Monthly to discuss openings at the firm and how students plassed there are doing. Have several students working there currently Grant Thornton, cincinnati, ohio
09-2014: webinars and conferences Internal Management Accountants , International
01-1999 -2013: leaders in healthcare finance present and discuss issues Healthcare Financial Management Association, Regional
ACCT MGR DECISIONS
CAREER MANAGEMENT
FIN ACCT FOUNDATION
FIN ACCT FOUNDATION
FIN ACCT FOUNDATION
FIN ACCT FOUNDATION
IND PRATICUM I
IND STUDY IN ACCT
FIN ACCT FOUNDATION
HEALTHCARE FINANC 2: DEC MAKNG
HEALTHCARE FINANCE 1: ANALYSIS
IND PRATICUM I
ACCT MGR DECISIONS
ACCT MGR DECISIONS
ACCT MGR DECISIONS
CORP GOV ACCOUNTING CAREERS
MGR FIN ACCT FOR PHARMACIST
ACCTMGRDECISIONS
CAREERMANAGEMENT
FINACCTFOUNDATION
FINACCTFOUNDATION
FINACCTFOUNDATION
FINACCTFOUNDATION
INDPRATICUMI
ACCT MGR DECISIONS
COST ACCT
FIN ACCT FOUNDATION
MASTERS GUIDED RES
ACCT MGR DECISIONS
CORP & GOV ACCOUNTING CAREERS
HEALTHCARE FINANC 2: DEC MAKNG
HEALTHCARE FINANCE 1: ANALYSIS
IND STUDY IN ACCT
MGR & FIN ACCT FOR PHARMACIST
ACCT MGR DECISIONS
FIN ACCT FOUNDATION
FIN ACCT FOUNDATION
FIN ACCT FOUNDATION
MANAGERIAL ACCT
PUBLIC ACCTG CAREER
ACCT MGR DECISIONS
COST ACCT
FIN ACCT FOUNDATION
Accounting for Managerial Decisions
Accounting for Managerial Decisions
Corporate and Government Accounting Careers and Professional Development
Foundations in Accounting
Foundations in Accounting
Accounting for Managerial Decisions
Foundations in Accounting
Foundations in Accounting
Foundations in Accounting
Foundations in Accounting
Managerial Accounting
Public Accounting Careers and Professional Development
Accounting for Managerial Decisions
Foundations in Accounting
Accounting for Managerial Decisions
Accounting for Managerial Decisions
Accounting for Managerial Decisions
Foundations in Accounting
Foundations in Accounting
Teaching Assistant
ACCT MGR DECISIONS
COST ACCT
COST ACCT
FIN ACCT FOUNDATION
FIN ACCT FOUNDATION
FIN ACCT FOUNDATION
TEACHING ASSISTANT
ACCT MGR DECISIONS
FIN ACCT FOUNDATION
ACCT MGR DECISIONS
ACCT MGR DECISIONS
ACCT MGR DECISIONS
FIN ACCT FOUNDATION
FIN ACCT FOUNDATION
Accounting for Managerial Decisions
Accounting for Managerial Decisions
Cost Accounting
Cost Accounting
Foundations in Accounting
Foundations in Accounting
Independent Study in Finance
Accounting for Managerial Decisions
Cost Accounting
Foundations in Finance & Accounting
Accounting for Managerial Decisions
Accounting for Managerial Decisions
Accounting for Managerial Decisions
Cost Accounting
Independent Study in Accounting
Independent Study in Accounting
Accounting for Managerial Decisions
Managerial Accounting
Managerial Accounting
Teaching Assistant
Faculty Development Activities
03-08-2014 3T Teaching, techniques and technology Uc Clermont college cincinnati, o Type:Conference Attendance
-2014 Advance Connect ONline Accounting software advance topics, McGraw Hill Type:Continuing Education Program
11-2013 -11-2013 Lily Educational Conference Conference on improvement of outcomes in teaching -3 days, Eli Lily miami oxford, Ohio, united states Type:Conference Attendance
-10-01-2013 Online Course Development Program Share Course Acceleration ideas and best practice for online teaching , Online Department cincinnati, OHIO Type:Workshop
-07-09-2013 Distance Learning Pedagogy and Practice - Course enrichment for online class, cincinnati, Ohio Type:Workshop
316 Carl H. Lindner Hall
Phone: 513-556-7033
Fax: 513-556-6278
molly.rogers@uc.edu