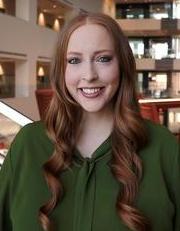 Emily Dolores Cloud
Sr Academic Advisor
French Hall
A&S Advising - 0037
Originally from Columbus Ohio, Emily graduated from the University of Cincinnati with a Bachelor of Arts and a Bachelor of Science in Psychology in 2017. She immediately went to graduate school at UC and earned a Master of Arts in Psychology in 2018.

Emily joined the Arts and Sciences advising team as a graduate assistant in August 2017 and became a full-time Senior Academic Advisor in January 2018. Her love of UC and the experiences she had as a student led to her wanting to share that passion with her students. Her goal as an academic advisor is to help students discover their unique talents and characteristics to make them successful in their professional and personal lives!

When Emily is not working, you can find her listening to music, watching YouTube, and constantly asking her mom to send her pictures of her two dogs, Bella and Dani.  
Master of Arts: University of Cincinnati 2018 (Psychology )
Bachelor of Arts: University of Cincinnati 2017 (Psychology )
Bachelor of Science: University of Cincinnati 2017 (Psychology )