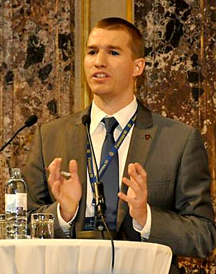 Igor Kovac
Visiting Scholar
Ph.D. Candidate, 2018-2019 Pre-Doctoral Fellow at ISCS
Crosley Tower
A&S SPIA - 0375
Igor Kovač research interests lie in International Security, International Relations Theory, Power, Geopolitics, Grand Strategy, International Political Economy, Cybersecurity, European Politics, Philosophy of Science, Mix-methods Research.

His Ph.D. thesis develops a new theoty of enduring hegemony - pervasive hegemony.

Igor works on several ongoing research projects:
- Economic power factor: primus inter pares?
- Geopolitics: Shangri-La of International Relations
- A Comparison of EU and NATO's Approaches to Managing and Regulating Cyber Threats
- Sanctioning Iran: the case of a latent blowback for the European Union
- Economic intelligence: a comparative study

Mr. Kovač is active in different think tanks and NGOs, such as REFORMISS, and The Slovenian Paneuropean Movement. He cooperates with the Slovenian Ministry for Foreign Affairs and has delivered lectures on geopolitics on several academic institutions across Europe.
MAIS (Master of Advanced International Studies): Diplomatic Academy of Vienna Vienna, 2012 (geopolitics, European economics)
BS in International relations: University of Ljubljana, Faculty of Social Sciences Ljubljana (Slovenia), 2010 (big power relations, political economy)
MS in Sport Science: University of Ljubljana, Faculty of Sport Ljubljana (Slovenia), 2010 (Alpine skiing)
Grant: #2017 Dissertation Grant Investigators:Harknett, Richard; Kovac, Igor 04-01-2017 -03-31-2018 Koch Foundation, Inc Hegemonic Endurance Theory (Igor Kovac) Role:Collaborator $5,000.00 Awarded Level:Private Non-Profit
Grant: #Fellowship Investigators:Harknett, Richard; Kovac, Igor 01-01-2020 -06-30-2020 Charles Koch Foundation, Inc Igor Kovach Resarch Grant Role:Collaborator $14,800.00 Awarded Level:Private Non-Profit
Peer Reviewed Publications
Igor Kovač (2014. ) EU in the struggle for Global Governance: Geopolitical Ethics .Journal of Diplomacy and Economy, , 2 (1/2 ) ,118−38.
Igor Kovač (2013. ) Filozofija France Bučarja znotraj tokov mednarodnih odnosov: 'Geopolitična etika' in post-pozitivna znanstvena paradigma TITLE IN ENGLISH: Philosophy of France Bučar within the international relations theory: 'Geopolitical ethics' and post-positive scientific paradigm .Anthropos, , 45 (3-4 ) ,31–55.
Igor Kovač (2013. ) In the long run we are all dead – Hey Keynes, what is long in the contemporary US case? .Transition Studies Review, , 19 (3 ) ,275−90.
Laris Gaiser and Igor Kovač (2012. ) From Bipolarity to Bipolarity: International Relations Repeating Again .Journal of Global Policy and Governance, , 1 (1 ) ,49−63.
Published Books
Igor Kovač (2012. ) Post-Cold War Power Structure of the International System .Ljubljana , Ebesede
Igor Kovač (ed.) (2013. ) Panevropa Pan-Europe .Ljubljana , Slovenian Paneuropean Movement
Igor Kovač, Karolina Praček (ed.) (2014. ) European Citizens for European Foreign Policy .Ljubljana , Slovenian Paneuropean Movement
Igor Kovač (ed.) (2018. ) At His Crossroad Reflections on the Work of France Bučar .New York , Springer
-POL-1080 INTRO INTRNL RLTNS
POL 2080 AMERICA AND THE WORLD
POL 2084 US POLITICAL INTELLIGENCE/COUNTERINTELLIGENCE
Phone: 5135603264
kovacir@mail.uc.edu