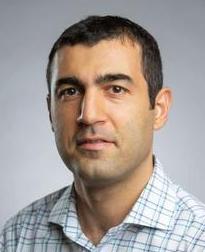 Bilal Gonen
Adjunct Assistant Professor
Teachers College
250E
CECH - School of Information Technology - 0002
For the most up-to-date information, visit https://bilalgonen.com .

Dr. Bilal Gonen is an Assistant Professor in the School of Information Technology at the University of Cincinnati. Dr. Gonen regularly teaches three master courses; IT Infrastructure Sustainability, Advanced Storage Technologies, and Advanced System Administration. All of these courses include hands-on projects based on Virtualization platforms (such as Oracle VirtualBox, VMware workstation, and Microsoft Hyper-V), Cloud Platforms (such as Amazon Web Services, Microsoft Azure, and Google Cloud Platform).
Dr. Gonen supervises students in their Master theses. His research interests are cloud computing, blockchain, and cyber security and Machine Learning. 
Ph.D.: University of Nevada, Reno Reno, NV, 2011 (Computer Science and Engineering)
M.S.: University of Georgia Athens, GA, USA, 2006 (Computer Science)
B.E.: Sakarya University Turkey, 2002 (Computer Engineering)
Peer Reviewed Publications
Namani S.; Gonen B. (03-01-2020. ) Smart agriculture based on IoT and cloud computing.Proceedings - 3rd International Conference on Information and Computer Technologies, ICICT 2020, , 553-556 More Information
Gonen B.; Sawant D. (03-01-2020. ) Significance of agile software development and SQA powered by automation.Proceedings - 3rd International Conference on Information and Computer Technologies, ICICT 2020, , 7-11 More Information
Varlioglu S.; Gonen B.; Ozer M.; Bastug M. (03-01-2020. ) Is cryptojacking dead after coinhive shutdown?.Proceedings - 3rd International Conference on Information and Computer Technologies, ICICT 2020, , 385-389 More Information
Ajmera H.; Gonen B. (02-01-2020. ) Virtual Reality in Health Care.2020 International Conference on Computing, Networking and Communications, ICNC 2020, , 51-55 More Information
Simsek S.; Genc O.; Albizri A.; Dinc S.; Gonen B. (01-02-2020. ) Artificial neural network incorporated decision support tool for point velocity prediction.Journal of Business Analytics, , 3 (1 ) ,67-78 More Information
Dhital T.; Gonen B. (12-01-2019. ) A survey on web security issues.Proceedings - 6th Annual Conference on Computational Science and Computational Intelligence, CSCI 2019, , 231-234 More Information
Adewopo V.; Gonen B.; Varlioglu S.; Ozer M. (12-01-2019. ) Plunge into the underworld: A survey on emergence of darknet.Proceedings - 6th Annual Conference on Computational Science and Computational Intelligence, CSCI 2019, , 155-159 More Information
Ozer M.; Varlioglu S.; Gonen B.; Bastug M. (12-01-2019. ) A prevention and a traction system for ransomware attacks.Proceedings - 6th Annual Conference on Computational Science and Computational Intelligence, CSCI 2019, , 150-154 More Information
Solmaz M.; Lane A.; Gonen B.; Akmamedova O.; Gunes M.H.; Komurov K.; Hancock J. (11-01-2019. ) Graphical data mining of cancer mechanisms with SEMA.Bioinformatics, , 35 (21 ) ,4413-4418 More Information
Bharamagoudra M.; Manvi S.; Gonen B. (02-01-2017. ) Event driven energy depth and channel aware routing for underwater acoustic sensor networks: Agent o.Computers and Electrical Engineering, , 58 ,1-19 More Information
Tuna T.; Akbas E.; Aksoy A.; Canbaz M.; Karabiyik U.; Gonen B.; Aygun R. (12-01-2016. ) User characterization for online social networks.Social Network Analysis and Mining, , 6 (1 ) , More Information
Wilde N.; Gonen B.; El-Sheikh E.; Zimmermann A. (09-01-2016. ) Approaches to the evolution of SOA systems.Intelligent Systems Reference Library, , 111 ,5-21 More Information
Gonen B.; Akkaya K.; Senel F. (12-24-2015. ) Efficient camera selection for maximized target coverage in underwater acoustic sensor networks.Proceedings - Conference on Local Computer Networks, LCN, , 26-29-October-2015 ,470-473 More Information
Gonen B.; Gunduz G.; Yuksel M. (01-15-2015. ) Automated network management and configuration using Probabilistic Trans-Algorithmic Search.Computer Networks, , 76 ,275-293 More Information
Genç O.; Gonen B.; Ardiçlio?lu M. (01-01-2015. ) A comparative evaluation of shear stress modeling based on machine learning methods in small streams.Journal of Hydroinformatics, , 17 (5 ) ,805-816 More Information
Reichherzer T.; Coffey J.; Gonen B.; Gillett I. (01-01-2015. ) Knowledge modeling in the health care domain: Capturing semantics to bridge the gap between complex .Communications in Computer and Information Science, , 580 ,328-338 More Information
Reichherzer T.; Coffey J.; Gonen B.; Gillett I. (01-01-2015. ) Knowledge modeling in the health care domain to support software development & maintenance.MODELSWARD 2015 - 3rd International Conference on Model-Driven Engineering and Software Development, Proceedings, , 470-476 More Information
Zimmermann A.; Gonen B.; Schmidt R.; El-Sheikh E.; Bagui S.; Wilde N. (01-01-2014. ) Adaptable enterprise architectures for software evolution of smartlife ecosystems.Proceedings - IEEE International Enterprise Distributed Object Computing Workshop, EDOCW, , 316-323 More Information
Gonen B.; Fang X.; El-Sheikh E.; Bagui S.; Wilde N.; Zimmermann A.; Petrov I. (01-01-2014. ) Maintaining SOA systems of the future: How can ontological modeling help?.KEOD 2014 - Proceedings of the International Conference on Knowledge Engineering and Ontology Development, , 376-381 More Information
Babb B.; Gonen B. (10-28-2013. ) Lowering six degrees of Kevin Bacon by genetic algorithm.Proceedings of the 2013 IEEE 2nd International Network Science Workshop, NSW 2013, , 156-159 More Information
Grimm M.; Gonen B. (10-28-2013. ) Improving music artist recommendations through analysis of influences.Proceedings of the 2013 IEEE 2nd International Network Science Workshop, NSW 2013, , 110-113 More Information
Gonen B.; Yuksel M. (12-01-2011. ) Network configuration and management via two-phase online optimization.GLOBECOM - IEEE Global Telecommunications Conference, , More Information
Gonen B.; Yuksel M.; Louis S. (12-01-2010. ) Probabilistic trans-algorithmic search for automated network management and configuration.2010 IEEE Globecom Workshops, GC'10, , 475-480 More Information