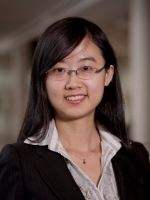 Liwei Chen
Asst Professor
Liwei Chen is an Assistant Professor in the Department of Operations, Business Analytics, and Information Systems at the Carl H. Lindner College of Business at the University of Cincinnati. She earned her Ph.D. in Information Systems from the J. Mack Robinson College of Business at Georgia State University in 2016. Liwei's research focuses on the empowering roles of IT in healthcare services and other contexts. She has published in journals such as European Journal of Information Systems and Journal of Medical Internet Research, and has presented her work in conferences including the International Conference on Information Systems, INFORMS, and Annual Workshop on Health IT and Economics.
Ph D: Georgia State University Atlanta, GA, 2016 (Computer Information Systems)
M Phil: The Hong Kong Polytechnic University Hong Kong, 2011 (Management Information Systems)
BA: Harbin Institute of Technology Harbin, China, 2008 (Management Information Systems)
Research and Practice Interests
Liwei's research focuses on understanding how IT can empower individuals and organizations to share and access information, make informed decisions, and undertake actionable changes to solve societal and business problems.
Other Publications
Chen, Liwei; Rai, Arun; Hsieh, J. J. Po-An; Xu, Xin The Impact of Service Employees' Infusion Use of CRM Systems on Customer Satisfaction in Face-to-Face and Virtual Channels . MIS Quarterly
Rai, Arun; Chen, Liwei; Baird, Aaron Mobile Health (mHealth) Channel Preference: An Integrated Perspective of Approach-Avoidance Beliefs and Regulatory Focus . Journal of the Association for Information Systems
Chen, Liwei; Hsieh, J.J. Po-An; Van de Vliert, Evert; Huang, Xu (2015. ) Cross-National Differences in Individual Knowledge-Seeking Patterns: A Climato-Economic Contextualization .24 (3 ) , European Journal of Information Systems
Rai, Arun; Chen, Liwei; Pye, Jessica; Baird, Aaron (08-02-2013. ) Understanding Determinants of Consumer Mobile Health Usage Intentions, Assimilation, and Channel Preferences .15 (8 ) , Journal of Medical Internet Research
DATA MANAGEMENT
DATA MANAGEMENT
DATA MANAGEMENT
DATA MANAGEMENT
DATA MANAGEMENT
DATA MANAGEMENT
DIGITAL TECH IN BUS
DIGITAL TECH IN BUS
DATAMANAGEMENT
DATAMANAGEMENT
DATAMANAGEMENT
DATAMANAGEMENT
DATA MANAGEMENT
DATA MANAGEMENT
DIGITAL TECH IN BUS
INDEP STUDY IS
DATA MANAGEMENT
DATA MANAGEMENT
DATA MANAGEMENT
Academic - Cincinnati  Ohio,