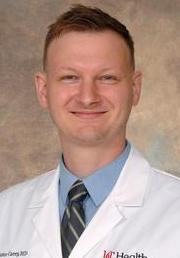 Christian Fredrik Adams-Carey
Clinical Instructor
Personal Statement
I left a career in community organizing to pursue medicine. Medicine combines my love of science, my sense of justice, and my desire to make a lasting impact. I enjoyed the rigor of my preclinical studies and delved deeper into the psychosocial determinants of health through my work directing the Urban Health Project. However, I was delighted to discover I truly thrived as a fledgling clinician on the wards in my third year. The diversity of patients and pathologies found in hospital medicine in particular instilled a daily sense of purpose that left me invigorated to tackle each day with the enthusiasm and attention our patients deserve. I think most of us enter medicine with some quasi heroic notion of "saving lives." We are caring, competitive, hardworking people. We want to make a difference and strive to win. Patient deaths feel like failures. They don't fit the narrative. But patient deaths are also vital for shaping our identities as physicians. Medicine is profound because it deals with the deepest aspects of human experience: our hopes, our fears, life and death. [I am reminded] daily of the kind of clinician I want to be—one who takes the time to fully know their patients, one who does not neglect the smaller kindnesses that go a long way to relieve suffering, and one who is prepared for the possibility of death and ready to help patients have dignity and peace at the end.

Why I Chose Cincinnati
I chose Cincinnati for its laser focus on patient centeredness, evidence based medicine, and rigorous medical education scholarship. As a Cincinnati native I know that our community has the diversity of patients and pathologies necessary for well rounded internal medicine and subspecialty training.
 
Medical Degree: University of Cincinnati College of Medicine