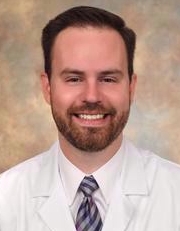 Andrew J. Adan , M.D.
Assistant Professor of Clinical
University of Cincinnati College of Medicine
Department of Emergency Medicine
231 Albert Sabin Way, MSB 1654
Cincinnati, OH, Ohio 45267-0769
Phone 513-558-5281
Fax 513-558-5791
Email adanaj@uc.edu
Bachelor of Science : Alma College Alma, MI, 2011
Medical Degree: University of Michigan Medical School Ann Arbor, MI, 2015
Residency: University of Michigan Ann Arbor, Michigan, 2019 (Emergency Medicine)
American Board of Emergency Medicine (Certification Date: 07-07-2021 )
Emergency Medicine
Emergency Medicine
Research and Practice Interests
- Administration, operations, and techonogy
- Wilderness and austere environment medicine
Peer Reviewed Publications
Haas NL, Adan AJ, Hatton C, Joseph JR, Hebert C, et al. (2020. ) Emergency Department-based Intensive Care Unit Use Peaks Near Emergency Department Shift Turnover.Western Journal of Emergency Medicine, , 21 (4 ) ,866 More Information
Adan AJ, Nafday A, Beyer AB, Odom MJ, Theyyunni NR, Ward KR (2019. ) Use of Tandem Perimortem Cesarean Section and Open-Chest Cardiac Massage in the Resuscitation of Peripartum Cardiomyopathy Cardiac Arrest.Annals of Emergency Medicine, , 74 (6 ) ,772 More Information
Book Chapter
Adan AJ, Hackenson D (2017 ) Upper GI Bleeding PressorDex .
Academic - University of Cincinnati College of Medicine
Department of Emergency Medicine
Cincinnati, OH  Ohio, 45267-0769
Phone: 513-558-5281
Fax: 513-558-5791
adanaj@uc.edu