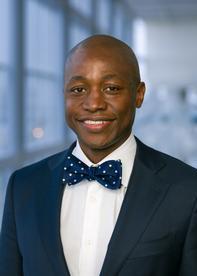 Owoicho Adogwa , MD,MPH
Assistant Professor of Clinical
University of Cincinnati School of Medicine
231 Albert Sabin Way
PO Box 670715
Cincinnati , Ohio 45267
Email adogwaoo@ucmail.uc.edu
Owoicho Adogwa, M.D., M.P.H is an Assistant Professor in the Department of Neurological Surgery at the University of Cincinnati School of Medicine. Focused on the treatment of spinal diseases, with primary expertise in adult and pediatric scoliosis, degenerative spinal pathologies, and spinal oncology. He is a specialist both in advanced minimally invasive and traditional open techniques.
 
His special interests include cervical degenerative disease, cervical deformity, adult and pediatric deformities, neuromuscular deformities, spinal oncology, lumbar degenerative pathologies, and complex primary and revisional spinal surgery.
 
After earning his medical degree at Vanderbilt University School of Medicine, Dr. Adogwa performed his residencies in neurological surgery at Duke University Medical Center and Rush University Medical Center.
 
Dr. Adogwa believes that a surgeon with the most comprehensive training is best able to treat disorders of the spine effectively. During his residency at RUSH, he completed an advanced complex spine and minimally invasive spine surgery fellowship under internationally renowned spine surgeons Vincent Traynelis, M.D., and Richard Fessler, M.D. Post-residency, he completed an adult and pediatric deformity fellowship at Washington University in St. Louis, where he trained under the direction of world-renowned surgeons Munish Gupta, M.D., Keith Bridwell, M.D., Michael Kelly, M.D., Jacob Buchowski, M.D., and others. Dr. Adogwa then pursued additional surgical training in advanced osteotomy techniques in Lyon, France, under the tutelage of Pierre Roussouly, M.D., and in Accra, Ghana, under the mentorship of Oheneba Boachie, M.D. (founder of FOCOS Hospital and past president of the Scoliosis Research Society).
 
Given this background, Dr. Adogwa is one of only a few surgeons in the world who is cross-trained in both orthopedic spine surgery and neurosurgery, which has provided him with unique qualifications to treat patients with complex spinal conditions, bringing to each patient the expertise necessary to evaluate and, if required, surgically treat disorders of the spine.
 
Dr. Adogwa is a prolific surgeon-scientist, having published more than 200 peer-reviewed scientific papers and book chapters and presented as an invited speaker, program faculty, or guest lecturer at more than 180 scientific meetings across the world.
 
He has served on the editorial board of numerous scientific journals, including as Associate Editor of The Spine Journal, and is a reviewer for more than 20 neurosurgery and orthopedic journals.

He has held numerous leadership positions in neurosurgery and spine surgery organizations and is a member of the Congress of Neurological Surgeons, the North American Spine Society, the American Association of Neurological Surgeons, the Lumbar Spine Research Society, AO Spine, the Scoliosis Research Society, the Texas Medical Association, the Dallas Medical Association, the American College of Surgeons, and the Council of State Neurological Societies.

Among his numerous honors and awards, Dr. Adogwa has received the prestigious Journalistic and Academic Neurosurgical Excellence (J.A.N.E) Award for research excellence from the 2017 Joint Spine Section; the Charlie Kuntz Scholar Award; best paper awards at the 2014 and 2017 North American Spine Society Meetings; the 2016 Robert Florin Resident Award from the American Association of Neurological Surgeons; the 2014 Regis W. Haid Jr. Deformity Research Award from the Joint Spine Section; and the 2014 Mayfield Clinical Research Award and Outcomes Committee Award.
Bachelor's Degree: Duke University Durham , 2005 (Biomedical Engineering)
Medical Degree: Vanderbilt University Nashville , 2012 (Medicine )
Fellowship : Washington University in St. Louis St Louis , 2019 (A.O. Complex Spinal Fellowship in Adult and Pediatric Scoliosis)
Neurological Surgery Residency : Duke University/Rush Medical Center Durham/Chicago, 2018 (Residency in Neurological surgery)
American Board of Neurological Surgery (Certification Date: 05-06-2022 )
Cervical Radiculopathy (pinched nerve)
Degenerative Spine Disease
Herniated Discs
Lumbar Radiculopathy
Lumbar Spinal Stenosis
Neck/Spine Injury
Peripheral Nerve Disorders
Spinal Cord Compression
Spinal Cord Injuries
Spinal Disease
Spinal Disorders
Spinal Fusion
Spinal Stenosis
Thoracic and Lumbar Spine Disorders
Traumatic Spine Fractures
N/A
Neurological Surgery
Research and Practice Interests
I am a Neurosurgeon cross trained in orthopedic spine surgery with significant experience treating patients with spinal disorders. My primary areas of expertise are adult and pediatric scoliosis, and I have received specialized training in advanced minimally invasive spinal surgery as well as traditional open techniques. I am an expert in the evaluation and treatment of pediatric as well as adult spinal deformities.

An increasingly common clinical scenario within neurosurgery and orthopedic spine surgery is to encounter older adult patients with symptomatic degenerative scoliosis and multiple chronic conditions and goals of treatment that are not met. These patients present with high decisional regret because of malalignment between the treatment(s) rendered and the older adult patients' values, health outcomes goals, and health care preferences. I believe that this represents a missed opportunity for us as surgeons, which ultimately affects the outcomes of our older adult patients. As a fellowship trained spinal surgeon (cross-trained in orthopedics and neurosurgery), who operates on many older adults, I am eager to see outcomes improve in this population.

I am an Early Stage Investigator and Assistant Professor of Neurological Surgery at University of Cincinnati Medical Center. I have an active clinical practice focused on the management of degenerative disorders of the spine, correction of adult scoliosis, as well as surgical management of spinal oncology.  I am interested in the intersection of biology, epidemiology, and health services in care of older adults with degenerative spinal disorders, and my primary objective as a young investigator is to build a research program focused on durable and sustainable solutions to optimizing surgical outcomes in older adults.  Throughout my graduate training at Duke University, Rush Medical Center, and Washington University in St. Louis, I have had the opportunity to conduct clinical and health services research assessing treatment trends and outcomes across a number of spinal pathologies. To date, these projects have largely lacked a translational component that can incorporate actionable changes that alter patient outcomes. It is an aspiration of mine to understand how patient priorities-aligned decision-making impacts outcomes in older adults with spinal pathologies. Ultimately, I hope to influence the field of spine surgery by shifting the paradigm towards attainment of patient priorities, unique to the older adult.
Positions and Work Experience
2019 -2021 Assistant Professor of Neurological Surgery, UTSW, Dallas
2020 -2021 Chief of Neurological Surgery Dallas VA, UTSW/ Dallas Veterans Affairs Hospital , Dallas
Grant: #20-CSTARPILOT-UC / 1U24AG065204-01 Investigators:Adogwa, Owoicho 01-01-2022 -12-31-2022 National Institute on Aging Exploring Health Priorities of Older Adults with Symptomatic Adult Spinal Deformity Role:PI 52882.20 Awarded Level:Federal
Peer Reviewed Publications
Akbik, Omar S; Aoun, Salah G; Adogwa, Owoicho; Bagley, Carlos A; Al Tamimi, Mazin (2022. ) Open Paddle Lead Trial for Spinal Cord Stimulation: An Institutional Experience. Pain physician, , 25 (1 ) ,E37-E42
Khalid, Syed I; Eldridge, Cody; Singh, Ravinderjit; Chilakapati, Sai; Thomson, Kyle B; Shanker, Rachyl M; Mehta, Ankit I; Adogwa, Owoicho (2021. ) The influence of social determinants of health on single-level anterior cervical discectomy and fusion outcomes.Journal of neurosurgery. Spine, , 1-6 More Information
Sagoo, Navraj S; Haider, Ali S; Ozair, Ahmad; Vannabouathong, Christopher; Rahman, Masum; Haider, Maryam; Sharma, Neha; Raj, Karuna M; Raj, Sean D; Paul, Justin C; Steinmetz, Michael P; Adogwa, Owoicho; Aoun, Salah G; Passias, Peter G; Vira, Shaleen (2021. ) Percutaneous image-guided cryoablation of spinal metastases: A systematic review.Journal of clinical neuroscience : official journal of the Neurosurgical Society of Australasia, , More Information
Adogwa, Owoicho; Caruso, James P; Eldridge, Cody M; Singh, Ravinderjit; Chilakapati, Sai; Deme, Palvasha; Stutzman, Sonja; Aoun, Salah; Naik, Aanand D; Bagley, Carlos A; Makris, Una (2021. ) Decisional Regret Among Older Adults Undergoing Corrective Surgery for Adult Spinal Deformity: A Single Institutional Study.Spine, , More Information
Caruso, James P; Griffin, Samuel; El Ahmadieh, Tarek Y; Bedros, Nicole M; Hoeft, Jennifer; Urquiaga, Jorge F; Pernik, Mark N; Hoes, Kathryn; Patel, Ankur R; Funk, Robert H; Davies, Matthew T; Vance, Awais Z; Adogwa, Owoicho; Barnett, Samuel L; Bagley, Carlos A; Batjer, Henry H; Coppens, Jeroen; El Tecle, Najib; Aoun, Salah G Surgical Site Infection After Autologous Cranioplasty for Decompressive Craniectomy in Traumatic Brain Injury: A Retrospective Review of Two Level 1 Trauma Centers.The Journal of craniofacial surgery, , 32 (8 ) ,2728-2731 More Information
Deme, Palvasha; Perera, Anjali; Chilakapati, Sai; Stutzman, Sonja; Singh, Ravinderjit; Eldridge, Cody M; Caruso, James; Vira, Shaleen; Aoun, Salah; Makris, Una E; Bagley, Carlos A; Adogwa, Owoicho (2021. ) Patient and Spine Surgeon Perceptions on Shared Decision Making in the Treatment of Older Adults Undergoing Corrective Surgery for Adult Spinal Deformity.Spine, , More Information
Caruso, James P; Pernik, Mark N; Johnson, Zachary D; El Ahmadieh, Tarek Y; Ogunnaike, Babatunde; Adogwa, Owoicho; Aoun, Salah G; Bagley, Carlos A (2021. ) Blood preservation techniques in complex spine surgery: Illustrative case and review of therapeutic options.Surgical neurology international, , 12 ,515 More Information
Nunna, Ravi S; Ostrov, Philip B; Ansari, Darius; Dettori, Joseph R; Godolias, Periklis; Elias, Elias; Tran, Angela; Oskouian, Rod J; Hart, Robert; Abdul-Jabbar, Amir; Jackson, Keith L; Devine, John G; Mehta, Ankit I; Adogwa, Owoicho; Chapman, Jens R (2021. ) The Risk of Nonunion in Smokers Revisited: A Systematic Review and Meta-Analysis.Global spine journal, , 21925682211046899 More Information
Lilly, Daniel T; Davison, Mark A; Eldridge, Cody M; Singh, Ravinderjit; Montgomery, Eric Y; Bagley, Carlos; Adogwa, Owoicho (2021. ) An Assessment of Nonoperative Management Strategies in a Herniated Lumbar Disc Population: Successes Versus Failures.Global spine journal, , 11 (7 ) ,1054-1063 More Information
Caruso, James P; Swartz, Karin; Mazzola, Catherine; Ban, Vin Shen; Singh, Ravi; Eldridge, Cody; Schirmer, Clemens; Cheng, Joseph; Bauer, Andrew M; Steinmetz, Michael; Adogwa, Owoicho (2021. ) The Financial Impact of the COVID-19 Pandemic on Neurosurgery Practice in Spring 2020.World neurosurgery, , 153 ,e1-e10 More Information
Montgomery, Eric Y; Pernik, Mark N; Johnson, Zachary D; Dosselman, Luke J; Christian, Zachary K; Deme, Palvasha R; Adeyemo, Emmanuel A; Barrie, Umaru; Badejo, Olatunde; Stewart, Nick A; Uttarkar, Ruta; Adogwa, Owoicho; Tecle, Najib El; Aoun, Salah G; Bagley, Carlos A (2021. ) Perioperative Factors Associated With Chronic Opioid Use After Spine Surgery.Global spine journal, , 21925682211035723 More Information
Caruso, James P; Adogwa, Owoicho; Mazzola, Catherine; Steinmetz, Michael; Simon, Scott D; Schirmer, Clemens M (2021. ) An Assessment of Neurosurgery Resident Clinical and Socioeconomic Training: The 2013 Council of State Neurosurgical Societies Postresidency Survey Results.World neurosurgery, , 151 ,e28-e36 More Information
Buchowski, Jacob M; Adogwa, Owoicho (2021. ) What's New in Spine Surgery.The Journal of bone and joint surgery. American volume, , 103 (12 ) ,1047-1053 More Information
Pernik, Mark N; Deme, Palvasha R; Nguyen, Madelina L; Aoun, Salah G; Adogwa, Owoicho; Hall, Kristen; Stewart, Nick A; Dosselman, Luke J; El Tecle, Najib E; McDonald, Shelley R; Bagley, Carlos A; Wingfield, Sarah A (2021. ) Perioperative Optimization of Senior Health in Spine Surgery: Impact on Postoperative Delirium.Journal of the American Geriatrics Society, , 69 (5 ) ,1240-1248 More Information
Khalid, Syed I; Maasarani, Samantha; Nunna, Ravi S; Shanker, Rachyl M; Cherney, Alecia A; Smith, Jennifer S; Reme, Anne-Isabelle; Adogwa, Owoicho (2021. ) Association Between Social Determinants of Health and Postoperative Outcomes in Patients Undergoing Single-Level Lumbar Fusions: A Matched Analysis.Spine, , 46 (9 ) ,E559-E565 More Information
Maziad, Ali M; Adogwa, Owoicho; Duah, Henry Ofori; Yankey, Kwadwo Poku; Owusu, Derrick Nyantakyi; Sackeyfio, Arthur; Owiredu, Mabel Adobea; Wilps, Tyler; Ofori-Amankwah, Gerhard; Coleman, Franklin; Akoto, Harry; Wulff, Irene; Boachie-Adjei, Oheneba (2021. ) Surgical management of complex post-tuberculous kyphosis among African patients: clinical and radiographic outcomes for a consecutive series treated at a single institution in West Africa.Spine deformity, , 9 (3 ) ,777-788 More Information
Adeyemo, Emmanuel A; Aoun, Salah G; Barrie, Umaru; Nguyen, Madelina L; Johnson, Zachary D; Hall, Kristen; Peinado Reyes, Valery; El Ahmadieh, Tarek Y; Adogwa, Owoicho; McDonagh, David L; Bagley, Carlos A (2021. ) Comparison of the effect of epidural versus intravenous patient controlled analgesia on inpatient and outpatient functional outcomes after adult degenerative scoliosis surgery: a comparative study.The spine journal : official journal of the North American Spine Society, , 21 (5 ) ,765-771 More Information
Nunna, Ravi S; Khalid, Syed I; Patel, Saavan; Sethi, Abhishek; Behbahani, Mandana; Mehta, Ankit I; Adogwa, Owoicho; Byrne, Richard W (2021. ) Outcomes and Patterns of Care in Elderly Patients with Glioblastoma Multiforme.World neurosurgery, , 149 ,e1026-e1037 More Information
Khalid, Syed I; Chilakapati, Sai; Adogwa, Owoicho (2021. ) Reply: Underutilization of Social Determinants of Health Billing Codes May Bias Surgical Disparities Research.Spine, , More Information
Davison, Mark A; Lilly, Daniel T; Moreno, Jessica; Bagley, Carlos; Adogwa, Owoicho (2021. ) A comparison of successful versus failed nonoperative treatment approaches in patients with degenerative conditions of the lumbar spine.Journal of clinical neuroscience : official journal of the Neurosurgical Society of Australasia, , 86 ,71-78 More Information
Sagoo, Navraj S; Haider, Ali S; Rowe, Scott E; Haider, Maryam; Sharma, Ruhi; Neeley, Om James; Dahdaleh, Nader S; Adogwa, Owoicho; Bagley, Carlos A; El Ahmadieh, Tarek Y; Aoun, Salah G (2021. ) Microwave Ablation as a Treatment for Spinal Metastatic Tumors: A Systematic Review.World neurosurgery, , 148 ,15-23 More Information
Montgomery, Eric Y; Pernik, Mark N; Singh, Ravinderjit; Eldridge, Cody M; Schmitt, Kelsey A; Khalid, Syed; Nunna, Ravi; Caruso, James; Johnson, Zachary; Bagley, Carlos A; Adogwa, Owoicho (2021. ) Sex Differences in Postoperative Complications and Functional Status After Deformity Correction Surgery: Do Men Fare Better Than Women?.World neurosurgery, , 148 ,e94-e100 More Information
Khalid, Syed I; Nunna, Ravi S; Maasarani, Samantha; Shanker, Rachyl M; Behbahani, Mandana; Edmondson, Corbin P; Mehta, Ankit I; Gupta, Samir K; Chan, Edie Y; Torquati, Alfonso; Byrne, Richard W; Adogwa, Owoicho (2021. ) Laparoscopic-Assisted Versus Mini-Open Laparotomy for Ventriculoperitoneal Shunt Placement in the Medicare Population.Neurosurgery, , 88 (4 ) ,812-818 More Information
Davison, Mark A; Lilly, Daniel T; Eldridge, Cody M; Singh, Ravinderjit; Bagley, Carlos; Adogwa, Owoicho (2021. ) Comparison of Postoperative Opioid Utilization in an ACDF Cohort: Narcotic Naive Patients Versus Preoperative Opioid Users.Clinical spine surgery, , 34 (2 ) ,E86-E91 More Information
Khan, Majid; Harper, Jonathan; Hunsaker, Joshua Curtis; Kraus, Kristin L; Adogwa, Owicho; Mukherjee, Debraj; Kang, Ashley; Swartz, Karin; Origitano, Thomas C; Guan, Jian; Karsy, Michael (2021. ) Letter: Evaluating the Role of Advanced Practice Providers in Neurosurgery.Neurosurgery, , 88 (3 ) ,E285-E287 More Information
Johnson, Zachary D; Aoun, Salah G; Ban, Vin Shen; El Ahmadieh, Tarek Y; Kafka, Benjamin; Wolfe, Cody; Adogwa, Owoicho; Bagley, Carlos A; Tamimi, Mazin Al (2021. ) Bertolotti Syndrome With Articulated L5 Transverse Process Causing Intractable Back Pain: Surgical Video Showcasing a Minimally Invasive Approach for Disconnection: 2-Dimensional Operative Video.Operative neurosurgery (Hagerstown, Md.), , 20 (3 ) ,E219-E220 More Information
Pelargos, Panayiotis E; Chakraborty, Arpan R; Adogwa, Owoicho; Swartz, Karin; Zhao, Yan D; Smith, Zachary A; Dunn, Ian F; Bauer, Andrew M (2021. ) An Evaluation of Neurosurgical Practices During the Coronavirus Disease 2019 Pandemic.World neurosurgery, , 146 ,e91-e99 More Information
El Dafrawy, Mostafa; Bridwell, Keith; Adogwa, Owoicho; Shlykov, Max; Koscso, Jonathan; Lenke, Lawrence G; Lertudomphonwanit, Thamrong; Kelly, Michael P; Gupta, Munish (2021. ) Rod fractures and nonunions after long fusion to the sacrum for primary presentation adult spinal deformity: a comparison with and without interbody fusion in the distal lumbar spine.Spine deformity, , 9 (1 ) ,231-237 More Information
Adogwa, Owoicho; Rubio, Daniel R; Buchowski, Jacob M; D'Souza, Alden; Shlykov, Maksim A; Jennings, Jack W (2022. ) Spine-specific skeletal related events and mortality in non-small cell lung cancer patients: a single-institution analysis.Journal of neurosurgery. Spine, , 36 (1 ) ,125-132 More Information
Huntoon, Kristin; Stacy, Jason; Cioffi, Susie; Swartz, Karin; Mazzola, Catherine; Profitt, Caleb; Adogwa, Owoicho (2020. ) The Enforceability of Noncompete Clauses in the Medical Profession: A Review by the Workforce Committee and the Medicolegal Committee of the Council of State Neurosurgical Societies.Neurosurgery, , 87 (6 ) ,1085-1090 More Information
El Dafrawy, Mostafa H; Adogwa, Owoicho; Wegner, Adam M; Pallotta, Nicholas A; Kelly, Michael P; Kebaish, Khaled M; Bridwell, Keith H; Gupta, Munish C (2020. ) Comprehensive classification system for multirod constructs across three-column osteotomies: a reliability study.Journal of neurosurgery. Spine, , 1-7 More Information
Davison, Mark A; Lilly, Daniel T; Eldridge, Cody M; Singh, Ravinderjit; Bagley, Carlos; Adogwa, Owoicho (2020. ) A comparison of prolonged nonoperative management strategies in cervical stenosis patients: Successes versus failures.Journal of clinical neuroscience : official journal of the Neurosurgical Society of Australasia, , 80 ,63-71 More Information
Davison, Mark A; Lilly, Daniel T; Eldridge, Cody M; Singh, Ravinderjit; Bagley, Carlos; Adogwa, Owoicho (2020. ) Regional differences in prolonged non-operative therapy utilization prior to primary ACDF surgery.Journal of clinical neuroscience : official journal of the Neurosurgical Society of Australasia, , 80 ,143-151 More Information
Khalid, Syed I; Nunna, Ravi S; Maasarani, Samantha; Kelly, B S Ryan; Sroussi, Hannah; Mehta, Ankit I; Adogwa, Owoicho (2020. ) Pharmacologic and cellular therapies in the treatment of traumatic spinal cord injuries: A systematic review.Journal of clinical neuroscience : official journal of the Neurosurgical Society of Australasia, , 79 ,12-20 More Information
Davison, Mark A; Lilly, Daniel T; Moreno, Jessica; Bagley, Carlos; Adogwa, Owoicho (2020. ) Gender differences in use of prolonged non-operative therapies prior to index ACDF surgery.Journal of clinical neuroscience : official journal of the Neurosurgical Society of Australasia, , 78 ,228-235 More Information
Khalid, Syed I; Nunna, Ravi S; Maasarani, Samantha; Belmont, Erika; Deme, Palvasha; Chilakapati, Sai; Eldridge, Cody; Singh, Ravinderjit; Bagley, Carlos A; Adogwa, Owoicho (2020. ) Association of osteopenia and osteoporosis with higher rates of pseudarthrosis and revision surgery in adult patients undergoing single-level lumbar fusion.Neurosurgical focus, , 49 (2 ) ,E6 More Information
Adogwa, Owoicho; Buchowski, Jacob M; Sielatycki, J Alex; Shlykov, Maksim A; Theologis, Alekos A; Lin, James; CreveCoeur, Travis; Peters, Colleen; Riew, K Daniel (2020. ) Improvements in Neck Pain and Disability Following C1-C2 Posterior Cervical Instrumentation and Fusion for Atlanto-Axial Osteoarthritis.World neurosurgery, , 139 ,e496-e500 More Information
Buchowski, Jacob M; Adogwa, Owoicho (2020. ) What's New in Spine Surgery.The Journal of bone and joint surgery. American volume, , 102 (12 ) ,1034-1041 More Information
Davison, Mark A; Lilly, Daniel T; Moreno, Jessica; Bagley, Carlos; Adogwa, Owoicho (2020. ) Gender differences in the 3-month utilization of nonoperative therapies prior to primary lumbar microdiscectomy.Journal of clinical neuroscience : official journal of the Neurosurgical Society of Australasia, , 76 ,107-113 More Information
Davison, Mark A; Lilly, Daniel T; Moreno, Jessica; Bagley, Carlos; Adogwa, Owoicho (2020. ) Total Health Care Expenditure in Patients With a Herniated Lumbar Disk That Ultimately Require Surgery: A 3- and 6-month Cost Comparison of Maximum Nonoperative Treatment.Clinical spine surgery, , 33 (3 ) ,E108-E115 More Information
Davison, Mark A; Lilly, Daniel T; Desai, Shyam A; Vuong, Victoria D; Moreno, Jessica; Bagley, Carlos; Adogwa, Owoicho (2020. ) Racial Differences in Perioperative Opioid Utilization in Lumbar Decompression and Fusion Surgery for Symptomatic Lumbar Stenosis or Spondylolisthesis.Global spine journal, , 10 (2 ) ,160-168 More Information
Davison, Mark A; Lilly, Daniel T; Moreno, Jessica; Cheng, Joseph; Bagley, Carlos; Adogwa, Owoicho (2020. ) Regional Variation in Nonoperative Therapy Utilization for Symptomatic Lumbar Stenosis and Spondylolisthesis: A 2-Year Costs Analysis.Global spine journal, , 10 (2 ) ,138-147 More Information
Adogwa, Owoicho (2020. ) Response to Letter: Where's the Data?.Spine, , 45 (7 ) ,E413 More Information
Davison, Mark A; Lilly, Daniel T; Desai, Shyam A; Vuong, Victoria D; Moreno, Jessica; Cheng, Joseph; Bagley, Carlos; Adogwa, Owoicho (2019. ) Regional Differences in the Cost and Utilization of Nonoperative Management Within 3 Months Prior to Lumbar Microdiscectomy.Spine, , 44 (22 ) ,1571-1577 More Information
Adogwa, Owoicho; Buchowski, Jacob M; Lenke, Lawrence G; Shlykov, Maksim A; El Dafrawy, Mostafa; Lertudomphonwanit, Thamrong; Obey, Mitchel R; Koscso, Jonathan; Gupta, Munish C; Bridwell, Keith H (2019. ) Comparison of rod fracture rates in long spinal deformity constructs after transforaminal versus anterior lumbar interbody fusions: a single-institution analysis.Journal of neurosurgery. Spine, , 1-8 More Information
Khalid, Syed I; Kelly, Ryan; Khalid, Ridha; Wu, Rita; Ni, Amilia Y; Adogwa, Owoicho; Cheng, Joseph (2020. ) The opioid prescribing practices of surgeons: A comprehensive review of the 2015 claims to Medicare Part D.Surgery open science, , 2 (2 ) ,96-100 More Information
Adogwa, Owoicho; Davison, Mark A; Vuong, Victoria D; Khalid, Syed; Lilly, Daniel T; Desai, Shyam A; Moreno, Jessica; Cheng, Joseph; Bagley, Carlos (2019. ) Reduction in Narcotic Use After Lumbar Decompression and Fusion in Patients With Symptomatic Lumbar Stenosis or Spondylolisthesis.Global spine journal, , 9 (6 ) ,598-606 More Information
Khalid, Syed I; Adogwa, Owoicho; Ni, Amelia; Cheng, Joseph; Bagley, Carlos (2019. ) A Comparison of 30-Day Hospital Readmission and Complication Rates After Outpatient Versus Inpatient 1 and 2 Level Anterior Cervical Discectomy and Fusion Surgery: An Analysis of a Medicare Patient Sample.World neurosurgery, , 129 ,e233-e239 More Information
Adogwa, Owoicho; Davison, Mark A; Vuong, Victoria; Desai, Shyam A; Lilly, Daniel T; Moreno, Jessica; Cheng, Joseph; Bagley, Carlos (2019. ) Sex Differences in Opioid Use in Patients With Symptomatic Lumbar Stenosis or Spondylolisthesis Undergoing Lumbar Decompression and Fusion.Spine, , 44 (13 ) ,E800-E807 More Information
Buchowski, Jacob M; Adogwa, Owoicho (2019. ) What's New in Spine Surgery.The Journal of bone and joint surgery. American volume, , 101 (12 ) ,1043-1049 More Information
Khalid, Syed I; Kelly, Ryan; Wu, Rita; Peta, Akhil; Carlton, Adam; Adogwa, Owoicho (2019. ) A comparison of readmission and complication rates and charges of inpatient and outpatient multiple-level anterior cervical discectomy and fusion surgeries in the Medicare population.Journal of neurosurgery. Spine, , 1-7 More Information
Adogwa, Owoicho; Davison, Mark A; Lilly, Daniel T; Vuong, Victoria D; Desai, Shyam A; Moreno, Jessica; Cheng, Joseph; Bagley, Carlos (2019. ) A 2-Year Cost Analysis of Maximum Nonoperative Treatments in Patients With Symptomatic Lumbar Stenosis or Spondylolisthesis That Ultimately Required Surgery.Global spine journal, , 9 (4 ) ,424-433 More Information
Khalid, Syed I; Carlton, Adam; Wu, Rita; Kelly, Ryan; Peta, Akhil; Adogwa, Owoicho (2019. ) Outpatient and Inpatient Readmission Rates of 1- and 2-Level Anterior Cervical Discectomy and Fusion Surgeries.World neurosurgery, , 126 ,e1475-e1481 More Information
Wewel, Joshua T; Kasliwal, Manish K; Adogwa, Owoicho; Deutsch, Harel; O'Toole, John E; Traynelis, Vincent C (2019. ) Fusion rate following three- and four-level ACDF using allograft and segmental instrumentation: A radiographic study.Journal of clinical neuroscience : official journal of the Neurosurgical Society of Australasia, , 62 ,142-146 More Information
Khalid, Syed I; Kelly, Ryan; Carlton, Adam; Adogwa, Owoicho; Kim, Patrick; Ranade, Arjun; Moreno, Jessica; Maasarani, Samantha; Wu, Rita; Melville, Patrick; Citow, Jonathan (2019. ) Outpatient and inpatient readmission rates of 3- and 4-level anterior cervical discectomy and fusion surgeries.Journal of neurosurgery. Spine, , 31 (1 ) ,70-75 More Information
Adogwa, Owoicho; Davison, Mark A; Vuong, Victoria D; Khalid, Syed; Lilly, Daniel T; Desai, Shyam A; Moreno, Jessica; Cheng, Joseph; Bagley, Carlos (2019. ) Long-Term Costs of Maximum Nonoperative Treatments in Patients With Symptomatic Lumbar Stenosis or Spondylolisthesis that Ultimately Required Surgery: A 5-Year Cost Analysis.Spine, , 44 (6 ) ,424-430 More Information
Adogwa, Owoicho; Vuong, Victoria D; Lilly, Daniel T; Desai, Shyam A; Khanna, Ryan; Ahmad, Shahjehan; Woodward, Josha; Khalid, Syed; Cheng, Joseph (2019. ) Retraction: Limited post-operative dexamethasone use does not affect lumbar fusion: a single institutional experience.Journal of spine surgery (Hong Kong), , 5 (1 ) ,183 More Information
Khalid, Syed; Kelly, Ryan; Carlton, Adam; Wu, Rita; Peta, Akhil; Melville, Patrick; Maasarani, Samantha; Meyer, Haley; Adogwa, Owoicho (2019. ) Adult intradural intramedullary astrocytomas: a multicenter analysis.Journal of spine surgery (Hong Kong), , 5 (1 ) ,19-30 More Information
Adogwa, Owoicho; Lilly, Daniel T; Khalid, Syed; Desai, Shyam A; Vuong, Victoria D; Davison, Mark A; Ouyang, Bichun; Bagley, Carlos A; Cheng, Joseph (2019. ) Extended Length of Stay After Lumbar Spine Surgery: Sick Patients, Postoperative Complications, or Practice Style Differences Among Hospitals and Physicians?.World neurosurgery, , 123 ,e734-e739 More Information
Davison, Mark A; Desai, Shyam A; Lilly, Daniel T; Vuong, Victoria D; Moreno, Jessica; Bagley, Carlos; Adogwa, Owoicho (2019. ) A Two-Year Cost Analysis of Maximum Nonoperative Treatments in Patients with Cervical Stenosis that Ultimately Required Surgery.World neurosurgery, , More Information
Khalid, Syed I; Kelly, Ryan; Adogwa, Owoicho; Carlton, Adam; Tam, Edric; Naqvi, Salik; Kushkuley, Jacob; Ahmad, Shahjehan; Woodward, Josha; Khanna, Ryan; Davison, Mark; Munoz, Lorenzo; Byrne, Richard (2019. ) Pediatric Brainstem Gliomas: A Retrospective Study of 180 Patients from the SEER Database.Pediatric neurosurgery, , 54 (3 ) ,151-164 More Information
Adogwa, Owoicho; Davison, Mark A; Vuong, Victoria D; Desai, Shyam A; Lilly, Daniel T; Moreno, Jessica; Cheng, Joseph; Bagley, Carlos (2019. ) Regional Variation in Opioid Use After Lumbar Spine Surgery.World neurosurgery, , 121 ,e691-e699 More Information
Davison, Mark A; Vuong, Victoria D; Lilly, Daniel T; Desai, Shyam A; Moreno, Jessica; Cheng, Joseph; Bagley, Carlos; Adogwa, Owoicho (2018. ) Gender Differences in Use of Prolonged Nonoperative Therapies Before Index Lumbar Surgery.World neurosurgery, , 120 ,e580-e592 More Information
Adogwa, Owoicho; Karikari, Isaac O; Elsamadicy, Aladine A; Sergesketter, Amanda R; Galan, Diego; Bridwell, Keith H (2018. ) Correlation of 2-year SRS-22r and ODI patient-reported outcomes with 5-year patient-reported outcomes after complex spinal fusion: a 5-year single-institution study of 118 patients.Journal of neurosurgery. Spine, , 29 (4 ) ,422-428 More Information
Abou-Al-Shaar, Hussam; Adogwa, Owoicho; Mehta, Ankit I (2018. ) Lumbar Spinal Stenosis: Objective Measurement Scales and Ambulatory Status.Asian spine journal, , 12 (4 ) ,765-774 More Information
Elsamadicy, Aladine A; Sergesketter, Amanda R; Kemeny, Hanna; Adogwa, Owoicho; Tarnasky, Aaron; Charalambous, Lefko; Lubkin, David E T; Davison, Mark A; Cheng, Joseph; Bagley, Carlos A; Karikari, Isaac O (2018. ) Impact of Chronic Obstructive Pulmonary Disease on Postoperative Complication Rates, Ambulation, and Length of Hospital Stay After Elective Spinal Fusion (?3 Levels) in Elderly Spine Deformity Patients.World neurosurgery, , 116 ,e1122-e1128 More Information
Adogwa, Owoicho; Desai, Shyam A; Vuong, Victoria D; Lilly, Daniel T; Ouyang, Bichun; Davison, Mark; Khalid, Syed; Bagley, Carlos A; Cheng, Joseph (2018. ) Extended Length of Stay in Elderly Patients After Lumbar Decompression and Fusion Surgery May Not Be Attributable to Baseline Illness Severity or Postoperative Complications.World neurosurgery, , 116 ,e996-e1001 More Information
Adogwa, Owoicho; Vuong, Victoria D; Elsamadicy, Aladine A; Lilly, Daniel T; Desai, Shyam A; Khalid, Syed; Cheng, Joseph; Bagley, Carlos A (2018. ) Does Nasal Carriage of Staphylococcus aureus Increase the Risk of Postoperative Infections After Elective Spine Surgery: Do Most Infections Occur in Carriers?.World neurosurgery, , 116 ,e519-e524 More Information
Elsamadicy, Aladine A; Kemeny, Hanna; Adogwa, Owoicho; Sankey, Eric W; Goodwin, C Rory; Yarbrough, Chester K; Lad, Shivanand P; Karikari, Isaac O; Gottfried, Oren N (2018. ) Influence of racial disparities on patient-reported satisfaction and short- and long-term perception of health status after elective lumbar spine surgery.Journal of neurosurgery. Spine, , 29 (1 ) ,40-45 More Information
Adogwa, Owoicho; Lilly, Daniel T; Vuong, Victoria D; Desai, Shyam A; Ouyang, Bichun; Khalid, Syed; Khanna, Ryan; Bagley, Carlos A; Cheng, Joseph (2018. ) Extended Length of Stay in Elderly Patients after Anterior Cervical Discectomy and Fusion Is Not Attributable to Baseline Illness Severity or Postoperative Complications.World neurosurgery, , 115 ,e552-e557 More Information
Khalid, Syed I; Kelly, Ryan; Adogwa, Owoicho; Carlton, Adam; Woodward, Josha; Ahmed, Shahjehan; Khanna, Ryan; Bagley, Carlos; Cheng, Joseph; Shah, Sanjit; Mehta, Ankit I (2018. ) Pediatric Spinal Ependymomas: An Epidemiologic Study.World neurosurgery, , 115 ,e119-e128 More Information
Elsamadicy, Aladine A; Adogwa, Owoicho; Lubkin, David T; Sergesketter, Amanda R; Vatsia, Sohrab; Sankey, Eric W; Cheng, Joseph; Bagley, Carlos A; Karikari, Isaac O (2018. ) Thirty-day complication and readmission rates associated with resection of metastatic spinal tumors: a single institutional experience.Journal of spine surgery (Hong Kong), , 4 (2 ) ,304-310 More Information
Adogwa, Owoicho; Vuong, Victoria D; Lilly, Daniel T; Desai, Shyam A; Khanna, Ryan; Ahmad, Shahjehan; Woodward, Josha; Khalid, Syed; Cheng, Joseph (2018. ) Limited post-operative dexamethasone use does not affect lumbar fusion: a single institutional experience.Journal of spine surgery (Hong Kong), , 4 (2 ) ,254-259 More Information
Nahhas, Cindy R; Scheer, Justin K; Khalid, Syed I; Adogwa, Owoicho; Arnone, Gregory D; Bhimani, Abhiraj D; Kheirkhah, Pouyan; Mehta, Ankit I (2018. ) Non-neurological outcomes of anterior and posterolateral approaches in the surgical treatment of thoracic disc disease: a retrospective study.Journal of spine surgery (Hong Kong), , 4 (2 ) ,241-246 More Information
Adogwa, Owoicho; Khalid, Syed I; Elsamadicy, Aladine A; Voung, Victoria D; Lilly, Daniel T; Desai, Shyam A; Sergesketter, Amanda R; Cheng, Joseph; Karikari, Isaac O (2018. ) The use of subfascial drains after multi-level anterior cervical discectomy and fusion: does the data support its use?.Journal of spine surgery (Hong Kong), , 4 (2 ) ,227-232 More Information
Adogwa, Owoicho; Elsamadicy, Aladine A; Sergesketter, Amanda R; Shammas, Ronnie L; Vatsia, Sohrab; Vuong, Victoria D; Khalid, Syed; Cheng, Joseph; Bagley, Carlos A; Karikari, Isaac O (2018. ) Post-operative drain use in patients undergoing decompression and fusion: incidence of complications and symptomatic hematoma.Journal of spine surgery (Hong Kong), , 4 (2 ) ,220-226 More Information
Adogwa, Owoicho; Elsamadicy, Aladine A; Vuong, Victoria D; Mehta, Ankit I; Vasquez, Raul A; Cheng, Joseph; Bagley, Carlos A; Karikari, Isaac O (2018. ) Immediate Postoperative Pain Scores Predict Neck Pain Profile up to 1 Year Following Anterior Cervical Discectomy and Fusion.Global spine journal, , 8 (3 ) ,231-236 More Information
Elsamadicy, Aladine A; Adogwa, Owoicho; Ongele, Michael; Sergesketter, Amanda R; Tarnasky, Aaron; Lubkin, David E T; Drysdale, Nicolas; Cheng, Joseph; Bagley, Carlos A; Karikari, Isaac O (2018. ) Preoperative Hemoglobin Level is Associated with Increased Health Care Use After Elective Spinal Fusion (?3 Levels) in Elderly Male Patients with Spine Deformity.World neurosurgery, , 112 ,e348-e354 More Information
Khalid, Syed I; Adogwa, Owoicho; Lilly, Daniel T; Desai, Shyam A; Vuong, Victoria D; Mehta, Ankit I; Cheng, Joseph (2018. ) Opioid Prescribing Practices of Neurosurgeons: Analysis of Medicare Part D.World neurosurgery, , 112 ,e31-e38 More Information
Adogwa, Owoicho; Elsamadicy, Aladine A; Sergesketter, Amanda R; Ongele, Michael; Vuong, Victoria; Khalid, Syed; Moreno, Jessica; Cheng, Joseph; Karikari, Isaac O; Bagley, Carlos A (2018. ) Interdisciplinary Care Model Independently Decreases Use of Critical Care Services After Corrective Surgery for Adult Degenerative Scoliosis.World neurosurgery, , 111 ,e845-e849 More Information
Khalid, Syed I; Adogwa, Owoicho; Kelly, Ryan; Metha, Ankit; Bagley, Carlos; Cheng, Joseph; O'Toole, John (2018. ) Adult Spinal Ependymomas: An Epidemiologic Study.World neurosurgery, , 111 ,e53-e61 More Information
Adogwa, Owoicho; Elsamadicy, Aladine A; Sergesketter, Amanda; Oyeyemi, Deborah; Galan, Diego; Vuong, Victoria D; Khalid, Syed; Cheng, Joseph; Bagley, Carlos A; Karikari, Isaac O (2018. ) The Impact of Chronic Kidney Disease on Postoperative Outcomes in Patients Undergoing Lumbar Decompression and Fusion.World neurosurgery, , 110 ,e266-e270 More Information
Adogwa, Owoicho; Elsamadicy, Aladine A; Sergesketter, Amanda; Vuong, Victoria D; Moreno, Jessica; Cheng, Joseph; Karikari, Isaac O; Bagley, Carlos A (2018. ) Independent Association Between Preoperative Cognitive Status and Discharge Location After Surgery: A Strategy to Reduce Resource Use After Surgery for Deformity.World neurosurgery, , 110 ,e67-e72 More Information
Elsamadicy, Aladine A; Sergesketter, Amanda; Adogwa, Owoicho; Ongele, Michael; Gottfried, Oren N (2018. ) Complications and 30-Day readmission rates after craniotomy/craniectomy: A single Institutional study of 243 consecutive patients.Journal of clinical neuroscience : official journal of the Neurosurgical Society of Australasia, , 47 ,178-182 More Information
Adogwa, Owoicho; Elsamadicy, Aladine A; Vuong, Victoria D; Fialkoff, Jared; Cheng, Joseph; Karikari, Isaac O; Bagley, Carlos A (2018. ) Association between baseline cognitive impairment and postoperative delirium in elderly patients undergoing surgery for adult spinal deformity.Journal of neurosurgery. Spine, , 28 (1 ) ,103-108 More Information
Karikari, Isaac O; Lenke, Lawrence G; Bridwell, Keith H; Tauchi, Ryoji; Kelly, Michael P; Sugrue, Patrick A; Bumpass, David B; Elsamadicy, Aladine A; Adogwa, Owoicho; Lalezari, Ramin; Koester, Linda; Blanke, Kathy; Gum, Jeffrey Key Role of Preoperative Recumbent Films in the Treatment of Severe Sagittal Malalignment.Spine deformity, , 6 (5 ) ,568-575 More Information
Adogwa, Owoicho; Elsamadicy, Aladine A; Vuong, Victoria D; Mehta, Ankit I; Vasquez, Raul A; Cheng, Joseph; Bagley, Carlos A; Karikari, Isaac O (2017. ) Effect of Social Support and Marital Status on Perceived Surgical Effectiveness and 30-Day Hospital Readmission.Global spine journal, , 7 (8 ) ,774-779 More Information
Adogwa, Owoicho; Elsamadicy, Aladine A; Vuong, Victoria D; Moreno, Jessica; Cheng, Joseph; Karikari, Isaac O; Bagley, Carlos A (2017. ) Geriatric comanagement reduces perioperative complications and shortens duration of hospital stay after lumbar spine surgery: a prospective single-institution experience.Journal of neurosurgery. Spine, , 27 (6 ) ,670-675 More Information
Elsamadicy, Aladine A; Adogwa, Owoicho; Sergesketter, Amanda; Lydon, Emily; Bagley, Carlos A; Karikari, Isaac O (2017. ) Posterolateral thoracic decompression with anterior column cage reconstruction versus decompression alone for spinal metastases with cord compression: analysis of perioperative complications and outcomes.Journal of spine surgery (Hong Kong), , 3 (4 ) ,609-619 More Information
Adogwa, Owoicho (2017. ) In Reply to the Letter to the Editor Regarding "Relationship Between Koenig Depression Scale and Postoperative Outcomes, Ambulation, and Perception of Pain in Elderly Patients (?65 Years) Undergoing Elective Spinal Surgery for Adult Scoliosis".World neurosurgery, , 108 ,970 More Information
Adogwa, Owoicho; Elsamadicy, Aladine A; Sergesketter, Amanda R; Black, Collin; Tarnasky, Aaron; Ongele, Michael O; Vuong, Victoria D; Khalid, Syed; Cheng, Joseph; Bagley, Carlos A; Karikari, Isaac O (2017. ) Relationship Among Koenig Depression Scale and Postoperative Outcomes, Ambulation, and Perception of Pain in Elderly Patients (?65 Years) Undergoing Elective Spinal Surgery for Adult Scoliosis.World neurosurgery, , 107 ,471-476 More Information
Elsamadicy, Aladine A; Adogwa, Owoicho; Sergesketter, Amanda; Vuong, Victoria D; Lydon, Emily; Behrens, Shay; Cheng, Joseph; Bagley, Carlos A; Karikari, Isaac O (2017. ) Reduced Impact of Smoking Status on 30-Day Complication and Readmission Rates After Elective Spinal Fusion (?3 Levels) for Adult Spine Deformity: A Single Institutional Study of 839 Patients.World neurosurgery, , 107 ,233-238 More Information
Adogwa, Owoicho; Elsamadicy, Aladine A; Fialkoff, Jared; Cheng, Joseph; Karikari, Isaac O; Bagley, Carlos (2017. ) Early Ambulation Decreases Length of Hospital Stay, Perioperative Complications and Improves Functional Outcomes in Elderly Patients Undergoing Surgery for Correction of Adult Degenerative Scoliosis.Spine, , 42 (18 ) ,1420-1425 More Information
Adogwa, Owoicho; Elsamadicy, Aladine A; Sergesketter, Amanda; Vuong, Victoria D; Mehta, Ankit I; Vasquez, Raul A; Cheng, Joseph; Bagley, Carlos A; Karikari, Isaac O (2017. ) Prophylactic use of intraoperative vancomycin powder and postoperative infection: an analysis of microbiological patterns in 1200 consecutive surgical cases.Journal of neurosurgery. Spine, , 27 (3 ) ,328-334 More Information
Elsamadicy, Aladine A; Adogwa, Owoicho; Vuong, Victoria D; Sergesketter, Amanda; Reddy, Gireesh; Cheng, Joseph; Bagley, Carlos A; Karikari, Isaac O (2017. ) Impact of alcohol use on 30-day complication and readmission rates after elective spinal fusion (?2 levels) for adult spine deformity: a single institutional study of 1,010 patients.Journal of spine surgery (Hong Kong), , 3 (3 ) ,403-410 More Information
Adogwa, Owoicho; Elsamadicy, Aladine A; Lydon, Emily; Vuong, Victoria D; Cheng, Joseph; Karikari, Isaac O; Bagley, Carlos A (2017. ) The prevalence of undiagnosed pre-surgical cognitive impairment and its post-surgical clinical impact in elderly patients undergoing surgery for adult spinal deformity.Journal of spine surgery (Hong Kong), , 3 (3 ) ,358-363 More Information
Elsamadicy, Aladine A; Adogwa, Owoicho; Lydon, Emily; Sergesketter, Amanda; Kaakati, Rayan; Mehta, Ankit I; Vasquez, Raul A; Cheng, Joseph; Bagley, Carlos A; Karikari, Isaac O (2017. ) Depression as an independent predictor of postoperative delirium in spine deformity patients undergoing elective spine surgery.Journal of neurosurgery. Spine, , 27 (2 ) ,209-214 More Information
Adogwa, Owoicho (2017. ) In Reply to the Letter to the Editor Regarding "Risk Factors and Independent Predictors of 30-Day Readmission for Altered Mental Status After Elective Spine Surgery for Spine Deformity: A Single Institutional Study of 1090 Patients".World neurosurgery, , 103 ,933 More Information
Elsamadicy, Aladine A; Adogwa, Owoicho; Fialkoff, Jared; Vuong, Victoria D; Mehta, Ankit I; Vasquez, Raul A; Cheng, Joseph; Bagley, Carlos A; Karikari, Isaac O (2017. ) Effects of immediate post-operative pain medication on length of hospital stay: does it make a difference?.Journal of spine surgery (Hong Kong), , 3 (2 ) ,155-162 More Information
Adogwa, Owoicho; Elsamadicy, Aladine A; Fialkoff, Jared; Vuong, Victoria D; Mehta, Ankit I; Vasquez, Raul A; Cheng, Joseph; Karikari, Isaac O; Bagley, Carlos A (2017. ) Assessing the effectiveness of routine use of post-operative in-patient physical therapy services.Journal of spine surgery (Hong Kong), , 3 (2 ) ,149-154 More Information
Elsamadicy, Aladine A; Adogwa, Owoicho; Warwick, Hunter; Sergesketter, Amanda; Lydon, Emily; Shammas, Ronnie L; Mehta, Ankit I; Vasquez, Raul A; Cheng, Joseph; Bagley, Carlos A; Karikari, Isaac O (2017. ) Increased 30-Day Complication Rates Associated with Laminectomy in 874 Adult Patients with Spinal Deformity Undergoing Elective Spinal Fusion: A Single Institutional Study.World neurosurgery, , 102 ,370-375 More Information
Elsamadicy, Aladine A; Adogwa, Owoicho; Reddy, Gireesh B; Sergesketter, Amanda; Warwick, Hunter; Jones, Terrell; Cheng, Joseph; Bagley, Carlos A; Karikari, Isaac O (2017. ) Risk Factors and Independent Predictors of 30-Day Readmission for Altered Mental Status After Elective Spine Surgery for Spine Deformity: A Single-Institutional Study of 1090 Patients.World neurosurgery, , 101 ,270-274 More Information
Elsamadicy, Aladine A; Adogwa, Owoicho; Lydon, Emily; Reddy, Gireesh; Kaakati, Rayan; Sergesketter, Amanda; Gottfried, Oren N; Karikari, Isaac O (2017. ) Impact of Intraoperative Monitoring During Elective Complex Spinal Fusions (?4 Levels) on 30-Day Complication and Readmission Rates: A Single-Institutional Study of 643 Adult Patients with Spinal Deformity.World neurosurgery, , 101 ,283-288 More Information
Elsamadicy, Aladine A; Adogwa, Owoicho; Vuong, Victoria D; Mehta, Ankit I; Vasquez, Raul A; Cheng, Joseph; Bagley, Carlos A; Karikari, Isaac O (2017. ) Association of Intraoperative Blood Transfusions on Postoperative Complications, 30-Day Readmission Rates, and 1-Year Patient-Reported Outcomes.Spine, , 42 (8 ) ,610-615 More Information
Adogwa, Owoicho; Elsamadicy, Aladine A; Han, Jing L; Karikari, Isaac O; Cheng, Joseph; Bagley, Carlos A (2017. ) 30-Day Readmission After Spine Surgery: An Analysis of 1400 Consecutive Spine Surgery Patients.Spine, , 42 (7 ) ,520-524 More Information
Adogwa, Owoicho; Elsamadicy, Aladine A; Fialkoff, Jared; Mehta, Ankit I; Vasquez, Raul A; Cheng, Joseph; Karikari, Isaac O; Bagley, Carlos A (2017. ) Effect of employment status on length of hospital stay, 30-day readmission and patient reported outcomes after spine surgery.Journal of spine surgery (Hong Kong), , 3 (1 ) ,44-49 More Information
Elsamadicy, Aladine A; Adogwa, Owoicho; Behrens, Shay; Sergesketter, Amanda; Chen, Angel; Mehta, Ankit I; Vasquez, Raul A; Cheng, Joseph; Bagley, Carlos A; Karikari, Isaac O (2017. ) Impact of surgical approach on complication rates after elective spinal fusion (?3 levels) for adult spine deformity.Journal of spine surgery (Hong Kong), , 3 (1 ) ,31-37 More Information
Elsamadicy, Aladine A; Adogwa, Owoicho; Sergesketter, Amanda; Hobbs, Cassie; Behrens, Shay; Mehta, Ankit I; Vasquez, Raul A; Cheng, Joseph; Bagley, Carlos A; Karikari, Isaac O (2017. ) Impact of Race on 30-Day Complication Rates After Elective Complex Spinal Fusion (?5 Levels): A Single Institutional Study of 446 Patients.World neurosurgery, , 99 ,418-423 More Information
Turel, Mazda K; Kerolus, Mena G; Adogwa, Owoicho; Traynelis, Vincent C (2017. ) Cervical arthroplasty: what does the labeling say?.Neurosurgical focus, , 42 (2 ) ,E2 More Information
Krucoff, Max O; Cook, Steven; Adogwa, Owoicho; Moreno, Jessica; Yang, Siyun; Xie, Jichun; Firempong, Alexander O; Lad, Nandan; Bagley, Carlos A (2017. ) Racial, Socioeconomic, and Gender Disparities in the Presentation, Treatment, and Outcomes of Adult Chiari I Malformations.World neurosurgery, , 97 ,431-437 More Information
Elsamadicy, Aladine A; Adogwa, Owoicho; Sergesketter, Amanda; Behrens, Shay; Hobbs, Cassie; Bridwell, Keith H; Karikari, Isaac O (2017. ) Impact of Age on Change in Self-Image 5 Years After Complex Spinal Fusion (?5 Levels).World neurosurgery, , 97 ,112-116 More Information
Adogwa, Owoicho; Elsamadicy, Aladine A; Han, Jing; Karikari, Isaac O; Cheng, Joseph; Bagley, Carlos A (2017. ) Drivers of 30-Day Readmission in Elderly Patients (>65 Years Old) After Spine Surgery: An Analysis of 500 Consecutive Spine Surgery Patients.World neurosurgery, , 97 ,518-522 More Information
Adogwa, Owoicho; Elsamadicy, Aladine A; Han, Jing L; Cheng, Joseph; Karikari, Isaac; Bagley, Carlos A (2016. ) Do measures of surgical effectiveness at 1 year after lumbar spine surgery accurately predict 2-year outcomes?.Journal of neurosurgery. Spine, , 25 (6 ) ,689-696 More Information
Elsamadicy, Aladine A; Adogwa, Owoicho; Vuong, Victoria D; Mehta, Ankit I; Vasquez, Raul A; Cheng, Joseph; Karikari, Isaac O; Bagley, Carlos A (2016. ) Patient Body Mass Index is an Independent Predictor of 30-Day Hospital Readmission After Elective Spine Surgery.World neurosurgery, , 96 ,148-151 More Information
Elsamadicy, Aladine A; Adogwa, Owoicho; Fialkoff, Jared; Mehta, Ankit I; Vasquez, Raul A; Cheng, Joseph; Bagley, Carlos A; Karikari, Isaac O (2016. ) Race as an Independent Predictor of Temporal Delay in Time to Diagnosis and Treatment in Patients with Cervical Stenosis: A Study of 133 Patients with Anterior Cervical Discectomy and Fusion.World neurosurgery, , 96 ,107-110 More Information
Adogwa, Owoicho; Elsamadicy, Aladine A; Mehta, Ankit I; Cheng, Joseph; Bagley, Carlos A; Karikari, Isaac O (2016. ) Racial Disparities in 30-Day Readmission Rates After Elective Spine Surgery: A Single Institutional Experience.Spine, , 41 (21 ) ,1677-1682 More Information
Kinon, Merritt D; Nasser, Rani; Nakhla, Jonathan P; Adogwa, Owoicho; Moreno, Jessica R; Harowicz, Michael; Verla, Terence; Yassari, Reza; Bagley, Carlos A (2016. ) Predictive parameters for the antecedent development of hip pathology associated with long segment fusions to the pelvis for the treatment of adult spinal deformity.Surgical neurology international, , 7 ,93 More Information
Adogwa, Owoicho; Elsamadicy, Aladine A; Mehta, Ankit I; Vasquez, Raul A; Cheng, Joseph; Karikari, Isaac O; Bagley, Carlos A (2016. ) Association Between Baseline Affective Disorders and 30-Day Readmission Rates in Patients Undergoing Elective Spine Surgery.World neurosurgery, , 94 ,432-436 More Information
Adogwa, Owoicho; Elsamadicy, Aladine A; Mehta, Ankit I; Cheng, Joseph; Bagley, Carlos A; Karikari, Isaac O (2016. ) Preoperative Nutritional Status is an Independent Predictor of 30-day Hospital Readmission After Elective Spine Surgery.Spine, , 41 (17 ) ,1400-1404 More Information
Adogwa, Owoicho; Sure, Durga R; LaBagnara, Michael; Shaffrey, Christopher I; Fessler, Richard G (2016. ) Minimally Invasive Spine Surgery and Sagittal Correction.Neurosurgery, , 63 Suppl 1 ,31-36 More Information
O'Neill, Kevin R; Wilson, Robert J; Burns, Katharine M; Mioton, Lauren M; Wright, Brian T; Adogwa, Owoicho; McGirt, Matthew J; Devin, Clinton J (2016. ) Anterior Cervical Discectomy and Fusion for Adjacent Segment Disease: Clinical Outcomes and Cost Utility of Surgical Intervention.Clinical spine surgery, , 29 (6 ) ,234-41 More Information
Elsamadicy, Aladine; Adogwa, Owoicho; Reiser, Elizabeth; Fatemi, Parastou; Cheng, Joseph; Bagley, Carlos (2016. ) The Effect of Patient Race on Extent of Functional Improvement After Cervical Spine Surgery.Spine, , 41 (9 ) ,822-6 More Information
Berger, Miles; Nadler, Jacob W; Friedman, Allan; McDonagh, David L; Bennett, Ellen R; Cooter, Mary; Qi, Wenjing; Laskowitz, Daniel T; Ponnusamy, Vikram; Newman, Mark F; Shaw, Leslie M; Warner, David S; Mathew, Joseph P; James, Michael L (2016. ) The Effect of Propofol Versus Isoflurane Anesthesia on Human Cerebrospinal Fluid Markers of Alzheimer's Disease: Results of a Randomized Trial.Journal of Alzheimer's disease : JAD, , 52 (4 ) ,1299-310 More Information
Adogwa, Owoicho; Elsamadicy, Aladine A; Cheng, Joseph; Bagley, Carlos (2016. ) Pretreatment of Anxiety Before Cervical Spine Surgery Improves Clinical Outcomes: A Prospective, Single-Institution Experience.World neurosurgery, , 88 ,625-630 More Information
Adogwa, Owoicho; Farber, S Harrison; Fatemi, Parastou; Desai, Rupen; Elsamadicy, Aladine; Cheng, Joseph; Bagley, Carlos; Gottfried, Oren; Isaacs, Robert E (2016. ) Do obese patients have worse outcomes after direct lateral interbody fusion compared to non-obese patients?.Journal of clinical neuroscience : official journal of the Neurosurgical Society of Australasia, , 25 ,54-7 More Information
Adogwa, Owoicho; Elsamadicy, Aladine A; Cheng, Joseph; Bagley, Carlos (2016. ) Independent predictors of reliability between full time employee-dependent acquisition of functional outcomes compared to non-full time employee-dependent methodologies: a prospective single institutional study.Journal of spine surgery (Hong Kong), , 2 (1 ) ,47-51 More Information
Adogwa, Owoicho; Elsamadicy, Aladine; Reiser, Elizabeth; Ziegler, Cole; Freischlag, Kyle; Cheng, Joseph; Bagley, Carlos A (2016. ) Comparison of surgical outcomes after anterior cervical discectomy and fusion: does the intra-operative use of a microscope improve surgical outcomes.Journal of spine surgery (Hong Kong), , 2 (1 ) ,25-30 More Information
Wang, Timothy Y; Martin, Joel R; Loriaux, Daniel B; Desai, Rupen; Shammas, Ronnie L; Adogwa, Owoicho; Moreno, Jessica; Kuchibhatla, Maragatha; Bagley, Carlos A; Karikari, Isaac O; Gottfried, Oren N (2016. ) Risk Assessment and Characterization of 30-Day Perioperative Myocardial Infarction Following Spine Surgery: A Retrospective Analysis of 1346 Consecutive Adult Patients.Spine, , 41 (5 ) ,438-44 More Information
Elsamadicy, Aladine A; Adogwa, Owoicho; Cheng, Joseph; Bagley, Carlos (2016. ) Pretreatment of Depression Before Cervical Spine Surgery Improves Patients' Perception of Postoperative Health Status: A Retrospective, Single Institutional Experience.World neurosurgery, , 87 ,214-9 More Information
Verla, Terence; Adogwa, Owoicho; Elsamadicy, Aladine; Moreno, Jessica R; Farber, Harrison; Cheng, Joseph; Bagley, Carlos A (2016. ) Effects of Psoas Muscle Thickness on Outcomes of Lumbar Fusion Surgery.World neurosurgery, , 87 ,283-9 More Information
Adogwa, Owoicho; Elsamadicy, Aladine A; Cheng, Joseph; Bagley, Carlos (2016. ) Assessing Patient Reported Outcomes Measures via Phone Interviews Versus Patient Self-Survey in the Clinic: Are We Measuring the Same Thing?.World neurosurgery, , 87 ,230-4 More Information
Verla, Terence; Adogwa, Owoicho; Toche, Ulysses; Farber, S Harrison; Petraglia, Frank; Murphy, Kelly R; Thomas, Steven; Fatemi, Parastou; Gottfried, Oren; Bagley, Carlos A; Lad, Shivanand P (2016. ) Impact of Increasing Age on Outcomes of Spinal Fusion in Adult Idiopathic Scoliosis.World neurosurgery, , 87 ,591-7 More Information
Wang, Timothy Y; Sakamoto, Jeffrey T; Nayar, Gautam; Suresh, Visakha; Loriaux, Daniel B; Desai, Rupen; Martin, Joel R; Adogwa, Owoicho; Moreno, Jessica; Bagley, Carlos A; Karikari, Isaac O; Gottfried, Oren N (2015. ) Independent Predictors of 30-Day Perioperative Deep Vein Thrombosis in 1346 Consecutive Patients After Spine Surgery.World neurosurgery, , 84 (6 ) ,1605-12 More Information
Adogwa, Owoicho; Elsamadicy, Aladine A; Han, Jing; Cheng, Joseph; Bagley, Carlos (2015. ) WITHDRAWN: Outcomes After Anterior Lumbar Interbody Fusion Versus Transforaminal Lumbar Interbody Fusion for the Treatment of Symptomatic L5-S1 Spondylolisthesis: A Prospective, Multi-Institutional Comparative Effectiveness Study.World neurosurgery, , More Information
Goodwin, C Rory; Mehta, Ankit I; Adogwa, Owoicho; Sarabia-Estrada, Rachel; Sciubba, Daniel M (2015. ) Merkel Cell Spinal Metastasis: Management in the Setting of a Poor Prognosis.Global spine journal, , 5 (4 ) ,e39-43 More Information
Loriaux, Daniel B; Adogwa, Owoicho; Gottfried, Oren N (2015. ) Radiculopathy in the setting of lumbar nerve root compression due to an extradural intraforaminal lipoma: a report of 3 cases.Journal of neurosurgery. Spine, , 23 (1 ) ,55-8 More Information
Huang, Kevin T; Hazzard, Matthew; Thomas, Steven; Chagoya, Gustavo; Berg, Rand Wilcox Vanden; Adogwa, Owoicho; Bagley, Carlos A; Isaacs, Robert; Gottfried, Oren N; Lad, Shivanand P (2015. ) Differences in the outcomes of anterior versus posterior interbody fusion surgery of the lumbar spine: a propensity score-controlled cohort analysis of 10,941 patients.Journal of clinical neuroscience : official journal of the Neurosurgical Society of Australasia, , 22 (5 ) ,848-53 More Information
Adogwa, Owoicho; Carr, Kevin; Thompson, Paul; Hoang, Kimberly; Darlington, Timothy; Perez, Edgar; Fatemi, Parastou; Gottfried, Oren; Cheng, Joseph; Isaacs, Robert E (2015. ) A prospective, multi-institutional comparative effectiveness study of lumbar spine surgery in morbidly obese patients: does minimally invasive transforaminal lumbar interbody fusion result in superior outcomes?.World neurosurgery, , 83 (5 ) ,860-6 More Information
Adogwa, Owoicho; Parker, Scott L; Shau, David; Mendelhall, Stephen K; Aaronson, Oran; Cheng, Joseph; Devin, Clinton J; McGirt, Matthew J (2015. ) Cost per quality-adjusted life year gained of revision fusion for lumbar pseudoarthrosis: defining the value of surgery.Journal of spinal disorders & techniques, , 28 (3 ) ,101-5 More Information
Adogwa, Owoicho; Huang, Kevin; Hazzard, Matthew; Chagoya, Gustavo; Owens, Ryan; Cheng, Joseph; Ugiliweneza, Beatrice; Boakye, Maxwell; Lad, Shivanand P (2015. ) Outcomes after cervical laminectomy with instrumented fusion versus expansile laminoplasty: a propensity matched study of 3185 patients.Journal of clinical neuroscience : official journal of the Neurosurgical Society of Australasia, , 22 (3 ) ,549-53 More Information
Verla, Terence; Adogwa, Owoicho; Fatemi, Parastou; Martin, Joel R; Gottfried, Oren N; Cheng, Joseph; Isaacs, Robert E (2015. ) Clinical implication of complications on patient perceived health status following spinal fusion surgery.Journal of clinical neuroscience : official journal of the Neurosurgical Society of Australasia, , 22 (2 ) ,342-5 More Information
Martin, Joel R; Adogwa, Owoicho; Brown, Christopher R; Kuchibhatla, Maragatha; Bagley, Carlos A; Lad, Shivanand P; Gottfried, Oren N (2015. ) Experience with intrawound vancomycin powder for posterior cervical fusion surgery.Journal of neurosurgery. Spine, , 22 (1 ) ,26-33 More Information
Adogwa, Owoicho; Fatemi, Parastou; Perez, Edgar; Moreno, Jessica; Gazcon, Gustavo Chagoya; Gokaslan, Ziya L; Cheng, Joseph; Gottfried, Oren; Bagley, Carlos A (2014. ) Negative pressure wound therapy reduces incidence of postoperative wound infection and dehiscence after long-segment thoracolumbar spinal fusion: a single institutional experience.The spine journal : official journal of the North American Spine Society, , 14 (12 ) ,2911-7 More Information
Mendenhall, Stephen K; Parker, Scott L; Adogwa, Owoicho; Shau, David N; Cheng, Joseph; Aaronson, Oran; Devin, Clinton J; McGirt, Matthew J (2014. ) Long-term outcomes after revision neural decompression and fusion for same-level recurrent lumbar stenosis: defining the effectiveness of surgery.Journal of spinal disorders & techniques, , 27 (7 ) ,353-7 More Information
Adogwa, Owoicho; Carr, Kevin; Fatemi, Parastou; Verla, Terence; Gazcon, Gustavo; Gottfried, Oren; Bagley, Carlos; Cheng, Joseph (2014. ) Psychosocial factors and surgical outcomes: are elderly depressed patients less satisfied with surgery?.Spine, , 39 (19 ) ,1614-9 More Information
Adogwa, Owoicho; Huang, Mary I; Thompson, Paul M; Darlington, Timothy; Cheng, Joseph S; Gokaslan, Ziya L; Gottfried, Oren N; Bagley, Carlos A; Anderson, Greg D; Isaacs, Robert E (2014. ) No difference in postoperative complications, pain, and functional outcomes up to 2 years after incidental durotomy in lumbar spinal fusion: a prospective, multi-institutional, propensity-matched analysis of 1,741 patients.The spine journal : official journal of the North American Spine Society, , 14 (9 ) ,1828-34 More Information
Seifi, Ali; Carr, Kevin; Maltenfort, Mitchell; Moussouttas, Michael; Birnbaum, Lee; Parra, Augusto; Adogwa, Owoicho; Bell, Rodney; Rincon, Fred (2014. ) The incidence and risk factors of associated acute myocardial infarction (AMI) in acute cerebral ischemic (ACI) events in the United States.PloS one, , 9 (8 ) ,e105785 More Information
Adogwa, Owoicho; Martin, Joel R; Huang, Kevin; Verla, Terence; Fatemi, Parastou; Thompson, Paul; Cheng, Joseph; Kuchibhatla, Maragatha; Lad, Shivanand P; Bagley, Carlos A; Gottfried, Oren N (2014. ) Preoperative serum albumin level as a predictor of postoperative complication after spine fusion.Spine, , 39 (18 ) ,1513-9 More Information
Adogwa, Owoicho; Verla, Terence; Thompson, Paul; Penumaka, Anirudh; Kudyba, Katherine; Johnson, Kwame; Fulchiero, Erin; Miller, Timothy; Hoang, Kimberly B; Cheng, Joseph; Bagley, Carlos A (2014. ) Affective disorders influence clinical outcomes after revision lumbar surgery in elderly patients with symptomatic adjacent-segment disease, recurrent stenosis, or pseudarthrosis: clinical article.Journal of neurosurgery. Spine, , 21 (2 ) ,153-9 More Information
Huang, Kevin T; Adogwa, Owoicho; Babu, Ranjith; Lad, Shivanand P; Bagley, Carlos A; Gottfried, Oren N (2014. ) Radiological evidence of spontaneous spinal arthrodesis in patients with lower lumbar spondylolisthesis.Spine, , 39 (8 ) ,656-63 More Information
Adogwa, Owoicho; Karikari, Isaac O; Carr, Kevin R; Krucoff, Max; Ajay, Divya; Fatemi, Parastou; Perez, Edgar L; Cheng, Joseph S; Bagley, Carlos A; Isaacs, Robert E (2014. ) Spontaneous spinal epidural abscess in patients 50 years of age and older: a 15-year institutional perspective and review of the literature: clinical article.Journal of neurosurgery. Spine, , 20 (3 ) ,344-9 More Information
Khan, Shariq A; McDonagh, David L; Adogwa, Owoicho; Gokhale, Sankalp; Toche, Ulysses N; Verla, Terence; Zomorodi, Ali R; Britz, Gavin W (2014. ) Perioperative cardiac complications and 30-day mortality in patients undergoing intracranial aneurysmal surgery with adenosine-induced flow arrest: a retrospective comparative study.Neurosurgery, , 74 (3 ) ,267-71; discussion 2 More Information
Martin, Joel R; Adogwa, Owoicho; Brown, Christopher R; Bagley, Carlos A; Richardson, William J; Lad, Shivanand P; Kuchibhatla, Maragatha; Gottfried, Oren N (2014. ) Experience with intrawound vancomycin powder for spinal deformity surgery.Spine, , 39 (2 ) ,177-84 More Information
Mehta, Ankit I; Adogwa, Owoicho; Karikari, Isaac O; Thompson, Paul; Verla, Terence; Null, Ulysses T; Friedman, Allan H; Cheng, Joseph S; Bagley, Carlos A; Isaacs, Robert E (2013. ) Anatomical location dictating major surgical complications for intradural extramedullary spinal tumors: a 10-year single-institutional experience.Journal of neurosurgery. Spine, , 19 (6 ) ,701-7 More Information
Agarwal, Vijay; Babu, Ranjith; Grier, Jordan; Adogwa, Owoicho; Back, Adam; Friedman, Allan H; Fukushima, Takanori; Adamson, Cory (2013. ) Cerebellopontine angle meningiomas: postoperative outcomes in a modern cohort.Neurosurgical focus, , 35 (6 ) ,E10 More Information
Adogwa, Owoicho; Parker, Scott L; Mendenhall, Stephen K; Shau, David N; Aaronson, Oran; Cheng, Joseph; Devin, Clinton J; McGirt, Matthew J (2013. ) Laminectomy and extension of instrumented fusion improves 2-year pain, disability, and quality of life in patients with adjacent segment disease: defining the long-term effectiveness of surgery.World neurosurgery, , 80 (6 ) ,893-6 More Information
Khan, Shariq A; Adogwa, Owoicho; Gan, Tong J; Null, Ulysses T; Verla, Terence; Gokhale, Sankalp; White, William D; Britz, Gavin W; Zomorodi, Ali R; James, Michael L; McDonagh, David L (2013. ) Effect of 6% hydroxyethyl starch 130/0.4 in 0.9% sodium chloride (Voluven®) on complications after subarachnoid hemorrhage: a retrospective analysis.SpringerPlus, , 2 (1 ) ,314 More Information
Adogwa, Owoicho; Parker, Scott L; Shau, David N; Mendenhall, Stephen K; Bydon, Ali; Cheng, Joseph S; Asher, Anthony L; McGirt, Matthew J (2013. ) Preoperative Zung depression scale predicts patient satisfaction independent of the extent of improvement after revision lumbar surgery.The spine journal : official journal of the North American Spine Society, , 13 (5 ) ,501-6 More Information
Adogwa, Owoicho; Owens, Ryan; Karikari, Isaac; Agarwal, Vijay; Gottfried, Oren N; Bagley, Carlos A; Isaacs, Robert E; Cheng, Joseph S (2013. ) Revision lumbar surgery in elderly patients with symptomatic pseudarthrosis, adjacent-segment disease, or same-level recurrent stenosis. Part 2. A cost-effectiveness analysis: clinical article.Journal of neurosurgery. Spine, , 18 (2 ) ,147-53 More Information
Adogwa, Owoicho; Carr, Ricardo K; Kudyba, Katherine; Karikari, Isaac; Bagley, Carlos A; Gokaslan, Ziya L; Theodore, Nicholas; Cheng, Joseph S (2013. ) Revision lumbar surgery in elderly patients with symptomatic pseudarthrosis, adjacent-segment disease, or same-level recurrent stenosis. Part 1. Two-year outcomes and clinical efficacy: clinical article.Journal of neurosurgery. Spine, , 18 (2 ) ,139-46 More Information
Parker, Scott L; Adogwa, Owoicho; Davis, Brandon J; Fulchiero, Erin; Aaronson, Oran; Cheng, Joseph; Devin, Clinton J; McGirt, Matthew J (2013. ) Cost-utility analysis of minimally invasive versus open multilevel hemilaminectomy for lumbar stenosis.Journal of spinal disorders & techniques, , 26 (1 ) ,42-7 More Information
Parker, Scott L; Adogwa, Owoicho; Mendenhall, Stephen K; Shau, David N; Anderson, William N; Cheng, Joseph S; Devin, Clinton J; McGirt, Matthew J (2012. ) Determination of minimum clinically important difference (MCID) in pain, disability, and quality of life after revision fusion for symptomatic pseudoarthrosis.The spine journal : official journal of the North American Spine Society, , 12 (12 ) ,1122-8 More Information
Bettegowda, Chetan; Adogwa, Owoicho; Mehta, Vivek; Chaichana, Kaisorn L; Weingart, Jon; Carson, Benjamin S; Jallo, George I; Ahn, Edward S (2012. ) Treatment of choroid plexus tumors: a 20-year single institutional experience.Journal of neurosurgery. Pediatrics, , 10 (5 ) ,398-405 More Information
Parker, Scott L; Adogwa, Owoicho; Bydon, Ali; Cheng, Joseph; McGirt, Matthew J (2012. ) Cost-effectiveness of minimally invasive versus open transforaminal lumbar interbody fusion for degenerative spondylolisthesis associated low-back and leg pain over two years.World neurosurgery, , 78 (1-2 ) ,178-84 More Information
Parker, Scott L; Mendenhall, Stephen K; Shau, David N; Adogwa, Owoicho; Anderson, William N; Devin, Clinton J; McGirt, Matthew J (2012. ) Minimum clinically important difference in pain, disability, and quality of life after neural decompression and fusion for same-level recurrent lumbar stenosis: understanding clinical versus statistical significance.Journal of neurosurgery. Spine, , 16 (5 ) ,471-8 More Information
Adogwa, Owoicho; Parker, Scott L; Shau, David N; Mendenhall, Stephen K; Aaronson, Oran S; Cheng, Joseph S; Devin, Clinton J; McGirt, Matthew J (2012. ) Preoperative Zung Depression Scale predicts outcome after revision lumbar surgery for adjacent segment disease, recurrent stenosis, and pseudarthrosis.The spine journal : official journal of the North American Spine Society, , 12 (3 ) ,179-85 More Information
Adogwa, Owoicho; Parker, Scott L; Shau, David N; Mendenhall, Stephen K; Aaronson, Oran; Cheng, Joseph S; Devin, Clinton J; McGirt, Matthew J (2012. ) Cost per quality-adjusted life year gained of revision neural decompression and instrumented fusion for same-level recurrent lumbar stenosis: defining the value of surgical intervention.Journal of neurosurgery. Spine, , 16 (2 ) ,135-40 More Information
Adogwa, Owoicho; Parker, Scott L; Shau, David N; Mendenhall, Stephen K; Devin, Clinton J; Cheng, Joseph S; McGirt, Matthew J (2012. ) Cost per quality-adjusted life year gained of laminectomy and extension of instrumented fusion for adjacent-segment disease: defining the value of surgical intervention.Journal of neurosurgery. Spine, , 16 (2 ) ,141-6 More Information
Lebow, Richard; Parker, Scott L; Adogwa, Owoicho; Reig, Adam; Cheng, Joseph; Bydon, Ali; McGirt, Matthew J (2012. ) Microdiscectomy improves pain-associated depression, somatic anxiety, and mental well-being in patients with herniated lumbar disc.Neurosurgery, , 70 (2 ) ,306-11; discussion 3 More Information
Parker, Scott L; Mendenhall, Stephen K; Shau, David; Adogwa, Owoicho; Cheng, Joseph S; Anderson, William N; Devin, Clinton J; McGirt, Matthew J (2012. ) Determination of minimum clinically important difference in pain, disability, and quality of life after extension of fusion for adjacent-segment disease.Journal of neurosurgery. Spine, , 16 (1 ) ,61-7 More Information
Adogwa, Owoicho; Johnson, Kwame; Min, Elliot T; Issar, Neil; Carr, Kevin R; Huang, Kevin; Cheng, Joseph (2012. ) Extent of intraoperative muscle dissection does not affect long-term outcomes after minimally invasive surgery versus open-transforaminal lumbar interbody fusion surgery: A prospective longitudinal cohort study.Surgical neurology international, , 3 (Suppl 5 ) ,S355-61 More Information
Adogwa, Owoicho; Parker, Scott L; Bydon, Ali; Cheng, Joseph; McGirt, Matthew J (2011. ) Comparative effectiveness of minimally invasive versus open transforaminal lumbar interbody fusion: 2-year assessment of narcotic use, return to work, disability, and quality of life.Journal of spinal disorders & techniques, , 24 (8 ) ,479-84 More Information
Lebow, Richard L; Adogwa, Owoicho; Parker, Scott L; Sharma, Adrija; Cheng, Joseph; McGirt, Matthew J (2011. ) Asymptomatic same-site recurrent disc herniation after lumbar discectomy: results of a prospective longitudinal study with 2-year serial imaging.Spine, , 36 (25 ) ,2147-51 More Information
Mukherjee, Debraj; Chaichana, Kaisorn L; Adogwa, Owoicho; Gokaslan, Ziya; Aaronson, Oran; Cheng, Joseph S; McGirt, Matthew J (2011. ) Association of extent of local tumor invasion and survival in patients with malignant primary osseous spinal neoplasms from the surveillance, epidemiology, and end results (SEER) database.World neurosurgery, , 76 (6 ) ,580-5 More Information
Adogwa, Owoicho; Parker, Scott L; Shau, David; Mendelhall, Stephen K; Cheng, Joseph; Aaronson, Oran; Devin, Clinton J; McGirt, Matthew J (2011. ) Long-term outcomes of revision fusion for lumbar pseudarthrosis: clinical article.Journal of neurosurgery. Spine, , 15 (4 ) ,393-8 More Information
Farber, S Harrison; Parker, Scott L; Adogwa, Owoicho; McGirt, Matthew J; Rigamonti, Daniele (2011. ) Effect of antibiotic-impregnated shunts on infection rate in adult hydrocephalus: a single institution's experience.Neurosurgery, , 69 (3 ) ,625-9; discussion 62 More Information
Adogwa, Owoicho; Parker, Scott L; Davis, Brandon J; Aaronson, Oran; Devin, Clinton; Cheng, Joseph S; McGirt, Matthew J (2011. ) Cost-effectiveness of transforaminal lumbar interbody fusion for Grade I degenerative spondylolisthesis.Journal of neurosurgery. Spine, , 15 (2 ) ,138-43 More Information
Parker, Scott L; Fulchiero, Erin C; Davis, Brandon J; Adogwa, Owoicho; Aaronson, Oran S; Cheng, Joseph S; Devin, Clinton J; McGirt, Matthew J (2011. ) Cost-effectiveness of multilevel hemilaminectomy for lumbar stenosis-associated radiculopathy.The spine journal : official journal of the North American Spine Society, , 11 (8 ) ,705-11 More Information
Parker, Scott L; Adogwa, Owoicho; Paul, Alexandra R; Anderson, William N; Aaronson, Oran; Cheng, Joseph S; McGirt, Matthew J (2011. ) Utility of minimum clinically important difference in assessing pain, disability, and health state after transforaminal lumbar interbody fusion for degenerative lumbar spondylolisthesis.Journal of neurosurgery. Spine, , 14 (5 ) ,598-604 More Information
Chaichana, Kaisorn L; Mukherjee, Debraj; Adogwa, Owoicho; Cheng, Joseph S; McGirt, Matthew J (2011. ) Correlation of preoperative depression and somatic perception scales with postoperative disability and quality of life after lumbar discectomy.Journal of neurosurgery. Spine, , 14 (2 ) ,261-7 More Information
Parker, S L; Adogwa, O; Witham, T F; Aaronson, O S; Cheng, J; McGirt, M J (2011. ) Post-operative infection after minimally invasive versus open transforaminal lumbar interbody fusion (TLIF): literature review and cost analysis.Minimally invasive neurosurgery : MIN, , 54 (1 ) ,33-7 More Information
Parker, Scott L; Farber, S Harrison; Adogwa, Owoicho; Rigamonti, Daniele; McGirt, Matthew J (2011. ) Comparison of hospital cost and resource use associated with antibiotic-impregnated versus standard shunt catheters.Clinical neurosurgery, , 58 ,122-5 More Information
Forbes, Jonathan A; Wilkerson, Jani; Chambless, Lola; Shay, Sheila D; Elswick, Clay M; Abblitt, Parker W; Adogwa, Owoicho; Russell, Paul; Weaver, Kyle D; Allen, George S; Utz, Andrea L (2011. ) Safety and cost effectiveness of early discharge following microscopic trans-sphenoidal resection of pituitary lesions.Surgical neurology international, , 2 ,66 More Information
Farber, S Harrison; Parker, Scott L; Adogwa, Owoicho; Rigamonti, Daniele; McGirt, Matthew J Cost analysis of antibiotic-impregnated catheters in the treatment of hydrocephalus in adult patients.World neurosurgery, , 74 (4-5 ) ,528-31 More Information
Adogwa, Owoicho; Costich, Julia F; Hill, Raymond; Slavova, Svetla (2009. ) Does higher surgical volume predict better patient outcomes? .The Journal of the Kentucky Medical Association, , 107 (1 ) ,10-6
Khalid, Syed I; Nunna, Ravi S; Smith, Jennifer S; Shanker, Rachyl M; Cherney, Alecia A; Thomson, Kyle B; Chilakapati, Sai; Mehta, Ankit I; Adogwa, Owoicho (2022. ) The role of bone mineral density in adult spinal deformity patients undergoing corrective surgery: a matched analysis.Acta neurochirurgica, , More Information
Khalid, Syed I; Eldridge, Cody; Singh, Ravinderjit; Shanker, Rachyl M; MacDonald, Anne M; Chilakapati, Sai; Smith, Jenny; Mehta, Ankit I; Adogwa, Owoicho (2022. ) The impact of smoking and smoking cessation interventions on outcomes following single-level anterior cervical discectomy and fusion procedures.Clinical neurology and neurosurgery, , 219 ,107319 More Information
Khalid, Syed I; Thomson, Kyle B; Maasarani, Samantha; Wiegmann, Aaron L; Smith, Jenny; Adogwa, Owoicho; Mehta, Ankit I; Dorafshar, Amir H (2022. ) Materials Used in Cranial Reconstruction: A Systematic Review and Meta-Analysis.World neurosurgery, , 164 ,e945-e963 More Information
Chilakapati, Sai; Burton, Michael D; Adogwa, Owoicho (2022. ) Preoperative Polypharmacy in Geriatric Patients Is Associated with Increased 90-Day All-Cause Hospital Readmission After Surgery for Adult Spinal Deformity Patients.World neurosurgery, , 164 ,e404-e410 More Information
Khalid, Syed I; Thomson, Kyle B; Chilakapati, Sai; Singh, Ravi; Eldridge, Cody; Mehta, Ankit I; Adogwa, Owoicho (2022. ) The Impact of Smoking Cessation Therapy on Lumbar Fusion Outcomes.World neurosurgery, , 164 ,e119-e126 More Information
Caruso, James P; Singh, Ravinderjit; Mazzola, Catherine; Eldridge, Cody M; Chilakapati, Sai; Deme, Palvasha; Swartz, Karin; Schirmer, Clemens M; Huntoon, Kristin; Cheng, Joseph; Steinmetz, Michael; Adogwa, Owoicho (2022. ) Trends in Racial and Ethnic Representation Among Neurosurgery Applicants and Residents: A Comparative Analysis of Procedural Specialties.World neurosurgery, , 163 ,e177-e186 More Information
Khalid, Syed I; Nunna, Ravi S; Shanker, Rachyl M; Thomson, Kyle B; Parola, Rown; Adogwa, Owoicho; Mehta, Ankit I (2022. ) Bone Morphogenetic Protein in Anterior Lumbar Interbody Fusions: A Propensity-Matched Medicare Outcome Analysis.International journal of spine surgery, , More Information
Nunna, Ravi S; Khalid, Syed; Chiu, Ryan G; Parola, Rown; Fessler, Richard G; Adogwa, Owoicho; Mehta, Ankit I (2022. ) Anterior vs Posterior Approach in Multilevel Cervical Spondylotic Myelopathy: A Nationwide Propensity-Matched Analysis of Complications, Outcomes, and Narcotic Use.International journal of spine surgery, , 16 (1 ) ,88-94 More Information
2021 -2022 Charles Kuntz Scholar Award. 2019 AANS/CNS Spine Section Annual Meeting Status:Recipient Level:International Type:Recognition
2021 -2021 American Association of Neurological surgeons: Top Abstract in Spine Research Status:Recipient Level:International Type:Recognition
2021 -2021 Recognized as a World Expert in Spinal Disorders by Expertscape Status:Recipient Level:International Type:Recognition
2021 -2021 Selected a Marquis Who's Who Inductee Status:Recipient Level:International Type:Recognition
2021 -2021 Top Socioeconomics, Health Policy, and Law Paper of the Year. Congress of Neurological Surgeons Status:Recipient Level:International Type:Recognition
2021 -2021 Selected to Attend Congress of Neurological Surgeons Leadership in Healthcare Program Status:Recipient Level:International Type:Recognition
2021 -2021 Texas Super Doctors Rising Stars Status:Recipient Level:State Type:Fellowship
2021 -2021 Selected Young Neurosurgeons/Journal of Neurosurgery Editorial Board Status:Recipient Level:International Type:Recognition
2020 -2020 Selected by North American Spine Society 20 Under 40 Award Status:Recipient Level:International Type:Recognition
2019 -2019 Charles Kuntz Scholar Award. 2019 AANS/CNS Spine Section Annual Meeting Status:Recipient Level:International Type:Recognition
2018 -2018 American Association of Neurological Surgeons: Plenary Session Presentation Status:Recipient Level:International Type:Recognition
2017 -2017 North American Spine Society Annual Meeting Best Paper Status:Recipient Level:International Type:Recognition
2017 -2017 Elected to Young Neurosurgeons Committee Status:Recipient Level:International Type:Recognition
2017 -2017 Journalistic and Academic Neurosurgical Excellence (J.A.N.E) Award: Status:Recipient Level:International Type:Recognition
2016 -2016 Congress of Neurological Surgeons: Top Abstract in Spine Research Status:Recipient Level:International Type:Recognition
2016 -2016 Scoliosis Research Society Scholarship for Residents and Fellows Status:Recipient Level:International Type:Recognition
2016 -2016 American Association of Neurological Surgeons: Plenary Session Presentation Status:Recipient Level:International Type:Recognition
2016 -2016 Council of State Neurosurgical Societies: Plenary Session Presentation Status:Recipient Level:International
2016 -2016 Robert Florin Resident Award (American Association of Neurological Surgeons) Status:Recipient Level:International Type:Recognition
2014 -2014 Regis W. Haid, Jr Deformity Research Award (AANS/CNS Spine Section) Status:Recipient Level:International Type:Recognition
2014 -2014 Best Paper, North American Spine Society Annual Meeting Status:Recipient Level:International Type:Recognition
2014 -2014 Resident Research Award. Duke University Department of Neurological Surgery Status:Recipient Level:International Type:Recognition
2014 -2014 Mayfield Clinical Research Award, AANS/CNS Spine Section Annual Meeting Status:Recipient Level:International Type:Recognition
2014 -2014 Outcomes Committee Award Paper, AANS/CNS Spine Section Annual Meeting Status:Recipient Level:International Type:Recognition
2012 -2012 NASS Value Abstract Award, North American Spine Society Annual Meeting Status:Recipient Level:International Type:Recognition
2011 -2011 1st Place, Top Abstract in Spine Research, Congress of Neurological Surgeons Status:Recipient Level:International
Post Graduate Training and Education
2015-2016 A.O. Spinal Fellowship in Minimally Invasive and Complex Spine Surgery, Rush Medical Center , , Chicago
2019-2020 Visiting Spinal Surgery Fellowship, Advanced Osteotomy Techniques in Adult and Pediatric Spinal Deformity Correction Department of Orthopeadic Surgery, CMCR Des Massues, Croix-Rouge Francaise, , Lyon France
2019-2020 Visiting Spinal Surgery Fellowship, Advanced Osteotomy Techniques and Adult and Pediatric Spinal Deformity Correction, Foundation of Orthopeadics and Complex Spine Hospital (FOCOS), , Accra Ghana
2019-2020 Global Clinical Scholars Research Training Program, Concentration: Principles and Practice of Clinical Trials, Harvard Medical School , , Boston, MA
2021-2022 Surgical Leadership Program, Harvard Medical School , , Boston MA
Academic - University of Cincinnati School of Medicine
231 Albert Sabin Way
Cincinnati   Ohio, 45267
adogwaoo@ucmail.uc.edu