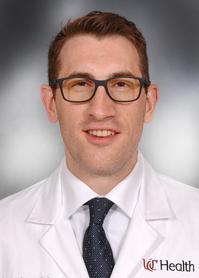 Zachary Ahart , DO
Clinical Instructor
Personal Statement
I was a freshman walk‐on without a scholarship, trying out for my hometown team. When I earned my spot, I started a five‐year journey of countless races, long runs and social gatherings with a group of like minded people. We were all working toward similar goals of breaking school records, qualifying for high‐end races and bringing academic and athletic success to our school. When I applied to medical school, I realized how much running had influenced my leadership, work ethic and motivational drive. I aim to become the best internist that I am capable of, and am entirely thankful of the countless friends, colleagues and mentors that have contributed to my success.

Why I Chose Cincinnati
When I was looking at IM programs during 4th year, I honestly had no idea what city or program I wanted to apply to. I decided to look at the websites of academic programs all over the country, focusing on locations I knew about or had visited before. Fortunately, I did one race in Cincinnati my senior year of track at the University at Buffalo. We had a great time, ran well and I remember thinking that this was an awesome city. When searching, all the websites sounded the same, until I decided to google the University of Cincinnati's program. The commitment to resident education here was obvious, and the training seemed one‐of‐a‐kind. I had to apply. A few months later, when I received an interview invitation, it already started feeling right. On interview day, only my second time visiting this city, I knew it was the one. Dr. Warm and his residents really got me excited about becoming a new physician. I decided to go for it. Match day came around and I think I was the happiest person in the room.
Osteopathic Medicine: Lake Erie College of Osteopathic Medicine
Residency, Internal Medicine: University of Cincinnati College of Medicine
Peer Reviewed Publications
Moseley, Alex D; Ahart, Zachary C; Harris, David M (2021. ) Comparison of transvalvular flow rate in aortic stenosis subtypes.Echocardiography (Mount Kisco, N.Y.), , 38 (9 ) ,1618-1623 More Information
Ahart, Zachary C; Martin, Laura E; Kemp, Bailey R; Dutta Banik, Debarghya; Roberts, Stefan G E; Torregrossa, Ann-Marie; Medler, Kathryn F (2020. ) Differential Effects of Diet and Weight on Taste Responses in Diet-Induced Obese Mice.Obesity (Silver Spring, Md.), , 28 (2 ) ,284-292 More Information
Dutta Banik, Debarghya; Benfey, Eric D; Martin, Laura E; Kay, Kristen E; Loney, Gregory C; Nelson, Amy R; Ahart, Zachary C; Kemp, Barrett T; Kemp, Bailey R; Torregrossa, Ann-Marie; Medler, Kathryn F (2020. ) A subset of broadly responsive Type III taste cells contribute to the detection of bitter, sweet and umami stimuli.PLoS genetics, , 16 (8 ) ,e1008925 More Information