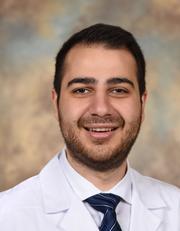 Faysal Alhasan
Clinical Instructor
Personal Statement
In 2015, upon graduating from medical school, Syria was amid chaos. I was faced with an important decision: either to stay and start my residency in Damascus, a safer, more stable city, or go back home to Aleppo, a war-torn city where there was a tremendous need for physicians. Following my desire to help, I chose to return home. Working as a physician in a city that was declared the most dangerous place in the world, was the hardest experience I faced as a young doctor. The city had no clean water, electricity, or cellular network. I was on-call five out of seven days each week, working in a hospital that was constantly being bombed. Being a part of a proud team that was devoted to save as many lives as possible meant that our medical staff had to work collaboratively. We did everything we could to make a difference.

Why I Chose Cincinnati
As a research coordinator at the University of Cincinnati I got the chance to work alongside many of the residents, and I was able to witness first-hand the support the program offers to them and feel how happy they are here. I got the chance to attend the interns' academic half day which was a unique way of teaching that allowed me to appreciate how much the program cares about the way the residents learn. Also, I loved the Long-Block schedule which I believe that is designed in a very smart way to give the experience of what is it like to be a true primary care provider while in the same time maximizing the resident available time if they wish to prepare for fellowship application. Finally, what really cemented my belief that Cincinnati was the perfect fit for me was my interview with Dr. Warm, I felt that the program cares about the traits that make their residents' personality special, and that I am not interviewing for a job, rather interviewing to be a part of a family. These were a few reasons that made Cincinnati my top choice. In addition, my parents said I was the happiest after my interview here, and we all know that parents always know better.
MD: Kalamoon University Faculty of Medicine (SY)
University of Cincinnati College of Medicine
231 Albert Sabin Way
Cincinnati  Ohio, 45267
ALHASAFL@UCMAIL.UC.EDU