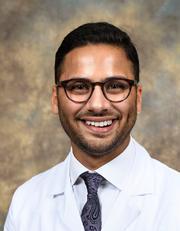 Mir Ali
Clinical Instructor
Personal Statement
The Sick Child by Edvard Munch is an artwork that holds a special meaning for me as it symbolizes the type of physician I aspire to be. The painting features a young girl, the artist's sister, withering away from tuberculosis. In this melancholic scene, the artist's aunt is sitting to the girl's left. Her gaze is pointed downward, as if she is making a silent prayer; her grief imminent by the sharpness of her grip on the girl's hand. This piece beautifully summarizes how sickness inflicts its wrath on everyone involved and not just the person suffering. I want to be the physician who helps patients and their families during difficult hospitalizations by providing compassionate care and comfort.

Why I Chose Cincinnati
Throughout the interview process, I was looking for the "right fit" that almost every resident and men‐tors have told me about and yet I still have not found a program that met that description. Cincy was one of my last interviews and the program impressed me from the pre‐interview dinner when we had a great chat with the residents attending the dinner. Next day, Dr. Warm's presentation had solidified the feeling that I was looking for – I have finally found a program which felt like the "right fit". The foc‐us on resident education and the culture of innovation really spoke to me and I felt that I was among l‐ikeminded people who appreciated personal growth as much as I do. Making a rank list afterwards was a no‐brainer as I had a clear winner for the top spot.