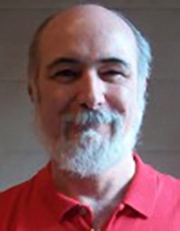 Robert H. Allen
Lecturer
Corbett Cntr Perform Arts
3860
CCM Preparatory and Community Engagement - 0236
Chairman and founder of the Preparatory Department's High School Certificate Acting Program, Robert Allen holds a BFA from UC's College-Conservatory of Music. Allen has been with the department for 19 years and is an adjunct instructor in the Department of Theater and Dance at Northern Kentucky University. During his long professional career, Allen served as artistic director for Clear Stage Cincinnati, managing director of the Cincinnati Actor's Studio, the founder and artistic director of The Chamber Theatre and he is the former CEO of Lightborne Communications. He is an artistic associate to New Edgecliff Theatre Company and a member of the board for the local chapter of the professional arts fraternity, Phi Beta. He recently received the League of Cincinnati Theaters Featured Actor in a Play award for his performance in Bus Stop.

Known mostly as an actor/director, Allen has worked in every aspect of theatre and brings an extensive background in television, film and industrial video to his work. Some of his acting credits include: Macbeth in Macbeth, Claudius and Polonius in Hamlet, Prospero in The Tempest, Shylock in The Merchant of Venice, Atticus Finch in To Kill A Mockingbird, Thomas More in A Man for All Seasons and many more. Some of his directorial credits are: The Women, The Importance of Being Earnest, A Coupla White Chicks Sitting Around Talking, Ordinary People, Rebel Without a Cause, The Lion in Winter, Othello, the premiere of Soldier's Christmas and more.

In addition to his theatre and film work, Allen is the voice of Abraham Lincoln at Cincinnati's National Underground Railroad Freedom Center and he is the voice of Rueben Springer in the PBS special Music Hall: Cincinnati Finds its Voice. Allen continues to work professionally in the Greater Cincinnati area while teaching at CCM Preparatory.