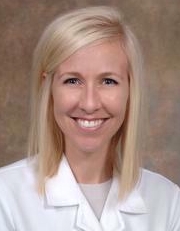 Kelly Ambrose Rath , DNP,ANP-BC,FNCS
Nurse Practitioner
Medical Sciences Building
COM Neurology Neurocritical Care - 0536
Kelly Rath serves as the lead nurse practitioner in the Neuroscience Critical Care Unit at UC.  She has been board certified as an acute care nurse practitioner since 2012. 
 
Prior to joining University of Cincinnati in 2015, Kelly worked at The Ohio State University's Wexner Medical Center in their Neurocritical Care Unit. 
 
Her academic background includes a B.S. from The Ohio State University and M.S. in Acute Care from The Ohio State University where she earned the outstanding graduate student award for the class of 2012.
Bachelor's of Science: The Ohio State University Columbus, Ohio, 2005 (Nursing)
Master's of Science: The Ohio State University Columbus, Ohio, 2012 (Acute Care Nurse Practitioner)
Doctor of Nursing: University of Cincinnati Cincinnati, Ohio, 2021
American Nurses Credentialing Center (Certification Date: 07-28-2012 ) - (Recertification Date: to 07-28-2022 )
Nurse Practitioner
Peer Reviewed Publications
Rath, Kelly A; Tucker, Kristi L; Lewis, Ariane (2022. ) Fluctuating Code Status: Strategies to Minimize End-of-Life Conflict in the Neurocritical Care Setting.The American journal of hospice & palliative care, , 39 (1 ) ,79-85 More Information
Kreitzer, Natalie; Rath, Kelly; Kurowski, Brad G; Bakas, Tamilyn; Hart, Kim; Lindsell, Christopher J; Adeoye, Opeolu Rehabilitation Practices in Patients With Moderate and Severe Traumatic Brain Injury.The Journal of head trauma rehabilitation, , 34 (5 ) ,E66-E72 More Information
Rath, Kelly; Kreitzer, Natalie; Schlichter, Erika; Lopez, Omar; Ferioli, Simona; Ngwenya, Laura B; Foreman, Brandon (2020. ) The Experience of a Neurocritical Care Admission and Discharge for Patients and Their Families: A Qualitative Analysis.The Journal of neuroscience nursing : journal of the American Association of Neuroscience Nurses, , 52 (4 ) ,179-185 More Information