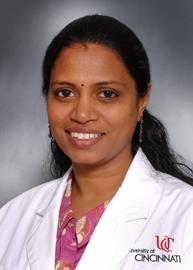 Kalyani Ananthamohan
Post Doc Fellow
Cardiovascular Rsrch Cntr
4978
COM IM Cardiology Sadayappan Lab - 0586
Dr. Ananthamohan received her undergraduate degree (BSc) in Agriculture in 2007 from the Pandit Jawaharlal Nehru College of Agriculture and Research Institute, Karaikal, Puducherry, India, and Master of Science (MSc) in Biotechnology from Bharathiar University, Coimbatore, Tamil Nadu, India in 2009. Her two-month summer training at the Centre for Cellular and Molecular Biology (CCMB), Hyderabad, Telangana, India, inspired her to pursue a career in research. She then qualified for the Council of Scientific and Industrial Research (CSIR) Ph.D. studies under the mentorship of Nitish R Mahapatra, Ph.D. at IIT Madras (2009-2016). Her Ph.D. research was to understand the post-transcriptional regulation of hypertension candidate genes such as Renalase by micro RNAs during the development of essential hypertension. She then did post-doctoral training at the Department of Biotechnology under the mentorship of Shilpy Sharma, Ph.D., at Savitribai Phule Pune University, Pune, Maharashtra, India (2017-2019). Her work there was to define the role of pancreatic and skeletal muscle miRNAs as biomarkers for insulin insufficiency and insulin resistance mechanisms of type II diabetes. Most recently, she was appointed as an Assistant Professor of Nanobiotechnology at the PSG Institute of Advanced Studies, Coimbatore, Tamil Nadu, India (2021-2023). Her lab focused on characterizing Renalase as a biomarker for early detection and a potential therapeutic target for metabolic diseases which increases the risk of cardiac disorders. She has extraordinary expertise in studying gene regulation and microRNAs in cardiovascular diseases. Under the mentorship of Dr. Sadayappan, she is currently focused on defining the impact of epigeentic factors (miRNAs) and metabollic challenges in regulation of sarcomeric proteins viz., MYBPC in genetically inherited cardiac and skeletal muscle disorders. Her long-term goal is to be a leader in cardiovascular biology at one of the leading academic institutes in the United States.
PhD: Indian Institute of Technology Madras, Chennai India, 2016 (Genetic and Molecular pathogenesis of essential hypertension)
M.Sc: Bharathiar University India, 2009 (Biotechnology)
B.Sc: Pandit Jawaharlal Nehru College of Agriculture and Research Institute India, 2007 (Agriculture)
PG Diploma: Bharathiar University India, 2009 (Advanced Life Sciences)
Research and Practice Interests
Dr. Ananthamohan's research expertise mainly focused on understanding the role of post-transcriptional gene regulation by microRNAs and ultimately translate the discoveries to develop potential diagnosis and therapeutics for cardiovascular diseases. Her long-term aspiration is to emerge as a prominent researcher in the field of molecular cardiology within a renowned U.S. university.
Her current research focus in Dr. Sadayappan's lab is to define the role of miRNAs in regulation of sacromeric protein MYBPC in cardiac and skeletal muscle systems. Her primary objective will be to comprehend the significance of MYBPC3 variants in hypertrophic cardiomyopathy. Particularly, Kalyani is actively training herself in understanding the functional aspects of contraction, and the patterns of calcium fluctuations in cardiomyocytes to study cMyBP-C-myosin interactions in the presence of genetic mutations. These have substantial implications for the expanding our knowledge on cardiac dysfunction in hypertrophic cardiomyopathy. Kalyani's research objectives harmonize seamlessly with the objectives of the AHA, which endeavors to amplify positive outcomes in cardiac health.
 
Positions and Work Experience
11-01-2021 -04-24-2023 Assistant Professor, Research and Teaching, PSG Institute of Advanced Studies, India
07-04-2017 -02-08-2019 Research Associate, Research, Savithribai Phule Pune University, India
05-01-2023 - Post Doctoral fellow, Research, University of Cincinnati College of Medicine, Cincinnat, OH, USA
Peer Reviewed Publications
Khan A.A.; Agarwal H.; Santosh Reddy S.; Arige V.; Natarajan B.; Gupta V.; Kalyani A.; Barthwal M.K.; Mahapatra N.R. (05-01-2020. ) MicroRNA 27a Is a key modulator of cholesterol biosynthesis.Molecular and Cellular Biology, , 40 (9 ) , More Information
Subramanian L.; Maghajothi S.; Singh M.; Kesh K.; Kalyani A.; Sharma S.; Khullar M.; Victor S.M.; Swarnakar S.; Asthana S.; Mullasari A.S.; Mahapatra N.R. (12-01-2019. ) A common tag nucleotide variant in MMP7 promoter increases risk for hypertension via enhanced intera.Hypertension, , 74 (6 ) ,1448-1459 More Information
Arige V.; Agarwal A.; Khan A.A.; Kalyani A.; Natarajan B.; Gupta V.; Reddy S.S.; Barthwal M.K.; Mahapatra N.R. (03-15-2019. ) Regulation of Monoamine Oxidase B Gene Expression: Key Roles for Transcription Factors Sp1, Egr1 and.Journal of Molecular Biology, , 431 (6 ) ,1127-1147 More Information
Kalyani A.; Sonawane P.J.; Khan A.A.; Subramanian L.; Ehret G.B.; Mullasari A.S.; Mahapatra N.R. (08-14-2015. ) Post-Transcriptional Regulation of Renalase Gene by MIR-29 and MIR-146 MicroRNAs: Implications for C.Journal of Molecular Biology, , 427 (16 ) ,2629-2646 More Information
Sonawane P.; Gupta V.; Sasi B.; Kalyani A.; Natarajan B.; Khan A.; Sahu B.; Mahapatra N. (11-11-2014. ) Transcriptional regulation of the novel monoamine oxidase renalase: Crucial roles of transcription f.Biochemistry, , 53 (44 ) ,6878-6892 More Information
Book Chapter
Kalyani A.; Jha R.M.; Sharma S. (2019 ) Use of circulating nucleic acids, metabolites, and proteins as clinical biomarkers for earlier prognosis and diagnosis of disease Prognostic Epigenetics .(pp. 85-116).Acadmeic Press (Author)
05-12-2023 -05-11-2023: Student Trainee Member American Heart Association, United States of America
Research - Cardiovascular Center, Room 4978, Department of Internal Medicine
University of Cincinnati College of Medicine
Cincinnati  Ohio, 45627
Phone: (513) 558-7442
ananthka@ucmail.uc.edu