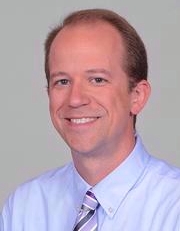 Eric R. Anderson
Associate Professor
Electronic Media Communications Dept.
9555 Plainfield Road
Cincinnati, Ohio 45236
Phone (513) 936-1618
Email eric.anderson@uc.edu
Eric Anderson is an associate professor of electronic media at the University of Cincinnati.

Anderson was previously a chief videographer, editor and producer of broadcast journalism for both commercial (WNWO-TV Toledo, OH and WICU-TV, Erie, PA) and public television stations (WOUB-TV, Athens, OH).

His productions have had national distribution and garnered many awards including three Emmys as well as awards from the National Press Photographer's Association, the Ohio News Photographer's Association, the National Educational Television Association, the Columbus and Athens International Film Festivals, the Telly Awards, the Toledo Women in Communication Association, and he was awarded Best Videographer four years in a row by the Ohio Associated Press.

His areas of media production expertise include web development, digital design, broadcast television, single and multi-camera video production, video post-production, and multimedia production. He is also a distinguished educator with expertise in teaching, using technology in the classroom, and instructional design. He has also developed and lead several study abroad programs. His areas of research interest include active learning methods, the effectiveness of critiquing methods, media literacy, and the effect of pre-trip activities on study abroad programs.
MA: Ohio University Athens, OH, 2005 (Interactive Multimedia)
BFA: Edinboro University of Pennsylvania Edinboro, PA, 1996 (Applied Media Arts/Film)
Positions and Work Experience
2005 -To Present Associate Professor, University of Cincinnati,
2001 -2005 Electronic Media Editor/Videographer, Ohio University Telecommunications Center, WOUB-TV, Athens, OH
1996 -2001 Chief Photojournalist, WNWO-TV NBC 24, Toledo, OH
1995 -1996 Videographer/Editor/Production Engineer, WICU-TV NBC 12, Erie, PA
Invited Presentations
Eric Anderson (09-2011. ) Visual Storytelling with New Media .U.S. Naval Base, Yokosuka, Japan. Workshop. . Level:International
Paper Presentations
Collins, C., Anderson, E., & Jennings, N. (03-2008. ) Second Life Bootcamp .Columbus, OH. Conference. Level:Regional
Sipple, S., Woods, A., Anderson, E., Ottem, M., Roos, M. (04-2013. ) No Innocents Abroad: Pre-Trip Activities and Study Abroad Preparedness .Cleveland, OH. Conference. Level:Regional
Sipple, S., Woods, A., Anderson, E., Ottem, M., Roos, M. (10-2012. ) Preparing Domestically, Learning Globally: The Effects of Pre-Trip Activities on Study Abroad Programs .San Antonio, TX. Conference. Level:National
Anderson, E., Hubble, D., Hartz, D., Sanders, H.M. (09-2009. ) Media Capstone Projects .Conference. Level:Regional
Anderson, E. (04-2009. ) Competition in the Classroom .Conference. Level:State
Collins, C., Anderson, E. (03-2008. ) Building the UC Island in Second Life .Conference. Level:Regional
Anderson, E. (09-2007. ) Problem Based Learning and Video Production Pedagovy .Lily Teaching Conference. Conference. Level:Regional
2007 Emmy Award Editor - Program - "PassionWorks: A Story of Flying" Status:Recipient Level:Regional Type:Recognition
2005 Emmy Award Producer, Director, Editor - Program - "Share A Story" Status:Recipient Level:Regional Type:Recognition
2004 Emmy Award Producer, Director, Editor - Children's Programming: Short Form - "Hey... What's That?" Status:Recipient Level:Regional Type:Recognition
2004 CHRIS Award Columbus International Film Festival. Status:Recipient Level:International
2001 Best Videographer Ohio Associated Press Status:Recipient Level:Professional Org. Type:Recognition
2000 Best Videographer Ohio Associated Press Status:Recipient Level:Professional Org. Type:Recognition
1999 Best Videographer Ohio Associated Press Status:Recipient Level:Professional Org. Type:Recognition
1998 Best Videographer Ohio Associated Press Status:Recipient Level:Professional Org. Type:Recognition
2004 Telly Award Editor, Videographer - Documentary - "Moscow Circus: A Winter's Tale" Status:Recipient Level:National Type:Recognition
2003 Telly Award Producer, Director, Editor - Program - "Young Writers and Illustrators" Status:Recipient Level:National Type:Recognition
2011 A.B. "Dolly" Cohen Award Status:Nomination Level:University
(Faculty Senate IT ) Committee Member Type:University/College Service Level:University 2007 -2010
(Technology ) Committee Member Type:University/College Service Level:College 2008
(College Computer Advisory ) Committee Chair Type:University/College Service Level:College 2006 -2007
(Academic Priorities & Resources ) Committee Member Type:University/College Service Level:College 2008
(Academic Assessment ) Committee Member Type:University/College Service Level:College 2006
(Blue Ribbon Task Force for Academic Instructional Technology ) Committee Member Type:University/College Service Level:University 2010
(Technology Committee ) Committee Chair Type:University/College Service Level:College 2009 -2010
(Faculty Senate ) Elected Member Type:University/College Service Level:College 2011 -2013
Faculty Senate (Information Technology Committee ) Committee Chair Type:University/College Service Level:University 2011 -2012
Faculty Senate Cabinet Executive Board Type:University/College Service Level:University 2011 -2012
(Executive Committee ) Elected Member Type:University/College Service Level:College 2013
(Study Abroad and Exchange Committee ) Elected Member 2013
media, electronic media, new media, social media, multimedia, television, tv, web, web design, web standards, html, css, internet, design, communication
2007 -2010: Second Life Learning Community
2008 -2012: Games and Multimedia in Education Faculty Learning Community
2006 -2008: Digital Learning Objects Learning Community
2007 -2011: Problem Based Learning Community
2009 -To Present: Broadcast Educator's Asccociation
2006 -2008: Media Communicator's Association International
1997 -2007: NPPA National Press Photographer's Association
2002 -To Present: National Academy of Television Arts & Sciences
2010 -To Present: AIGA American Institute of Graphic Arts
2011 -To Present: Educause
2012 -To Present: MIIIE Midwest Institute for International/Intercultural Education
2012 -To Present: ISETL International Society for Exploring Teaching and Learning
28-EMDT-281 BASIC WEB PROD
Advanced Web Production
28-EMDT-263 DOCUMENTARY PROD
Video Studio Production
Advanced Post-Production
Media Design Fundamentals
Media Design Applications
Web Design I
Web Design II
Video Production II
Academic - Electronic Media Communications Dept.
9555 Plainfield Road
Cincinnati  Ohio, 45236
Phone: (513) 936-1618
eric.anderson@uc.edu