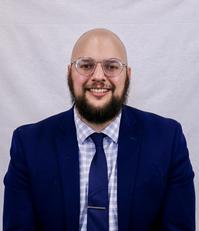 Daniel David Arendt , Pharm.D., BCPS
Assistant Professor
Clinical Pharmacy Specialist in Pain Management & Opioid Stewardship
Office Location
3225 Eden Avenue, Kowalewski Hall #183
Phone 513-558-7141
Fax Twitter: @ArendtDr
Email arendtdl@ucmail.uc.edu

Dr. Daniel Arendt (he/him) is an Assistant Professor of Pharmacy Practice and Administrative Sciences with a focus in Pain Management and Opioid Stewardship at the University of Cincinnati James L. Winkle College of Pharmacy. Within the college of pharmacy, he teaches pain management within the Therapeutics IV course in the third pharmacy professional year. He additionally coordinates clinical skills labs focused on pain management and serves on the PharmD admissions committee and the faculty development and recognition committee. In addition to his roles within the college, Dr. Arendt serves as the pain stewardship clinical pharmacy specialist at University of Cincinnati Medical Center. As the pain stewardship pharmacist for UCMC, he serves as a chair of the pain stewardship committee for UC Health, where he works to develop a system-wide pain stewardship program to optimize the practice of pain management and reduce opioid-related adverse events within not only the UC health system, but the greater Cincinnati community.
 
Dr. Arendt, originally from Buffalo, NY, earned both his Bachelor of Science in Pharmaceutical Sciences and his Doctor of Pharmacy degree from The University of Toledo. While in pharmacy school, he served on the Board of Trustees for the University and was involved in hiring Dr. Sharon Gaber, the first ever female president of the University of Toledo. After graduating from pharmacy school, Dr. Arendt completed a PGY-1 Pharmacy Residency and a combined Internal Medicine / Academia PGY-2 Pharmacy Residency at University Hospitals Geauga Medical Center and Northeast Ohio Medical University. 

Dr. Arendt continues to be involved within AACP, ASHP and ACCP nationally. He additionally serves as the director-elect of legislative affairs for the Ohio Society of Health System Pharmacists. Locally he is a member of the Hamilton County Addiction Response Coalition, where he works to integrate the communities and universities response to the opioid overdose epidemic. He hopes to develop and study comprehensive strategies to limit the negative impacts of opioid use and combat the stigma surrounding addiction and mental health, all the while ensuring that pain patients have access to the proper medical that they need and deserve.

 
Doctor of Pharmacy: University of Toledo 2018
Bachelor of Science: Pharmaceutical Sciences: The University of Toledo 2016
Research and Practice Interests
I am interested in implementing and studying comprehensive strategies that limit the negative impacts of opioid use and combat the stigma surrounding addiction and mental health. Implementing, supporting, and studying community initiatives such as increased naloxone access, increased availability of PrEP, fentanyl test strips, and clean syringes as well as any other interventions that increase the safety of people who use drugs as well as that which increases their access to addiction treatment is critically important.

I additionally study our development of a pain stewardship program and assess the initiatives put in place within our health system. Those initiatives that are successful should be shared in the hopes of creating a reproducible model for improving pain management practices at other institutions across the country.

Lastly, I am aware of the levels of burnout, anxiety and depression within the pharmacy profession. Across the nation it is seen within the student, resident and even faculty populations. Determining the true sources of this burnout and working to develop more supportive learning and working conditions for both future and current pharmacists is a passion of mine.
Published Abstracts
Daniel Arendt, Vincent Mauro, Mariann Churchwell (2016. ) Pharmacy Pearls to Prevent Pharmacy Perils: Combined NSAID-ACE-I-induced Renal Dysfunction .[Abstract]OSHP Bulletin,
Peer Reviewed Publications
Arendt DD, Boyle JA. (2021. ) When resiliency is not enough: Addressing the structure of a residency program and its contribution to pharmacy resident burnout. .Am J Health Syst Pharm, ,
Invited Presentations
Jaclyn Boyle, Jeff Cain, Dale English, Mate Soric (07-22-2020. ) The Final Missing Piece in the Well-being Puzzle: What Leadership Can Do .American Association of Colleges of Pharmacy (AACP) Annual Meeting, Virtual. Level:National
Daniel Arendt (09-25-2019. ) Emerging Trends of Tick-Borne Diseases: A Review of Their Impact on Health in Ohio .Ohio Pharmacists Association: Pharmacy Technician Education Seminar, Columbus, Ohio. Level:State
Dan Arendt, Ashley Klarich (05-06-2019. ) Emerging Trends of Tick-Borne Diseases: A Review of Their Impact on Health in Ohio .Ohio Society of Health System Pharmacists Annual Meeting, Columbus, Ohio. Level:State
Arendt DD (02-23-2021. ) (In Press. ) Pain & Prejudice: Inequity in the Opioid Epidemic .Webinar, Level:State
Pain & Prejudice: Inequity in the Opioid Epidemic
Poster Presentations
Daniel Arendt, Mate Soric (12-11-2018. ) Evaluating the Potential Role of Statin Therapy in the Reduction of Gentamicin-Induced Nephrotoxicity: A Retrospective Cohort Study .American Society of Health System Pharmacists Midyear Clinical Meeting, Anaheim, California. . Level:National
Dan Arendt, Lukas Everly (12-2018. ) Impact of a Parenteral Opioid Mitigation Strategy on Usage Rates in a Community Hospital Setting .Vizient Consortium Pharmacy Network Annual Meeting, Anaheim, CA. . Level:National
Daniel Arendt, Mate Soric, Patrick Divoky (12-2019. ) A Cross-Section of Asthma and COPD: Inhaled Corticosteroid Prescribing Patterns in the United States .American Society of Health System Pharmacists Midyear Clinical Meeting, Las Vegas, NV. . Level:National
09-2017 National Association of Board of Pharmacy Edward Rowe Award Recipient
07-2018 American Association of Colleges of Pharmacy Walmart Scholar
02-25-2021 Rho Chi Faculty Excellence Award Rho Chi Honor Society Status:Recipient Level:College Type:Recognition
04-20-2021 P3 Faculty Excellence in Teaching Award Status:Recipient Level:College Type:Recognition
Post Graduate Training and Education
07-01-2018-06-30-2019 PGY-1 Pharmacy Residency, University Hospitals: Geauga Medical Center, , Chardon, OH
07-01-2019-06-30-2020 PGY-2 Pharmacy Residency: Internal Medicine and Academia, University Hospitals Geauga Medical Center and Northeast Ohio Medical University, , Chardon, OH
Academic - Office Location
3225 Eden Avenue, Kowalewski Hall #183
Phone: 513-558-7141
Fax: Twitter: @ArendtDr
arendtdl@ucmail.uc.edu