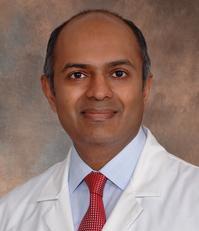 Ferhan Asghar , MD
Professor of Clinical
Vice-Chair of Academic Affairs, Director of the Orthopaedic Surgery Residency Program
University of Cincinnati College of Medicine
231 Albert Sabin Way
ML 0212
Cincinnati , Ohio 45267-0212
Phone 513-558-4592
Fax 513-558-2220
Email ferhan.asghar@uc.edu
Ferhan Asghar is a Professor, Program Director and Vice Chair for Academic Affairs in the Department of Orthopaedic Surgery at the University of Cincinnati College of Medicine.

He received his undergraduate education at Johns Hopkins University and obtained his MD from Baylor College of Medicine. He subsequently trained at the University of Michigan Hospitals and Vanderbilt University in Orthopaedics and Spine Surgery.

He has been selected for the American Academy of Orthopaedic Surgeons Leadership Fellows Program, and has served on their Assessments Committee. He currently serves as the Immediate Past -Chief of Staff at West Chester Hospital. 
Bachelor's Degree: Johns Hopkins University Baltimore, MD, 1995 (Biology)
Medical Degree: Baylor College of Medicine Houston, TX, 1999
Residency: University of Michigan Ann Arbor, MI, (Orthopaedic Surgery)
Fellowship: Vanderbilt University Medical Center Nashville, TN, (Spine)
American Board of Orthopaedic Surgery (Certification Date: 07-14-2008 ) - (Recertification Date: to 01-01-2019 )
Orthopaedic Surgery
Back Injuries
Bone Infections
Curvature of the Spine
Discitis
Herniated Discs
Hunchback (Kyphosis)
Intervertebral Disc Degeneration
Intervertebral Disc Displacement
Lumbar Radiculopathy
Lumbar Spinal Stenosis
Musculoskeletal Disease
Neck/Spine Injury
Orthopaedic Trauma
Osteomyelitis (Bone Infection)
Osteoporosis
Sacroiliac Joint Pain
Sacroiliitis
Scheuermann's Disease
Scheuermann's Kyphosis
Scoliosis (Curvature of the spine)
Spinal Fractures
Spinal Injuries
Spinal Stenosis
Spine Infections
Spondyloarthropathies
Spondylolisthesis
Spondylosis
Vertebral Body Compression Fracture
Vertebral Fractures
Vertebral Tumor
Orthopaedic Surgery
Spinal Surgery
Research and Practice Interests
Disorders of the Cervical, Thoracic, and Lumbar Spine including Degenerative Disease, Trauma, and Deformity.

Participant in multicenter study to evaluate posterior transforanimal interbody fusions with Healos and Leopard cages.  Sponsored by DePuy Spine.

Developing spine curriculum for residens and orthopaedic curriculum for medical students at University of Cincinnati.
Positions and Work Experience
2005 -2018 Assistant Professor, Department of Orthopaedic Surgery Division of Spine Surgery, University of Cincinnati, Cincinnati, OH
2014 -2015 Interim Director, Surgery Trauma Unit West Chester Unit, UC Health / University of Cincinnati Physicians, West Chester, OH
1998 -1999 Secretary, Student Surgical Society, Baylor College of Medicine, Houston, TX
-1996 Treasurer, American Medical Association - Student Section, Baylor College of Medicine, Houston, TX
1998 -1999 Student Instructor, Problem Based Learning, Baylor College of Medicine, Houston, TX
1998 -1999 Student Instructor, Medical Neurosciences, Baylor College of Medicine, Houston, TX
1995 -1998 Editor, Aesculapian Yearbook, Baylor College of Medicine, Houston, TX
-1999 Editor-in-Chief, Aesculapian Yearbook, Baylor College of Medicine, Houston, TX
2003 -2004 Co-Administrative Chief Resident, Department of Orthopaedic Surgery, University of Michigan Hospitals, Ann Arbor, MI
2005 -2006 Chair, Organization of Resident Representatives, Association of American Medical Colleges (AAMC),
2015 -To Present Director, Orthopaedic Residency Program , Univeristy of Cincinnati, Department of Orthopaedic Surgery and Sports Medicine, Cincinnati, OH
01-01-2020 -To Present Chief of Staff, West Chester Hospital, West Chester, OH
2018 -2022 Associate Professor, University of Cincinnati , Cincinnati, OH
09-01-2022 -To Present Professor of Clinical Geo, University of Cincinnati COM, Department of Orthopaedic Surgery
Peer Reviewed Publications
Asghar, Ferhan A; Hilibrand, Alan S (2012. ) The impact of the Spine Patient Outcomes Research Trial (SPORT) results on orthopaedic practice.The Journal of the American Academy of Orthopaedic Surgeons, , 20 (3 ) ,160-6 More Information
Asghar, Ferhan A (2011. ) Commentary on an article by Peter G. Passias, MD, et al.: "Segmental lumbar rotation in patients with discogenic low back pain during functional weight-bearing activities".The Journal of bone and joint surgery. American volume, , 93 (1 ) ,e4 More Information
Kimyai-Asadi, A; Lin, A Y; Huang, C H; Asghar, F; Nousari, H C (1999. ) Toe web infections and prosthetic joints. Orthopedics, , 22 (4 ) ,381, 389
Mikles MR, Asghar FA, Frankenburg EP, Scott DS, Graziano GP (2004. ) Biochemical study of lumbar pedicle screws in a corpectomy model assessing significance of screw height. J Spinal Disord Tech, , 17 (4 ) ,272
Asghar FA, Karunakar MA (2004. ) Femoral head fractures: diagnosis, management, and complications. Orthop Clin North Am, , 35 (4 ) ,463
Asghar, FA (2016. ) Radiographic Changes in the Cervical Spine Following Arthrodesis: Causation or Correlation? .The Journal of Bone & Joint Surgery, , 98 (19 ) ,
Thawrani, Dinesh P; Agabegi, Steven S; Asghar, Ferhan (2018. ) Diagnosing Sacroiliac Joint Pain.The Journal of the American Academy of Orthopaedic Surgeons, , More Information
Omer Sultan, Muhammad; Farooque, Umar; Inam Khan, Muhammad; Karimi, Sundas; Cheema, Omer; Jaan, Ali; Khalid, Farhan; Taimur, Muhammad; Asghar, Fahham; Javed, Rafay; Girdhari, Komal (2020. ) Frequency of Venous Thromboembolism in Patients with Liver Cirrhosis.Cureus, , 12 (8 ) ,e9594 More Information
Karani, Rajiv; Mahdy, Ayman; Asghar, Ferhan (2020. ) Postoperative Urinary Retention in Patients Who Undergo Joint Arthroplasty or Spine Surgery.JBJS reviews, , 8 (7 ) ,e18.00040 More Information
Omer Sultan, Muhammad; Inam Khan, Muhammad; Ali, Rahmat; Farooque, Umar; Hassan, Syed Adeel; Karimi, Sundas; Cheema, Omer; Pillai, Bharat; Asghar, Fahham; Javed, Rafay (2020. ) Paraphenylenediamine (Kala Pathar) Poisoning at the National Poison Control Center in Karachi: A Prospective Study.Cureus, , 12 (5 ) ,e8352 More Information
Asghar, Fahham; Shamim, Nazia; Farooque, Umar; Sheikh, Haris; Aqeel, Ramsha (2020. ) Telogen Effluvium: A Review of the Literature.Cureus, , 12 (5 ) ,e8320 More Information
Ali, Rahmat; Inam Khan, Muhammad; Omer Sultan, Muhammad; Farooque, Umar; Hassan, Syed Adeel; Asghar, Fahham; Cheema, Omer; Karimi, Sundas; Hasan, Choudhary Ahmed; Farukhuddin, Fnu (2020. ) Frequency of Human Immunodeficiency Virus in Patients Admitted with Acute Stroke.Cureus, , 12 (5 ) ,e8296 More Information
Asghar, Fahham; Aqeel, Ramsha; Farooque, Umar; Haq, Aatera; Taimur, Muhammad (2020. ) Presentation and Management of Klippel-Trenaunay Syndrome: A Review of Available Data.Cureus, , 12 (5 ) ,e8023 More Information
Johnson, Mark D; Matur, Abhijith V; Asghar, Ferhan; Nasser, Rani; Cheng, Joseph S; Prestigiacomo, Charles J (2020. ) Right Versus Left Approach to Anterior Cervical Discectomy and Fusion: An Anatomic Versus Historic Debate.World neurosurgery, , 135 ,135-140 More Information
Mikles M.; Asghar F.; Frankenburg E.; Scott D.; Graziano G. (08-01-2004. ) Biomechanical study of lumbar pedicle screws in a corpectomy model assessing significance of screw h.Journal of Spinal Disorders and Techniques, , 17 (4 ) ,272-276 More Information
Asghar F.A.; Karunakar M.A. (10-01-2004. ) Femoral head fractures: Diagnosis, management, and complications.Orthopedic Clinics of North America, , 35 (4 SPEC. ISS. ) ,463-472 More Information
Agabegi S.S.; Asghar F.A.; Herkowitz H.N. (01-01-2010. ) Spinal orthoses.Journal of the American Academy of Orthopaedic Surgeons, , 18 (11 ) ,657-667 More Information
Levin P.; Asghar F.; Hilibrand A. (06-01-2012. ) The impact of the spine patient outcome research trial (SPORT) results on orthopaedic practice.Journal of the American Academy of Orthopaedic Surgeons, , 20 (6 ) ,331-332 More Information
Dailey S.; Crawford A.; Asghar F. (01-01-2015. ) Implant Failure Following Posterior Spinal Fusion-Caudal Migration of a Fractured Rod: Case Report.Spine Deformity, , 3 (4 ) ,380-385 More Information
Asghar F. (01-01-2016. ) Radiographic changes in the cervical spine following arthrodesis: Causation or correlation?.Journal of Bone and Joint Surgery - American Volume, , 98 (19 ) ,e85 More Information
Asghar F. (10-05-2016. ) Radiographic Changes in the Cervical Spine Following Arthrodesis: Causation or Correlation? Commenta .The Journal of bone and joint surgery. American volume, , 98 (19 ) ,e85
Van Heest A.E.; Agel J.; Ames S.E.; Asghar F.A.; Harrast J.J.; Marsh J.L.; Patt J.C.; Sterling R.S.; Peabody T.D. (03-06-2019. ) Resident Surgical Skills Web-Based Evaluation: A Comparison of 2 Assessment Tools.Journal of Bone and Joint Surgery - American Volume, , 101 (5 ) , More Information
Summers M.A.; Matar R.N.; Denning J.R.; Dixon T.L.; Ramalingam W.G.; Asghar F.A.; Grawe B.M. (05-01-2020. ) Closing the Gender Gap: Barriers to Success for Recruitment and Retention of the Female Orthopaedic .JBJS reviews, , 8 (5 ) ,e0211 More Information
Academic - University of Cincinnati College of Medicine
231 Albert Sabin Way
Cincinnati   Ohio, 45267-0212
Phone: 513-558-4592
Fax: 513-558-2220
ferhan.asghar@uc.edu