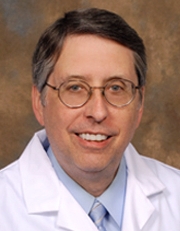 James J Augsburger , MD
Professor
Dr. E. Vernon and Eloise C. Smith Research and Education Endowed Chair
Stetson Building
260 Stetson Street, Suite 5300
Cincinnati, Ohio 45219
Phone 513-558-5151
Fax 513-558-3108
Email james.augsburger@uc.edu
James Augsburger, MD, is a professor of ophthalmology, the Dr. E. Vernon and Eloise C. Smith chair and the director of the ocular oncology service at the UC Academic Health Center.  He is also the chairman of the Department of Ophthalmology at the University of Cincinnati Medical Center.  Dr. Augsburger is widely recognized as one of the nation's leading experts in clinical classification and treatment of intraocular lymphoma, a rare, malignant eye cancer.
 
Within the ocular oncology service at UC, Dr. Augsburger has proposed new clinical classifications of metastatic uveal melanoma, cancer of the eye involving the iris, tissue or vascular layer of the eye, that will hopefully lead to better therapeutic approaches to the typically fatal condition, and in collaboration with other departments at UC, has developed one of the Top 10 ocular oncology referral centers in the U.S.
 
The Ocular Oncology service evaluates and treats over 300 new patients annually, including over 100 new adult patients with intraocular malignant melanoma and approximately 10 new children with retinoblastoma, cancer of the retina.
 
Dr. Augsburger has received the Life Achievement Honor Award and a Senior Honor Award from the American Academy of Ophthalmology, has been named one of America's Top Doctors numerous times and has served as a peer reviewer on a number of journals, including the American Journal of Ophthalmology.
 
In addition:
 His studies have been published in over 300 journals, and his commentaries have been featured in over 60 textbooks or publications.
He is a member of many nationally known professional organizations including the American Academyo f Ophthalmology, the American Medical Association, the American Ophthalmological Society, and the Association for Research in Vision and Ophthalmology, among others.
 He has more than $300,000 in funding from Research to Prevent Blindness, Inc.
Medical Degree: University of Cincinnati College of Medicine Cincinnati, OH, 1974 (Medicine)
Residency : University of Cincinnati/University Hospital Cincinnati, OH, 1978 (Ophthalmology)
Fellowship: Wills Eye Hospital Philadelphia, PA, 1980 (Retina-Vitreous & Ocular Oncology)
Internship: Cleveland Clinic Cleveland, OH,
Bachelor's Degree: Heidelberg College Tiffin, OH, 1970 (Biology, Chemistry)
American Board of Ophthalmology (Certification Date: 10-24-1979 )
Ophthalmology
Ophthalmology
Research and Practice Interests
Ophthalmology, Eye Disease, Cancer, Oncology, Ocular Oncology, Ocular Ultrasonography
Positions and Work Experience
1999 - Professor and Chairman, Dept. of Ophthalmology, University of Cincinnati College of Medicine, Cincinnati, OH
1994 -1998 Adjunct Associate Professor of Ophthalmology, Allegheny University College of Medicine, Philadelphia, PA
1983 -1999 Associate Clinical Professor of Ophthalmology, Jefferson Medical College, Thomas Jefferson University, Phhiladelphia, PA
1980 -1983 Assistant Clinical Professor of Ophthalmology, Jefferson Medical College, Thomas Jefferson University, Philadelphia, PA
1980 -1981 Director of Resident Education, Wills Eye Hospital, Philadelphia, PA
1987 -1988 Director of Operating Room, Wills Eye Hospital, Phhiladelphia, PA
1995 -1998 Director of Clinical Research, Glaucoma Service, Wills Eye Hospital, Philadelphia, PA
Investigators:Augsburger, James 07-01-2005 -06-30-2014 Research to Prevent Blindness, Inc. RPB Unrestricted Grant Role:PI $960,000.00 Active Level:Private Non-Profit
Investigators:Augsburger, James 07-01-2001 -06-30-2005 Research to Prevent Blindness, Inc. Research to Prevent Blindness - Challenge Grant Role:PI $220,000.00 Closed Level:Private Non-Profit
Grant: #SRS 007052 Investigators:Ahmed, Zubair; Augsburger, James 07-01-2010 -06-30-2014 Research to Prevent Blindness, Inc. Research to Prevent Blindness Career Development Award for Zubair Ahmed Role:PI $200,000.00 Active Level:Private Non-Profit
Grant: #Saenger Grant Fund Investigators:Augsburger, James 05-01-2013 -04-30-2014 Cincinnati Sight Restoration Foundation Saenger Grant for Vision Science Research Role:PI $9,938.37 Active Level:Private Non-Profit
Peer Reviewed Publications
Palakurthi, Nikhil Kumar; Krishnamoorthy, Mahesh; Augsburger, James J; Correa, Zelia M; Banerjee, Rupak K (2010. ) Investigation of kinetics of methotrexate for therapeutic treatment of intraocular lymphoma.Current eye research, , 35 (12 ) ,1105-15 More Information
Anandajeya, Wendy V; Corrêa, Zélia M; Augsburger, James J (2009. ) Primary acquired melanosis with atypia treated with mitomycin C.International ophthalmology, , 29 (4 ) ,285-8 More Information
Sarafzadeh, Shaden; Corrêa, Zélia M; Dhamija, Ashima; Augsburger, James J; Trichopoulos, Nikolaos (2009. ) Intraocular lymphoma diagnosed by fine-needle aspiration biopsy.Acta ophthalmologica, , More Information
Augsburger, James J; Corrêa, Zélia M; Shaikh, Adeel H (2009. ) Effectiveness of treatments for metastatic uveal melanoma.American journal of ophthalmology, , 148 (1 ) ,119-27 More Information
Palkovacs, Elizabeth M; Correa, Zelia; Augsburger, James J; Eagle, Ralph C (2008. ) Acquired toxoplasmic retinitis in an immunosuppressed patient: diagnosis by transvitreal fine-needle aspiration biopsy.Graefe's archive for clinical and experimental ophthalmology = Albrecht von Graefes Archiv für klinische und experimentelle Ophthalmologie, , 246 (10 ) ,1495-7 More Information
Sarafzadeh, Shaden; Corrêa, Zélia M; Augsburger, James J (2008. ) Familial retinoblastoma with unilateral and unifocal involvement in 2 families.Archives of ophthalmology, , 126 (9 ) ,1308-9 More Information
Augsburger, James J; Corrêa, Zélia M; Trichopoulos, Nikolaos; Shaikh, Adeel (2008. ) Size overlap between benign melanocytic choroidal nevi and choroidal malignant melanomas.Investigative ophthalmology & visual science, , 49 (7 ) ,2823-8 More Information
Malik Rahman, Amina; Augsburger, James J; Corrêa, Zélia M (2008. ) Iridociliary melanoma associated with ocular melanocytosis in a 6-year-old boy.Journal of AAPOS : the official publication of the American Association for Pediatric Ophthalmology and Strabismus / American Association for Pediatric Ophthalmology and Strabismus, , 12 (3 ) ,312-3 More Information
Krishnamoorthy, Mahesh K; Park, Juyoung; Augsburger, James J; Banerjee, Rupak K (2008. ) Effect of retinal permeability, diffusivity, and aqueous humor hydrodynamics on pharmacokinetics of drugs in the eye.Journal of ocular pharmacology and therapeutics : the official journal of the Association for Ocular Pharmacology and Therapeutics, , 24 (3 ) ,255-67 More Information
Augsburger, James J; Corrêa, Zélia M; Shaikh, Adeel H (2008. ) Quality of evidence about effectiveness of treatments for metastatic uveal melanoma. Transactions of the American Ophthalmological Society, , 106 ,128-35; discussion 1
Gray, Michael E; Corrêa, Zélia M; Augsburger, James J; Barrett, William (2007. ) Ciliary body melanoma with limited nodular extrascleral extension and diffuse iris-angle infiltration treated by whole anterior segment plaque radiotherapy.International ophthalmology, , 27 (4 ) ,273-6 More Information
Augsburger, James J; Corrêa, Zélia M; Trichopoulos, Nikolaos (2007. ) An alternative hypothesis for observed mortality rates due to metastasis after treatment of choroidal melanomas of different sizes. Transactions of the American Ophthalmological Society, , 105 ,54-59; discussion 59
Augsburger, James J; Henson, Ginger L; Hershberger, Vrinda S; Trichopoulos, Nikolaos (2006. ) Topographical distribution of typical unifocal congenital hypertrophy of retinal pigment epithelium.Graefe's archive for clinical and experimental ophthalmology = Albrecht von Graefes Archiv für klinische und experimentelle Ophthalmologie, , 244 (11 ) ,1412-4 More Information
Augsburger, James J; Trichopoulos, Nikolaos; Corrêa, Zélia M; Hershberger, Vrinda (2006. ) Isolated choroidal melanocytosis: a distinct clinical entity?.Graefe's archive for clinical and experimental ophthalmology = Albrecht von Graefes Archiv für klinische und experimentelle Ophthalmologie, , 244 (11 ) ,1522-7 More Information
Trichopoulos, Nikolaos; Augsburger, James J (2006. ) Neuroendocrine tumours metastatic to the uvea: diagnosis by fine needle aspiration biopsy.Graefe's archive for clinical and experimental ophthalmology = Albrecht von Graefes Archiv für klinische und experimentelle Ophthalmologie, , 244 (4 ) ,524-8 More Information
Trichopoulos, Nikolaos; Augsburger, James J; Schneider, Susan (2006. ) Adenocarcinoma arising from congenital hypertrophy of the retinal pigment epithelium.Graefe's archive for clinical and experimental ophthalmology = Albrecht von Graefes Archiv für klinische und experimentelle Ophthalmologie, , 244 (1 ) ,125-8 More Information
Augsburger, James J (2005. ) Diagnostic biopsy of selected intraocular tumors.American journal of ophthalmology, , 140 (6 ) ,1094-5 More Information
Augsburger, James J (2005. ) Unnecessary clinical tests in ophthalmology. Transactions of the American Ophthalmological Society, , 103 ,143-6; discussion 14
Trichopoulos, Nikolaos; Augsburger, James J (2005. ) Enucleation with unwrapped porous and nonporous orbital implants: a 15-year experience. Ophthalmic plastic and reconstructive surgery, , 21 (5 ) ,331-6
Park, Juyoung; Bungay, Peter M; Lutz, Robert J; Augsburger, James J; Millard, Ronald W; Sinha Roy, Abhijit; Banerjee, Rupak K (2005. ) Evaluation of coupled convective-diffusive transport of drugs administered by intravitreal injection and controlled release implant.Journal of controlled release : official journal of the Controlled Release Society, , 105 (3 ) ,279-95 More Information
Da Mata, Andrea P; Burk, Scott E; Foster, Robert E; Riemann, Christopher D; Petersen, Michael R; Nehemy, M árcio Bittar; Augsburger, James J (2004. ) Long-term follow-up of indocyanine green-assisted peeling of the retinal internal limiting membrane during vitrectomy surgery for idiopathic macular hole repair.Ophthalmology, , 111 (12 ) ,2246-53 More Information
Augsburger, James J; Schneider, Susan; Narayana, Ashwatha; Breneman, John C; Aron, Bernard S; Barrett, William L; Trichopoulos, Nikolaos (2004. ) Plaque radiotherapy for choroidal and ciliochoroidal melanomas with limited nodular extrascleral extension. Canadian journal of ophthalmology. Journal canadien d'ophtalmologie, , 39 (4 ) ,380-7
Augsburger, James J; Khouri, Lucie; Roumeliotis, Athanasios; Kersten, Robert C; Kulwin, Dwight R; Schneider, Susan (2004. ) Enucleation versus preservation of blind eyes following plaque radiotherapy for choroidal melanoma. Canadian journal of ophthalmology. Journal canadien d'ophtalmologie, , 39 (4 ) ,372-9
Hershberger, Vrinda S; Augsburger, James J; Hutchins, Robert K; Raymond, Lawrence A; Krug, Stewart (2004. ) Fibrovascular ingrowth at sclerotomy sites in vitrectomized diabetic eyes with recurrent vitreous hemorrhage: ultrasound biomicroscopy findings.Ophthalmology, , 111 (6 ) ,1215-21 More Information
Hershberger, Vrinda S; Augsburger, James J; Hutchins, Robert K; Miller, Steven A; Horwitz, Jeffrey A; Bergmann, Mark (2003. ) Chorioretinal lesions in nonfatal cases of West Nile virus infection.Ophthalmology, , 110 (9 ) ,1732-6 More Information
Deramo, Vincent A; Sergott, Robert C; Augsburger, James J; Foroozan, Rod; Savino, Peter J; Leone, Anthony (2003. ) Ischemic optic neuropathy as the first manifestation of elevated cholesterol levels in young patients.Ophthalmology, , 110 (5 ) ,1041-6; discussion 1 More Information
El-Zayaty, Shady; Schneider, Susan; Mutema, George K; Augsburger, James J (2003. ) Prostatic adenocarcinoma metastatic to the anterior uveal tract. Archives of ophthalmology, , 121 (2 ) ,276-8
Hutchins, Robert K; Kaufman, Adam H; Augsburger, James J (2003. ) Perfluoro-octane internal tamponade when using a temporary keratoprosthesis during retinal detachment repair. Retina (Philadelphia, Pa.), , 23 (1 ) ,106-10
Rhee, Douglas J; Spaeth, George L; Myers, Jonathan S; Steinmann, William C; Augsburger, James J; Shatz, Lauren J; Terebuh, Annette K; Ritner, Julie A; Katz, L Jay (2002. ) Prevalence of the use of complementary and alternative medicine for glaucoma. Ophthalmology, , 109 (3 ) ,438-43
Augsburger, James J; Corrêa, Zélia M; Schneider, Susan; Yassin, Rawia S; Robinson-Smith, Toni; Ehya, Hormoz; Trichopoulos, Nikolaos (2002. ) Diagnostic transvitreal fine-needle aspiration biopsy of small melanocytic choroidal tumors in nevus versus melanoma category. Transactions of the American Ophthalmological Society, , 100 ,225-32; discussion 2
Shah, G K; Kleiner, R C; Augsburger, J J; Gill, M K; Jampol, L M (2001. ) Primary intraocular lymphoma seen with transient white fundus lesions simulating the multiple evanescent white dot syndrome. Archives of ophthalmology, , 119 (4 ) ,617-20
Lanzl, I M; Wilson, R P; Dudley, D; Augsburger, J J; Aslanides, I M; Spaeth, G L (2000. ) Outcome of trabeculectomy with mitomycin-C in the iridocorneal endothelial syndrome. Ophthalmology, , 107 (2 ) ,295-7
Augsburger, J J; Schneider, S; Freire, J; Brady, L W (1999. ) Survival following enucleation versus plaque radiotherapy in statistically matched subgroups of patients with choroidal melanomas: results in patients treated between 1980 and 1987. Graefe's archive for clinical and experimental ophthalmology = Albrecht von Graefes Archiv für klinische und experimentelle Ophthalmologie, , 237 (7 ) ,558-67
Meyer, K; Augsburger, J J (1999. ) Independent diagnostic value of fluorescein angiography in the evaluation of intraocular tumors. Graefe's archive for clinical and experimental ophthalmology = Albrecht von Graefes Archiv für klinische und experimentelle Ophthalmologie, , 237 (6 ) ,489-94
Kim, D K; Aslanides, I M; Schmidt, C M; Spaeth, G L; Wilson, R P; Augsburger, J J (1999. ) Long-term outcome of aqueous shunt surgery in ten patients with iridocorneal endothelial syndrome.Ophthalmology, , 106 (5 ) ,1030-4 More Information
Azuara-Blanco, A; Spaeth, G L; Nicholl, J; Lanzl, I M; Augsburger, J J (1999. ) Comparison between laser scanning tomography and computerised image analysis of the optic disc. The British journal of ophthalmology, , 83 (3 ) ,295-8
Gündüz, K; Eagle, R C; Shields, C L; Shields, J A; Augsburger, J J (1999. ) Invasive giant cell astrocytoma of the retina in a patient with tuberous sclerosis.Ophthalmology, , 106 (3 ) ,639-42 More Information
Corrêa, Z M; Augsburger, J J; Freire, J; Eagle, R C (1999. ) Early-onset scleral necrosis after iodine I 125 plaque radiotherapy for ciliochoroidal melanoma. Archives of ophthalmology, , 117 (2 ) ,259-61
Azuara-Blanco, A; Wilson, R P; Spaeth, G L; Schmidt, C M; Augsburger, J J (1999. ) Filtration procedures supplemented with mitomycin C in the management of childhood glaucoma. The British journal of ophthalmology, , 83 (2 ) ,151-6
Azuara-Blanco, A; Spaeth, G L; Augsburger, J J (1999. ) Oral prednisone in guarded filtration procedures supplemented with antimetabolites. Ophthalmic surgery and lasers, , 30 (2 ) ,126-32
Deramo, V A; Shah, G K; Baumal, C R; Fineman, M S; Corrêa, Z M; Benson, W E; Rapuano, C J; Cohen, E J; Augsburger, J J (1999. ) Ultrasound biomicroscopy as a tool for detecting and localizing occult foreign bodies after ocular trauma.Ophthalmology, , 106 (2 ) ,301-5 More Information
Finger, P T; Chakravarthy, U; Augsburger, J J (1998. ) Radiotherapy and the treatment of age-related macular degeneration. External beam radiation therapy is effective in the treatment of age-related macular degeneration. Archives of ophthalmology, , 116 (11 ) ,1507-11
Lanzl, I M; Augsburger, J J; Hertle, R W; Rapuano, C; Correa-Melling, Z; Santa Cruz, C (1998. ) The role of ultrasound biomicroscopy in surgical planning for limbal dermoids. Cornea, , 17 (6 ) ,604-6
Shah, G K; Auerbach, D B; Augsburger, J J; Savino, P J (1998. ) Acute thioridazine retinopathy. Archives of ophthalmology, , 116 (6 ) ,826-7
Deramo, V A; Shah, G K; Baumal, C R; Fineman, M S; Corr?a, Z M; Benson, W E; Rapuano, C J; Cohen, E J; Augsburger, J J (1998. ) The role of ultrasound biomicroscopy in ocular trauma. Transactions of the American Ophthalmological Society, , 96 ,355-65; discussion 3
Augsburger, J J (1998. ) Computer-assisted photographic image enhancement and modification in ophthalmology. Transactions of the American Ophthalmological Society, , 96 ,295-304; discussion
Augsburger, J J; Corrêa, Z M; Freire, J; Brady, L W (1998. ) Long-term survival in choroidal and ciliary body melanoma after enucleation versus plaque radiation therapy.Ophthalmology, , 105 (9 ) ,1670-8 More Information
Azuara-Blanco, A; Spaeth, G L; Araujo, S V; Augsburger, J J; Katz, L J; Calhoun, J H; Wilson, R P (1997. ) Ultrasound biomicroscopy in infantile glaucoma. Ophthalmology, , 104 (7 ) ,1116-9
Spaeth, G L; Azuara-Blanco, A; Araujo, S V; Augsburger, J J (1997. ) Intraobserver and interobserver agreement in evaluating the anterior chamber angle configuration by ultrasound biomicroscopy. Journal of glaucoma, , 6 (1 ) ,13-7
Augsburger, J J; Freire, J; Brady, L W (1997. ) Radiation therapy for choroidal and retinal hemangiomas. Frontiers of radiation therapy and oncology, , 30 ,265-80
Eid, T E; Spaeth, G L; Moster, M R; Augsburger, J J (1997. ) Quantitative differences between the optic nerve head and peripapillary retina in low-tension and high-tension primary open-angle glaucoma. American journal of ophthalmology, , 124 (6 ) ,805-13
Singh, K; Eid, T E; Katz, L J; Spaeth, G L; Augsburger, J J (1997. ) Evaluation of Nd:YAG laser membranectomy in blocked tubes after glaucoma tube-shunt surgery. American journal of ophthalmology, , 124 (6 ) ,781-6
Chaudhry, I M; Moster, M R; Augsburger, J J (1997. ) Iris ring melanoma masquerading as pigmentary glaucoma. Archives of ophthalmology, , 115 (11 ) ,1480-1
Lanzl, I M; Augsburger, J J; Azuara, A; Runde, M R; Schmidt, C M (1997. ) Ultrasound biomicroscopy of acute glaucoma in a patient with metastatic cancer. The British journal of ophthalmology, , 81 (11 ) ,1017-8
Brady, L W; Freire, J E; Longton, W A; Miyamoto, C T; Augsburger, J J; Brown, G C; Micaily, B; Sagerman, R H (1997. ) Radiation therapy for macular degeneration: technical considerations and preliminary results. International journal of radiation oncology, biology, physics, , 39 (4 ) ,945-8
Fitzpatrick, M; Augsburger, J J; Koreishi, F M; Eagle, R C (1996. ) Complete ring melanoma of the choroid. Retina (Philadelphia, Pa.), , 16 (3 ) ,228-31
Augsburger, J J; Affel, L L; Benarosh, D A (1996. ) Ultrasound biomicroscopy of cystic lesions of the iris and ciliary body. Transactions of the American Ophthalmological Society, , 94 ,259-71; discussion 2
Harbour, J W; Augsburger, J J; Eagle, R C (1995. ) Initial management and follow-up of melanocytic iris tumors. Ophthalmology, , 102 (12 ) ,1987-93
Augsburger, J J; Oehlschläger, U; Manzitti, J E (1995. ) Multinational clinical and pathologic registry of retinoblastoma. Retinoblastoma International Collaborative Study report 2. Graefe's archive for clinical and experimental ophthalmology = Albrecht von Graefes Archiv für klinische und experimentelle Ophthalmologie, , 233 (8 ) ,469-75
Ullman, S; Augsburger, J J; Brady, L W (1995. ) Fractionated epibulbar I-125 plaque radiotherapy for recurrent mucoepidermoid carcinoma of the bulbar conjunctiva. American journal of ophthalmology, , 119 (1 ) ,102-3
Augsburger, J J; Goel, S D (1994. ) Visual function following enucleation or episcleral plaque radiotherapy for posterior uveal melanoma. Archives of ophthalmology, , 112 (6 ) ,786-9
Gedde, S J; Augsburger, J J (1994. ) Posterior scleritis as a fundus mass. Ophthalmic surgery, , 25 (2 ) ,119-21
Augsburger, J J; Mullen, D; Kleineidam, M (1993. ) Planned combined I-125 plaque irradiation and indirect ophthalmoscope laser therapy for choroidal malignant melanoma. Ophthalmic surgery, , 24 (2 ) ,76-81
Augsburger, J J; Vrabec, T R (1993. ) Impact of delayed treatment in growing posterior uveal melanomas. Archives of ophthalmology, , 111 (10 ) ,1382-6
Augsburger, J J; Kleineidam, M; Mullen, D (1993. ) Combined iodine-125 plaque irradiation and indirect ophthalmoscope laser therapy of choroidal malignant melanomas: comparison with iodine-125 and cobalt-60 plaque radiotherapy alone. Graefe's archive for clinical and experimental ophthalmology = Albrecht von Graefes Archiv für klinische und experimentelle Ophthalmologie, , 231 (9 ) ,500-7
Goldberg, R E; Leonard, B C; Kleineidam, M; Augsburger, J J (1992. ) [Venous anomalies within the myelinated retinal nerve fiber area] .Klinische Monatsblätter für Augenheilkunde, , 201 (6 ) ,411-2
Augsburger, J J; Faulkner, C B (1992. ) Indirect ophthalmoscope argon laser treatment of retinoblastoma. Ophthalmic surgery, , 23 (9 ) ,591-3
Schachat, A P; Robertson, D M; Mieler, W F; Schwartz, D; Augsburger, J J; Schatz, H; Gass, J D (1992. ) Sclerochoroidal calcification. Archives of ophthalmology, , 110 (2 ) ,196-9
Augsburger, J J; Mullen, D; Kleineidam, M (1992. ) Indirect ophthalmoscope laser treatment as supplement to 125I plaque therapy for choroidal melanoma. Transactions of the American Ophthalmological Society, , 90 ,303-14; discussion 3
Radtke, N D; Augsburger, J J; Schmitt, T (1991. ) Management of exudative retinal detachment after plaque therapy for intraocular melanoma. American journal of ophthalmology, , 112 (1 ) ,92-4
Vrabec, T R; Augsburger, J J; Gamel, J W; Brady, L W; Hernandez, C; Woodleigh, R (1991. ) Impact of local tumor relapse on patient survival after cobalt 60 plaque radiotherapy. Ophthalmology, , 98 (6 ) ,984-8
Augsburger, J J (1991. ) Differential diagnosis of choroidal neoplasms. Oncology (Williston Park, N.Y.), , 5 (2 ) ,87-96; discussion 96
Medlock, R D; Augsburger, J J; Wilkinson, C P; Cox, M S; Gamel, J W; Nicholl, J (1991. ) Enlargement of circumscribed choroidal hemangiomas. Retina (Philadelphia, Pa.), , 11 (4 ) ,385-8
Goel, S D; Augsburger, J J (1991. ) Hemorrhagic retinal macrocysts in advanced Coats disease. Retina (Philadelphia, Pa.), , 11 (4 ) ,437-40
Scott, T A; Augsburger, J J; Brady, L W; Hernandez, C; Woodleigh, R (1991. ) Low dose ocular irradiation for diffuse choroidal hemangiomas associated with bullous nonrhegmatogenous retinal detachment. Retina (Philadelphia, Pa.), , 11 (4 ) ,389-93
Augsburger, J J; Lauritzen, K; Gamel, J W; Lowry, J C; Brady, L W (1990. ) Matched group study of preenucleation radiotherapy versus enucleation alone for primary malignant melanoma of the choroid and ciliary body. American journal of clinical oncology, , 13 (5 ) ,382-7
Augsburger, J J; Gamel, J W (1990. ) Clinical prognostic factors in patients with posterior uveal malignant melanoma. Cancer, , 66 (7 ) ,1596-600
Augsburger, J J; Lauritzen, K; Gamel, J W; DeBrakeleer, D J; Lowry, J C; Eisenman, R (1990. ) Matched group study of surgical resection versus cobalt-60 plaque radiotherapy for primary choroidal or ciliary body melanoma. Ophthalmic surgery, , 21 (10 ) ,682-8
Brourman, N D; Goldberg, R E; Augsburger, J J; Grohsman, J (1990. ) Isolated venous macroaneurysm. Ophthalmic surgery, , 21 (9 ) ,646-8
Augsburger, J J; Coats, T D; Lauritzen, K (1990. ) Localized suprachoroidal hematomas. Ophthalmoscopic features, fluorescein angiography, and clinical course. Archives of ophthalmology, , 108 (7 ) ,968-72
Augsburger, J J; Gamel, J W; Lauritzen, K; Brady, L W (1990. ) Cobalt-60 plaque radiotherapy vs enucleation for posterior uveal melanoma. American journal of ophthalmology, , 109 (5 ) ,585-92
Augsburger, J J (1990. ) Ocular tumors: does treatment work? .Ophthalmic surgery, , 21 (1 ) ,9-14
Pesin, S R; Katz, L J; Augsburger, J J; Chien, A M; Eagle, R C (1990. ) Acute angle-closure glaucoma from spontaneous massive hemorrhagic retinal or choroidal detachment. An updated diagnostic and therapeutic approach. Ophthalmology, , 97 (1 ) ,76-84
Lauritzen, K; Augsburger, J J; Timmes, J (1990. ) Vitreous seeding associated with melanocytoma of the optic disc. Retina (Philadelphia, Pa.), , 10 (1 ) ,60-2
Augsburger, J J (1990. ) Invasive diagnostic techniques for uveitis and simulating conditions. Transactions of the American Ophthalmological Society, , 88 ,89-104; discussion 1
Augsburger, J J (1990. ) Invasive diagnostic techniques for uveitis and simulating conditions. Transactions - Pennsylvania Academy of Ophthalmology and Otolaryngology, , 42 ,964-71
Augsburger, J J; Schroeder, R P; Territo, C; Gamel, J W; Shields, J A (1989. ) Clinical parameters predictive of enlargement of melanocytic choroidal lesions. The British journal of ophthalmology, , 73 (11 ) ,911-7
Levin, A V; Zeichner, S; Duker, J S; Starr, S E; Augsburger, J J; Kronwith, S (1989. ) Cytomegalovirus retinitis in an infant with acquired immunodeficiency syndrome. Pediatrics, , 84 (4 ) ,683-7
Anand, R; Augsburger, J J; Shields, J A (1989. ) Circumscribed choroidal hemangiomas. Archives of ophthalmology, , 107 (9 ) ,1338-42
Amendola, B E; Markoe, A M; Augsburger, J J; Karlsson, U L; Giblin, M; Shields, J A; Brady, L W; Woodleigh, R (1989. ) Analysis of treatment results in 36 children with retinoblastoma treated by scleral plaque irradiation. International journal of radiation oncology, biology, physics, , 17 (1 ) ,63-70
Brooks, H L; Eagle, R C; Schroeder, R P; Annesley, W H; Shields, J A; Augsburger, J J (1989. ) Clinicopathologic study of organic dye. Laser in the human fundus. Ophthalmology, , 96 (6 ) ,822-34
Giblin, M E; Shields, J A; Augsburger, J J; Brady, L W (1989. ) Episcleral plaque radiotherapy for uveal melanoma. Australian and New Zealand journal of ophthalmology, , 17 (2 ) ,153-6
Karlsson, U L; Augsburger, J J; Shields, J A; Markoe, A M; Brady, L W; Woodleigh, R (1989. ) Recurrence of posterior uveal melanoma after 60Co episcleral plaque therapy. Ophthalmology, , 96 (3 ) ,382-8
Cohen, M S; Augsburger, J J; Shields, J A; Amsel, J; Felberg, N T (1989. ) Cancer in relatives of retinoblastoma patients. Japanese journal of ophthalmology, , 33 (2 ) ,173-6
Gregor, R J; Chong, C A; Augsburger, J J; Eagle, R C; Carlson, K M; Jessup, M; Wong, S; Naids, R (1989. ) Endogenous Nocardia asteroides subretinal abscess diagnosed by transvitreal fine-needle aspiration biopsy. Retina (Philadelphia, Pa.), , 9 (2 ) ,118-21
Augsburger, J J; Gamel, J W; Shields, J A (1989. ) Cobalt plaque radiotherapy versus enucleation for posterior uveal melanoma: comparison of survival by prognostic index groups. Transactions of the American Ophthalmological Society, , 87 ,348-59; discussion 3
Augsburger, J J; Greatrex, K V (1989. ) Intraocular lymphoma: clinical presentations, differential diagnosis and treatment. Transactions - Pennsylvania Academy of Ophthalmology and Otolaryngology, , 41 ,796-808
Brady, L W; Markoe, A M; Amendola, B E; Karlsson, U L; Micaily, B; Shields, J A; Augsburger, J J (1988. ) The treatment of primary intraocular malignancy. International journal of radiation oncology, biology, physics, , 15 (6 ) ,1355-61
Territo, C; Shields, C L; Shields, J A; Augsburger, J J; Schroeder, R P (1988. ) Natural course of melanocytic tumors of the iris. Ophthalmology, , 95 (9 ) ,1251-5
Peyster, R G; Augsburger, J J; Shields, J A; Hershey, B L; Eagle, R; Haskin, M E (1988. ) Intraocular tumors: evaluation with MR imaging. Radiology, , 168 (3 ) ,773-9
Roth, S E; Magargal, L E; Kimmel, A S; Augsburger, J J; Morrison, D L (1988. ) Central retinal-artery occlusion in proliferative sickle-cell retinopathy after retrobulbar injection. Annals of ophthalmology, , 20 (6 ) ,221-4
Shakin, E P; Augsburger, J J; Eagle, R C; Ehya, H; Shields, J A; Fischer, D; Koepsell, D G (1988. ) Multiple myeloma involving the iris. Archives of ophthalmology, , 106 (4 ) ,524-6
Silodor, S W; Augsburger, J J; Shields, J A; Tasman, W (1988. ) Natural history and management of advanced Coats' disease. Ophthalmic surgery, , 19 (2 ) ,89-93
Hiss, P W; Shields, J A; Augsburger, J J (1988. ) Solitary retinovitreal abscess as the initial manifestation of cryptococcosis. Ophthalmology, , 95 (2 ) ,162-5
Augsburger, J J (1988. ) Fine needle aspiration biopsy of suspected metastatic cancers to the posterior uvea. Transactions of the American Ophthalmological Society, , 86 ,499-560
Augsburger, J J; Eagle, R C; Chiu, M; Shields, J A (1987. ) The effect of pre-enucleation radiotherapy on mitotic activity of choroidal and ciliary body melanomas. Ophthalmology, , 94 (12 ) ,1627-30
Augsburger, J J; Peyster, R G; Markoe, A M; Guillet, E G; Shields, J A; Haskin, M E (1987. ) Computed tomography of posterior uveal melanomas. Archives of ophthalmology, , 105 (11 ) ,1512-6
Territo, C; Augsburger, J J; Schroeder, R P; Shields, J A (1987. ) Enlargement of melanocytic iris lesions. Ophthalmic surgery, , 18 (9 ) ,644-9
Augsburger, J J; Gamel, J W; Shields, J A; Markoe, A M; Brady, L W (1987. ) Post-irradiation regression of choroidal melanomas as a risk factor for death from metastatic disease. Ophthalmology, , 94 (9 ) ,1173-7
Shields, C L; Shields, J A; Shields, M B; Augsburger, J J (1987. ) Prevalence and mechanisms of secondary intraocular pressure elevation in eyes with intraocular tumors. Ophthalmology, , 94 (7 ) ,839-46
Sery, T W; Shields, J A; Augsburger, J J; Shah, H G (1987. ) Photodynamic therapy of human ocular cancer. Ophthalmic surgery, , 18 (6 ) ,413-8
Seidman, D J; Shields, J A; Augsburger, J J; Nelson, L B; Lee, M L; Sciorra, L J (1987. ) Early diagnosis of retinoblastoma based on dysmorphic features and karyotype analysis. Ophthalmology, , 94 (6 ) ,663-6
Shields, C L; Shields, J A; Yarian, D L; Augsburger, J J (1987. ) Intracranial extension of choroidal melanoma via the optic nerve. The British journal of ophthalmology, , 71 (3 ) ,172-6
Donoso, L A; Rorke, L B; Shields, J A; Augsburger, J J; Brownstein, S; Lahoud, S (1987. ) S-antigen immunoreactivity in trilateral retinoblastoma. American journal of ophthalmology, , 103 (1 ) ,57-62
Shields, J A; Shields, C L; Augsburger, J J; Negrey, J N (1987. ) Solitary metastasis of choroidal melanoma to the contralateral eyelid. Ophthalmic plastic and reconstructive surgery, , 3 (1 ) ,9-12
Shields, C L; Shields, J A; White, D; Augsburger, J J (1986. ) Types and frequency of lesions of the caruncle. American journal of ophthalmology, , 102 (6 ) ,771-8
Shields, C L; Shields, J A; Arbizo, V; Augsburger, J J (1986. ) Oncocytoma of the caruncle. American journal of ophthalmology, , 102 (3 ) ,315-9
Shapiro, B E; Felberg, N T; Donoso, L A; Augsburger, J J; Shields, J A; Gamel, J (1986. ) Flow cytometry of uveal melanomas. Cancer biochemistry biophysics, , 8 (3 ) ,235-8
Gomori, J M; Grossman, R I; Shields, J A; Augsburger, J J; Joseph, P M; DeSimeone, D (1986. ) Ocular MR imaging and spectroscopy: an ex vivo study. Radiology, , 160 (1 ) ,201-5
Shields, J A; Augsburger, J J; Donoso, L A (1986. ) Orbital dermoid cyst of conjunctival origin. American journal of ophthalmology, , 101 (6 ) ,726-9
Shields, J A; Kapustiak, J; Arbizo, V; Augsburger, J J; Schnitzer, R E (1986. ) Orbital neurilemoma with extension through the superior orbital fissure. Archives of ophthalmology, , 104 (6 ) ,871-3
Leff, S R; Shields, J A; Augsburger, J J; Sakowski, A D; Blair, C J (1986. ) Congenital corneal staphyloma: clinical, radiological, and pathological correlation. The British journal of ophthalmology, , 70 (6 ) ,427-30
Augsburger, J J; Gamel, J W; Sardi, V F; Greenberg, R A; Shields, J A; Brady, L W (1986. ) Enucleation vs cobalt plaque radiotherapy for malignant melanomas of the choroid and ciliary body. Archives of ophthalmology, , 104 (5 ) ,655-61
Shields, J A; Cooper, H; Donoso, L A; Augsburger, J J; Arbizo, V (1986. ) Immunohistochemical and ultrastructural study of unusual IgM lambda lymphoplasmacytic tumor of the lacrimal gland. American journal of ophthalmology, , 101 (4 ) ,451-7
Scimeca, G; Magargal, L E; Augsburger, J J (1986. ) Chronic exudative ischemic superior temporal-branch retinal-vein obstruction simulating Coat's disease. Annals of ophthalmology, , 18 (3 ) ,118-20
Shields, J A; Bakewell, B; Augsburger, J J; Donoso, L A; Bernardino, V (1986. ) Space-occupying orbital masses in children. A review of 250 consecutive biopsies. Ophthalmology, , 93 (3 ) ,379-84
Flynn, K; Felberg, N T; Koegel, A; Hager, R; Shields, J A; Augsburger, J J; Donoso, L A (1986. ) Lymphocyte subpopulations before therapy in patients with uveal malignant melanoma. American journal of ophthalmology, , 101 (2 ) ,160-3
Leff, S R; Augsburger, J J; Shields, J A (1986. ) Focal fluorescence of choroidal melanoma. The British journal of ophthalmology, , 70 (2 ) ,104-6
Shields, J A; Laibson, P R; Augsburger, J J; Michon, C A (1986. ) Central corneal dermoid: a clinicopathologic correlation and review of the literature. Canadian journal of ophthalmology. Journal canadien d'ophtalmologie, , 21 (1 ) ,23-6
Gomori, J M; Grossman, R I; Shields, J A; Augsburger, J J; Joseph, P M; DeSimeone, D (1986. ) Choroidal melanomas: correlation of NMR spectroscopy and MR imaging. Radiology, , 158 (2 ) ,443-5
Donoso, L A; Augsburger, J J; Shields, J A; Greenberg, R A; Gamel, J (1986. ) Metastatic uveal melanoma. Correlation between survival time and cytomorphometry of primary tumors. Archives of ophthalmology, , 104 (1 ) ,76-8
Donoso, L A; Hamm, H; Dietzschold, B; Augsburger, J J; Shields, J A; Arbizo, V (1986. ) Rhodopsin and retinoblastoma. A monoclonal antibody histopathologic study. Archives of ophthalmology, , 104 (1 ) ,111-3
Donoso, L A; Shields, J A; Augsburger, J J; Whitman, J; Arbizo, V (1986. ) Antigenic and cellular heterogeneity of primary uveal malignant melanomas. Archives of ophthalmology, , 104 (1 ) ,106-10
Augsburger, J J; McNeary, B T; von Below, H; Gamel, J W; Shields, J A; Brady, L W; Markoe, A M; Day, J L (1986. ) Regression of posterior uveal malignant melanomas after cobalt plaque radiotherapy. Graefe's archive for clinical and experimental ophthalmology = Albrecht von Graefes Archiv für klinische und experimentelle Ophthalmologie, , 224 (5 ) ,397-400
Shields, C L; Shields, J A; White, D; Augsburger, J J (1986. ) Survey of lesions of the caruncle. Transactions - Pennsylvania Academy of Ophthalmology and Otolaryngology, , 38 (2 ) ,528-34
Goldberg, R E; Bolling, J P; Augsburger, J J; Magargal, L E; Callen, D; Creedon, M S (1986. ) Aphakic and pseudophakic cystoid macular edema: perifoveal hemorrhages. Transactions - Pennsylvania Academy of Ophthalmology and Otolaryngology, , 38 (2 ) ,498-501
Shields, C L; Shields, J A; Cook, G R; Von Fricken, M A; Augsburger, J J (1985. ) Differentiation of adenoma of the iris pigment epithelium from iris cyst and melanoma. American journal of ophthalmology, , 100 (5 ) ,678-81
Shields, J A; Augsburger, J J; Donoso, L A; Bernardino, V B; Portenar, M (1985. ) Hepatic metastasis and orbital recurrence of uveal melanoma after 42 years. American journal of ophthalmology, , 100 (5 ) ,666-8
Folberg, R; Augsburger, J J; Gamel, J W; Shields, J A; Lang, W R (1985. ) Fine-needle aspirates of uveal melanomas and prognosis. American journal of ophthalmology, , 100 (5 ) ,654-7
Leff, S R; Shields, J A; Augsburger, J J; Miller, R V; Liberatore, B (1985. ) Unilateral eyelid, conjunctival, and choroidal tumours as initial presentation of diffuse large-cell lymphoma. The British journal of ophthalmology, , 69 (11 ) ,861-4
Kliman, G H; Augsburger, J J; Shields, J A (1985. ) Association between iris color and iris melanocytic lesions. American journal of ophthalmology, , 100 (4 ) ,547-8
Felberg, N T; Augsburger, J J; Shields, J A; Goldschmidt, J; Pronesti, G; Haimowitz, A (1985. ) Antigenic modulation in retinoblastoma: a flow cytometric study. Investigative ophthalmology & visual science, , 26 (9 ) ,1306-9
Markoe, A M; Brady, L W; Shields, J A; Augsburger, J J; Micaily, B; Damsker, J I; Day, J L; Gamel, J W (1985. ) Malignant melanoma of the eye: treatment of posterior uveal lesions by Co-60 plaque radiotherapy versus enucleation. Radiology, , 156 (3 ) ,801-3
Peyster, R G; Augsburger, J J; Shields, J A; Satchell, T V; Markoe, A M; Clarke, K; Haskin, M E (1985. ) Choroidal melanoma: comparison of CT, fundoscopy, and US. Radiology, , 156 (3 ) ,675-80
Gonder, J R; Nichol, J; Augsburger, J J; Shields, J A (1985. ) Ocular and oculodermal melanocytosis. Canadian journal of ophthalmology. Journal canadien d'ophtalmologie, , 20 (5 ) ,176-8
de Bustros, S; Augsburger, J J; Shields, J A; Shakin, E P; Pryor, C C (1985. ) Intraocular metastases from cutaneous malignant melanoma. Archives of ophthalmology, , 103 (7 ) ,937-40
Donoso, L A; Berd, D; Augsburger, J J; Mastrangelo, M J; Shields, J A (1985. ) Metastatic uveal melanoma. Pretherapy serum liver enzyme and liver scan abnormalities. Archives of ophthalmology, , 103 (6 ) ,796-8
Donoso, L A; Shields, J A; Augsburger, J J; Orth, D H; Johnson, P (1985. ) Metastatic uveal melanoma: diffuse hepatic metastasis in a patient with concurrent normal serum liver enzyme levels and liver scan. Archives of ophthalmology, , 103 (6 ) ,758
Shields, J A; Augsburger, J J (1985. ) Cataract surgery and intraocular lenses in patients with unsuspected malignant melanoma of the ciliary body and choroid. Ophthalmology, , 92 (6 ) ,823-6
Augsburger, J J; Shields, J A (1985. ) Cataract surgery following cobalt-60 plaque radiotherapy for posterior uveal malignant melanoma. Ophthalmology, , 92 (6 ) ,815-22
Shields, J A; Augsburger, J J; Stechschulte, J; Repka, M (1985. ) Synthetic fiber granuloma of the conjunctiva. American journal of ophthalmology, , 99 (5 ) ,598-600
Shields, J A; Peyster, R G; Handler, S D; Augsburger, J J; Kapustiak, J (1985. ) Massive juvenile ossifying fibroma of maxillary sinus with orbital involvement. The British journal of ophthalmology, , 69 (5 ) ,392-5
Donoso, L A; Felberg, N T; Augsburger, J J; Shields, J A (1985. ) Retinal S-antigen and retinoblastoma: a monoclonal antibody and flow cytometric study. Investigative ophthalmology & visual science, , 26 (4 ) ,568-71
Leff, S R; Shields, J A; Augsburger, J J; Donoso, L A (1985. ) Activation of ciliary body melanoma metastasis after abdominal surgery. American journal of ophthalmology, , 99 (2 ) ,209
Augsburger, J J; Shields, J A; Folberg, R; Lang, W; O'Hara, B J; Claricci, J D (1985. ) Fine needle aspiration biopsy in the diagnosis of intraocular cancer. Cytologic-histologic correlations. Ophthalmology, , 92 (1 ) ,39-49
Shields, J A; Augsburger, J J; Arbizo, V; Morrison, J F; Lucier, A C (1984. ) Malignant melanoma of the choroid in a husband and wife. The British journal of ophthalmology, , 68 (9 ) ,623-5
Shields, J A; Augsburger, J J; Stefanyszyn, M A; Connor, R W (1984. ) Sclerochorioretinal resection for choroidal melanoma. A clinicopathologic correlation of a postmortem eye. Ophthalmology, , 91 (12 ) ,1726-30
Cruess, A F; Augsburger, J J; Shields, J A; Brady, L W; Markoe, A M; Day, J L (1984. ) Regression of posterior uveal melanomas following cobalt-60 plaque radiotherapy. Ophthalmology, , 91 (12 ) ,1716-9
Augsburger, J J; Gonder, J R; Amsel, J; Shields, J A; Donoso, L A (1984. ) Growth rates and doubling times of posterior uveal melanomas. Ophthalmology, , 91 (12 ) ,1709-15
Shields, J A; Bakewell, B; Augsburger, J J; Flanagan, J C (1984. ) Classification and incidence of space-occupying lesions of the orbit. A survey of 645 biopsies. Archives of ophthalmology, , 102 (11 ) ,1606-11
Taylor, M R; Guerry, D; Bondi, E E; Shields, J A; Augsburger, J J; Lusk, E J; Elder, D E; Clark, W H; Van Horn, M (1984. ) Lack of association between intraocular melanoma and cutaneous dysplastic nevi. American journal of ophthalmology, , 98 (4 ) ,478-82
Shields, J A; Augsburger, J J; Dougherty, M J (1984. ) Orbital recurrence of choroidal melanoma 20 years after enucleation. American journal of ophthalmology, , 97 (6 ) ,767-70
Mukai, S; Rapaport, J M; Shields, J A; Augsburger, J J; Dryja, T P (1984. ) Linkage of genes for human esterase D and hereditary retinoblastoma. American journal of ophthalmology, , 97 (6 ) ,681-5
Shields, J A; Kline, M W; Augsburger, J J (1984. ) Primary iris cysts: a review of the literature and report of 62 cases. The British journal of ophthalmology, , 68 (3 ) ,152-66
Cruess, A F; Augsburger, J J; Shields, J A; Donoso, L A; Amsel, J (1984. ) Visual results following cobalt plaque radiotherapy for posterior uveal melanomas. Ophthalmology, , 91 (2 ) ,131-6
Shields, J A; Dolinskas, C; Augsburger, J J; Shah, H G; Shapiro, M L (1984. ) Demonstration of orbital varix with computed tomography and valsalva maneuver. American journal of ophthalmology, , 97 (1 ) ,108-10
Augsburger, J J; Shields, J A (1984. ) Fine needle aspiration biopsy of solid intraocular tumors: indications, instrumentation and techniques. Ophthalmic surgery, , 15 (1 ) ,34-40
Shields, J A; Augsburger, J J; Wallar, P H; Shah, H G (1983. ) Adenoma of the nonpigmented epithelium of the ciliary body. Ophthalmology, , 90 (12 ) ,1528-30
Augsburger, J J (1983. ) Ocular tumors in children. Pediatric clinics of North America, , 30 (6 ) ,1071-86
Augsburger, J J; Shields, J A (1983. ) Fine needle aspiration biopsy of solid intraocular tumors. Transactions - Pennsylvania Academy of Ophthalmology and Otolaryngology, , 36 (2 ) ,169-72
Shields, J A; Sanborn, G E; Augsburger, J J (1983. ) The differential diagnosis of malignant melanoma of the iris. A clinical study of 200 patients. Ophthalmology, , 90 (6 ) ,716-20
Shields, J A; Decker, W L; Sanborn, G E; Augsburger, J J; Goldberg, R E (1983. ) Presumed acquired retinal hemangiomas. Ophthalmology, , 90 (11 ) ,1292-300
Brown, G C; Shields, J A; Sanborn, G; Augsburger, J J; Savino, P J; Schatz, N J (1982. ) Radiation retinopathy. Ophthalmology, , 89 (12 ) ,1494-501
Brown, G C; Shields, J A; Sanborn, G; Augsburger, J J; Savino, P J; Schatz, N J (1982. ) Radiation optic neuropathy. Ophthalmology, , 89 (12 ) ,1489-93
Sanborn, G E; Augsburger, J J; Shields, J A (1982. ) Treatment of circumscribed choroidal hemangiomas. Ophthalmology, , 89 (12 ) ,1374-80
Sanborn, G E; Augsburger, J J; Shields, J A (1982. ) Spontaneous regression of bilateral retinoblastoma. The British journal of ophthalmology, , 66 (11 ) ,685-90
Shields, J A; Augsburger, J J; Brady, L W; Day, J L (1982. ) Cobalt plaque therapy of posterior uveal melanomas. Ophthalmology, , 89 (10 ) ,1201-7
Gonder, J R; Shields, J A; Albert, D M; Augsburger, J J; Lavin, P T (1982. ) Uveal malignant melanoma associated with ocular and oculodermal melanocytosis. Ophthalmology, , 89 (8 ) ,953-60
Gonder, J R; Ezell, P C; Shields, J A; Augsburger, J J (1982. ) Ocular melanocytosis. A study to determine the prevalence rate of ocular melanocytosis. Ophthalmology, , 89 (8 ) ,950-2
Gonder, J R; Augsburger, J J; McCarthy, E F; Shields, J A (1982. ) Visual loss associated with choroidal nevi. Ophthalmology, , 89 (8 ) ,961-5
Magargal, L E; Brown, G C; Augsburger, J J; Donoso, L A (1982. ) Efficacy of panretinal photocoagulation in preventing neovascular glaucoma following ischemic central retinal vein obstruction. Ophthalmology, , 89 (7 ) ,780-4
Gonder, J R; Augsburger, J J; McCarthy, E F; Shields, J A (1982. ) Juxtapapillary choroidal nevi. Transactions - Pennsylvania Academy of Ophthalmology and Otolaryngology, , 35 (1 ) ,13-5
Brady, L W; Shields, J A; Augsburger, J J; Day, J L (1982. ) Malignant intraocular tumors. Cancer, , 49 (3 ) ,578-85
Shields, J A; Sanborn, G E; Augsburger, J J; Orlock, D; Donoso, L A (1982. ) Fluorescein angiography of retinoblastoma. Retina (Philadelphia, Pa.), , 2 (4 ) ,206-14
Shields, J A; Sanborn, G E; Augsburger, J J; Orlock, D; Donoso, L A (1982. ) Fluorescein angiography of retinoblastoma. Transactions of the American Ophthalmological Society, , 80 ,98-112
Shields, J A; Augsburger, J J; Gonder, J R; MacLeod, D (1981. ) Localized benign lymphoid tumor of the iris. Archives of ophthalmology, , 99 (12 ) ,2147-8
Shields, J A; Sanborn, G E; Kurz, G H; Augsburger, J J (1981. ) Benign peripheral nerve tumor of the choroid: a clinicopathologic correlation and review of the literature. Ophthalmology, , 88 (12 ) ,1322-9
Degenhart, W; Brown, G C; Augsburger, J J; Magargal, L (1981. ) Prepapillary vascular loops. Ophthalmology, , 88 (11 ) ,1126-31
Markoff, J I; Shakin, E; Shields, J A; Augsburger, J J (1981. ) The electro-oculogram in eyes with choroidal melanoma. Ophthalmology, , 88 (11 ) ,1122-5
Brown, G C; Shields, J A; Augsburger, J J (1981. ) Amelanotic choroidal nevi. Ophthalmology, , 88 (11 ) ,1116-21
Magargal, L E; Brown, G C; Augsburger, J J; Parrish, R K (1981. ) Neovascular glaucoma following central retinal vein obstruction. Ophthalmology, , 88 (11 ) ,1095-101
Augsburger, J J; McCarthy, E F; Gonder, J R; Shields, J A (1981. ) Macular choroidal nevi. International ophthalmology clinics, , 21 (3 ) ,99-106
Degenhart, W; Brown, G C; Augsburger, J J; Margargal, L E (1981. ) Congenital vascular anomalies of the optic nerve head. Transactions - Pennsylvania Academy of Ophthalmology and Otolaryngology, , 34 (2 ) ,152-7
Brown, G C; Shields, J A; Sanborn, G; Augsburger, J J; Schatz, N J; Savino, P J (1981. ) Radiation retinopathy. Transactions - Pennsylvania Academy of Ophthalmology and Otolaryngology, , 34 (2 ) ,144-51
Augsburger, J J; Shields, J A; Goldberg, R E (1981. ) Classification and management of hereditary retinal angiomas. International ophthalmology, , 4 (1-2 ) ,93-106
Kranias, G; Augsburger, J J; Raymond, L A (1981. ) Resolution of night blindness in fundus albipunctatus. Annals of ophthalmology, , 13 (7 ) ,871-4
Siepser, S B; Magargal, L E; Augsburger, J J (1981. ) Acute bilateral retinal microembolization in a heroin addict. Annals of ophthalmology, , 13 (6 ) ,699-702
Augsburger, J J; Annesley, W H; Sergott, R C; Felberg, N T; Bowman, J H; Raymond, L A (1981. ) Familial pars planitis. Annals of ophthalmology, , 13 (5 ) ,553-7
Brown, G C; Shields, J A; Augsburger, J J; Serota, F T; Koch, P (1981. ) Leukemic optic neuropathy. International ophthalmology, , 3 (2 ) ,111-6
Augsburger, J J; Shields, J A; Moffat, K P (1981. ) Circumscribed choroidal hemangiomas: long-term visual prognosis. Retina (Philadelphia, Pa.), , 1 (1 ) ,56-61
Lindsey, P S; Shields, J A; Goldberg, R E; Augsburger, J J; Frank, P E (1981. ) Bilateral choroidal hemangiomas and facial nevus flammeus. Retina (Philadelphia, Pa.), , 1 (2 ) ,88-95
Tasman, W; Augsburger, J J; Shields, J A; Caputo, A; Annesley, W H (1981. ) Familial exudative vitreoretinopathy. Transactions of the American Ophthalmological Society, , 79 ,211-26
Annesley, W H; Augsburger, J J; Shakin, J L (1981. ) Ten year follow-up of photocoagulated central serous choroidopathy. Transactions of the American Ophthalmological Society, , 79 ,335-46
Augsburger, J J; Magargal, L E (1980. ) Visual prognosis following treatment of acute central retinal artery obstruction. The British journal of ophthalmology, , 64 (12 ) ,913-7
Shields, J A; Augsburger, J J (1980. ) The management of choroidal melanomas. American journal of ophthalmology, , 90 (2 ) ,266-8
Augsburger, J J; Shields, J A; Mastrangelo, M J; Frank, P E (1980. ) Diffuse primary malignant melanoma after prior primary cutaneous malignant melanoma. Archives of ophthalmology, , 98 (7 ) ,1261-4
Shields, J A; Augsburger, J J; Brown, G C; Stephens, R F (1980. ) The differential diagnosis of posterior uveal melanoma. Ophthalmology, , 87 (6 ) ,518-22
Shields, J A; Augsburger, J J; Bernardino, V; Eller, A W; Kulczycki, E (1980. ) Melanocytoma of the ciliary body and iris. American journal of ophthalmology, , 89 (5 ) ,632-5
Tasman, W; Magargal, L E; Augsburger, J J (1980. ) Effects of argon laser photocoagulation on rubeosis iridis and angle neovascularization. Ophthalmology, , 87 (5 ) ,400-2
Shields, J A; Wright, D M; Augsburger, J J; Wolkowicz, M I (1980. ) Cryptococcal chorioretinitis. American journal of ophthalmology, , 89 (2 ) ,210-7
Augsburger, J J; Goldberg, R E; Shields, J A; Mulberger, R D; Magargal, L E (1980. ) Changing appearance of retinal arteriovenous malformation. Albrecht von Graefes Archiv für klinische und experimentelle Ophthalmologie. Albrecht von Graefe's archive for clinical and experimental ophthalmology, , 215 (1 ) ,65-70
Augsburger, J J; Benson, W E (1980. ) Subretinal neovascularization in chronic uveitis. Albrecht von Graefes Archiv für klinische und experimentelle Ophthalmologie. Albrecht von Graefe's archive for clinical and experimental ophthalmology, , 215 (1 ) ,43-51
Augsburger, J J; Shields, J A; Rife, C J (1979. ) Bilateral choroidal osteoma after nine years. Canadian journal of ophthalmology. Journal canadien d'ophtalmologie, , 14 (4 ) ,281-4
Brown, G C; Magargal, L; Augsburger, J J; Shields, J A (1979. ) Preretinal arterial loops and retinal arterial occlusion. American journal of ophthalmology, , 87 (5 ) ,646-51
Asbury, T; Raymond, L A; Augsburger, J J (1979. ) System of notation for photocoagulation in the presumed ocular histoplasmosis syndrome. Annals of ophthalmology, , 11 (5 ) ,815-24
Augsburger, J J; Henry, R Y (1978. ) Retinal aneurysms in adult cytomegalovirus retinitis. American journal of ophthalmology, , 86 (6 ) ,794-7
Shields, J A; Augsburger, J J Current approaches to the diagnosis and management of retinoblastoma. Survey of ophthalmology, , 25 (6 ) ,347-72
Dreizen, N G; Schachat, A P; Shields, J A; Augsburger, J J Epibulbar osseous choristoma. Journal of pediatric ophthalmology and strabismus, , 20 (6 ) ,247-9
Augsburger, J J; Golden, M I; Shields, J A Fluorescein angiography of choroidal malignant melanomas with retinal invasion. Retina (Philadelphia, Pa.), , 4 (4 ) ,232-41
Shields, J A; Augsburger, J J; Donoso, L A Recent developments related to retinoblastoma. Journal of pediatric ophthalmology and strabismus, , 23 (3 ) ,148-52
Michelson, J B; Grossman, K R; Lozier, J R; Farber, M; Augsburger, J J; Crawford, J B Iridocyclitis masquerade syndrome. Survey of ophthalmology, , 31 (2 ) ,125-30
Cruess, A F; Goldberg, R E; Augsburger, J J; Shields, J A; Callen, D Metamorphosis of retinal exudation following argon laser photocoagulation of retinal telangiectasia. Retina (Philadelphia, Pa.), , 3 (4 ) ,261-4
Augsburger, J J; Piro, P A; Shields, J A; Magargal, L E; Donoso, L A Scatter photocoagulation for choroidovitreal neovascularization. Retina (Philadelphia, Pa.), , 4 (3 ) ,171-6
Augsburger, J J; Gamel, J W; Bailey, R S; Donoso, L A; Gonder, J R; Shields, J A Accuracy of clinical estimates of tumor dimensions. A clinical-pathologic correlation study of posterior uveal melanomas. Retina (Philadelphia, Pa.), , 5 (1 ) ,26-9
Laham, Ailee; Corrêa, Zélia M; Augsburger, James J; Heur, Martin Complete ring cyst of iris pigment epithelium documented by ultrasound biomicroscopy.Ophthalmic surgery, lasers & imaging : the official journal of the International Society for Imaging in the Eye, , 40 (5 ) ,495-7 More Information
Liang, J C; Augsburger, J J; Shields, J A Diffuse infiltrating retinoblastoma associated with persistent primary vitreous. Journal of pediatric ophthalmology and strabismus, , 22 (1 ) ,31-3
Sneed, P J; Augsburger, J J; Shields, J A; Tasman, W; Addiego, R Bilateral retinal vascular hypoplasia associated with persistence of the primary vitreous: a new clinical entity? .Journal of pediatric ophthalmology and strabismus, , 25 (2 ) ,77-85
O'Hara, B J; Ehya, H; Shields, J A; Augsburger, J J; Shields, C L; Eagle, R C Fine needle aspiration biopsy in pediatric ophthalmic tumors and pseudotumors. Acta cytologica, , 37 (2 ) ,125-30
Augsburger, J J; Gamel, J W; McLean, I W The risk of major audiovisual problems during ophthalmic presentations. Survey of ophthalmology, , 36 (5 ) ,390-2
Shields, C L; Shields, J A; Augsburger, J J Choroidal osteoma. Survey of ophthalmology, , 33 (1 ) ,17-27
Augsburger, J J Birthmarks of the eye and eyelids as indicators of ocular or systemic tumors. Journal of ophthalmic nursing & technology, , 8 (5 ) ,197-202
Clinch, T E; Duker, J S; Eagle, R C; Calhoun, J H; Augsburger, J J; Fischer, D H Infantile endogenous Candida endophthalmitis presenting as a cataract. Survey of ophthalmology, , 34 (2 ) ,107-12
Sery, T W; Lee, E Y; Lee, W H; Bookstein, R; Wong, V; Shields, J A; Augsburger, J J; Donoso, L A Characteristics of two new retinoblastoma cell lines: WERI-Rb24 and WERI-Rb27. Journal of pediatric ophthalmology and strabismus, , 27 (4 ) ,212-7
Brown, M M; Brown, G C; Duker, J S; Tasman, W S; Augsburger, J J Exudative retinopathy of adults: a late sequela of retinopathy of prematurity. International ophthalmology, , 18 (5 ) ,281-5
Borne, M J; Gedde, S J; Augsburger, J J; Wexler, A R; Koblenzer, P J Juvenile xanthogranuloma of the iris with bilateral spontaneous hyphema. Journal of pediatric ophthalmology and strabismus, , 33 (3 ) ,196-7
Ing, E B; Augsburger, J J; Eagle, R C Lung cancer with visual loss. Survey of ophthalmology, , 40 (6 ) ,505-10
Schneider, S; Augsburger, J J Evaluation of multiple iris nodules. Lisch nodules. Journal of ophthalmic nursing & technology, , 17 (4 ) ,159-60
Motley, William W; Augsburger, James J; Hutchins, Robert K; Schneider, Susan; Boat, Thomas F Pseudomonas aeruginosa endogenous endophthalmitis with choroidal abscess in a patient with cystic fibrosis. Retina (Philadelphia, Pa.), , 25 (2 ) ,202-7
Augsburger, J J Intraocular cancers. Journal of ophthalmic nursing & technology, , 16 (6 ) ,282-9; quiz 308-9
Boyd-Monk, H; Augsburger, J J Treatment of primary intraocular cancers: retinoblastoma and uveal malignant melanoma. Journal of ophthalmic nursing & technology, , 16 (4 ) ,183-7
Schneider, S; Augsburger, J J A 71-year-old blue-eyed woman present for evaluation of decreased vision. Ocular hemosiderosis. Journal of ophthalmic nursing & technology, , 17 (5 ) ,197-8
Fineman, M S; Augsburger, J J A new approach to an old problem. Survey of ophthalmology, , 43 (6 ) ,519-24
Corrêa, Z M S; Marcon, I M; Augsburger, J J Phacoemulsification surgery and foldable intraocular lens implantation in a child with regressed retinoblastoma. European journal of ophthalmology, , 15 (6 ) ,821-2
Kranias, G; Tyradellis, C; Krebs, T P; Augsburger, J J Bilateral atypical nodular posterior scleritis. European journal of ophthalmology, , 16 (4 ) ,614-7
Park, Juyoung; Franco, Robert S; Augsburger, James J; Banerjee, Rupak K Comparison of 2-methoxyestradiol and methotrexate effects on non-Hodgkin's B-cell lymphoma.Current eye research, , 32 (7-8 ) ,659-67 More Information
Correa, Zelia Maria; Augsburger, James J (2014. ) Relationship between rate of posterior uveal melanoma flattening following plaque radiotherapy and GEP class of tumor cells.Investigative ophthalmology & visual science, , More Information
Correa, Zelia M; Augsburger, James J (2014. ) Sufficiency of FNAB aspirates of posterior uveal melanoma for cytologic versus GEP classification in 159 patients, and relative prognostic significance of these classifications.Graefe's archive for clinical and experimental ophthalmology = Albrecht von Graefes Archiv für klinische und experimentelle Ophthalmologie, , 252 (1 ) ,131-5 More Information
Manna, Soumyarwit; Augsburger, James J; Correa, Zelia; Landero, Julio; Banerjee, Rupak K (2013. ) Development of Chitosan and Poly-Lactic Acid (PLA) based Methotrexate (MTX) intravitreal micro-implants to treat primary intraocular lymphoma: an in-vitro study.Journal of biomechanical engineering, , More Information
Gray, Michael E; Shaikh, Adeel H; Corrêa, Zélia M; Augsburger, James J (2013. ) Primary uveal melanoma in a 4-year-old black child.Journal of AAPOS : the official publication of the American Association for Pediatric Ophthalmology and Strabismus / American Association for Pediatric Ophthalmology and Strabismus, , 17 (5 ) ,551-3 More Information
Ramasubramanian, A; Correa, Z M; Augsburger, J J; Sisk, R A; Plager, D A (2013. ) Medulloepithelioma in DICER1 syndrome treated with resection.Eye (London, England), , 27 (7 ) ,896-7 More Information
Harbour, J William; Augsburger, James J; Char, Devron H (2013. ) Gene expression profiling versus TNM classification.Ophthalmology, , 120 (7 ) ,e52-3 More Information
Harbour, J William; Augsburger, James J; Char, Devron H (2013. ) Author reply: To PMID 22521086.Ophthalmology, , 120 (7 ) ,e51 More Information
Augsburger, James Jay; Corrêa, Zélia Maria; Trichopoulos, Nikolaos Prognostic implications of cytopathologic classification of melanocytic uveal tumors evaluated by fine-needle aspiration biopsy. Arquivos brasileiros de oftalmologia, , 76 (2 ) ,72-9
Sisk, Robert A; Riemann, Christopher D; Petersen, Michael R; Foster, Robert E; Miller, Daniel M; Murray, Timothy G; Augsburger, James J (2013. ) Fundus autofluorescence findings of choroidal osteoma.Retina (Philadelphia, Pa.), , 33 (1 ) ,97-104 More Information
Corrêa, Zélia M; Augsburger, James J; Dalal, Monica D; Spaulding, Abbot (2012. ) Secondary intraocular uveal involvement by primary paranasal sinus lymphoma.International ophthalmology, , 32 (4 ) ,397-400 More Information
Onken, Michael D; Worley, Lori A; Char, Devron H; Augsburger, James J; Correa, Zelia M; Nudleman, Eric; Aaberg, Thomas M; Altaweel, Michael M; Bardenstein, David S; Finger, Paul T; Gallie, Brenda L; Harocopos, George J; Hovland, Peter G; McGowan, Hugh D; Milman, Tatyana; Mruthyunjaya, Prithvi; Simpson, E Rand; Smith, Morton E; Wilson, David J; Wirostko, William J; Harbour, J William (2012. ) Collaborative Ocular Oncology Group report number 1: prospective validation of a multi-gene prognostic assay in uveal melanoma.Ophthalmology, , 119 (8 ) ,1596-603 More Information
Simões, Camila C; Call, Mindy K; Corrêa, Zélia M; Spaulding, Abbot G; Augsburger, James J (2011. ) Clinical and histopathological features and immunoreactivity of human choroidal and ciliary melanomas as prognostic factors for metastasis and death.Graefe's archive for clinical and experimental ophthalmology = Albrecht von Graefes Archiv für klinische und experimentelle Ophthalmologie, , 249 (12 ) ,1795-803 More Information
Corrêa, Zélia M; Augsburger, James J; Spaulding, Abbot G (2011. ) Medulloepithelioma of the optic disc.Human pathology, , 42 (12 ) ,2047-51 More Information
Augsburger, James J; Corrêa, Zélia M (2011. ) Biopsy of iris tumors.American journal of ophthalmology, , 152 (5 ) ,720-2.e2 More Information
Augsburger, James J; Corrêa, Zélia M; Trichopoulos, Nikolaos (2011. ) Surveillance testing for metastasis from primary uveal melanoma and effect on patient survival.American journal of ophthalmology, , 152 (1 ) ,5-9.e1 More Information
Palakurthi, Nikhil Kumar; Correa, Zelia M; Augsburger, James J; Banerjee, Rupak K (2011. ) Toxicity of a biodegradable microneedle implant loaded with methotrexate as a sustained release device in normal rabbit eye: a pilot study.Journal of ocular pharmacology and therapeutics : the official journal of the Association for Ocular Pharmacology and Therapeutics, , 27 (2 ) ,151-6 More Information
Book Chapter
Augsburger JJ, Goldberg RE, Magargal LE. (1983 ) Retinal and choroidal vascular disorders. Pediatric Ophthalmology .(pp. 627 - 749).Philadelphia, Saunders
Augsburger JJ. (1984 ) Fine-needle aspiration biopsy in the diagnosis of suspected intraocular cancer. Advanced Techniques in Ocular Surgery. .(pp. 491 -521. ).Philadelphia, Saunders
Annesley WH, Augsburger JJ. (1985 ) Senile macular degeneration. Ophthalmology Annual .(pp. 127 -163.).Norwalk, Connecticut, , Appelton-Century-Crofts
Academic - Stetson Building
260 Stetson Street, Suite 5300
Cincinnati  Ohio, 45219
Phone: 513-558-5151
Fax: 513-558-3108
james.augsburger@uc.edu