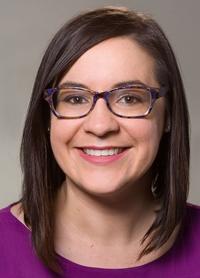 Jillian Austin
Assistant Professor of Clinical-Affiliate
Childrens Hospital Bldg R
COM Pediatrics BMCP - 0054
Dr. Jillian Austin is an Assistant Professor, Clinical in the Department of Pediatrics at UC and works at Cincinnati Children's Hospital Medical Center in the Division of Behavioral Medicine and Clinical Psychology in Integrated Behavioral Health. Dr. Austin is a licensed psychologist and Board Certified Behavior Analyst. Dr. Austin earned her master's degree in Behavior Analysis and doctoral degree in Healthy Psychology from the University of Wisconsin-Milwaukee. She received pre-doctoral training in clinical child and pediatric psychology at Children's Hospital of Wisconsin. She then completed a two-year pediatric psychology post-doctoral fellowship at Nemours Children's Specialty Care in Jacksonville, Florida.

Dr. Austin is passionate about helping children, adolescents, and their families improve their overall quality of life and day-to-day functioning. Dr. Austin works with families to develop a toolbox for success so they can navigate normal developmental issues, work through difficult transitions, and overcome unexpected challenges. As a pediatric psychologist, Dr. Austin specializes in helping families and children with common childhood topics, such as falling and staying asleep, eating in a manner that supports healthy weight gain and growth, adjusting to a chronic illness diagnosis, adhering to medical regimens, and learning to cope with acute or chronic pain. In addition, Dr. Austin helps families manage general mood and behavior problems such as anxiety, depression, tantrums, and non-compliance.

Dr. Austin's research primarily focuses on community mental health, adherence to national health and safety guidelines, and developing interventions to improve health and overall quality of life in youth and their families.