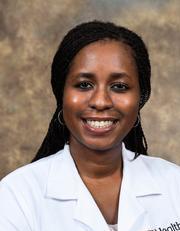 Joy Ayodele Awosika
Personal Statement
My interest in medicine started with my mother who practiced as a dentist in a small town in South Africa. I witnessed the dedication and commitment that it took to ease the pain of patients while going above and beyond in educating them on how prevention is indeed better than cure. A pursuit of learning, and a constant eagerness to understand what it takes to provide healthcare with a holistic approach was triggered in me as a result of this. My ultimate goal is to save lives and to leave a lasting impact in the lives of my patients under the understanding that, "The best way to find yourself is to lose yourself in the service of others."‐Mahatma Gandhi

Why I Chose Cincinnati
Cincinnati and UCMC has always been my top choice since I visited the city in 2014. My experience during my rotation in the department further confirmed my choice and there was no doubt after my interview experience that I wanted to be part of the family at UCMC. It was the warmth and clear leadership from Dr Warm, the kindness and constant help from Liz Bauke and of course the camaraderie and strong sense of family amongst the residents. In addition to this the fact that I already had family based in Cincinnati it was a dream come true to both stay in Cincinnati and be part of a top rated residency program.