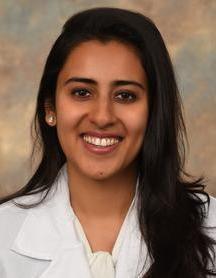 Maliha Azmi
Assistant Professor
Medical Sciences Building
COM IM Gen Med - Hospital Medicine - 0535
Medical Sciences Building
231 Albert Sabin Way
Cincinnati, Ohio 45267
Education & Training:
Diplomate Internal Medicine, 2015, American Board of Internal Medicine
Internal Medicine Residency, 2012-2015 Rochester Regional Health System, Rochester, NY, USA
M.B.B.S. 2003-2009, Dow University of Health Sciences, Karachi, Pakistan
M.B.B.S, Dow University of Health Sciences Karachi, Pakistan, 2009 (Bachelor of Medicine, Bachelor of Surgery)
Internal Medicine Residency, Rochester Regional Health System Rochester New York, 2015 (Internal Medicine )
Positions and Work Experience
03-01-2016 -04-01-2019 Lecturer, Physician Responsibilities ? Supported the Faculty of Infectious Disease in providing consultations for up to 20 patients per day ? Managed infections for dialysis dependent, oncology, post-operative and renal transplant patients. Skilled in handling endemic & hospital acquired infections (Examples of Endemic Infections: Malaria, Dengue, Tuberculosis, and Extensively Drug Resistant Typhoid) ? Provided pre-transplant clearance for both donor and recipient including reviewing vaccinations, antibodies and active infections ? Impacted patient outcomes for HIV positive patients Faculty Responsibilities ? Taught Medical Residents and Specialty Fellows infection control regarding line insertion and maintenance. Cohort size: 25 to 200 residents and fellows ? Provided guidance regarding management of hospital acquired and opportunistic infections Education and Awareness ? Educated the Center for Disease Control (CDC – USA) and World Health Organization (WHO) regarding the cause, clinical course and treatment of Extremely Drug Resistant (XDR) Typhoid Adults and Children based on historical data ? Created public awareness regarding multiple and diverse topics such as the modes of transmission and treatment for HIV in Pakistan, and existing lack of facilities for child bearing women in rural Pakistan. Link to publications in the publications section below ? Transformed Colistin disbursement guidelines for local hospitals by creating an algorithm and negotiating agreement across departmental silos. Created awareness around antibiotic stewardship, impacted disbursement rates at about 25%, Sindh Institute Urology and Transplantation, Karachi, Pakistan
04-02-2019 -07-30-2019 Assistant Professor of Medicine, Physician Responsibilities ? Managed outpatients/inpatient admissions for a wide range of Cardiovascular, Diabetes related and Infectious medical conditions Faculty Responsibilities ? Academic Coordinator: o Developed Medical Clerkship curriculum for 4th year of Medical Study. Cohort size impacted: 21 Students o Responsible for interview and selection of candidates entering Medicine Residency. Candidate Pool: 15 interviewees; Selection Rate 20%, Ziauddin University Hospital, Karachi, Pakistan
Internal Medicine
Internal Medicine
Published Abstracts
Maliha Azmi (2017. )Post Dengue Infectious Syndrome .[Abstract]Infectious Diseases Journal, 26 (3 ),Author
Peer Reviewed Publications
Azmi M1, Nasim A, Dodani S, Laiq SM, Mehdi SH, Mubarak M. (2018. )Kaposi Varicelliform Eruption Associated With Chickenpox in a Liver Transplant Recipient.Exp Clin Transplant., ,18 (2 ),252 -253,254
Electronic Journal
Maliha Azmi | Sualeha Shekhani (2018. )HIV is not a death sentence. So why do we treat it like one? .Dawn.com,
Maliha Azmi (2016. )Why women like Aasi will continue to die in Pakistan .Dawn.com,
Poster Presentations
Maliha Azmi (2019. )Treatment and Outcomes Renal Transplant Patients of Whipples Disease .SIUT, Karachi, Pakistan. .Other Institution. .Level:International
Paper Presentations
Maliha Azmi (2018. )Diagnosis & Treatment of Heterogeneous Intermediately Resistant to Vancomycin Strain of MRSA . Fairmont Copley Plaza - Boston MA. Other Institution.
Medical Sciences Building
231 Albert Sabin Way
Cincinnati  Ohio, 45267