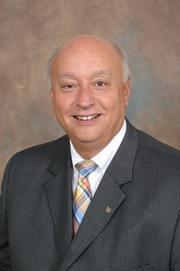 Nicholas J Barsan
Adjunct Assistant Professor
Assistant Professor - Adjunct
Kowalewski Hall
260
Pharmacy Leadership Program - 0004

Assistant Adjunct Professor, James L. Winkle College of Pharmacy
Retired Market Pharmacy Director for Ohio Market, Walgreens
Course Co-Coordinator: Human Resource Management in Pharmacy

Nick Barsan was a market pharmacy director for Walgreen Co., the nationwide drugstore chain headquartered in Deerfield, IL. He iwas responsible for leading Walgreens pharmacy operations for nearly 250 locations in the Ohio market. NIck retired On January 31, 2015 after working 36.5 years with Walgreens. He previously worked 7 years for an independent pharmacy while attentding pre-pharmacy and pharmacy school.
 
Barsan joined Walgreens in 1978 as a pharmacy intern. During his tenure, he has held various leadership positions, ascending from pharmacist to pharmacy manager in Ohio. He was promoted to pharmacy supervisor in 1987 in Ohio, and was named to the Market Pharmacy Director position in June, 2009.


Barsan was awarded the Arthur C. Glaser Distinguished Alumni award from the University Of Cincinnati College Of Pharmacy in June 2011. He has also been a member of the Board of Advisors for the University Of Cincinnati College Of Pharmacy since 2008, and is currently serving as the board's co-chair.

Barsan earned a Bachelor of Science from the University of Cincinnati.