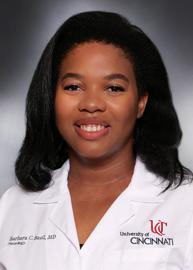 Barbara Basil
Resident
MD, Wake Forest University
BA, Neurobiology, Harvard College
Research and Practice Interests
Research & Practice Interests: I'm interested in Neuroimaging research and its role in therapeutic interventions, as well as neuromodulation research. I see myself working inpatient at either large community hospitals or academic teritary care centers. 
Fellowship Plans: I'm still very undecided. I could see myself pursuing a fellowship in Neurohospitalist, Neurocritical Care or Multiple Sclerosis, but I'm keeping an open mind at this stage in my training. 
My Hobbies: I love to read (especially historical fiction and memoirs), watch foreign films, hike/be outdoors in general, cook and hang out with friends.
University of Cincinnati Medical Center
231 Albert Sabin Way
Cincinnati  Ohio, 45219
barbara.basil@uc.edu