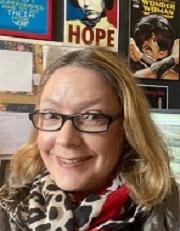 Lisa L J Beckelhimer
Director of Undergraduate Studies, Professor - Educator
McMicken Hall
367
A&S English - 0069
I spent the first 12 years of my career as a professional writer and editor in marketing and public relations, and then began teaching full-time in the College of Arts & Sciences in 2001. Currently, I teach English Composition and Intro. to Copyediting & Publishing, and I serve as the Director of Undergraduate Studies for the Dept. of English. My work has been published in journals such as English Journal, CEA Forum, and The Ohio Journal of English Language Arts, and by trade magazines such as Writer's Digest school publications and Byline magazine for writers. My textbook, Sports Talk, was published by Pearson. My interests include visual rhetoric; the rhetoric of popular culture (especially sports and TV); historical rhetoric, especially that related to 9/11 and contemporary history; online writing instruction; and public composing in digital media such as blogs and videos.  
Positions and Work Experience
- Director of Undergraduate Studies, Department of English , University of Cincinnati,
English Composition; public relations and promotional writing; historical rhetoric; rhetoric of 9/11; visual rhetoric; sports rhetoric.