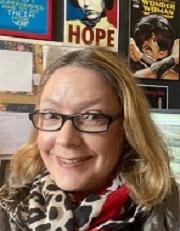 Lisa L J Beckelhimer
Professor Educator
Director of Undergraduate Studies, Professor - Educator
Lisa Beckelhimer teaches Composition, Intro. to Copyediting & Publishing, and the capstone research course for the Interdisciplinary Studies program; she is the Director of Undergraduate Studies for the Dept. of English. Prior to teaching, Lisa was a professional writer and editor in marketing and public relations. Prof. Beckelhimer's professional interests include distance learning and service-learning pedagogy. Her articles on teaching writing online and integrating social justice into service-learning frameworks have been published in journals such as English Journal, CEA Forum, and The Ohio Journal of English Language Arts. Lisa is also interested in the intersections of social expectations and popular culture. She has written book chapters and articles and presented at conferences on heteronormalizing queerness in Hallmark Christmas movies, the impact of the pandemic on digital sports fandoms, the role of parents on The Bachelor/Bachelorette, morality and religion in Hallmark Channel programming, social justice movements in the NFL and NBA, and sexuality and gender roles on Dancing with the Stars. 
Positions and Work Experience
- Director of Undergraduate Studies, Department of English , University of Cincinnati,
English Composition; public relations and promotional writing; historical rhetoric; rhetoric of 9/11; visual rhetoric; sports rhetoric.