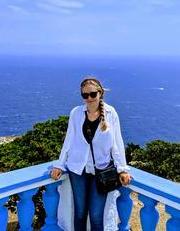 Anna Belza
Graduate Assistant
Anna Belza is a third year PhD student specializing in Aegean Prehistory. She received her B.A. in Classical Studies from Sweet Briar College and her M.A. from Brandeis University. She recently completed an M.A. thesis at the University of Cincinnati entitled "(Re)assessing the Western String Model: Archaeological Data from the Cyclades Post-1979." Her research interests include Aegean Prehistory, Early-Late Bronze Age Greece, the Cyclades, archaeological theory, and the history of archaeology. She has excavated in Greece and Bulgaria.
Paper Presentations
(2015. )The Imagined Boundary: Mycenaean Messenia Hither and Further Lands .Boston University 12th Biennial Graduate Conference.
(2015. )You Can't Sit With Us: Social Stratification in Mycenaean Feasting .Brandeis University Second Graduate Student Symposium.
(2015. )The Philistine Question: Continuity or Imitation of Mycenaean Material Culture? .The 2015 Canadian Institute in Greece's Biannual Student Conference.
(2012. )Portraying the Cultural Other: The Exoticism of Ancient Greek Art .Sweet Briar College Senior Colloquia.