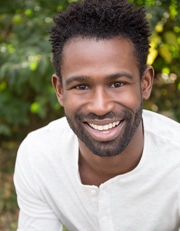 Darnell Pierre Benjamin
Lecturer
Corbett Cntr Perform Arts
CCM Preparatory and Community Engagement - 0003
Darnell Pierre Benjamin has been a professional actor, dancer, director, choreographer and educator for nearly 15 years. Early in his career, he made a conscious decision to explore all facets of his talents. Beginning with dance, Darnell started exploring the world of ballet. That eventually led him into studying modern, ballroom, jazz, tap and hip hop.

Darnell attended University of Louisiana at Lafayette, where he earned a BFA in Performing Arts, since his credits bounced back and forth between theatre and dance. He studied the Stanislavsky, Alexander and Laban Techniques in theatre along with Modern, Tap, Ballroom and Jazz in dance. After completing his undergraduate degree, Darnell attended University of Houston, earning his MFA in Classical Theatre Performance with an emphasis in Shakespeare. There, Darnell studied the Tadashi Suzuki, Viewpoints, Brechtian and Stanislavsky Techniques.

It was also at University of Houston that he honed in on his personal connection with the Michael Chekhov Technique. Since then, Darnell has been in the process of creating his own acting method that is a combination of Chekhov and Suzuki teachings, primarily focusing on the core and how natural impulses coming from there are the representation of truth in performance.

After completing his studies at University of Houston, Darnell spent time working in the regional theatre circuit. His theatre credits include the Peterborough Players, Hope Summer Repertory, Kentucky Shakespeare Festival and Human Race Theatre Company, amongst others.

After arriving in Cincinnati in 2009, Darnell has become an Associate Artist and Resident Ensemble Member with Cincinnati Shakespeare Company, where he works as an actor, choreographer and director in the season's offerings. He's also become the co-producer of a successful annual cabaret that gives all of its donations to local LGBTQ organizations. In addition, Darnell regularly works as an actor and choreographer throughout Cincinnati's arts scene with organizations like Ensemble Theatre, Know Theatre and the Carnegie Performing Arts Center.

When not performing, Darnell works as a teaching artist and adjunct instructor. For eight years, Darnell has led students at Seven Hills Middle School through understanding Shakespeare from the actor's perspective over the course of a two-month residency. Since 2011 he has also been working with Pones, a local dance group, as both an educator and board member, where he leads students of all ages through different dance styles and understanding the history of how certain dances came to be. For the past year, he has worked as an adjunct professor at Xavier University, teaching in both the theatre and dance departments.

Darnell is a proud member of Actor's Equity Association.