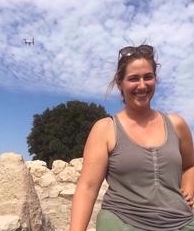 Haley Elizabeth Bertram
Graduate Assistant
Haley Bertram is a PhD candidate specializing in Archaic Greek archaeology. Her dissertation, "Producing for the Colonial World: Corinthian Pottery Abroad 750-450 BCE"  examines the impact of different consumers on the development of pottery production. Her study is comparative and focuses on colonial and indigenous settlements in the western Mediterranean, with case studies including Syracuse, Massalia and Saint Blaise in southern France, and settlements of the eastern Adriatic region.

Haley has conducted fieldwork in the Greek mainland and France. She has excavated for a number of years with EBAP at ancient Eleon in Boeotia, where she is a trench supervisor as well as the Archaic and Classical terracotta figurine specialist.

Haley received her received her BA with honors in Classics from Wellesley College, and a MA in Classical Archaeology from the University of British Columbia. She is currently based at the Ausonius Lab of the University of Bordeaux Montaigne for the AY 2021-22 with the support of a Fulbright Research award. Her research has also been supported by the American School of Classical Studies at Athens (Heinrich Schliemann Fellow for the Regular Program, AY 2017-18; Homer A. and Dorothy B. Thompson Associate Fellow, AY 2019-20).