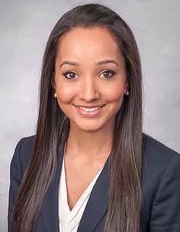 Darshana Bhattacharyya
Clinical Instructor
Undergraduate School: University of California, Berkeley
Major: Molecular and Cell Biology
Minors: Global Poverty and Public Policy

Medical school: University of Illinois, Chicago

Interests within medicine: Global medicine, women's mental health, improving access to prenatal care in underserved communities, developing models of community psychiatry and ACT teams, providing comprehensive care to patients with HIV/AIDS, collaborative care, academic medicine

When I'm finished with residency: I hope to pursue any/all of the above! At this point, I imagine myself in academic medicine with the bulk of my clinical time spent in the community or with an underserved patient population. Eventually, I would like to earn an MPH or MBA and use my training and clinical experience to improve health systems. 
Peer Reviewed Publications
Olivier, Kenneth N; Shaw, Pamela A; Glaser, Tanya S; Bhattacharyya, Darshana; Fleshner, Michelle; Brewer, Carmen C; Zalewski, Christopher K; Folio, Les R; Siegelman, Jenifer R; Shallom, Shamira; Park, In Kwon; Sampaio, Elizabeth P; Zelazny, Adrian M; Holland, Steven M; Prevots, D Rebecca (2014. ) Inhaled amikacin for treatment of refractory pulmonary nontuberculous mycobacterial disease.Annals of the American Thoracic Society, , 11 (1 ) ,30-5
Chan, Jonathan K; Bhattacharyya, Darshana; Lassen, Kara G; Ruelas, Debbie; Greene, Warner C (2013. ) Calcium/calcineurin synergizes with prostratin to promote NF-?B dependent activation of latent HIV.PloS one, , 8 (10 ) ,e77749
Lassen, Kara G; Hebbeler, Andrew M; Bhattacharyya, Darshana; Lobritz, Michael A; Greene, Warner C (2012. ) A flexible model of HIV-1 latency permitting evaluation of many primary CD4 T-cell reservoirs.PloS one, , 7 (1 ) ,e30176
Russell, Rebecca A; Smith, Jessica; Barr, Rebekah; Bhattacharyya, Darshana; Pathak, Vinay K (2009. ) Distinct domains within APOBEC3G and APOBEC3F interact with separate regions of human immunodeficiency virus type 1 Vif.Journal of virology, , 83 (4 ) ,1992-2003