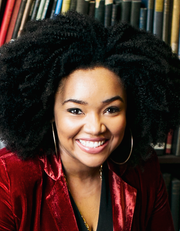 Naimah Bilal
Instructor - Adjunct
Naimah Bilal is Chief Development Officer of the Children's Literacy Initiative, a national education organization serving 100,000+ Black and Latinx students and 5,500 educators. In this role, Naimah provides strategic vision, and direction to expand philanthropic investments and oversees branding and strategic communications efforts to maximize engagement in service of CLI's mission. 

As Director of Foundation Board Relations at the University of Cincinnati Foundation, she served in a hybrid governance/fundraising role devoted to UC Foundation governance structure, policy, and strategy as well as Principal and Major gift portfolio management in the context of its $2 billion 'Next, Now' comprehensive campaign. 

Naimah is a co-host of Urban Consulate Cincinnati, a monthly parlor for urban exchange and dialogue centering discourse around equity and dismantling systems of racism and oppression. She is also an executive producer of the PBS series Urban Consulate Presents: Black Future City and Liberation Story, a collaboration between Urban Consulate and PBS affiliate CET. This series examines aspects of civic and social justice aims, activism, and dreams of Black Cincinnati residents, visionaries and changemakers. In September, Naimah and the Urban Consulate team will produce "Equity in Education" an examination of the legacies of racism in public schools across many dimensions alongside strategies to transform schools with equity at the center. 

She previously served as the Cincinnati Symphony Orchestra's Director of Artistic Administration and worked in partnership with Music Director leadership to craft seven orchestral seasons and 200+ programs. In this senior role she oversaw artistic strategy and implementation spearheading the conception and production of numerous artistic initiatives and symphonic recordings. 
  
Prior to the CSO, Naimah was a Management Fellow with the League of American Orchestras, the nation's premier training program for orchestra executives. As a fellow, she undertook a yearlong residency with the Aspen Music Festival, the New York Philharmonic, the Memphis and Atlanta Symphony Orchestras. 

Naimah is sought after as a guest speaker and moderator for numerous industries spanning the education and the arts and facilitates equity and racial healing dialogues.  

Naimah earned her bachelor's degree from Indiana University (Bloomington) and her Masters from CIM/Case Western Reserve. She was previously She is currently an MBA/Economics candidate the University of Cincinnati Lindner College of Business. Naimah and is a member of the Rooted Collaborative, the largest global network of women fund raisers of color. 

She and her partner live with their two children in Cincinnati, OH.