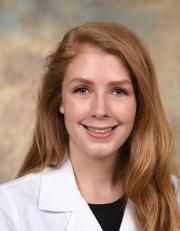 Caroline Blake
Clinical Instructor
Personal Statement
I took care of a chronically ill young woman with a puzzling acute presentation in the context of various comorbidities. She had a complicated picture of untreated infections, multiple autoimmune diseases, and multi-organ failure. While actively managing her chronic medical conditions, we struggled to diagnose her perplexing acute neurologic and ophthalmologic symptoms. Each day we debated our plan. Treatment options were either contraindicated or would counteract each other in this setting of much comorbidity. We were at an impasse. Each day she suffered, and I agonized over our inability to concretely move forward with her care. Like my experience in my sister's care, I found myself grappling with competing factors that felt like a barrier to delivering effective care. Over time I realized we couldn't solve everything, and I developed new a perspective on her case. We would be able to help this patient, and she could guide us in this process. I began to have honest conversations with her about the pitfalls we faced in her care. We openly discussed her priorities and assessed the practicality of her options. Rather than viewing her case as an amalgam of competing conditions, the patient and I developed a shared outlook of how we could realistically preserve her quality of life. Understanding the patient beyond the list of diagnoses ultimately allowed us to deliver quality care unique to her needs.

Why I Chose Cincinnati
UC emphasizes clinical medicine and quality patient care, while also valuing the education of their trainees. This is where I can become the doctor that I want to be!
MD: University of Kentucky College of Medicine
University of Cincinnati College of Medicine
231 Albert Sabin Way
Cincinnati  Ohio, 45267
BLAKECO@UCMAIL.UC.EDU