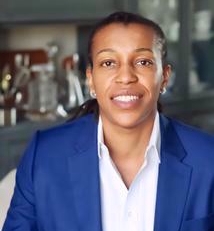 Brandi Lynette Blessett
Brandi Blessett, Ph.D. is an associate professor and Director of the Master of Public Administration program at the University of Cincinnati. She is a native of Detroit, Michigan where she spent most of her life. For many reasons, Detroit remains close to her heart and will forever be home! 

Dr. Blessett earned a Bachelor of Science from the University of Michigan in Ann Arbor and holds a Masters in Educational Leadership from Wayne State University in Detroit. After teaching as a high school health and life skills teacher at Highland Park Community High School, she decided to purse her doctorate at Old Dominion University. Her dissertation was titled "Dispersion or Re-segregation: A Spatial and Temporal Analysis of Public Policies and their Impact on Urban African American Mobility." This work serves as the foundation for her research interests which includes, but is not limited to: administrative responsibility, social equity, community development, and voter disenfranchisement. 

Dr. Blessett's research seeks to contribute to the iknowledge production in the field of urban policy and public administration through the lens of social justice. Her research seeks to offer insightful perspectives regarding the effects of systemic injustice through an examination of public policies and administrative actions, which perpetuate inequity for people of color and their respective communities. Ultimately, she hopes her research will help public administrators move toward more thoughtful consideration and engagement of all groups in society, particularly historically marginalized groups.

Dr. Blessett has published in peer-reviewed periodicals such as Public Integrity, Administration and Society, Administrative Theory & Praxis, Public Administration Quarterly, and the Journal of Health and Human Services Administration. She has also contributed book chapters to Prison Privatization: The Many Facets of a Controversial Industry and Contemporary Perspectives on Affirmative Action. Currently, she serves on the editorial boards for Public Integrity and the Administrative Theory & Praxis. 
 
Grant: #2016-R2-CX-0046 Investigators: Blessett, Brandi and Gaynor, Tia Sheree 01-01-2017 -12-31-2018 Office of Justice Programs for the W.E.B. DuBois Program of Research on Race and Crime Intersectional Subjection and Law Enforcement: Examining Perceptions Held by LGBTQ People of Color in New Orleans LA. Role:Co-PI $150,000 Active Type:Grant Level:National
Grant: #Cincinnati Project Investigators:Bankston, Karen; Blessett, Brandi; Conger, Kimberly; Gaynor, Tia; Williams, Rina 08-15-2019 -10-31-2020 United Way of Greater Cincinnati The Cincinnati Project, University of Cincinnati Team - United Way Greater Cincinnati Role:Collaborator $102,990.00 Awarded Level:Private Non-Profit
Grant: #R40528 Investigators:Blessett, Brandi; Conger, Kimberly; Gaynor, Tia; Houh, Emily; Jenkins, Laura; Williams, Rina 10-01-2019 -03-31-2020 UC's Urban Futures Digital Futures Anchor Development Program Admin, Law, & Justice Lab Role:PI $10,000.00 Active Level:Internal UC
Grant: #1286 / 2016-R2-CX-0046 Investigators:Blessett, Brandi; Gaynor, Tia 12-01-2018 -11-30-2019 National Institute of Justice Intersectional Subjection and Law Enforcement: Examining Perceptions Held by LGBTQ People of Color in New Orleans, LA (Rutgers) Role:PI $22,110.00 Active Level:Federal
Peer Reviewed Publications
Lopez-Littleton, V., Blessett, B., & Burr, J. (2018. ) Advancing Social Justice and Racial Equity in the Public Sector .Journal of Public Affairs Education., ,
Blessett, B. & Lopez-Littleton, V. (2017. ) Examining the Impact of Institutional Racism in Black Residentially Segregated Communities .Ralph Bunche Journal of Public Affairs, , 6 (1 ) ,1
Blessett, B., Gaynor, T.S., Alkadry, M.G., & Witt, M. (2016. ) Counternarratives as Critical Perspectives in Public Administration Curricula .Administrative Theory & Praxis, , 38 ,267
Blessett, B. & Box, R.C. (2016. ) Sharecropper Finance: Using the Justice System as a Public Revenue Source .Public Integrity, , 18 (2 ) ,113
Alkadry, M.G., Blessett, B., & Patterson, V. (2015. ) Public Administration, Diversity and the Ethic of Getting Things Done .Administration & Society, , 49 (8 ) ,1191
Lopez-Littleton, V. & Blessett, B. (2015. ) A Framework for Integrating Cultural Competency into the Curriculum of Public Service Programs .Journal of Public Affairs Education, , 21 (4 ) ,557
Blessett, B., (2015. ) Disenfranchisement: Historical Underpinnings and Contemporary Manifestations .Journal of Public Affairs Education, , Public Administration Quarterly (39 ) ,3
Norris-Tirrell, D., Blessett, B., & Knox, C. (2014. ) Peeking Behind the Curtain: The Operations and Funding Priorities of Rural Private Foundations .Foundation Review, , 6 (4 ) ,65
Gaynor, T.S. & Blessett, B. (2014. ) Inequality at the Intersection of the DOMA and VRA: A Review of the 2013 Supreme Court Decisions. Administrative Theory & Praxis, , 36 (2 ) ,261
Blessett, B. & Pryor, M. (2013. ) Invisible Job Seeker: The absence of ex-offenders in discussions of diversity management. Public Administration Quarterly, , 37 (3 ) ,136
Alkadry, M.G., Bhandari, R., Wilson, C.S., & Blessett, B. (2011. ) Racial Disparities in Stroke Awareness: African Americans and Caucasians. Journal of Health and Human Services Administration., , 33 (4 ) ,462
Alkadry, M.G. & Blessett, B. (2010. ) Aloofness or Dirty Hands: Administrative Culpability in the Making of the 2nd Ghetto. Administrative Theory and Praxis, , 32 (4 ) ,552
Other Publications
Blessett, B. (2015. ) Institutional Racism, Organizations & Public Policy .Public Integrity, 17 (4 ) ,411 Taylor & Francis Group
Blessett, B. (2015. ) African Americans and Gentrification in Washington, D.C.: Race, Class, and Social Justice in the Nation's Capital .Ethnic and Racial Studies, 38 (13 ) , Taylor & Francis Group
Book Chapter
Blessett, B., & Gaynor, T.S. (2017 ) Choice points as a framework for decision-making Leadership and change in public sector organizations: Beyond reform .(pp. 273).New York, NY, Taylor & Francis Group (Co-Author)
Gaynor, T.S. & Blessett, B. (2016 ) Schooling You on the Domains of Power in The Wire Teaching the Wire: Frameworks, Theories and Strategies for the Classroom .(pp. 63).Jefferson, NC, McFarland (Co-Author)
Blessett, B. (2014 ) Changing the Narrative: Affirmative Action as Democratically Necessary Contemporary Perspectives on Affirmative Action .(pp. 209).Santa Barbara, CA, Praeger (Author)
Blessett, B. (2012 ) Prisons for Profit: The Political and Economic Implications of Private Prisons Prison Privatization: The Many Facets of a Controversial Industry .(pp. 9).Santa Barbara, CA, Praeger/Greenwood Publishers (Author)
Blessett, B. (2012 ) Private Prisons as a Response to the "Second Ghetto" Prison Privatization: The Many Facets of a Controversial Industry .(pp. 113).Santa Barbara, CA, Praeger/Greenwood Publishers (Author)
Encyclopedia Article
Blessett, B. (2016. ) Global Encyclopedia of Public Administration, Public Policy, and Governance. Online, SpringerLink (Author)
Blessett, B. (2014. ) The American Mosaic: Latino American Experience. .Online, (Author)
Social Justice, Social Equity, Institutional Racism, Cultural Understanding and Awareness, Administrative Discretion, Community Development
Brandi.Blessett@uc.edu