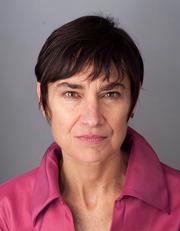 Kate Bonansinga
Professor
Director, School of Art; Professor
University of Cincinnati
PO Box 210016
Cincinnati, Ohio 45221
Phone 513-556-5132
Fax 513-556-2887
Email kate.bonansinga@uc.edu

Professor Bonansinga is a curator of contemporary art responsible for conceptualizing and organizing dozens of exhibitions over the course of her career including Tania Candiani: Sounding Labor: Silent Bodies (2020), Unraveled:  Challenging Textile Traditions (2016) (both at the Contemporary Arts Center, Cincinnati) and Staged Stories: 2009 Renwick Craft Invitational (Smithsonian American Art Museum, Washington, D.C., 2009).  From 2004-2012 Bonansinga was founding director of Stanlee and Gerald Rubin Center for Visual Art at The University of Texas, El Paso where she curated many exhibitions, established an undergraduate minor in museum studies and taught courses in curatorial practice. Her experience there is the subject of her book Curating at the Edge: Artists Respond to the U.S./Mexico Border. 
MA: University of Illinois Urbana Champaign, 1991 (art history)
MBA: New Mexico State University Las Cruces, 2009 (business)
BA: University of Michigan Ann Arbor, 1983 (economics)
Research and Practice Interests
Contemporary art, art in public space, museum practice

Currently leading a team of 4 faculty researchers, two graduate students and several community partners in Step Up to Art:  Art on Cincinnati's Staircases to Improve Public Health and Neighborhood Connection.  We are reimaginging the city's pedestrian infrastructure through the implementation of art that transforms the 19th century stairways located in Cincinnati's urban core.  The stairways will become inviting public spaces that encourage pedestrian traffic between neighborhoods of varying socio-economic and racial demographics.
Positions and Work Experience
08-15-2012 - Director, School of Art, College of Design, Architecture, Art and Planning, Lead a School of approximately 30 FTE faculty and 370 students (graduate and undergraduate) , University of Cincinnati, Cincinnati, Ohio
08-15-2000 -08-15-2012 Founding Director, Stanlee and Gerald Rubin Center for the Visual Arts, Launched and led university art museum on campus of 22,000 students. , University of Texas at El Paso, El Paso, TX
2018 -2018 FotoFocus Exhibition research and presentation support for "Past as Present: Capturing and Archiving the Female Experience" Role:Curator Completed Type:Grant Level:Regional
Grant: #R40747 Investigators:Bonansinga, Kathryn; Grace, Kevin Anthony 07-01-2019 -12-31-2020 UC's AHSS Faculty Research Summer Stipend Program Site Investigations: Art, Borders and the Cincinnati Project Role:PI $9,658.80 Active Level:Internal UC
Investigators:Kate Bonansinga 09-15-2016 -09-30-2016 CEC ArtsLink Curatorial Residency, St. Petersburg, Russia Role:Curator/Critic 6,000.00 Completed Type:Fellowship Level:International
Peer Reviewed Publications
Kate Bonansinga (2017. ) Logical Curating: Unraveled as Case Study .Visual Inquiry: Learning and Teaching Art, Special Issue: Curating as a Condition of Art Education, , 6 (1 ) ,13 -21
Invited Publications
Kate Bonansinga (2017. ) Art Prospect: Art as Action in Public Sphere .Sculpture, 36 (7 ) ,78 -79
Kate Bonansinga (2021. ) Newcomb in Paris: Mary Given Sheerer and the American Art Pottery Movement .Newcomb Art Museum, Tulane University,
Newcomb in Paris: Mary G. Sheerer and the Art Pottery Movement
Published Books
Kate Bonansinga (2014. ) Curating at the Edge: Artists Respond to the U.S./Mexico Border .University of Texas Press (Author)
Kate Bonansinga (2009. ) Staged Stories: 2009 Renwick Craft Biennial .Washington, DC , Smithsonian American Art Museum in conjunction with Scala Publishing (Author)
Book Chapter
Kate Bonansinga, Jack Lenor Larson, Paul J. Smith, Jane Milosch, Lois Jecklin (2022 ) Chunghi Choo as Mentor: The Student Perspective Chunghi Choo and Her Students: Contemporary Art and New Forms in Metal .Stuttgart, Germany, Arnoldsche Art Publishers (Author)
Bonansinga, Kate (2019 ) Museums, Textiles and the Everyday Crafting Democracy: Fiber Art and Activism .(pp. 27-31).Rochester, NY, Rochester Institute of Technology Press
Invited Presentations
(2018. ) Art, Place, Material .Otis College of Art and Design, Los Angeles, CA. Other Institution. . Level:National
Kate Bonansinga and Danilo Palazzo (2017. ) Public Art and Place Making: An Ongoing Collaboration Between Fine Art and Urban Planning at University of Cincinnati .A2RU Annual Conference at Northeastern University, Boston, MA. Conference. . Level:National
(2016. ) Art, Place, Material: A Curatorial Perspective .Smolny College and Bard Center for Curatorial Studies, St. Petersburg State University, St. Petersburg, Russia. Other Institution. . Level:International
Post Graduate Training and Education
07-07-2006-07-31-2006 Museum Leadership Institute, Getty Leadership Institute, , Los Angeles, CA
06-15-2005-07-15-2005 Smithsonian Institute for the Interpretation and Representation of Latino Cultures, Smithsonian Institution, , Washington, D.C.
curator, museum, director, art
Curating Contemporary Art Level:Graduate
Public Art in Public Space
Academic - University of Cincinnati
PO Box 210016
Cincinnati  Ohio, 45221
Phone: 513-556-5132
Fax: 513-556-2887
kate.bonansinga@uc.edu