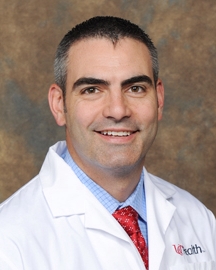 Jordan B Bonomo , MD,FCCM,FNCS
Professor of Clinical
Neurosurgery/Neurocritical Care, Neurology; Director, Emergency Medicine Critical Care Division and Director, Neurocritical Care Fellowship
University of Cincinnati College of Medicine
Department of Emergency Medicine
231 Albert Sabin Way, MSB 1551
Cincinnati, Ohio 45267-0769
Phone 513-558-0652
Fax 513-558-5791
Email Jordan.Bonomo@uc.edu
Jordan Bonomo, MD, FCCM is an associate professor of Emergency Medicine, an associate professor of Neurology in the Division of Neurocritical Care, and an associate professor of Neurosurgery. Bonomo has been a neuro-intensivist for the University of Cincinnati Gardner Neuroscience Institute since 2009, and is the director of the Division of Critical Care in the Department of Emergency Medicine at the UC College of Medicine.

Bonomo is also the director of the Neurocritical Care Fellowship at UC. He has been a member of the University of Cincinnati Stroke Team since 2007, was a flight physician for the UC Medical Center Air Care from 2004 to 2010, and served as a tactical physician and assistant medical director for the Cincinnati Police SWAT team for 5 years. Bonomo's research focuses on the management of acute traumatic brain injury, optimization of organ donation, resuscitation and the broader topic of critical care ethics. 

Bonomo, board certified by the American Board of Emergency Medicine with a UCNS sub-specialty qualification in Neurocritical Care, is also certified in Critical Care Ultrasound by the American College of Chest Physicians. He is an assistant medical director for organ donor management at LifeCenter Organ Donor Network in Cincinnati.
Bachelor's Degree: Brown University 1998 (Biomedical Ethics)
Medical Degree: Brown University School of Medicine 2003
Residency: University of Cincinnati 2008 (Emergency Medicine)
Fellowship: University of Cincinnati 2010 (Neurocritical Care)
American Board of Emergency Medicine (Certification Date: 06-27-2008 )
United Council for Neurologic Subspecialties (Certification Date: 12-31-2010 )
Emergency Medicine
Emergency Medicine
Neurocritical Care
Research and Practice Interests
Grant: #srs006940 Investigators:Adeoye, Opeolu; Bonomo, Jordan; Knight, William; Lindsell, Christopher 07-01-2010 -12-31-2011 Emergency Medicine Foundation The Incidence of Non-Convulsive Seizures in Patients Undergoing Therapeutic Hypothermia after Resuscitation from Cardiac Arrest Role:Collaborator $5,000.00 Active Level:Private Non-Profit
Peer Reviewed Publications
Ward, Michael J; Fertel, Baruch S; Bonomo, Jordan B; Smith, Carol L; Hart, Kimberly W; Lindsell, Christopher J; Wright, Stewart W (2012. ) The degree of bandemia in septic ED patients does not predict inpatient mortality.The American journal of emergency medicine, , 30 (1 ) ,181-3 More Information
Broderick, Joseph P; Bonomo, Jordan B; Kissela, Brett M; Khoury, Jane C; Moomaw, Charles J; Alwell, Kathleen; Woo, Daniel; Flaherty, Matthew L; Khatri, Pooja; Adeoye, Opeolu; Ferioli, Simona; Kleindorfer, Dawn O (2011. ) Withdrawal of antithrombotic agents and its impact on ischemic stroke occurrence.Stroke; a journal of cerebral circulation, , 42 (9 ) ,2509-14 More Information
Bonomo, Jordan B; Butler, Andrew S; Lindsell, Christopher J; Venkat, Arvind (2008. ) Inadequate provision of postintubation anxiolysis and analgesia in the ED.The American journal of emergency medicine, , 26 (4 ) ,469-72 More Information
Bonomo, Jordan Bradley; Rinderknecht, Tanya Nicole; Beiser, Edward N (2003. ) "It ain't easy being green," a case-based analysis of ethics and medical education on the wards. Medicine and health, Rhode Island, , 86 (9 ) ,276-8
Egan, M F; Hyde, T M; Bonomo, J B; Mattay, V S; Bigelow, L B; Goldberg, T E; Weinberger, D R (2001. ) Relative risk of neurological signs in siblings of patients with schizophrenia. The American journal of psychiatry, , 158 (11 ) ,1827-34
Marcolini, Evie G; Seder, David B; Bonomo, Jordan B; Bleck, Thomas P; Hemphill, J Claude; Shutter, Lori; Rincon, Fred; Timmons, Shelly D; Nyquist, Paul (2018. ) The Present State of Neurointensivist Training in the United States: A Comparison to Other Critical Care Training Programs.Critical care medicine, , 46 (2 ) ,307-315 More Information
Knight, William A; Hart, Kimberly W; Adeoye, Opeolu M; Bonomo, Jordan B; Keegan, Shaun P; Ficker, David M; Szaflarski, Jerzy P; Privitera, Michael D; Lindsell, Christopher J (2013. ) The incidence of seizures in patients undergoing therapeutic hypothermia after resuscitation from cardiac arrest.Epilepsy research, , 106 (3 ) ,396-402 More Information
Ward, Michael J; Bonomo, Jordan B; Adeoye, Opeolu; Raja, Ali S; Pines, Jesse M (2012. ) Cost-effectiveness of diagnostic strategies for evaluation of suspected subarachnoid hemorrhage in the emergency department.Academic emergency medicine : official journal of the Society for Academic Emergency Medicine, , 19 (10 ) ,1134-44 More Information
Beauchamp, Gillian A; McMullan, Jason T; Bonomo, Jordan B (2012. ) Neurogenic stunned myocardium associated with acute spinal cord infarction: a case report.Case reports in critical care, , 2012 ,439528 More Information
Academic - University of Cincinnati College of Medicine
Department of Emergency Medicine
Cincinnati  Ohio, 45267-0769
Phone: 513-558-0652
Fax: 513-558-5791
Jordan.Bonomo@uc.edu