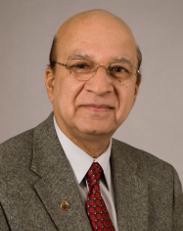 Punit Boolchand
Punit Boolchand is a materials scientist and the director of the Solid State Physics and Electronic Materials Laboratory. He discovered the Intermediate Phase. His experimental data over a 25-year period (1982–2007) formed the basis for the theory of network glasses developed by James Charles Phillips and Michael Thorpe. The theory was adopted by Corning Inc. and was a substantial factor contributing to the development of Gorilla glass by Corning scientists including John. C. Mauro. These networks, although disordered, exhibit many nearly ideal properties that have revolutionized glass science and technology, as part of HD TV and glass covers for devices such as cell phones.
Ph.D.: Case-Western Reserve University Cleveland, OH, 1969 (Physics)
M.S.: Punjab University Chandigarh, 1965 (Physics)
B.S.: Punjab University Chandigarh, 1964 (Physics)
Research and Practice Interests
Electronic and photonic materials, ferroelectrics, high-T superconductors, magnetism, oxide and chalcogenide glasses, solid electrolytes, topological phases, nano-particles and catalysis.
Positions and Work Experience
1987 -To Present Professor, University of Cincinnati, Cincinnati, OH
1981 -To Present Professor, University of Cincinnati, Cincinnati, OH
1975 -1981 Associate Professor, University of Cincinnati,
1970 -1975 Assistant Professor, University of Cincinnati, Cincinnati, OH
1969 -1970 Instructor, University of Cincinnati, Cincinnati, OH
1999 -1997 Visiting Professor, University of Paris, France
1997 - Visiting Professor, University of Hyderabad, India
1981 - Visiting Professor, Leuven University, Belgium
1974 - Visiting Professor, Leuven University, Belgium
1973 - Research Associate, Stanford University, California
Grant: #DMR-0456472 Investigators:Boolchand, Punit 01-15-2005 -12-31-2009 National Science Foundation Self-Organization in Network Glasses Role:PI $492,000.00 Closed Level:Federal
Grant: #INT-0138707-NCE Investigators:Boolchand, Punit 04-15-2002 -03-31-2006 National Science Foundation Self-Organization in Oxide Glasses Role:PI $18,000.00 Closed Level:Federal
Grant: #NCE Investigators:Boolchand, Punit 03-01-2002 -02-28-2004 Axon Molecular Structure of Ag-Ge-S Glasses Role:PI $32,148.00 Closed Level:Industry
Grant: #OBR AF 674 Investigators:Boolchand, Punit 08-15-2003 -07-31-2006 Ohio Board of Regents Acquisition of a FTIR-Raman Spectrometer System to Probe Intermediate Phases in Disordered Systems Role:PI $63,000.00 Closed Level:State of Ohio
Grant: #DMR-0315491 Investigators:Boolchand, Punit 08-15-2003 -07-31-2006 National Science Foundation Aquisition of an FTIR-Raman Spectrometer System to Probe Intermediate Phases in Disordered Systems Role:PI $120,000.00 Closed Level:Federal
Grant: #DMR-0101808-NCE Investigators:Boolchand, Punit 04-01-2001 -03-31-2005 National Science Foundation The Intermediate Phase in Network Glasses Role:PI $345,503.00 Closed Level:Federal
Grant: #ME2-3008 Investigators:Boolchand, Punit 09-01-2001 -02-28-2003 U.S. Civilian Research & Development Foundation Rare-Earth Dopant Additives and Photo Structural Transformations in Chalcogenide Glasses Role:PI $4,395.00 Closed Level:Private Non-Profit
Grant: #DMR-9701289-NCE Investigators:Boolchand, Punit 02-01-1998 -01-31-2002 National Science Foundation Stiffness Threshold in Network Glasses Role:PI $270,000.00 Closed Level:Federal
Grant: #DMR-9704228-002 Investigators:Boolchand, Punit 09-15-1997 -08-31-2001 National Science Foundation Development of a Novel 67Zn Mossbauer Spectrometer for Basic Materials Research Role:PI $307,350.00 Closed Level:Federal
Grant: #DMR-0853957 Investigators:Boolchand, Punit 08-15-2009 -07-31-2013 National Science Foundation Self-Organization in Network Glasses-Beyond Selenides Role:PI $360,000.00 Completed
Grant: #SRS 007293 Investigators:Boolchand, Punit 09-01-2010 -09-15-2012 Adesto Technologies Corporation, Inc. Molecular Structures of GeSx Thin Films from Optical Measurements Role:PI $40,607.00 Closed Level:Industry
Grant: #RSC 12025 \ FA8650-11-D-5401/0008 Investigators:Boolchand, Punit 08-01-2012 -09-30-2014 Department of Defense Investigation of Dielectric Materials: Bulk Glass Synthesis and Characterization Role:PI $70,065.00 Completed
Grant: #NSF DMR-1410118 Investigators:Angelopoulos, Anastasios; Boolchand, Punit 09-01-2014 -08-31-2017 National Science Foundation SusChEM: Sustainable Synthesis of Bismuth-Based Core-Shell Nanoparticles for Alternative Energy Applications Role:Co-PI $399,785.00 Active
Peer Reviewed Publications
P. Boolchand, Ping Chen and U. Vempati (2009. ) "Intermediate Phases, structural variance and network demixing in chalcogenides: the unusual case of group V sulfides" .Journal of Non-Crystalline Solids, , 355 1773 ,
Deassy I. Novita, P. Boolchand, M. Malki, Matthieu Micoulaut (2009. ) "Elastic flexibility, fast-ion conduction, boson and floppy modes in AgPO3-AgI glasses" .J. Phys.: Condens. Matter, , 21, 205106 ,
Mingji Jin, Ping Chen, P. Boolchand, T. Rajagopalan, K. L. Chopra, K. Starbova, N. Starbov (2008. ) "Origin of giant photocontraction in obliquely deposited amorphous GexSe1-x thin films and the intermediate phase" .Phys. Rev. , , B 78 , 214201 ,
Deassy Novita, P.Boolchand, M. Malki and M. Micoulaut (2007. ) "Fast-ion Conduction and flexibility of glassy networks" .Phys. Rev. Lett, , 98, 195501 ,
P. Boolchand, G. Lucovsky, J.C. Phillips, M.F. Thorpe (2005. ) "Self-Organization and the Physics of Glassy Networks" .Phil. Mag, , 85, 3823 ,
K. C. Mishra, M. Raukas, G. Marking, Ping Chen, and P. Boolchand (2005. ) "Investigation of Fluorescence Degradation Mechanism of Hydrated BaMgAl10O17:Eu2+ Phosphor" .J. Electrochemical Soc., , 152 (11): H183-H190 ,
Bo Sun, Panagiotis G. Smirniotis and P. Boolchand (2005. ) "Visible Light Photocatalysis with Platinized Rutile TiO2 for Aqueous Organic Oxidation" .LANGMUIR, , 21 (24): 11397 ,
S. Chakravarty, D. G. Georgiev, P. Boolchand and M. Micoulaut (2005. ) "Ageing, fragility and the reversibility window in bulk alloy glasses" .J. Phys. Condens Matter, , 17, L1-L7 ,
U. Vempati and P.Boolchand (2004. ) The thermally reversing window in ternary GexPxS1-2x glasses .J. Phys. Condens. Matter, , 16, S5121 ,
J.Gump, I.Finkler, H.Xia, R.Sooryakumar, W.J.Bresser and P.Boolchand (2004. ) "Light Induced Giant Softening of Network Glasses Observed near the Mean-Field Rigidity Transition" .Phys. Rev. Lett. , , 92, 245501 ,
M. Micoulaut, M. Malki, D. I. Novita, P. Boolchand (2009. ) Fast-ion conduction and flexibility and rigidity of solid electrolyte glasses .Physical Review B, , 80 (184205 ) ,
F. Wang, W. P. Dunn, M. Jain, C. De Leo, N. Vicker, R. Savage, X. Jin, S. Mamedov, and P. Boolchand (2009. ) The effects of thermal annealing on the obliquely deposited Ag-Ge-S thin films .Journal of Physics and Chemistry of Solids, , 70 ,978-981
Ping Chen, P. Boolchand, D. G. Georgeiv (2010. ) Long term aging of selenide glasses: evidence of sub-Tg endotherms and pre-Tg exotherms .J. Phys. Condens. Matter, , 22 (065104 ) ,
K. R. Gunugunuri, K. Gunasekera, P. Boolchand and P. Smirniotis (2011. ) Cr- and Ce-Doped Ferrite Catalysts for the High Temperature Water-Gas Shift Reaction: TPR and Mossbauer Spectroscopic Study .J. Phys. Chem. C, , 115 ,920-930
K. R. Gunugunuri, K. Gunasekera, P. Boolchand, J. Dong and P. Smirniotis (2011. ) High Temperature Water Gas Shift Reaction over Nanocrystalline Copper Codoped-Modified Ferrites .J. Phys. Chem. C, , 115 ,7586-7595
M. Cahay, P. Boolchand, S. B. Fairchild et al. (2011. ) Review Article: Rare-earth monosulfides as durable and efficient cold cathodes .Journal of Vacuum Science & Technology, , 29 (06F602 ) ,
Boolchand P.;Thorpe M. (01-01-1994. ) Glass-forming tendency, percolation of rigidity, and onefold-coordinated atoms in covalent networks.Physical Review B, , 50 (14 ) ,10366-10368 More Information
Boolchand P.;Bresser W.;Zhang M.;Wu Y.;Wells J.;Enzweiler R. (03-01-1995. ) Lamb-Mössbauer factors as a local probe of floppy modes in network glasses.Journal of Non-Crystalline Solids, , 182 (1-2 ) ,143-154 More Information
Boolchand P.;Georgiev D.G.;Goodman B. (12-01-2001. ) Discovery of the intermediate phase in chalcogenide glasses .Journal of Optoelectronics and Advanced Materials, , 3 (3 ) ,703-720
Tent B.;Qu D.;Shi D.;Bresser W.;Boolchand P. (01-01-1998. ) Angle dependence of magnetization in a single-domain sphere.Physical Review B - Condensed Matter and Materials Physics, , 58 (17 ) ,11761-11767 More Information
Mitkova M.;Wang Y.;Boolchand P. (01-01-1999. ) Dual chemical role of Ag as an additive in chalcogenide glasses.Physical Review Letters, , 83 (19 ) ,3848-3851 More Information
Selvanathan D.;Bresser W.;Boolchand P. (01-01-2000. ) Stiffness transitions in glasses from Raman scattering and temperature-modulated differential scanni.Physical Review B - Condensed Matter and Materials Physics, , 61 (22 ) ,15061-15076 More Information
Coussement R.;Van Den Bergh M.;S'heeren G.;Neyens G.;Nouwen R.;Boolchand P. (03-01-1993. ) Quantum interferences in nuclear decay.Hyperfine Interactions, , 80 (1-4 ) ,1307-1313 More Information
Shi F.;Bresser W.;Zhang M.;Boolchand P.;Wu Y. (01-01-1996. ) Effect of high-pressure oxygen annealing in promoting superconductivity: Evidence for Fe coordinatio.Physical Review B - Condensed Matter and Materials Physics, , 54 (9 ) ,6776-6784 More Information
Boolchand P.;Lemon G.;Bresser W.;Enzweiler R.;Harris R. (12-01-1995. ) A general purpose cold finger using a vibration-free mounted He closed-cycle cryostata)&l.Review of Scientific Instruments, , 66 (4 ) ,3051-3057 More Information
Boolchand P.;Zhang M. (12-01-1995. ) Broken bond-bending constraints and glass formation in the oxides [7] .Science, , 268 (5216 ) ,1510-1511
Stephan M.;Schmidt P.C.;Mishra K.C.;Raukas M.;Ellens A.;Boolchand P. (01-01-2001. ) Investigations of nuclear quadrupole interaction in BaMgAl 10 O 17.Zeitschrift fur Physikalische Chemie, , 215 (11 ) ,1397-1411 More Information
Boolchand P.;Zhang M.;Goodman B. (01-01-1996. ) Influence of one-fold-coordinated atoms on mechanical properties of covalent networks.Physical Review B - Condensed Matter and Materials Physics, , 53 (17 ) ,11488-11494 More Information
Boolchand P.;Georgiev D.G.;Micoulaut M. (12-01-2002. ) Nature of glass transition in chalcogenides .Journal of Optoelectronics and Advanced Materials, , 4 (4 ) ,823-836
Boolchand P. (01-01-1992. ) A Mossbauer spectroscopy study of nanoscale Ge-Sn dispersions prepared by ball milling.Journal of Materials Research, , 7 (10 ) ,2876-2883 More Information
Biswas P.;Zhou D.;Lin S.;Boolchand P. (12-01-1992. ) Processing of high Tc superconductors and magnetic oxides by aerosol routes .American Society of Mechanical Engineers, Heat Transfer Division, (Publication) HTD, , 233 ,7-14
Zhang M.;Mancini S.;Bresser W.;Boolchand P. (12-01-1992. ) Variation of glass transition temperature, Tg, with average coordination numb.Journal of Non-Crystalline Solids, , 151 (1-2 ) ,149-154 More Information
Zhou D.;Biswas P.;Oostens J.;Boolchand P. (01-01-1993. ) Superconducting Properties of Aerosol?Generated YBa2Cu3.Journal of the American Ceramic Society, , 76 (3 ) ,678-682 More Information
Zhang M.;Boolchand P. (01-01-1994. ) The central role of broken bond-bending constraints in promoting glass formation in the oxides.Science, , 266 (5189 ) ,1355-1357 More Information
Lin S.;Ferg J.;Biswas P.;Enzweiler R.;Boolchand P. (01-01-1996. ) Characterization of maghemite ferric oxide crystals processed by an aerosol technique.Journal of Magnetism and Magnetic Materials, , 159 (1-2 ) ,147-158 More Information
Feng X.;Bresser W.J.;Zhang M.;Goodman B.;Boolchand P. (12-11-1997. ) Role of network connectivity on the elastic, plastic and thermal behavior of covalent glasses.Journal of Non-Crystalline Solids, , 222 ,137-143 More Information
Feng X.;Bresser W.J.;Boolchand P. (06-09-1997. ) Direct evidence for stiffness threshold in chalcogenide glasses.Physical Review Letters, , 78 (23 ) ,4422-4425 More Information
Mitkova M.;Boolchand P. (10-02-1998. ) Microscopic origin of the glass forming tendency in chalcohalides and constraint theory.Journal of Non-Crystalline Solids, , 240 (1-3 ) ,1-21 More Information
Selvanathan D.;Bresser W.;Boolchand P.;Goodman B. (08-17-1999. ) Thermally reversing window and stiffness transitions in chalcogenide glasses.Solid State Communications, , 111 (11 ) ,619-624 More Information
Yang G.;Biswas P.;Boolchand P.;Sabata A. (10-01-1999. ) Deposition of multifunctional titania ceramic films by aerosol routes .Journal of the American Ceramic Society, , 82 (10 ) ,2573-2579
Cahay M.;Malhotra A.;Modukuru Y.;Tang H.;Bresser W.;Boolchand P.;Mumford P.;Friz W. (01-01-2000. ) Towards the realization of a InP/CdS/LaS cold cathode .Materials Research Society Symposium - Proceedings, , 558 ,545-549
Georgiev D.G.;Boolchand P.;Micoulaut M. (10-01-2000. ) Rigidity transitions and molecular structure of AsxSe1-x.Physical Review B - Condensed Matter and Materials Physics, , 62 (14 ) ,R9228-R9231 More Information
Boolchand P.;Bresser W. (10-01-2000. ) The structural origin of broken chemical order in GeSe2 glass.Philosophical Magazine B: Physics of Condensed Matter; Statistical Mechanics, Electronic, Optical and Magnetic Properties, , 80 (10 ) ,1757-1772 More Information
Wang Y.;Boolchand P.;Micoulaut M. (12-11-2000. ) Glass structure, rigidity transitions and the intermediate phase in the Ge-As-Se ternary.Europhysics Letters, , 52 (6 ) ,633-639 More Information
Subramanyam G.;Zaman A.;Mohsina N.;Van Keuls F.W.;Miranda F.A.;Romanofsky R.R.;Warner J.D.;Boolchand P. (01-01-2001. ) Ferroelectric tunable coplanar waveguide components for Ku- and K-band applications .Integrated Ferroelectrics, , 34 (1-4 ) ,
Cho H.J.;Oh K.W.;Ahn C.H.;Boolchand P.;Nam T.C. (07-01-2001. ) Stress analysis of silicon membranes with electroplated permalloy films using Raman scattering.IEEE Transactions on Magnetics, , 37 (4 I ) ,2749-2751 More Information
Modukuru Y.;Thachery J.;Tang H.;Malhotra A.;Cahay M.;Boolchand P. (09-01-2001. ) Growth and characterization of rare-earth monosulfides for cold cathode applications.Journal of Vacuum Science and Technology B: Microelectronics and Nanometer Structures, , 19 (5 ) ,1958-1961 More Information
Georgiev D.G.;Mitkova M.;Boolchand P.;Brunklaus G.;Eckert H.;Micoulaut M. (10-01-2001. ) Molecular structure, glass transition temperature variation, agglomeration theory, and network conne.Physical Review B - Condensed Matter and Materials Physics, , 64 (13 ) ,1342041-13420411 More Information
Boolchand P.;Feng X.;Bresser W.J. (11-01-2001. ) Rigidity transitions in binary Ge-Se glasses and the intermediate phase.Journal of Non-Crystalline Solids, , 293-295 (1 ) ,348-356 More Information
Wang Z.;Yang G.;Biswas P.;Bresser W.;Boolchand P. (01-15-2001. ) Processing of iron-doped titania powders in flame aerosol reactors.Powder Technology, , 114 (1-3 ) ,197-204 More Information
Holmes S.;Al-Saeedi J.;Guliants V.;Boolchand P.;Georgiev D.;Hackler U.;Sobkow E. (06-15-2001. ) Solid state chemistry of bulk mixed metal oxide catalysts for the selective oxidation of propane to .Catalysis Today, , 67 (4 ) ,403-409 More Information
Boolchand P.;Bresser W. (04-26-2001. ) Mobile silver ions and glass formation in solid electrolytes.Nature, , 410 (6832 ) ,1070-1073 More Information
Wang Y.;Wells J.;Georgiev D.G.;Boolchand P.;Jackson K.;Micoulaut M. (10-29-2001. ) Sharp rigid to floppy phase transition induced by dangling ends in a network glass .Physical Review Letters, , 87 (18 ) ,1855031-1855034
Cai L.;Boolchand P. (10-01-2002. ) Nanoscale phase separation of GeS2 glass.Philosophical Magazine B: Physics of Condensed Matter; Statistical Mechanics, Electronic, Optical and Magnetic Properties, , 82 (15 ) ,1649-1657 More Information
Georgiev D.G.;Boolchand P.;Eckert H.;Micoulaut M.;Jackson K. (04-01-2003. ) The self-organized phase of bulk PxSe1-x glasses.Europhysics Letters, , 62 (1 ) ,49-55 More Information
Boolchand P.;Georgiev D.;Qu T.;Wang F.;Cai L.;Chakravarty S. (11-01-2002. ) Nanoscale phase separation effects near r?=2.4 and 2.67, and rigidity transitions in chalcogenide gl.Comptes Rendus Chimie, , 5 (11 ) ,713-724 More Information
Wang Y.;Mitkova M.;Georgiev D.;Mamedov S.;Boolchand P. (04-30-2003. ) Macroscopic phase separation of Se-rich (x < 1/3) ternary Agy(Ge.Journal of Physics Condensed Matter, , 15 (16 ) , More Information
Bresser W.;Zhang M.;Koudelka L.;Wells J.;Boolchand P.;Ehrhart G.;Miller P. (01-01-1993. ) Observation of the room-temperature Te125 Mössbauer effect in Mg3TeO6: Linewidth, recoil-free fracti.Physical Review B, , 47 (18 ) ,11663-11669 More Information
Blue C.;Blue C.;Boolchand P. (12-01-1992. ) Comparison of transport and magnetization critical currents in c-axis-oriented Y1.Journal of Applied Physics, , 72 (3 ) ,1021-1029 More Information
Bresser W.J.;Wells J.;Zhang M.;Boolchand P. (05-01-1996. ) Molecular origin of glass forming tendency in ternary Te-Se-Br(Cl) chalcohalide glasses .Zeitschrift fur Naturforschung - Section A Journal of Physical Sciences, , 51 (5-6 ) ,373-380
Wells J.;Bresser W.;Boolchand P.;Lucas J. (01-01-1996. ) Medium range structure in a network glass established by a local probe.Journal of Non-Crystalline Solids, , 195 (1-2 ) ,170-175 More Information
Yang G.;Wang Z.;Biswas P.;Bresser W.;Boolchand P. (01-01-1998. ) Processing titania based materials in flame reactors: From dopants to nano-composites.Journal of Aerosol Science, , 29 (SUPPL 1 ) , More Information
Boolchand P. (05-01-1996. ) Nuclear quadrupole interactions as a probe of glass molecular structure .Zeitschrift fur Naturforschung - Section A Journal of Physical Sciences, , 51 (5-6 ) ,572-584
Mamedov S.;Georgiev D.;Qu T.;Boolchand P. (08-13-2003. ) Evidence for nanoscale phase separation of stressed-rigid glasses.Journal of Physics Condensed Matter, , 15 (31 ) , More Information
Qu T.;Georgiev D.G.;Boolchand P.;Micoulaut M. (09-22-2003. ) The intermediate phase in ternary GexAsxSe1 .Materials Research Society Symposium - Proceedings, , 754 ,111-122
Georgiev D.;Boolchand P.;Jackson K. (09-01-2003. ) Intrinsic nanoscale phase separation of bulk As2S3 gla.Philosophical Magazine, , 83 (25 ) ,2941-2953 More Information
Iovu M.;Shutov S.;Boolchand P.;Georgiev D.;Colomeico E. (06-01-2003. ) The relaxation of photodarkening in Sn doped amorphous As 2Se3< .Journal of Optoelectronics and Advanced Materials, , 5 (2 ) ,389-395
Subramanyam G.;Ju Z.;Fahmy M.;Shand P.;Zhang M.;Boolchand P. (02-01-1998. ) Processing and physical properties of single phase Tl2Ba2.Applied Superconductivity, , 4 (12 ) ,591-598 More Information
Iovu M.S.;Shutov S.D.;Boolchand P.;Colomeico E.P.;Ciorba V.G.;Iovu S.M.;Popescu M. (01-01-2002. ) The effect of rare-earth impurity on the photodarkening relaxation in as-evaporated amorphous As< .Journal of Optoelectronics and Advanced Materials, , 4 (4 ) ,857-861
?ernoškova E.;Qu T.;Mamedov S.;?ernošek Z.;Holubová J.;Boolchand P. (01-01-2005. ) Reversibility window in as-quenched Ge-As-S glasses.Journal of Physics and Chemistry of Solids, , 66 (1 ) ,185-189 More Information
Chakravarty S.;Georgier D.G.;Boolchand P.;Micoulaut M. (01-12-2005. ) Ageing, fragility and the reversibility window in bulk alloy glasses.Journal of Physics Condensed Matter, , 17 (1 ) , More Information
Cahay M.;Garre K.;Draviam P.;Boolchand P.;Fairchild S.;Jones J.;Wu X.;Poitras D.;Lockwood D.;Semet V.;Binh V. (12-01-2004. ) Pulsed laser deposition of lanthanum sulfide thin films on silicon and indium phosphide substrates: .Technical Digest of the 17th International Vacuum Nanoelectronics Conference, IVNC 2004, , 266-267
Micoulaut M.;Boolchand P.;Hall R.W.;Wolynes P.G. (10-10-2003. ) Comment on "Microscopic Theory of Network Glasses" (multiple letters) .Physical Review Letters, , 91 (15 ) ,1596011-1596021
Ahn E.;Williams G.A.;Taylor P.C.;Georgiev D.G.;Boolchand P.;Schwickert B.E.;Cappelletti R.L. (04-01-2002. ) Nuclear quadrupole resonance study of the glassy AsxSe1-x.Journal of Non-Crystalline Solids, , 299-302 (PART 2 ) ,958-962 More Information
Radhika Devi V.;Bindu Madhavi M.;Srihari E.;Shrivastava K.;Boolchand P. (03-15-2005. ) Ab initio calculation of vibrational frequencies of Ge0.25S 0.75-yIy glass.Journal of Non-Crystalline Solids, , 351 (6-7 ) ,489-494 More Information
Iovu M.;Boolchand P.;Georgiev D. (04-01-2005. ) Photodarkening relaxation in amorphous as2Se3 films do .Journal of Optoelectronics and Advanced Materials, , 7 (2 ) ,763-770
Boolchand P.;Mishra K.;Raukas M.;Ellens A.;Schmidt P. (10-01-2002. ) Occupancy and site distribution of europium in barium magnesium aluminate by 151.Physical Review B - Condensed Matter and Materials Physics, , 66 (13 ) ,1344291-1344299
Naik R.;Kroll E.;Rodak D.;Tsoi G.M.;McCullen E.;Wenger L.E.;Suryanarayanan R.;Naik V.M.;Vaishnava P.P.;Tao Q.;Boolchand P. (05-01-2004. ) Magnetic properties of iron-oxide and (iron, cobalt)-oxide nanoparticles synthesized in polystyrene .Journal of Magnetism and Magnetic Materials, , 272-276 (SUPPL. 1 ) , More Information
Iovu M.S.;Kamitsos E.I.;Varsamis C.P.E.;Boolchand P.;Popescu M. (06-01-2005. ) Raman spectra of AsxSe100-x glasses doped with metals .Journal of Optoelectronics and Advanced Materials, , 7 (3 ) ,1217-1221
Vaills Y.;Qu T.;Micoulaut M.;Chaimbault F.;Boolchand P. (08-17-2005. ) Direct evidence of rigidity loss and self-organization in silicate glasses.Journal of Physics Condensed Matter, , 17 (32 ) ,4889-4896 More Information
Qu T.;Boolchand P. (03-11-2005. ) Shift in elastic phase boundaries due to nanoscale phase separation in network glasses: The case of .Philosophical Magazine, , 85 (8 ) ,875-884 More Information
Mishra K.;Raukas M.;Marking G.;Chen P.;Boolchand P. (12-02-2005. ) Investigation of fluorescence degradation mechanism of hydrated BaMgAl 10O&lt.Journal of the Electrochemical Society, , 152 (11 ) , More Information
Wang F.;Mamedov S.;Boolchand P.;Goodman B.;Chandrasekhar M. (12-14-2005. ) Pressure Raman effects and internal stress in network glasses.Physical Review B - Condensed Matter and Materials Physics, , 71 (17 ) , More Information
Sun B.;Smirniotis P.;Boolchand P. (11-22-2005. ) Visible light photocatalysis with platinized rutile TiO 2 for aqueous organic.Langmuir, , 21 (24 ) ,11397-11403 More Information
Boolchand P.;Lucovsky G.;Phillips J.;Thorpe M. (11-11-2005. ) Self-organization and the physics of glassy networks.Philosophical Magazine, , 85 (32 ) ,3823-3838 More Information
Fairchild S.;Jones J.;Cahay M.;Garre K.;Draviam P.;Boolchand P.;Wu X.;Lockwood D. (12-01-2005. ) Pulsed laser deposition of lanthanum monosulfide thin films on silicon substrates.Journal of Vacuum Science and Technology B: Microelectronics and Nanometer Structures, , 23 (1 ) ,318-321 More Information
Gump J.;Finkler I.;Xia H.;Sooryakumar R.;Bresser W.J.;Boolchand P. (06-18-2004. ) Light-induced giant softening of network glasses observed near the mean-field rigidity transition.Physical Review Letters, , 92 (24 ) , More Information
Iovu M.;Boolchand P.;Georgiev D.;Iovu S.;Popescu M. (01-01-2005. ) Photoinduced phenomena in chalcogenide glasses doped with metals.Proceedings of SPIE - The International Society for Optical Engineering, , 5972 , More Information
Ramamurti R.;Shanov V.;Singh R.;Mamedov S.;Boolchand P. (03-01-2006. ) Raman spectroscopy study of the influence of processing conditions on the structure of polycrystalli.Journal of Vacuum Science and Technology A: Vacuum, Surfaces and Films, , 24 (2 ) ,179-189 More Information
Vaishnava P.;Senaratne U.;Buc E.;Naik R.;Naik V.;Tsoi G.;Wenger L.;Boolchand P. (05-29-2006. ) Magnetic properties of cobalt-ferrite nanoparticles embedded in polystyrene resin.Journal of Applied Physics, , 99 (8 ) , More Information
Hosokawa S.;Wang Y.;Pilgrim W.C.;Bérar J.F.;Mamedov S.;Boolchand P. (06-15-2006. ) Partial structure analysis of glassy As2Se3 using anom.Journal of Non-Crystalline Solids, , 352 (9-20 SPEC. ISS. ) ,1517-1519 More Information
Boolchand P. (12-01-2006. ) Intermediate phases, reversibility windows, stress-free and non-aging networks, and strong liquids .Chalcogenide Letters, , 3 (3 ) ,29-31
Boolchand P.;Chen P.;Jin M.;Goodman B.;Bresser W. (02-01-2007. ) 129I and 119Sn Mössbauer spectroscopy, reversibility w.Physica B: Condensed Matter, , 389 (1 ) ,18-28 More Information
Boolchand P.;McDaniel D. (05-01-1992. ) Progress in Mössbauer spectrosccopy of high-temperature superconductors.Hyperfine Interactions, , 72 (1-3 ) ,123-152 More Information
Boolchand P.;McDaniel D.;Blue C.;Wu Y.;Enzweiler R.;Elgaid K.;Burrows R. (04-01-1992. ) Fe-site assignments in Y1Ba2Cu3.Hyperfine Interactions, , 68 (1-4 ) ,15-25 More Information
Wang F.;Boolchand P.;Jackson K.A.;Micoulaut M. (06-06-2007. ) Chemical alloying and light-induced collapse of intermediate phases in chalcohalide glasses.Journal of Physics Condensed Matter, , 19 (22 ) , More Information
Coussement R.;Neyens G.;Van Den Bergh M.;Boolchand P. (12-01-1995. ) Resonant emission without absorption.Hyperfine Interactions, , 95 (1 ) ,13 More Information
Coussement R.;van den Bergh M.;S'heeren G.;Boolchand P. (04-01-1992. ) Mössbauer absorption on109mAg, fake or reality?.Hyperfine Interactions, , 71 (1-4 ) ,1487-1490 More Information
S'heeren G.;Van Den Bergh M.;Coussement R.;Cyamukungu M.;Lehmann J.;Pirlot R.;Grenacs L.;Boolchand P. (03-01-1993. ) Identification of cross-relaxation resonances of12B implanted in sc aluminum.Hyperfine Interactions, , 78 (1-4 ) ,201-207 More Information
Boolchand P.;Jin M.;Novita D.;Chakravarty S. (06-01-2007. ) Raman scattering as a probe of intermediate phases in glassy networks.Journal of Raman Spectroscopy, , 38 (6 ) ,660-672 More Information
Novita D.I.;Boolchand P.;Malki M.;Micoulaut M. (05-08-2007. ) Fast-ion conduction and flexibility of glassy networks.Physical Review Letters, , 98 (19 ) , More Information
Holbrook C.;Chen P.;Novita D.;Boolchand P. (09-01-2007. ) Origin of conductivity threshold in the solid electrolyte glass system: (Ag2S)x(As2S3)1-x.IEEE Transactions on Nanotechnology, , 6 (5 ) ,530-535 More Information
Ettireddy P.;Ettireddy N.;Mamedov S.;Boolchand P.;Smirniotis P. (10-30-2007. ) Surface characterization studies of TiO2 supported manganese oxide catalysts .Applied Catalysis B: Environmental, , 76 (1-2 ) ,123-134 More Information
Coussement R.;Van Den Bergh M.;S'heeren G.;Neyens G.;Nouwen R.;Boolchand P. (01-01-1993. ) Nonreciprocity of gamma emission and absorption due to quantum coherence at nuclear-level crossings.Physical Review Letters, , 71 (12 ) ,1824-1827 More Information
Coussement R.;Heeren G.;Van Den Bergh M.;Boolchand P. (01-01-1993. ) Reply to Comment on Nuclear resonant absorption in long-lived isometric transitions.Physical Review B, , 48 (21 ) ,16142-16143 More Information
Novita D.;Boolchand P. (11-28-2007. ) Synthesis and structural characterization of dry AgP O3 glass by Raman scattering, infrared reflecta.Physical Review B - Condensed Matter and Materials Physics, , 76 (18 ) , More Information
Khan A.;Chen P.;Boolchand P.;Smirniotis P. (01-01-2008. ) Modified nano-crystalline ferrites for high-temperature WGS membrane reactor applications.Journal of Catalysis, , 253 (1 ) ,91-104 More Information
Shatnawi M.;Farrow C.;Chen P.;Boolchand P.;Sartbaeva A.;Thorpe M.;Billinge S. (03-26-2008. ) Search for a structural response to the intermediate phase in Gex Se1-x glasses.Physical Review B - Condensed Matter and Materials Physics, , 77 (9 ) , More Information
Boolchand P.;Phillips J. (01-01-1992. ) Comment on Structure of covalently bonded glass-forming melts: A full partial-structure-factor analy.Physical Review Letters, , 68 (2 ) ,252 More Information
Boolchand P.;Bresser W.;Anaple G.;Wu Y.;Enzweiler R.;Coussement R.;Grover J. (01-01-1994. ) ?-ray polarization in transmission through a noncubic and nonmagnetic single crystal.Physical Review B, , 50 (10 ) ,6833-6839 More Information
Novita D.;Boolchand P. (12-01-2006. ) Thermal, electrical transport, and structural characterization of(AgI) x (AgPO3)1-x glasses .2006 6th IEEE Conference on Nanotechnology, IEEE-NANO 2006, , 2 ,662-665
Holbrook C.;Ping C.;Novita D.;Boolchand P. (12-01-2006. ) Molecular origin of conductivity threshold in the solid electrolyte (Ag2S)x(As2S3)1-x glass .2006 6th IEEE Conference on Nanotechnology, IEEE-NANO 2006, , 2 ,508-511
Jin M.;Boolchand P.;Mitkova M. (05-01-2008. ) Heterogeneity of molecular structure of Ag photo-diffused Ge30Se70.Journal of Non-Crystalline Solids, , 354 (19-25 ) ,2719-2723 More Information
Rompicharla K.;Novita D.I.;Chen P.;Boolchand P.;Micoulaut M.;Huff W. (05-21-2008. ) Abrupt boundaries of intermediate phases and space filling in oxide glasses.Journal of Physics Condensed Matter, , 20 (20 ) , More Information
Koudelka L.;Boolchand P. (04-02-1992. ) Preparation of Mg3TeO6 for 125T.Thermochimica Acta, , 198 (1 ) ,173-179 More Information
Liu W.C.;Hoffman G.;Zhou W.;Reano R.M.;Boolchand P.;Sooryakumar R. (08-15-2008. ) Slab waveguides and nanoscale patterning of pulsed laser-deposited Ge0.2 Se0.8 chalcogenide films.Applied Physics Letters, , 93 (4 ) , More Information
Anaple G.;Burrows R.;Wu Y.;Boolchand P.;Adar F. (12-01-1995. ) Molecular structure of porous Si.Journal of Applied Physics, , 78 (6 ) ,4273-4275 More Information
Hoffman G.B.;Liu W.C.;Zhou W.;Sooryakumar R.;Boolchand P.;Reano R.M. (12-11-2008. ) Relief and trench formation on chalcogenide thin films using electron beams.Journal of Vacuum Science and Technology B: Microelectronics and Nanometer Structures, , 26 (6 ) ,2478-2483 More Information
Jin M.;Chen P.;Boolchand P.;Rajagopalan T.;Chopra K.L.;Starbova K.;Starbov N. (12-01-2008. ) Origin of giant photocontraction in obliquely deposited amorphous Ge x Se<.Physical Review B - Condensed Matter and Materials Physics, , 78 (21 ) , More Information
Chen P.;Holbrook C.;Boolchand P.;Georgiev D.G.;Jackson K.A.;Micoulaut M. (12-01-2008. ) Intermediate phase, network demixing, boson and floppy modes, and compositional trends in glass tran.Physical Review B - Condensed Matter and Materials Physics, , 78 (22 ) , More Information
Novita D.I.;Boolchand P.;Malki M.;Micoulaut M. (05-14-2009. ) Elastic flexibility, fast-ion conduction, boson and floppy modes in AgPO3-AgI.Journal of Physics Condensed Matter, , 21 (20 ) , More Information
Wang F.;Dunn W.;Jain M.;De Leo C.;Vicker N.;Savage R.;Jin X.;Mamedov S.;Boolchand P. (06-01-2009. ) The effects of thermal annealing on the obliquely deposited Ag-Ge-S thin films.Journal of Physics and Chemistry of Solids, , 70 (6 ) ,978-981 More Information
Boolchand P.;Chen P.;Vempati U. (10-01-2009. ) Intermediate Phases, structural variance and network demixing in chalcogenides: The unusual case of .Journal of Non-Crystalline Solids, , 355 (37-42 ) ,1773-1785 More Information
Fei W.;Dunn W.;Jain M.;De Leo C.;Vicker N.;Savage R.;Xiaomin J.;Mamedov S.;Boolchand P. (12-01-2008. ) Characterization of thermally evaporated Ag-Ge-S thin films .Materials Research Society Symposium Proceedings, , 1072 ,13-18
Micoulaut M.;Malki M.;Novita D.I.;Boolchand P. (11-16-2009. ) Fast-ion conduction and flexibility and rigidity of solid electrolyte glasses.Physical Review B - Condensed Matter and Materials Physics, , 80 (18 ) , More Information
Chen P.;Boolchand P.;Georgiev D.G. (02-05-2010. ) Long term aging of selenide glasses: Evidence of sub-Tg endotherms and pre-T&.Journal of Physics Condensed Matter, , 22 (6 ) , More Information
Reddy G.;Gunasekara K.;Boolchand P.;Smirniotis P. (02-03-2011. ) Cr- and Ce-doped ferrite catalysts for the high temperature water-gas shift reaction: TPR and mossba.Journal of Physical Chemistry C, , 115 (4 ) ,920-930 More Information
Reddy G.;Gunasekera K.;Boolchand P.;Dong J.;Smirniotis P. (04-21-2011. ) High temperature water gas shift reaction over nanocrystalline copper codoped-modified ferrites.Journal of Physical Chemistry C, , 115 (15 ) ,7586-7595 More Information
Bhosle S.;Gunasekera K.;Chen P.;Boolchand P.;Micoulaut M.;Massobrio C. (12-01-2011. ) Meeting experimental challenges to physics of network glasses: Assessing the role of sample homogene.Solid State Communications, , 151 (24 ) ,1851-1855 More Information
Baláz P.;Sedlák J.;Pastorek M.;Cholujová D.;Vignarooban K.;Bhosle S.;Boolchand P.;Fabián M.;Buj?áková Z. (11-23-2011. ) In-vitro testing of arsenic sulfide nanoparticles for the treatment of multiple myeloma cells .Technical Proceedings of the 2011 NSTI Nanotechnology Conference and Expo, NSTI-Nanotech 2011, , 3 ,412-415
Cahay M.;Boolchand P.;Fairchild S.;Grazulis L.;Murray P.;Back T.;Semet V.;Binh V.;Wu X.;Poitras D.;Lockwood D.;Yu F.;Kuppa V. (01-01-2011. ) Review Article: Rare-earth monosulfides as durable and efficient cold cathodes.Journal of Vacuum Science and Technology B:Nanotechnology and Microelectronics, , 29 (6 ) , More Information
Boolchand P.;Bhosle S.;Gunasekera K.;Vignarooban K.;Chakraborty S. (11-01-2011. ) Glass homogeneity precursive to self-organization .Journal of Optoelectronics and Advanced Materials, , 13 (11-12 ) ,1353-1358
Reddy G.;Boolchand P.;Smirniotis P. (09-01-2011. ) Sulfur tolerant metal doped Fe/Ce catalysts for high temperature WGS reaction at low steam to CO rat.Journal of Catalysis, , 282 (2 ) ,258-269 More Information
Gunugunuri K.;Koirala R.;Smirniotis P.;Boolchand P. (12-01-2011. ) Modified ferrites as catalysts for high temperature water gas shift reaction .11AIChE - 2011 AIChE Annual Meeting, Conference Proceedings, ,
Reddy K.;Boolchand P.;Smirniotis P. (01-01-2011. ) Characterization and high temperature water gas shift activity testing of Cu-doped transition metal .11AIChE - 2011 AIChE Spring Meeting and 7th Global Congress on Process Safety, Conference Proceedings, ,
Reddy G.;Boolchand P.;Smirniotis P. (05-24-2012. ) Unexpected behavior of copper in modified ferrites during high temperature WGS reaction-aspects of F.Journal of Physical Chemistry C, , 116 (20 ) ,11019-11031 More Information
Baláž P.;Sedlák J.;Pastorek M.;Cholujová D.;Vignarooban K.;Bhosle S.;Boolchand P.;Buj?áková Z.;Dutková E.;Kartachova O.;Stalder B. (07-26-2012. ) Arsenic sulphide As 4S 4 nanoparticles: Physico-chemic.Journal of Nano Research, , 18-19 ,149-155 More Information
Bhosle S.;Gunasekera K.;Boolchand P.;Micoulaut M. (09-01-2012. ) Melt Homogenization and Self-Organization in Chalcogenides-Part II.International Journal of Applied Glass Science, , 3 (3 ) ,205-220 More Information
Bhosle S.;Gunasekera K.;Boolchand P.;Micoulaut M. (09-01-2012. ) Melt Homogenization and Self-Organization in Chalcogenides-Part I.International Journal of Applied Glass Science, , 3 (3 ) ,189-204 More Information
Boolchand P.;Gunasekera K.;Bhosle S. (10-01-2012. ) Midgap states, Raman scattering, glass homogeneity, percolative rigidity and stress transitions in c.Physica Status Solidi (B) Basic Research, , 249 (10 ) ,2013-2018 More Information
Gunasekera K.;Boolchand P.;Micoulaut M. (08-29-2013. ) Elastic phases of GexSbxSe100-2 x.Journal of Physical Chemistry B, , 117 (34 ) ,10027-10034 More Information
Mizoguchi H.;Chen P.;Boolchand P.;Ksenofontov V.;Felser C.;Barnes P.;Woodward P. (10-08-2013. ) Electrical and optical properties of Sb-doped BaSnO3.Chemistry of Materials, , 25 (19 ) ,3858-3866 More Information
St. John S.;Boolchand P.;Angelopoulos A. (12-31-2013. ) Improved electrocatalytic ethanol oxidation activity in acidic and alkaline electrolytes using size-.Langmuir, , 29 (52 ) ,16150-16159 More Information
Chakraborty S.;Boolchand P.;Malki M.;Micoulaut M. (01-14-2014. ) Designing heavy metal oxide glasses with threshold properties from network rigidity.Journal of Chemical Physics, , 140 (1 ) , More Information
Chakraborty S.;Boolchand P. (02-27-2014. ) Topological origin of fragility, network adaptation, and rigidity and stress transitions in especial.Journal of Physical Chemistry B, , 118 (8 ) ,2249-2263 More Information
Ravindren S.;Gunasekera K.;Tucker Z.;Diebold A.;Boolchand P.;Micoulaut M. (04-07-2014. ) Crucial effect of melt homogenization on the fragility of non-stoichiometric chalcogenides.Journal of Chemical Physics, , 140 (13 ) , More Information
Holbrook C.;Chakraborty S.;Ravindren S.;Boolchand P.;Goldstein J.;Stutz C. (04-14-2014. ) Topology and glass structure evolution in (BaO) x ((B 2.Journal of Chemical Physics, , 140 (14 ) , More Information
Gunasekera K.;Boolchand P.;Micoulaut M. (04-28-2014. ) Effect of mixed Ge/Si cross-linking on the physical properties of amorphous Ge-Si-Te networks.Journal of Applied Physics, , 115 (16 ) , More Information
Gunasekera K.;Bhosle S.;Boolchand P.;Micoulaut M. (10-28-2013. ) Superstrong nature of covalently bonded glass-forming liquids at select compositions.Journal of Chemical Physics, , 139 (16 ) , More Information
Bhageria R.;Gunasekera K.;Boolchand P.;Micoulaut M. (01-01-2014. ) Fragility and molar volumes of non-stoichiometric chalcogenides: The crucial role of melt/glass homo.Physica Status Solidi (B) Basic Research, , 251 (7 ) ,1322-1329 More Information
Reddy K.;Boolchand P.;Smirniotis P. (01-01-2011. ) Characterization and high temperature water gas shift activity testing of cu-doped transition metal .11th Topical Conference on Gas Utilization 2011 - Topical Conference at the 2011 AIChE Spring Meeting and 7th Global Congress on Process Safety, , 184
Micoulaut M.;Gunasekera K.;Ravindren S.;Boolchand P. (09-24-2014. ) Quantitative measure of tetrahedral- Sp3geometries in amorphous phase-change .Physical Review B - Condensed Matter and Materials Physics, , 90 (9 ) , More Information
Vignarooban K.;Boolchand P.;Micoulaut M.;Malki M.;Bresser W. (12-01-2014. ) Rigidity transitions in glasses driven by changes in network dimensionality and structural groupings.EPL, , 108 (5 ) , More Information
Piarristeguy A.A.;Micoulaut M.;Escalier R.;Jóvári P.;Kaban I.;Van Eijk J.;Luckas J.;Ravindren S.;Boolchand P.;Pradel A. (08-21-2015. ) Structural singularities in GexTe100-x films.Journal of Chemical Physics, , 143 (7 ) , More Information
Iovu M.;Shutov S.;Rebeja S.;Colomeico E.;Boolchand P.;Popescu M. (01-01-2002. ) Quenching of photodarkening in metal-doped chalcogenide amorphous films.Proceedings of the International Semiconductor Conference, CAS, , 1 ,207-210 More Information
Hosokawa S.;Pilgrim W.;Bérar J.;Boolchand P. (01-01-2016. ) Local- and intermediate-range structures of As-Se glasses from the stoichiometric to the stiffness t.Journal of Non-Crystalline Solids, , 431 ,31-35 More Information
Pappas D.;Boningari T.;Boolchand P.;Smirniotis P. (02-01-2016. ) Novel manganese oxide confined interweaved titania nanotubes for the lowerature Selective Catalytic .Journal of Catalysis, , 334 ,1-13 More Information
Shrivastava K.;Boolchand P. (01-01-2005. ) Lamb-Moessbauer factors in nanocrystals.Clusters and Nano-Assemblies: Physical and Biological Systems: Richmond, Virginia, U.S.A., 10-13 November, 2003, , 379-385 More Information
Yildirim C.;Micoulaut M.;Boolchand P.;Kantor I.;Mathon O.;Gaspard J.P.;Irifune T.;Raty J.Y. (06-07-2016. ) Universal amorphous-amorphous transition in GexSe100-x.Scientific Reports, , 6 , More Information
Boolchand P.;Goodman B. (01-01-2017. ) Glassy materials with enhanced thermal stability.MRS Bulletin, , 42 (1 ) ,23-28 More Information
Choudhury A.;Mohapatra S.;Yaghoobnejad Asl H.;Lee S.;Hor Y.;Medvedeva J.;McClane D.;Hilmas G.;McGuire M.;May A.;Wang H.;Dash S.;Welton A.;Boolchand P.;Devlin K.;Aitken J.;Herbst-Irmer R.;Pet?í?ek V. (09-01-2017. ) New insights into the structure, chemistry, and properties of Cu4SnS.Journal of Solid State Chemistry, , 253 ,192-201 More Information
Dash S.;Chen P.;Boolchand P. (06-14-2017. ) Molecular origin of aging of pure Se glass: Growth of inter-chain structural correlations, network c.Journal of Chemical Physics, , 146 (22 ) , More Information
Boolchand P.;Bresser W. (01-01-2000. ) The structural origin of broken chemical order in GeSe2 glass.Philosophical Magazine B: Physics of Condensed Matter; Statistical Mechanics, Electronic, Optical and Magnetic Properties, , 80 (10 ) ,1757-1772 More Information
Cai L.;Boolchand P. (01-01-2002. ) Nanoscale phase separation of GeS2 glass.Philosophical Magazine B: Physics of Condensed Matter; Statistical Mechanics, Electronic, Optical and Magnetic Properties, , 82 (15 ) ,1649-1657 More Information
Stephan M.;Schmidt P.C.;Mishra K.C.;Raukas M.;Ellens A.;Boolchand P. (01-01-2001. ) Investigations of Nuclear Quadrupole Interaction in BaMgAl10Oi7&lt.Zeitschrift fur Physikalische Chemie, , 215 (37196 ) ,1397 More Information
Chakraborty S.;Boolchand P.;Micoulaut M. (09-22-2017. ) Structural properties of Ge-S amorphous networks in relationship with rigidity transitions: An ab in.Physical Review B, , 96 (9 ) , More Information
Wang Y.;Wells J.;Georgiev D.G.;Boolchand P.;Jackson K.;Micoulaut M. (01-01-2001. ) Sharp rigid to floppy phase transition induced by dangling ends in a network glass.Physical Review Letters, , 87 (18 ) ,185503-1-185503-4 More Information
Micoulaut M.;Boolchand P. (01-01-2003. ) Comment on "microscopic theory of network glasses.Physical Review Letters, , 91 (15 ) , More Information
Boolchand P.;Mishra K.;Raukas M.;Ellens A.;Schmidt P. (01-01-2002. ) Occupancy and site distribution of europium in barium magnesium aluminate by (formula presented) Mös.Physical Review B - Condensed Matter and Materials Physics, , 66 (13 ) ,1-9 More Information
Boolchand P.;Bauchy M.;Micoulaut M.;Yildirim C. (06-01-2018. ) Topological Phases of Chalcogenide Glasses Encoded in the Melt Dynamics.Physica Status Solidi (B) Basic Research, , 255 (6 ) , More Information
Dash S.;Chen P.;Boolchand P. (04-21-2018. ) Response to "comment on 'Molecular origin of aging of pure Se glass: Growth of inter-chain structura.Journal of Chemical Physics, , 148 (15 ) , More Information
St. John S.;Ravindren S.;Nan Z.;Gunasekera K.;Boolchand P.;Angelopoulos A. (08-01-2018. ) 119 Sn Mössbauer spectroscopy of the time-resolved evolution of SnCl .Applied Surface Science, , 448 ,362-368 More Information
Gunugunuri K.;Koirala R.;Smirniotis P.;Boolchand P. (01-01-2011. ) Modified ferrites as catalysts for high temperature water gas shift reaction .Catalysis and Reaction Engineering Division - Core Programming Topic at the 2011 AIChE Annual Meeting, , 2 ,612
Damma D.;Jampaiah D.;Welton A.;Boolchand P.;Arvanitis A.;Dong J.;Smirniotis P.G. (01-01-2019. ) Effect of Nb modification on the structural and catalytic property of Fe/Nb/M (M = Mn, Co, Ni, and C.Catalysis Today, , More Information
Mohanty C.;Mandal A.;Gogi V.K.;Chen P.;Novita D.;Chbeir R.;Bauchy M.;Micoulaut M.;Boolchand P. (04-15-2019. ) Linking melt dynamics with topological phases and molecular structure of sodium phosphate glasses fr.Frontiers in Materials, , 6 , More Information
Zhou Q.;Wang M.;Guo L.;Boolchand P.;Bauchy M. (07-09-2019. ) Intermediate phase in calcium–silicate–hydrates: Mechanical, structural, rigidity, and stress signat.Frontiers in Materials, , 6 , More Information
Chakravarty S.;Chbeir R.;Chen P.;Micoulaut M.;Boolchand P. (07-09-2019. ) Correlating melt dynamics and configurational entropy change with topological phases of As.Frontiers in Materials, , 6 , More Information
Vempati U.;Boolchand P. (11-10-2004. ) The thermally reversing window in ternary GexPxS .Journal of Physics Condensed Matter, , 16 (44 ) , More Information
Boolchand P.;Grothaus J.;Bresser W.;Suranyi P. (01-01-1982. ) Structural origin of broken chemical order in a GeSe2 glass.Physical Review B, , 25 (4 ) ,2975-2978 More Information
Boolchand P.;Enzweiler R.N.;Zitkovsky I.;Wells J.;Bresser W.;McDaniel D.;Meng R.L.;Hor P.H.;Chu C.W.;Huang C.Y. (01-01-1988. ) Softening of Cu-O vibrational modes as a precursor to onset of superconductivity in EuBa2Cu3O7-.Physical Review B, , 37 (7 ) ,3766-3769 More Information
Boolchand P.;Bresser W.;Suranyi P. (03-01-1986. ) The molecular structure of As2Se3 glass.Hyperfine Interactions, , 27 (1-4 ) ,385-388 More Information
Boolchand P.;Grothaus J.;Tenhover M.;Hazle M.;Grasselli R. (01-01-1986. ) Structure of GeSsub2 glass: Spectroscopic evidence for broken chemical order.Physical Review B, , 33 (8 ) ,5421-5434 More Information
Boolchand P.;Robinson B.;Jha S. (01-01-1970. ) Nuclear electric field gradient and mean-square displacement tensors in tellurium metal.Physical Review B, , 2 (9 ) ,3463-3471 More Information
Bresser W.;Boolchand P.;Suranyi P.;Hernandez J. (03-01-1986. ) Molecular phase separation and cluster size in GeSe2 glass.Hyperfine Interactions, , 27 (1-4 ) ,389-392 More Information
Coussement R.;Boolchand P.;Scheveneels G.;Hardeman F.;Put P. (01-01-1988. ) Level Mixing Resonance Spectroscopy (LEMS)- a novel probe of non-linear nuclear quadrupole resonance.Journal of Quantitative Spectroscopy and Radiative Transfer, , 40 (6 ) ,773-776 More Information
Coussement R.;Sheeren G.;Van Den Bergh M.;Boolchand P. (01-01-1992. ) Nuclear resonant absorption in long-lived isomeric transitions.Physical Review B, , 45 (17 ) ,9755-9758 More Information
Kamitakahara W.;Cappelletti R.;Boolchand P.;Halfpap B.;Gompf F.;Neumann D.;Mutka H. (01-01-1991. ) Vibrational densities of states and network rigidity in chalcogenide glasses.Physical Review B, , 44 (1 ) ,94-100 More Information
Norban B.;Pershing D.;Enzweiler R.;Boolchand P.;Griffiths J.;Phillips J. (01-01-1987. ) Coordination-number-induced morphological structural transition in a network glass.Physical Review B, , 36 (15 ) ,8109-8114 More Information
Boolchand P.;Pradhan S.;Wu Y.;Abdelgadir M.;Huff W.;Farrell D.;Coussement R.;McDaniel D. (01-01-1992. ) Mössbauer-effect studies and magnetization of grain-aligned YBa2(Cu1-xFex)4O8: Debye-Waller-factor, .Physical Review B, , 45 (2 ) ,921-930 More Information
Tenhover M.;Boolchand P.;Bresser W. (01-01-1983. ) Atomic structure and crystallization of AsxTe1-x glasses.Physical Review B, , 27 (12 ) ,7533-7538 More Information
Elder R.;Marcuso T.;Boolchand P. (11-01-1977. ) The Crystal Structure of Tetrakis(ethylenethiourea)tellurium(II) Chloride Dihydrate: A Novel (+-+-) .Inorganic Chemistry, , 16 (11 ) ,2700-2704 More Information
Coussement R.;Scheveneels G.;Hardeman F.;Boolchand P. (02-01-1988. ) Implication of the level mixing concept on the possibility of Mössbauer absorption on isotopes with .Hyperfine Interactions, , 42 (1-4 ) ,1169-1172 More Information
Boolchand P. (03-01-1986. ) Structural principles in network glasses.Hyperfine Interactions, , 27 (1-4 ) ,3-14 More Information
Enzweiler R.;Boolchand P. (03-01-1986. ) The unusual glass forming tendency in the Ge2-2xSn2xSe3 ternary.Hyperfine Interactions, , 27 (1-4 ) ,393-396 More Information
Boolchand P. (04-01-1973. ) Amorphous and crystalline selenium - a Mössbauer effect study.Solid State Communications, , 12 (7 ) ,753-755 More Information
Henneberger T.;Boolchand P. (11-15-1973. ) Nuclear quadrupole interaction at Te125 in monoclinic selenium.Solid State Communications, , 13 (10 ) ,1619-1622 More Information
Boolchand P.;Tenhover M.;Jha S.;Langouche G.;Triplett B.;Hanna S. (01-01-1977. ) Magnetic hyperfine structure of 119Sn in ferromagnetic Pd2.Solid State Communications, , 21 (8 ) ,741-743 More Information
Boolchand P.;Blizzard M.;Randhawa H.S.;Pandya D.K.;Nath P.;Chopra K.L. (01-01-1977. ) MOSSBAUER EFFECT STUDIES ON AMORPHOUS FexGe1 -.146-150
Blizzard M.;Boolchand P.;Langouche G. (12-01-1979. ) Preparation, characterization, mechanical and heat treatment effects on the Heusler alloy Pd.Journal of Applied Physics, , 50 (B3 ) ,2075-2077 More Information
Tenhover M.;Boolchand P.;Wang J. (01-01-1980. ) Magnetic hyperfine interactions and compositional short range order in the Heusler alloys Cu.Journal of Magnetism and Magnetic Materials, , 20 (2 ) ,158-164 More Information
Ma C.T.;Makowski B.;Marcuso M.;Boolchand P. (12-01-1981. ) INTERSTITIAL-ATOM TRAPPING AND DEUTERIUM LOCALIZATION AT **5**7Co IMPURITIES IN Cu. Mat Res Soc Symp Proc, , 3 ,403-408
Boolchand P.;Bresser W.;McDaniel D.;Sisson K.;Yeh V.;Eklund P. (01-01-1981. ) Identification of the intercalant species in SbCl5-graphite using Mössbauer spectroscopy.Solid State Communications, , 40 (12 ) ,1049-1053 More Information
Sisson K.;Boolchand P. (07-15-1982. ) A microcomputer system for the analysis of mössbauer spectra.Nuclear Instruments and Methods In Physics Research, , 198 (2-3 ) ,317-320 More Information
Boolchand P.;Grothaus J.;Phillips J. (01-01-1983. ) Broken chemical order and phase separation in GexSe1-x.Solid State Communications, , 45 (2 ) ,183-185 More Information
Boolchand P.;Lemon G.;Bresser W.;McDaniel D.;Heinz R.;Eklund P.;Stumpp E.;Nietfeld G. (01-01-1983. ) **1**5**1Eu MOESSBAUER STUDIES ON GRAPHITE-EuCl//3. Materials Research Society Symposia Proceedings, , 20 ,393-396
McDaniel D.;Boolchand P.;Bresser W.;Eklund P. (01-01-1983. ) **1**2**1Sb MOESSBAUER STUDIES OF GRAPHITE-SbF//5 INTERCALATION COMPOUNDS. Materials Research Society Symposia Proceedings, , 20 ,377-382
Boolchand P.;Bresser W.;McDaniel D.;Eklund P.;Billaud D.;Fischer J. (01-01-1983. ) **1**2**1Sb MOESSBAUER STUDIES ON NO//2SbF//6 INTERCALATED GRAPHITE. Materials Research Society Symposia Proceedings, , 20 ,389-392
Stevens M.;Grothaus J.;Boolchand P.;Gonzalez Hernandez J. (01-01-1983. ) Universal structural phase transition in network glasses.Solid State Communications, , 47 (3 ) ,199-202 More Information
Boolchand P.;Ma C.;Marcuso M.;Jena P. (12-01-1983. ) DIRECT EVIDENCE FOR INTESTITIAL AND VACANCY-ASSOCIATED HYDROGEN TRAPPING NEAR IMPURITY ATOMS IN F. C .NATO Conference Series, (Series) 6: Materials Science, , 6 ,567-579
Brill J.;Boolchand P.;Lemon G. (01-01-1984. ) Elastic properties and Mossbauer spectra of Fe1+xNb3-xSe10.Solid State Communications, , 51 (1 ) ,9-13 More Information
Boolchand P.;Lemon G.;Bresser W.;McDaniel D.;Eklund P.;Heinz R.;Stumpp E.;Nietfeld G. (01-01-1984. ) Charge transfer in rare earth-trichloride graphite intercalation compounds.Solid State Communications, , 52 (7 ) ,675-679 More Information
Grothaus J.;Boolchand P. (01-01-1985. ) Molecular phase separation in stoichiometric chalcogenide glasses.Journal of Non-Crystalline Solids, , 72 (1 ) ,1-22 More Information
Boolchand P.;Grothaus J. (12-01-1985. ) MOLECULAR STRUCTURE OF MELT-QUENCHED GeSe//2 AND GeS//2 GLASSES COMPARED. 833-836
Boolchand P. (12-01-1985. ) MOESSBAUER SPECTROSCOPY - A REWARDING PROBE OF MORPHOLOGICAL STRUCTURE OF SEMICONDUCTING GLASSES. 221-260
Boolchand P. (12-01-1986. ) MOSSBAUER SPECTROSCOPY - A LOCAL PROBE OF SHORT AND MEDIUM RANGE ORDER IN NETWORK GLASSES. Materials Research Society Symposia Proceedings, , 61 ,57-74
Wells J.;Boolchand P. (01-01-1987. ) Molecular structure of (As2Se3)x.Journal of Non-Crystalline Solids, , 89 (1-2 ) ,31-46 More Information
Niederriter C.;Cappelletti R.;Boolchand P. (01-01-1987. ) Correlation of electrical conductivity with Mössbauer and Raman results in the alloy glass g-Ge.Solid State Communications, , 61 (9 ) ,527-530 More Information
Enzweiler R.;Boolchand P. (01-01-1987. ) GeSnSe3 glass - A novel exception to the Ioffe-Regel rule.Solid State Communications, , 62 (3 ) ,197-200 More Information
Lemon G.;Boolchand P. (01-01-1987. ) Molecular structure and crystallization behavior of chalcogenide glasses.Journal of Non-Crystalline Solids, , 91 (1 ) ,1-7 More Information
Boolchand P.;Enzweiler R.N.;Zitkovsky I.;Meng R.L.;Hor P.H.;Chu C.W.;Huang C.Y. (01-01-1987. ) Local chemistry and vibrational behavior of the rare-earth in the high Tc sup.Solid State Communications, , 63 (6 ) ,521-524 More Information
Kamitakahara W.;Boolchand P.;Cappelletti R. (12-01-1987. ) VIBRATIONAL DENSITIES OF STATES FOR GLASSY SE-GE ALLOYS BY NEUTRON SCATTERING. Conference Digest - International Conference on Infrared and Millimeter Waves, , 176-177
Li H.;Yun S.;Cappelletti R.;Boolchand P. (12-01-1987. ) ULTRASONIC SEARCH FOR THE FLOPPY-RIGID TRANSITION IN BULK SE//1//-//XGE//X GLASSES. Conference Digest - International Conference on Infrared and Millimeter Waves, , 298-299
Boolchand P. (12-01-1986. ) STRUCTURE CONSEQUENCES OF RIGIDITY PERCOLATION IN NETWORK GLASSES. Key Eng Mater, , 13 (pt 1 ) ,131-142
Biswas P.;Zhou D.;Zitkovsky I.;Blue C.;Boolchand P. (01-01-1989. ) Superconducting powders generated by an aerosol process.Materials Letters, , 8 (6-7 ) ,233-237 More Information
Zitkovsky I.;Boolchand P. (12-01-1989. ) Molecular structure of As2S3 glass.Journal of Non-Crystalline Solids, , 114 (PART 1 ) ,70-72 More Information
Boolchand P.;Enzweiler R.;Cappelletti R.;Kamitakahara W.;Cai Y.;Thorpe M. (01-01-1990. ) Vibrational thresholds in covalent networks.Solid State Ionics, , 39 (1-2 ) ,81-89 More Information
Vaishnava P.;Nelson C.;Pratt W.;Boolchand P. (01-01-1990. ) 151-Eu Mössbauer effect study of Pb2Sr2Eu.3.Physica B: Condensed Matter, , 165-166 ,1325-1326 More Information
Kulkarni R.;Bhalodia J.;Abdelgadir M.;Boolchand P. (01-01-1990. ) Giant flux pinning and critical current density in a new high-Tc superconductor Y2Ba2Cu4O9?.Solid State Communications, , 76 (2 ) ,159-162 More Information
Bichile G.;Kuberkar D.;Deshmukh S.;Kulkarni R.;Abdelgadir M.;Boolchand P. (12-01-1991. ) Enhanced flux pinning by Zn substitution in YBa2Cu 3O&.Superconductor Science and Technology, , 4 (2 ) ,57-61 More Information
Biswas P.;Lin S.;Boolchand P. (01-01-1992. ) Processing of magnetic particles by aerosol routes.Journal of Aerosol Science, , 23 (SUPPL. 1 ) ,807-810 More Information
Stevens M.;Boolchand P.;Hernandez J. (01-01-1985. ) Universal structural phase transition in network glasses.Physical Review B, , 31 (2 ) ,981-991 More Information
Yun S.;Li H.;Cappelletti R.;Enzweiler R.;Boolchand P. (01-01-1989. ) Onset of rigidity in Se1-xGex glasses: Ultrasonic elastic moduli.Physical Review B, , 39 (12 ) ,8702-8706 More Information
Kim C.S.;Boolchand P. (01-01-1979. ) Chemical bonding in sulfur, selenium, and tellurium from I129 and Te125 Mössbauer investigations.Physical Review B, , 19 (6 ) ,3187-3197 More Information
Blue C.;Elgaid K.;Zitkovsky I.;Boolchand P.;McDaniel D.;Joiner W.;Oostens J.;Huff W. (01-01-1988. ) Oxygen-vacancy-formation enthalpy in YBa2(Cu0.985Fe0.015)3O7-? oxide superconductor.Physical Review B, , 37 (10 ) ,5905-5908 More Information
Boolchand P.;Bresser W.;Ehrhart G. (01-01-1981. ) I129 nuclear quadrupole interaction in trigonal Te and the role of oxygen contamination.Physical Review B, , 23 (8 ) ,3669-3672 More Information
Boolchand P.;Bresser W.;Tenhover M. (01-01-1982. ) Direct evidence for intrinsically broken 8 -N coordination rule in melt-quenched glasses by a novel .Physical Review B, , 25 (4 ) ,2971-2974 More Information
Boolchand P.;Suranyi P. (01-01-1973. ) Order-disorder transformation in tellurium-selenium alloys by Mössbauer effect.Physical Review B, , 7 (1 ) ,57-60 More Information
Boolchand P.;Blue C.;Elgaid K.;Huff W.;Kilinc A.;McDaniel D.;Biswas P.;Zhou D.;Oostens J. (08-01-1990. ) Signature of twin planes in Mössbauer spectroscopy of cuprate superconductors.Hyperfine Interactions, , 62 (1-2 ) ,73-88 More Information
Boolchand P.;Stevens M. (01-01-1984. ) Evidence for isoelectronic Sn for Ge substitution in crystalline and glassy GeSe2.Physical Review B, , 29 (1 ) ,1-7 More Information
Wu Y.;Pradhan S.;Boolchand P. (01-01-1991. ) Motional broadening of Fe57 Mössbauer-effect resonance in cuprate superconductors.Physical Review Letters, , 67 (22 ) ,3184-3187 More Information
Davis M.;Stronach C.;Cary R.;Kossler W.;Yu X.;Schone H.;Lankford W.;Moodenbaugh A.;Oostens J.;Boolchand P. (02-01-1991. ) Magnetic ordering in Nd2-xCexCuO4-y.Hyperfine Interactions, , 63 (1-4 ) ,305-309 More Information
Boolchand P.;Tenhover M.;Marcuso M.;Blizzard M.;Kim C.;Langouche G.;Van Rossum M.;Coussement R. (01-01-1978. ) Systematics of hyperfine fields in PdMnSb and the Jena-Geldart model.Hyperfine Interactions, , 4 (1-2 ) ,388-391 More Information
Boolchand P.;van Rossum M.;Langouche G.;Odeurs J.;Pattyn H.;Coussement R. (07-01-1976. ) Mössbauer effect studies following ion implantation of125I and125m.Hyperfine Interactions, , 2 (1 ) ,371-373 More Information
Boolchand P.;Blue C.;Elgaid K.;Zitkovsky I.;McDaniel D.;Huff W.;Goodman B.;Lemon G.;Farrell D.;Chandrasekhar B. (01-01-1988. ) Metallic doping sites in Y1Ba2Cu3O7-.Physical Review B, , 38 (16 ) ,11313-11316 More Information
Boolchand P.;Grothaus J.;Bresser W.;Suranyi P. (12-01-1982. ) Erratum: Structural origin of broken chemical order in a GeSe2 glass.Physical Review B, , 26 (2 ) ,1063 More Information
Boolchand P.;Jha S.;Robinson B. (01-01-1971. ) Linewidths of the 46.5- and 99.1-keV levels of W183.Physical Review C, , 4 (6 ) ,2231-2233 More Information
Langouche G.;Dixon N.S.;Mahmud Y.;Triplett B.B.;Hanna S.S.;Boolchand P. (01-01-1976. ) Magnetic moment of the first excited state of Sb121 and the hyperfine field in Pd2MnSb.Physical Review C, , 13 (6 ) ,2589-2590 More Information
Boolchand P.;Tenhover M.;Jena P. (01-01-1978. ) I129 magnetic hyperfine structure in the Heusler alloys Pd2MnSb and PdMnSb.Physical Review B, , 18 (7 ) ,3393-3399 More Information
Boolchand P.;Langhammer D.;Lin C.;Jha S.;Peek N. (01-01-1972. ) Shrinking of the nuclear charge radius in the first rotational state of Hf178.Physical Review C, , 6 (3 ) ,1093-1098 More Information
Tenhover M.;Boolchand P. (01-01-1978. ) Sn119 Mössbauer-effect studies in Heusler alloys Pd1+zMnSb1-xSnx-Compositional and heat-treatment ef.Physical Review B, , 18 (11 ) ,6292-6301 More Information
Boolchand P.;Robinson B.;Jha S. (12-01-1969. ) Mössbauer-effect studies in hafnium-metal single crystals.Physical Review, , 187 (2 ) ,475-478 More Information
Rots M.;Coussement R.;Van Rossum M.;Namavar F.;Langouches G.;Boolchand P. (12-01-1978. ) Electric field gradient and lattice location of tin in tellurium.Journal of Physics F: Metal Physics, , 8 (5 ) , More Information
Wang K.;Boolchand P.;Scanlon J.;Jena P. (12-01-1983. ) Evidence for magnetically induced electronic and phonon anomalies in cubic Pd2.Journal of Physics F: Metal Physics, , 13 (7 ) ,1547-1558 More Information
Blue C.;Boolchand P. (12-01-1991. ) In situ preparation of superconducting Y1Ba2Cu .Applied Physics Letters, , 58 (18 ) ,2036-2038 More Information
Bresser W.;Boolchand P.;Suranyi P.;De Neufville J. (01-01-1981. ) Direct evidence for intrinsically broken chemical ordering in melt-quenched glasses.Physical Review Letters, , 46 (26 ) ,1689-1692 More Information
Boolchand P.;Henneberger T.;Oberschmidt J. (01-01-1973. ) Nuclear quadrupole interactions at Te125 in the isoelectronic crystalline hosts of S, Se, and Te.Physical Review Letters, , 30 (26 ) ,1292-1295 More Information
Langouche G.;Triplett B.;Dixon N.;Hanna S.;Boolchand P. (01-01-1977. ) Nuclear orientation of Sb125 in Pd2MnSb observed with the Mössbauer effect of Te125.Physical Review C, , 15 (3 ) ,1043-1046 More Information
Oberschmidt J.;Boolchand P. (01-01-1973. ) Observation of natural linewidth for the 35.5-keV resonance in Te125.Physical Review B, , 8 (11 ) ,4953-4955 More Information
Boolchand P. (01-01-1986. ) Comment on rigidity percolation in the germanium-arsenic-selenium alloy system.Physical Review Letters, , 57 (25 ) ,3233 More Information
Bresser W.;Boolchand P.;Suranyi P. (01-01-1986. ) Rigidity Percolation and Molecular Clustering in Network Glasses.Physical Review Letters, , 56 (23 ) ,2493-2496 More Information
Ruffolo D.;Boolchand P. (01-01-1985. ) Origin of glass formation.Physical Review Letters, , 55 (2 ) ,242-245 More Information
Lemon G.;Boolchand P.;Stevens M.;Marcuso M.;DeLong L.;Huber J. (01-01-1987. ) 57Fe mössbauer spectroscopy of U6Fe.Journal of The Less-Common Metals, , 127 (C ) ,329-334 More Information
Boolchand P.;Bresser W.;Suranyi P.;de Neufville J. (08-01-1982. ) Direct evidence for intrinsically broken chalcogen chemical order in GeSe2xTe.Nuclear Instruments and Methods In Physics Research, , 199 (1-2 ) ,295-299 More Information
Boolchand P.;Tenhover M.;Jha S.;Langouche G.;Triplett B.;Hanna S.;Jena P. (09-22-1975. ) Magnetic hyperfine structure of 125Te in ferromagnetic Pd2.Physics Letters A, , 54 (4 ) ,293-294 More Information
Langouche G.;Van Rossum M.;Boolchand P.;Meykens A.;Coussement R. (11-04-1974. ) Observation of a small quadrupole interaction in 129IFe Mössbauer spectra.Physics Letters A, , 50 (1 ) ,20-22 More Information
Boolchand P. (01-01-1974. ) Preparation and linewidth of 125Sb(Cu) Mössbauer sources.Nuclear Instruments and Methods, , 114 (1 ) ,159-161 More Information
Boolchand P. (01-01-1988. ) Experimentally realized linewidths of narrow (?10-10eV) nuclear gamma resonan.Journal of Quantitative Spectroscopy and Radiative Transfer, , 40 (6 ) ,777-795 More Information
Boolchand P.;Norban B.;Enzweiler R.;Griffiths J.;Phillips J. (01-19-1988. ) Molecular structure of six tel-x.Proceedings of SPIE - The International Society for Optical Engineering, , 822 ,114-121 More Information
1995 Fellow American Physical Society
1995 George Riveschl Jr. Award for Distinguished Scientific Research University of Cincinnati
1992 College of Engineering Research Award University of Cincinnati
1976 Sigma Xi Recognition Award University of Cincinnati
Chad Holbrook (Doctoral ) Advisor Status:In Progress
Ralph Chbeir (Master ) Advisor Status:In Progress
Aarom Welton (Doctoral ) Advisor Status:In Progress
Shreeram Jyoti Dash (Master ) Advisor Status:In Progress
Soumendu Chakravarty (Doctoral ) Advisor Status:In Progress
Chandi Mohanty (Master ) Advisor Status:In Progress
Sigma Xi President Type:Service to Student Groups Level:University
(Electronic, Materials and Devices Weekly Seminar Series ) Other Type:University/College Service Level:University
Physical Review Letters, Physical Review B,J. Non-Crystalline Solids, J. Physics-Condensed Matter, Europhysics Letters, Thin-Solid Films, Solid State Ionics. Reviewer Type:Editorial Service Level:International
National Science Foundation Research Grant Proposals for several Programs including Solid State Physics, Ceramic and Electronic Materials and Metals and Alloys Reviewer Type:Editorial Service Level:National
Fellow American Physical Society
Member American Association for Advancement of Science
Member Materials Research Society
Member Sigma Xi
Fellow University of Cincinnati,
Faculty Development Activities
09-20-2009 -09-24-2009 Invited talk- Intermediate Phases in Alkali Germanates and the role of Alkali atom size Workshop on "Topology, Structure and Dynamics in Non-Crystalline Solids" Paris, France Type:Workshop
01-06-2009 -01-09-2009 Signatures of self-organization in disordered networks" at the XXXVIII Winter Meeting on Statistical Physics Taxco, Guerrero, Mexico Type:Conference Attendance
06-29-2009 -07-03-2009 "New Perspectives on Intermediate Phases" 4th International Conference on Amorphous and Nanostructured Chalcogenides-Fundamentals and Applications ANC-4, Constanta, Romania Type:Conference Attendance
04-20-2008 -04-25-2008 "Self-organization in chalcogenide glasses: the unusual case of group V sulfides" , ISNOG XVIth meeting (The Sixteenth International Symposium on Non-Oxide and New Optical Glasses). Montpellier, France Type:Conference Attendance
02-11-2008 "Reversibility windows and self-organization in network glasses" Physics Department, University of Montreal Canada Type:Conference Attendance
https://scholar.google.com/citations?hl=en&user=1vLfw9oAAAAJ&sortby=pubdate&view_op=list_works&pagesize=20
 ,