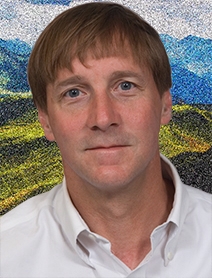 Benjamin Jay Britton , M.A.
Associate Professor
Associate Professor
DAAP 4414
College of DAAP
University of Cincinnati
Cincinnati, Ohio 45221-0016
Phone 5135562962
Email ben.britton@uc.edu
Professor Britton; MA from Goddard Graduate Program, Vermont College (1983), MFA from San Francisco Art Institute (1991); has exhibited his work widely and in many different venues, including; the New Museum of Contemporary Art and the Museum of Modern Art (NYC), Institute of Contemporary Art (Boston), Contemporary Art Center (Cincinnati), Ars Electronica Museum (Linz, Austria), Stedelijk Museum  (Amsterdam), The Getty Museum, American Film Institute and Epcot Center in Florida. Britton conducts sponsored research centered on using computer media as a tool for the creation of art from institutions such as the Ohio Board of Regents, Ohio Arts Council and The National Endowment for the Arts. He serves as a Faculty Advisor for the Video Games Graphics Group and is a co-founder of the Center for Electronic Reconstruction of Historical and Archaeological Sites (CERHAS) at UC. Currently he is working to develop curricula in the area of game art design.
Master of Fine Arts Degree: San Francisco Art Institute San Francisco, California, 1991
Master of Arts Degree: Goddard Graduate Program Vermont College, Vermont, 1983
Graduate with Honors: Defense Language Institute Monterey, California, 1979
Bachelor of Arts Candidate: University of Massachusetts Amherst, Massachusetts, 1977
Research and Practice Interests
Conceptual Interactive Digital Media Photography Video Animation Game Art
Positions and Work Experience
1992 -To Present Associate Professor, School of Art; College of Design, Architecture, Art, and Planning; University of Cincinnati, Cincinnati, OH
2013, "Air", Bullseye Glass, Portland OR, $4,500 (in-kind project support), PI
1999, "UC Connections to the Internet2", National Science Foundation, $384,000, co-PI
1997, Ohio Board of Regents Hayes Capital Investment Fund, $900,000, PI
1996, Ohio Board of Regents Production Grant Award, $15,000, PI
1996, Cinergy Foundation Exhibition Grant Award, Cincinnati, Ohio, $3,000, PI
1995, Intergraph Computer Systems, Project Support, $225,000 (in-kind), PI
1994, NEA Fellowship Program, Center for New Television, Chicago, $2,000, PI
1993/94/95, Ohio Arts Council Media Arts Program Grant Awards, $15,000, PI
1990, Prix Ars Electronica, Linz, Austria, Honorable Mention, Interactive Art, Artist
Grant: #OBR Investment Fund Investigators:Britton, Benjamin 07-01-1997 -03-31-2000 Ohio Board of Regents Center for the Electronic Reconstruction of Historical and Archaeological Sites Role:PI $964,000.00 Closed Level:State of Ohio
Grant: #URC AHSS Faculty Stipend Awards AY2015-16 Investigators:Britton, Benjamin 05-01-2016 -04-30-2017 UC's University Research Council Delphi Oracle virtual reality project Role:PI $6,000.00 Active Level:Internal UC
Conceptual Interactive Digital Media Video Photography Game Art
Selected Art Exhibitions:
Dayton Visual Art Center, "Digital Abstraction", Dayton, Ohio, Jan 16-Feb 27, 2015
Museum Gallery Gallery Museum, "Edible Art", group show, Cincinnati, Sep 1-8, 2012
Automedia, "Air and Water", Cincinnati, Ohio, September 2011
Hyde Park Home & Garden Gallery, "An Island Story", Cincinnati, Ohio, Aug-Nov, 2011
ArtWorks, "Exposed: Top 100 Secret Artists", Cincinnati, Ohio, September 2010
ArtWorks, "Secret ArtWorks", Cincinnati, Ohio, September 2009
Faculty Exhibition, College of DAAP, University of Cincinnati, Ohio, January 2008
Gallery Salveo, "Blink of an Eye," Cincinnati, Ohio, February-March, 2006
Miami Valley Cooperative Gallery, "Digital Millennium," Dayton, Ohio, March-April, 2003
KZF Gallery, "Houses," Cincinnati, Ohio, Nov 2002-March, 2003
Edwards Center Gallery, Faculty Exhibition, University of Cincinnati, Oct-Dec, 2002
Video 2000, "Instant Universe", Wright State University, Dayton, OH ,Oct 28-Dec 7, 2000
Stedelijk Museum of Contemporary Art, "LASCAUX," Amsterdam, May 16-July 17, 2000
Dallas Video Festival, "The MOON Project: Did We Go," Dallas, TX, March 23, 2000
Museum of Modern Art, "The MOON Project: Did We Go?," New York, Feb 10-11, 2000
Siggraph '99 Convention, Los Angeles, "The MOON Project: Moon Museum," Aug, 1999
Apollo11 30th Anniversary Online, "The MOON Project" premiere, July 20, 1999
Kendall College of Art & Design, Grand Rapids, Michigan, April 5-April 23, 1999
Tangemann Gallery, Sacred Places, Cincinnati, Ohio, Oct-Nov 1997
Siggraph '97 Convention, Sense8 Corporation, Los Angeles, August 1997
840 Gallery, University of Cincinnati, Cincinnati, Ohio, June 1997
LASCAUX, Dayton Visual Arts Center, Dayton, Ohio, May-June 1997
International Council of Museums, Buenos Aires, Argentina, November, 1996
LASCAUX, Intergraph Computer Fair, Tokyo, Japan, October 14, 1996
World ArchaeoExpo, LASCAUX, Forli, Italy, September, Sept 9-15, 1996
Ars Electronica Museum, Gala Opening, Linz, Austria, Aug 31-Sept 4, 1996
Siggraph '96 Convention, Intergraph Computers, New Orleans, August 4-8, 1996
Contemporary Art Center, Cincinnati, Ohio, April 12-June 12, 1996
Montpellier Technopole, Musee Virtuel, Montpellier, France, May 19-25, 1996
Voyages Virtuels, Galerie Le Monde de l'Art, Paris, France, Oct 4-8, 1995
InfoArt: '95 Kwang-Ju Biennale, Kwang-Ju, Korea, Sept 20-Nov 20, 1995
Siggraph '95 Convention, Intergraph Computers, Los Angeles, CA, August 1995
Epcot Center, Innoventions, Disney World, Florida, Aug 25, 1995-May 1997
Mondi Artificiel, Venice, Italy, September 2-5, 1994
Triangle Gallery, Sinclair College, Dayton, Ohio, Nov-Dec 1993
Machine Shop Gallery, Cincinnati, Ohio, Oct-Dec 1993
C.A.G.E. Gallery, Cincinnati, Ohio, Oct-Nov 1993
Banff Center for the Arts, Alberta, Canada, May, 1993
VIGO Cyberculture Festival, Galescia, Spain, January 1993
San Francisco Art Institute, California, June 1990
New Museum of Contemporary Art, New York, Sept-Nov 1990
Prix Ars Electronica, Linz, Austria, Sept 1990
Kulturni Stredisko, Plzen, Czechoslovakia, Sept 1990
Fine Arts Union, Prague, Czechoslovakia, Sept 1990
Galerie Mladych, Prague, Czechoslovakia, Sept 1990
SISEA Electronic Art, Groningen, Netherlands, July 1990
National Computer Graphics Convention, Anaheim CA, April 1990
Artists Television Access, San Francisco, 1989, 90, 91
Boston Film/Video Foundation, 1983, 84, 85, 86
Institute of Contemporary Art/Boston; Boston Now: 1984



,
Academic - DAAP 4414
College of DAAP
Cincinnati  Ohio, 45221-0016
Phone: 5135562962
ben.britton@uc.edu
Home - http://benbritton.net