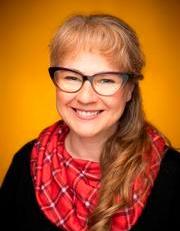 Rebecca Bromels
Assoc Professor
Interim Division Head of Theatre Arts, Production and Arts Administration (TAPAA); Chair and Associate Professor of Arts Administration
Corbett Cntr Perform Arts
CCM Arts Administration - 0003
Rebecca Bromels joined CCM's Arts Administration faculty in August of 2016 and was appointed interim head of CCM's Division of Theatre Arts, Production and Arts Administration (TAPAA) in 2022. She previously served as director of engagement of ArtsWave, the Greater Cincinnati region's local arts agency and the nation's largest community campaign for the arts. With the help of tens of thousands of donors, ArtsWave supports more than 100 arts and community organizations. These beneficiaries include CCM, which has been able to enhance its community engagement efforts through ArtsWave's Community Partnership grants. In her position at ArtsWave, Bromels oversees volunteer programs and signature events including Macy's Arts Sampler.

Having moved to Cincinnati in 1999 to pursue a directing career, Bromels discovered her love for arts administration during her 12-year tenure at Cincinnati Shakespeare Company. As managing director for eight seasons, she worked to broaden the company's base of support and provide resources for its innovative productions of Shakespeare and the classics.

Bromels joined ArtsWave shortly after its evolutionary change to impact-based funding and was instrumental in developing the organization's new messaging and brand identity as director of communications.

She has also directed plays for Cincinnati Shakespeare Company, the SERIALS project at Know Theatre of Cincinnati, New Edgecliff Theatre and St. Croix Festival Theatre in Wisconsin. In addition, she served as a guest lecturer in arts administration at Miami University and for the United Way BOLD board training program. In 2016, she will co-author a Corporate Arts Challenges Tool-Kit for Americans for the Arts.

Bromels holds a Bachelor of Fine Arts in Theatre Performance from Texas Christian University. She was recognized in the "Forty Under 40" class of 2005 by the Cincinnati Business Courier. She lives with her husband and two children in St. Bernard.