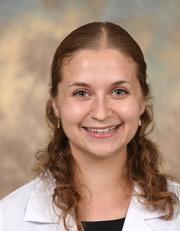 Margaret Rachel Butler Brubaker
Personal Statement
My passion for patient education, my collaborative and interdisciplinary approach to medicine, and my servant leadership style are some of my strengths that will make me a successful internist. I have found the most fulfillment during my clinical rotations while sitting down with patients and educating them on their disease process. I am looking forward to the many opportunities I will have as an internist to teach students and patients alike. My experiences working as a nursing assistant instilled within me a deep respect for nursing staff, and I make it a top priority to collaborate with all healthcare professionals on the team. In addition, my leadership experience as a Director of the Magis Clinic has helped me to draw on each of my colleagues' strengths to achieve success for our clinic, which is analogous to a physician's role on an interdisciplinary healthcare team. I am a servant leader, willing to make sacrifices and put in behind-the-scenes work in order for my team to be successful. I am looking forward to carrying out my mission of serving others as an internist and possibly as a future geriatrician.

Why I Chose Cincinnati
It didn't take me long to realize that the University of Cincinnati was where I wanted to end up. I was perusing the website, just getting a feel for the program, and after about ten minutes, I turned to my husband and said, "Jon…I think I'm going to really love this place." The website talked a lot about patient-centered bedside rounds, community health and advocacy, and the science of learning, and got me very excited that this program would help shape me into the kind of attending physician that I aspire to be. That initial feeling of excitement was solidified when I came to Cincinnati for my interview day. Out of all of my interview days, I had by far the warmest, most sincere welcome at the University of Cincinnati. My interviews with staff felt relaxed and genuine, Dr. Warm's introduction to the program was fascinating and helped me understand what my training and learning would look like as a Cincinnati resident, and all of the residents that I interacted with were fun, down-to-earth, and enthusiastic. I left my interview day absolutely glowing, and when my husband picked me up, he told me he had never seen me this excited about residency. When I found out I Matched at the University of Cincinnati, it was simply the best news ever. So excited to be a part of this truly amazing community!
MD: Creighton University School of Medicine
University of Cincinnati College of Medicine
231 Albert Sabin Way
Cincinnati  Ohio, 45267
BUTLEM5@UCMAIL.UC.EDU