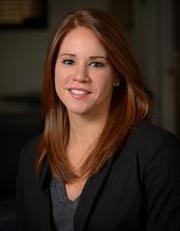 Andrea L Buenano
Assistant Professor Sport Administration
Dr. Andrea L. Buenaño (Assistant Professor - Educator) joined the Sport Administration (SPAD) faculty in the Fall of 2017. Dr. Buenaño has degrees in Higher Education Leadership, Organizational Leadership, and Sport Administration.

Prior to her arrival at UC, she was a Sport Management Instructor at the University of North Florda. Dr. Buenaño has more than 12 years of sport industry experience that includes being a Division I student-athlete and working in professional sport, recreational sport, interscholastic athletics, Division II athletics and most recently Division I athletics at Penn State University.

Dr. Buenaño oversees the majority experiential learning courses for the undergraduate Sport Admin program. Most recently, she is the recipient of the College of Education, Criminal Justice, and Human Services - Golden Apple Teaching Award Winner (2019-2020 & 2020-2021). 
Ed.D (Higher Education Leadership & Organizational Leadership): Nova Southeastern University 2016
436D Teachers-Dyer Complex
Phone: 513-556-1719
andrea.buenano@uc.edu