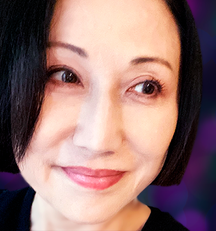 Yoshiko Burke , MFA
Associate Professor
Aronoff Center
6483
DAAP School of Design - 0016
Professor Burke's breadth of professional experience as a visual communication designer ranges from concept building (producing) to content development (mainly designing and post-production). Since joining UC, Professor Burke has produced interactive narrative and documentary projects that garnered national awards from multiple Telly Awards, the Broadcast Education Association Media Arts Festival's Interactive Multimedia Best of Competition Award, and the King Foundation Best of Festival Award. Her interactive documentary, The New Issei was supported by a 2006 Ohio Arts Council grant and premiered at Cincinnati Art Museum. She also served as Producer and Technical Motion Design Supervisor for the interdisciplinary collaborative documentaries, Gold Rush Expedition Race series and Expedition Alaska. They received several festival awards, screened at dozens of film festivals on five continents, as well as both national and international television network broadcast on beIN Sports USA, beIN Sports Canada, the French network, TREK-TV and the Russian network, FirstHDTV. Prior to her tenure with the University of Cincinnati, Professor Burke served as a professor at the Savannah College of Art & Design. Before joining the academia, she worked professionally in the area of digital design and produced multimedia/online content for a number of Fortune 500 clients. Prior to her design career in the United States, she worked as an in-house designer for Sanrio Co, Ltd. in Tokyo, while she was also active as an artist. Her work has been featured in Fiberarts Design Book and Cosmopolitan Japan. Her artwork has also been exhibited both nationally and internationally.
M.F.A.: Savannah College of Art and Design, Savannah, GA, (Fiber Arts – mixed media ranging from 2D surface, 3D objects, wearables, process art to digital installation)
B.F.A.: Kansas City Art Institute, Kansas City, MO, (Design focus on graphic design and illustration)
B.A.: International Christian University, Tokyo, Japan, (Humanities focus on art history)
Research and Practice Interests
Visual Narrative Communication Design, GUI Design, Information Narrative, Motion Design and Digital Content Development from concept-building, producing to post-production.
 
Positions and Work Experience
2016 -2021 Associate Professor, Communication Design Program, Myron E. Ullman Jr. School of Design, College of Design, Architecture, Art, and Planning, University of Cincinnati, Cincinnati, OH
2012 -2016 Associate Professor, Graphic Communication Design Program, School of Design, College of Design, Architecture, Art, and Planning, University of Cincinnati, Cincinnati, OH
2007 -2012 Associate Professor, Digital Design Program, School of Design, College of Design, Architecture, Art, and Planning, University of Cincinnati, Cincinnati, OH
2001 -2006 Assistant Professor, Digital Design Program, School of Design, College of Design, Architecture, Art, and Planning, University of Cincinnati, Cincinnati, OH
Visual Structure for Time-Based Design, 2D Animation Basics, Motion Design and Aesthetic Fundamentals, and User-Centered Design Thinking. Level:Undergraduate
Principles of Visual Narrative in 2D Motion Design, Graphic Design for On-Screen Media, Video Editing Principles, Motion Graphics, Narrative Concepts and Conventions in Film and Television. Level:Undergraduate
Experience Design, Research and Digital Content Development, Multi-Dimensional Visual Information Systems, Fusion of Narrative Design and Graphic User Interface, Broadcast Production Design, and Visual Communication Theories and Practice. Level:Undergraduate
Synthesis of Visual Design Approaches and Problem Solving Techniques, Theoretical and Applied Examination of the Research and Creative Processes in Visual Communication Project Development. Level:Undergraduate
Introduction to Elements and Principles of 2-Dimensional Design. Introduction to Color Theory. Level:Undergraduate
Introduction to Textile Design - Dyes and Pigments. Pattern Design, Surfaces and Textures, Mixed Media, and Process Art. Level:Undergraduate