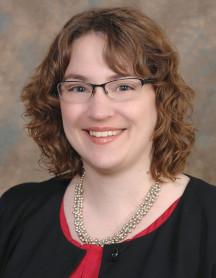 Katherine Anne Burns , PhD
Associate Professor
Kettering Lab Complex
250
COM EH EGMT Burns Lab - 0056
Doctoral Degree: Pennsylvania State University University Park, PA, (Pathobiology with concentration in Toxicology)
Bachelor's Degree: Gettysburg College Gettysburg, PA, (Biology )
Postdoctoral Fellowship : National Institute of Environmental Health Sciences Triangle Park, NC,
Research and Practice Interests
The Burns Laboratory studies endometriosis. Endometriosis occurs when endometrial tissue from the uterus is located out­side the uterus and adheres to and invades the pelvic cavity. Endometrial tissue attaches to places in the peritoneal cavity including fallopian tubes, ovaries, peritoneal wall, and bowel. This disease affects the quality of life and reproductive health of 7.7 million women in the U.S. with an estimated cost burden of $110 billion. Symptoms include painful periods, chronic pain, pain with intercourse and infertility. No cure exists and development of novel therapies is currently limited by the need for surgery to diagnose disease and the lack of basic knowledge of disease processes. Pathogenesis of endometriosis is hypothesized to occurs via retro­grade menstruation where viable endometrial tissue flows back through the fallopian tubes and into the perito­neal cavity. Although most women have retrograde menstruation, only 10% of women develop endometriosis. The nature of individual predisposing factors in the endometrium and/or peritoneum remains unclear. Understand­ing these factors is critical for development of disease treat­ment and interven­tion.
Positions and Work Experience
- Assistant Professor, University of Cincinnati College of Medicine, Cincinnati, OH
Grant: #R00ES021737 Investigators:Burns, Katherine 07-01-2015 -06-30-2018 National Institute of Environmental Health Sciences Endometriosis and Environmental Endocrine Disrupting Chemical Exposure Role:PI $248,761.00 Awarded Level:Federal
Grant: #EFA Award 2017 Investigators:Burns, Katherine 03-01-2017 -02-28-2018 Endometriosis Foundation of America The Environmental Contaminant di-(2-ethylhexyl)phthalate (DEHP) Induces Endometriosis Role:PI $12,500.00 Active Level:Private Non-Profit
Grant: #EFA Research Award 2018-2019 Investigators:Burns, Katherine 07-01-2018 -06-30-2019 Endometriosis Foundation of America The Environmental Contaminant di-(2-ethylhexyl)phthalate (DEHP) Induces Endometriosis Role:PI $15,000.00 Active Level:Private Non-Profit
Grant: #R01HD097597 Investigators:Burns, Katherine; Kasper, Susan; Niu, Liang 09-13-2019 -05-31-2024 National Institute of Child Health and Human Development The Role of the Matrisome in Endometriosis Development Role:PI $439,549.00 Awarded Level:Federal
Grant: #2019 Ferring Research Institute Investigators:Burns, Katherine 12-02-2019 -12-01-2020 Ferring Research Institute, Inc. Targeting neutrophilic responses in the initiation of endometriosis Role:PI $160,000.00 Awarded Level:Industry
Grant: #012536 / R44HD100289 Investigators:Burns, Katherine 09-01-2019 -08-31-2020 National Institute of Child Health and Human Development Novel, Non-hormonal Therapeutic for Endometriosis Role:PI $93,000.00 Awarded Level:Federal
Grant: #R21ES033342 Investigators:Burns, Katherine; Medvedovic, Mario; Puga, Alvaro; Xia, Ying 04-01-2022 -03-31-2024 National Institute of Environmental Health Sciences Signaling mechanisms of gene-environment interactions in female reproductive Role:Collaborator 243000.00 Awarded Level:Federal
Peer Reviewed Publications
Franasiak, Jason M; Burns, Katherine A; Slayden, Ov; Yuan, Lingwen; Fritz, Marc A; Korach, Kenneth S; Lessey, Bruce A; Young, Steven L (2015. ) Endometrial CXCL13 Expression Is Cycle Regulated in Humans and Aberrantly Expressed in Humans and Rhesus Macaques With Endometriosis.Reproductive sciences (Thousand Oaks, Calif.), , 22 (4 ) ,442-51 More Information
Burns, Katherine A; Li, Yin; Liu, Liwen; Korach, Kenneth S (2014. ) Research resource: comparison of gene profiles from wild-type ER? and ER? hinge region mutants.Molecular endocrinology (Baltimore, Md.), , 28 (8 ) ,1352-61 More Information
Li, Yin; Hamilton, Katherine J; Lai, Anne Y; Burns, Katherine A; Li, Leping; Wade, Paul A; Korach, Kenneth S (2014. ) Diethylstilbestrol (DES)-stimulated hormonal toxicity is mediated by ER? alteration of target gene methylation patterns and epigenetic modifiers (DNMT3A, MBD2, and HDAC2) in the mouse seminal vesicle.Environmental health perspectives, , 122 (3 ) ,262-8 More Information
Jayes, Friederike L; Burns, Katherine A; Rodriguez, Karina F; Kissling, Grace E; Korach, Kenneth S (2014. ) The naturally occurring luteinizing hormone surge is diminished in mice lacking estrogen receptor Beta in the ovary.Biology of reproduction, , 90 (2 ) ,24 More Information
Burns, Katherine A; Zorrilla, Leah M; Hamilton, Katherine J; Reed, Casey E; Birnbaum, Linda S; Korach, Kenneth S (2013. ) A single gestational exposure to 2,3,7,8-tetrachlorodibenzo-p-dioxin disrupts the adult uterine response to estradiol in mice.Toxicological sciences : an official journal of the Society of Toxicology, , 136 (2 ) ,514-26 More Information
Winuthayanon, Wipawee; Piyachaturawat, Pawinee; Suksamrarn, Apichart; Burns, Katherine A; Arao, Yukitomo; Hewitt, Sylvia C; Pedersen, Lars C; Korach, Kenneth S (2013. ) The natural estrogenic compound diarylheptanoid (D3): in vitro mechanisms of action and in vivo uterine responses via estrogen receptor ?.Environmental health perspectives, , 121 (4 ) ,433-9 More Information
Li, Yin; Luh, Colin J; Burns, Katherine A; Arao, Yukitomo; Jiang, Zhongliang; Teng, Christina T; Tice, Raymond R; Korach, Kenneth S (2013. ) Endocrine-Disrupting Chemicals (EDCs): In Vitro Mechanism of Estrogenic Activation and Differential Effects on ER Target Genes.Environmental health perspectives, , 121 (4 ) ,459-66 More Information
Burns, Katherine A; Korach, Kenneth S (2012. ) Estrogen receptors and human disease: an update.Archives of toxicology, , 86 (10 ) ,1491-504 More Information
Burns, Katherine A; Rodriguez, Karina F; Hewitt, Sylvia C; Janardhan, Kyathanahalli S; Young, Steven L; Korach, Kenneth S (2012. ) Role of estrogen receptor signaling required for endometriosis-like lesion establishment in a mouse model.Endocrinology, , 153 (8 ) ,3960-71 More Information
Li, Yin; Burns, Katherine A; Arao, Yukitomo; Luh, Colin J; Korach, Kenneth S (2012. ) Differential estrogenic actions of endocrine-disrupting chemicals bisphenol A, bisphenol AF, and zearalenone through estrogen receptor ? and ? in vitro.Environmental health perspectives, , 120 (7 ) ,1029-35 More Information
Burns, Katherine A; Li, Yin; Arao, Yukitomo; Petrovich, Robert M; Korach, Kenneth S (2011. ) Selective mutations in estrogen receptor alpha D-domain alters nuclear translocation and non-estrogen response element gene regulatory mechanisms.The Journal of biological chemistry, , 286 (14 ) ,12640-9 More Information
Rodriguez, Karina F; Couse, John F; Jayes, Friederike L; Hamilton, Katherine J; Burns, Katherine A; Taniguchi, Fuminori; Korach, Kenneth S (2010. ) Insufficient luteinizing hormone-induced intracellular signaling disrupts ovulation in preovulatory follicles lacking estrogen receptor-{beta}.Endocrinology, , 151 (6 ) ,2826-34 More Information
Gray, Joshua P; Burns, Katherine A; Leas, Tara L; Perdew, Gary H; Vanden Heuvel, John P (2005. ) Regulation of peroxisome proliferator-activated receptor alpha by protein kinase C.Biochemistry, , 44 (30 ) ,10313-21 More Information
Burns, Katherine A; Vanden Heuvel, John P (2007. ) Modulation of PPAR activity via phosphorylation.Biochimica et biophysica acta, , 1771 (8 ) ,952-60 More Information
Vanden Heuvel, John P; Kreder, Dirk; Belda, Benjamin; Hannon, Daniel B; Nugent, Courtney A; Burns, Katherine A; Taylor, Michael J (2003. ) Comprehensive analysis of gene expression in rat and human hepatoma cells exposed to the peroxisome proliferator WY14,643. Toxicology and applied pharmacology, , 188 (3 ) ,185-98
Greene, Alexis D; Lang, Stephanie A; Kendziorski, Jessica A; Sroga-Rios, Julie M; Herzog, Thomas J; Burns, Katherine A (2016. ) Endometriosis: where are we and where are we going?.Reproduction (Cambridge, England), , 152 (3 ) ,R63-78 More Information
Greene, Alexis D; Kendziorski, Jessica A; Buckholz, Jeanette M; Niu, Liang; Xie, Changchun; Pinney, Susan M; Burns, Katherine A (2019. ) Elevated serum chemokines are independently associated with both endometriosis and uranium exposure.Reproductive toxicology (Elmsford, N.Y.), , 84 ,26-31 More Information
Jones, Rebecca L; Lang, Stephanie A; Kendziorski, Jessica A; Greene, Alexis D; Burns, Katherine A (2018. ) Use of a Mouse Model of Experimentally Induced Endometriosis to Evaluate and Compare the Effects of Bisphenol A and Bisphenol AF Exposure.Environmental health perspectives, , 126 (12 ) ,127004 More Information
Burns, Katherine A; Thomas, Seddon Y; Hamilton, Katherine J; Young, Steven L; Cook, Donald N; Korach, Kenneth S (2018. ) Early Endometriosis in Females Is Directed by Immune-Mediated Estrogen Receptor ? and IL-6 Cross-Talk.Endocrinology, , 159 (1 ) ,103-118 More Information
Hinds, Terry D; Burns, Katherine A; Hosick, Peter A; McBeth, Lucien; Nestor-Kalinoski, Andrea; Drummond, Heather A; AlAmodi, Abdulhadi A; Hankins, Michael W; Vanden Heuvel, John P; Stec, David E (2016. ) Biliverdin Reductase A Attenuates Hepatic Steatosis by Inhibition of Glycogen Synthase Kinase (GSK) 3? Phosphorylation of Serine 73 of Peroxisome Proliferator-activated Receptor (PPAR) ?.The Journal of biological chemistry, , 291 (48 ) ,25179-25191 More Information