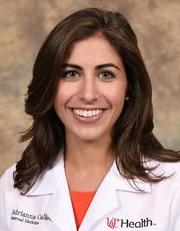 Adrianna Marie Calleo , DO
Assistant Professor of Clinical
Medical Sciences Building
COM IM Hospital Medicine - 0535
Personal Statement
After transferring the patient to the bed, I walked out of the hospital and took off my EMT jacket. While getting back into the rig, I realized that the outcome of every patient I had seen throughout my time volunteering would always be a mystery to me. My high school self was introduced to a small corner of the world of medicine that summer; I realized that I craved more than brief interactions with patients. I vowed to myself that my future in medicine would be more than temporarily fixing someone's disease, but ultimately affecting life beyond the diagnosis. Internal Medicine emphasizes doctor‐patient relationships and the continuity of care. I am dedicated to building and being a part of a professional team that encourages attentiveness and scholarship. I taught myself medical Spanish while working in a predominately Spanish‐speaking community so that I could better communicate with my patients. To me, internal medicine focuses on gaining a better understanding of a patient's condition through communication, research, and comprehensive knowledge. I value curiosity, problem solving, and drawing informed conclusions.

Why I Chose Cincinnati
I fell in love with the program and the people on my interview day. My interactions with the residents at the dinner and those on the interview day itself all played into making UC feel like a welcoming family‐ an important distinction that I really wanted in my future training program. As I was sitting in my seat while Dr. Warm spoke about the program, I felt in that instant "this is where I really want to be." During my interview with Dr. Warm, he showed me my personal statement in a word cloud and at the center of it was the word "patient." UC's dedication to patient‐centered care is consistent with the medicine that I so highly value. UC was my number one choice because it felt like the right fit for me in terms of finding a new "family," a new city to live in and discover, and the best learning environment that will help me obtain my future goals.
BS: College of William & Mary Williamsburg, VA, 2014
DO: Lake Erie College of Osteopathic Medicine Bradenton, FL, 2019
Residency: University of Cincinnati Cincinnati, OH, 2022 (Internal Medicine)
American Board of Internal Medicine (Certification Date: 08-18-2022 )
Internal Medicine
Internal Medicine