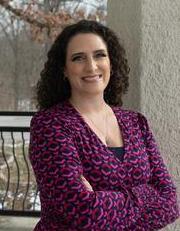 Erynn Casanova
Professor of Sociology, Director of the Kunz Center for Social Research, (PhD, City University of New York Graduate Center)
Gender; Race/Ethnicity; Work; Family; the Body; Popular Culture; Globalization/Development; Latin American societies; U.S. Latinos/as; Ethnography and qualitative research methods.

Erynn Masi de Casanova CV
Research and Practice Interests
Erynn Masi de Casanova received her Ph.D. in Sociology from The Graduate Center of the City University of New York (CUNY), and also holds a M.A. in Latin American Studies from the University of California-San Diego and B.A. degrees in Spanish and English from the University of Rhode Island.  Research interests include: Gender; Race/Ethnicity; Work; Family; the Body; Popular Culture; Globalization/Development; Latin American societies; U.S. Latinos/as; Ethnography and qualitative research methods.
Dr. Casanova is a faculty affiliate of the Women's, Gender, and Sexuality Studies Department and the Romance Languages and Literatures Department.
Book
2015. Buttoned Up: Clothing, Conformity, and White-Collar Masculinity. ILR/Cornell University Press.
2018. Vendiendo Belleza: Mujeres y Venta Directa en Ecuador. Quito: Abya-Yala Editorial. [Spanish translation of Making Up the Difference]
2019. Dust and Dignity: Domestic Employment in Contemporary Ecuador. ILR/Cornell University Press.
Peer Reviewed Publications
2018. "Beauty Ideology in Latin America." Dobras [Brazil] 11(23).
Casanova, Erynn Masi, Leila Rodríguez, and Rocío Bueno Roldán*. 2018. "Informed but Insecure: Employment Conditions and Social Protection among Paid Domestic Workers in Guayaquil." Latin American Perspectives 45(1): 163-174.
Casanova, Erynn Masi and Tamara R. Mose. 2017. "Translation in Ethnography: Representing Latin American Studies in English." Translation and Interpreting Studies 12(1): 1-23.
 
Casanova, Erynn Masi. 2016. "Gender, Body, and Medicine in Urban Ecuador: Ethnographic Explorations of Women's Embodiment." Latin American Perspectives 43(1): 268-274.
 
Casanova, Erynn Masi, Emily E. Wetzel*, and Travis D. Speice*. 2016. "Looking at the Label: White-Collar Men and the Meanings of 'Metrosexual.'" Sexualities 19(1/2): 64-82.
Casanova, Erynn Masi. 2015. "'Como cualquier otro trabajo': Organizando a las Trabajadoras Remuneradas del Hogar en Ecuador." ["Like any other job": Organizing Paid Domestic Workers in Ecuador]. Revista Economía 67(106): 37-52.
Carter, J.A.*, Erynn Masi de Casanova, and David J. Maume. 2015. "Gendering Olympians: Media Guide Profiles of Men and Women Athletes." Sociology of Sport Journal 32:312-331.
Mose Brown, Tamara and Erynn Masi de Casanova. 2014. "Representing the Language of the 'Other': African American Vernacular English in Ethnography." Ethnography 15(2): 208-231.
Casanova, Erynn Masi. 2013. "Embodied Inequality: The Experience of Domestic Work in Urban Ecuador." Gender & Society 27(4): 561-585.
Winner, Distinguished Scholarly Article Award, American Sociological Association's Section on Labor and Labor Movements, 2014.
Casanova, Erynn Masi and Barbara Sutton. 2013. "Transnational Body Projects: Media Representations of Cosmetic Surgery Tourism in the U.S. and Argentina." Journal of World-Systems Research 19(1): 57-81.